The Making of a Scottsdale Arizona Vacation Rental (Part 3)
This is part three of our Scottsdale Arizona Vacation Rental story. If you are just joining in you will want to hop back and read PART ONE and PART TWO first.
Also, OUR RENTAL LISTING IS OFFICIALLY LIVE!! We would love to have you stay in our home while you visit Scottsdale!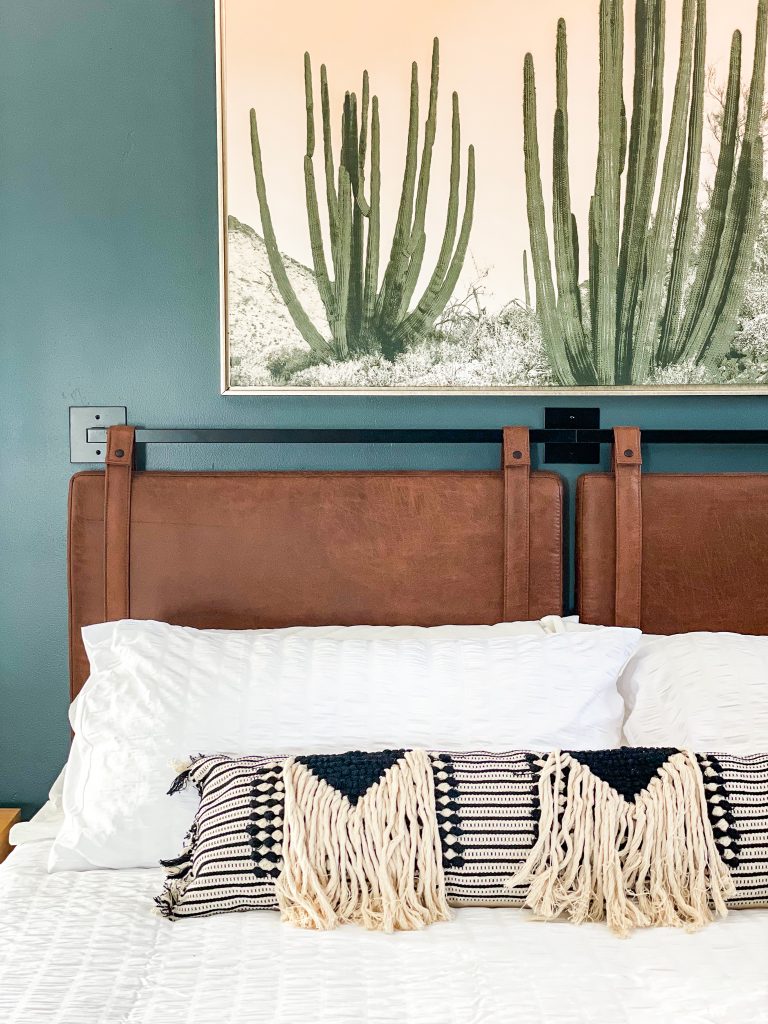 This post also contains photos, design boards and affiliate sources for the 4 bedrooms in this home!
the scottsdale arizona vacation rental story continues…
I flew out for the home inspection on August 5, 2021. I was smack in the middle of tiling the drop zone in preparation for back to school. Did you ever wonder why that project took so dang long? Welp, now you know!
I had an early flight that morning with plans to stay in town for 3 full days.
The inspector was scheduled to be at the house around 8am with the inspection lasting 3-4 hours. I was told that I was welcome to be present for the whole inspection but I wasn't allowed to follow the guy around and ask questions during the process. Instead of sitting bored at the house, I opted to grab breakfast with a friend, get settled at my accommodations, and show up closer to 11am.
MASTER BEDROOM
The mystery man
It was surreal pulling up to the home for the first time. I knew what it looked like in pictures, of course, but knowing that it was on the way to being "ours" was a very odd feeling.
There was a large white truck in the driveway when I pulled up. A man was sitting in the drivers seat writing on a clipboard. I thought nothing of it, figuring it could only be the inspector.
I didn't want to interrupt him, and the garage door was open so I parked my rental car and went to check out the mysterious garage laundry room.
I remember bending down to check out the floor of the laundry room, checking door thresholds for potential new flooring. While I did this the gentleman got out of his truck and immediately asked, "if I was looking at the leak?"
"What leak?" I replied.
He proceeded to tell me that the inspector had found a leak in the laundry room and he figured I knew about it since I was looking at the floor.
I was very confused. If this guy wasn't the inspector, who was he?
He must have noticed the puzzled look on my face because he immediately held his hand out and said, "Hi, I'm Bill. I'm a partner with the owner of this property."
My mind immediately felt more at ease. We knew this home was an investor flip. I figured that he was wanting to be present for the inspection report to make things easier, which I was honestly fine with.
We made small talk for a few minutes than I realized the real reason he was there. He asked if we were interested in allowing him to rent the home back to him for a few months. "I'm currently looking for a home, and could use a place to rent on a month by month basis," he said.
Feeling weird about the situation again I told him he would have to talk to my husband about that, and passed along his number.
Bill thanked me for my time and he left. Shortly after my realtor arrived and I filled her in on what had just happened, To her knowledge there was only one investor listed on the property. Curious, she reached out to the selling agent to see if she could get the scoop on Bill.
GUEST ROOM -SOUTH
the scottsdale arizona vacation rental house inspection
The inspection report came back a little nerve wracking. There were a LOT of underlying issues with this home that made it very obvious that it had been left unkept for a very long time.
There were two big plumbing leaks, a broken shower head, broken toilet and severely clogged sinks. A 19 year old HVAC system with signs of tampering. Shotty electrical work. A broken panel on the refrigerator, Several mechanical issues with the pool and the list went on and on.
I was honestly terrified. If these were the issues that the inspector was seeing, what else was going to come up after the purchase of the house that he couldn't see? This house instantly felt like a money pit. I was extremely discouraged.
As we walked through the house checking out all of the inspection items I noticed a few things that felt very out of place. One of the guest room closets was full of clothes. With a blanket and pillow shoved in the corner of the closet floor. The master bath had clear signs of recent use (of the soap kind), and there was a damp towel hanging on the back of the bathroom door. There were a few random drawers in the kitchen and bathroom with personal items stashed away. And the weirdest thing? The pantry had a stash of liquor on one shelf… JUST LIQUOR.
Friends, this house was listed as UNOCCUPIED!!
I called my husband to talk about everything that was going on with the inspection. We had a LONG conversation with our realtor, voicing concerns about the condition of the home.
What we quickly learned is that unfortunately in this crazy housing market (and location), the condition the home was completely accurate when it came to the price.
A home with all of these issues addressed would have easily been listed for $100,000 more. This explained the "good" price that we thought we were getting. This also explained why no one had made an offer on the home in the 8 days before us.
Suddenly I wondered if this day coming together was the weird, uneasy feeling that I had about the house before flying out.
Guest Bedroom – North
Our next Steps..
After much research and careful consideration we (obviously) decided to move forward with the purchase of the home. We submitted the inspection report to the realtor with a very small credit ask, which they accepted.
I spend the following day of my trip measuring the space for furniture planning, checking out local stores and meeting with contractors.
While out there we also received more information on Bill. And he was definitely twisting the truth on who he said he was. From what we were able to gather he had been "friends" with the previous owner, who was a woman. This woman took a job transfer across the country and was in need of an immediate house sale. Bill happened to have an investor friend who bought run down houses for cheap, fixed a few surface things, and put them right back on the market.
From what we were told the only thing he had done was paint and replace carpet in the bedrooms. Shady Busta!!
The inquiry we had about Bill essentially "squatting" in the house was played off like it was nothing. Even still, the stories weren't lining up right.
The closing was scheduled for August 30,2021. We decided that Tommy would be the one to fly out for the final walk through. Mostly, I wanted him to be there in case any weirdness came up with Bill in the 11th hour. After closing he would stay a week to help receive packages and get contractors started. I would fly out a few days later, crossing our time over Labor Day weekend, then he would fly home and I would stay for at least 3.5 weeks.
The rest of the story started when we officially shared our BIG news with on September 7, 2021. In the final post of this series I'll recap the days I spent working on the home.. and how we FINALLY discovered the real story of Bill on the day I left.
Stay tuned for the final part of our arizona vacation rental story!
Related: SURPRISE!! WE BOUGHT A VACATION HOME!
tHE bUNK rOOM
SEE MORE POSTS ABOUT THE HAUTE HACIENDA!