New Project Alert! Our Arizona Exterior Painting Plans
Pink paint, black doors, and a mural, oh my! Read on to see what big changes are happening to the exterior of our Arizona home thanks to the power of paint!!
---
I've shared a few clues on Instagram and the blog over the past few days hinting at the next project that will be happening at the Arizona house next week!
And yes, friends, we are painting the exterior!
This blah desert brown will take on a brand new look over the next 2 weeks and I'm heading out to both supervise AND help DIY the multiple projects that are going down. (YES, there is more than one!)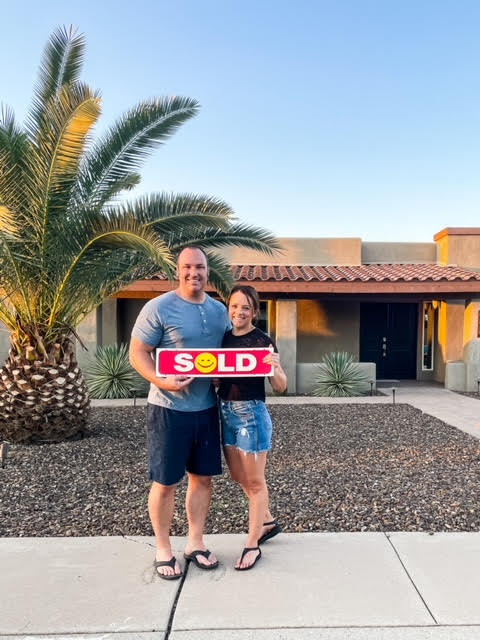 The Arizona House is our vacation home and short-term rental property. We purchased it in August 2021 at the peak of this crazy housing market. You can read the whole story HERE.
The decision to paint
Painting the exterior of this home has been high on our priority list since day one. Originally I thought a crisp warm white with dark trim would be an easy, classic go-to and look super fresh against the desert landscape. But then our neighbors across the street did that exact thing and you know how I feel about going along with the crowd.
Furthermore, as the design of the interior came along, white didn't feel fitting anymore, I needed more color in my life!
In a recent conversation, our new property manager brought up the idea of painting the house PINK! I mean, have you ever seen a cactus on a pink wall?!? It's dreamy!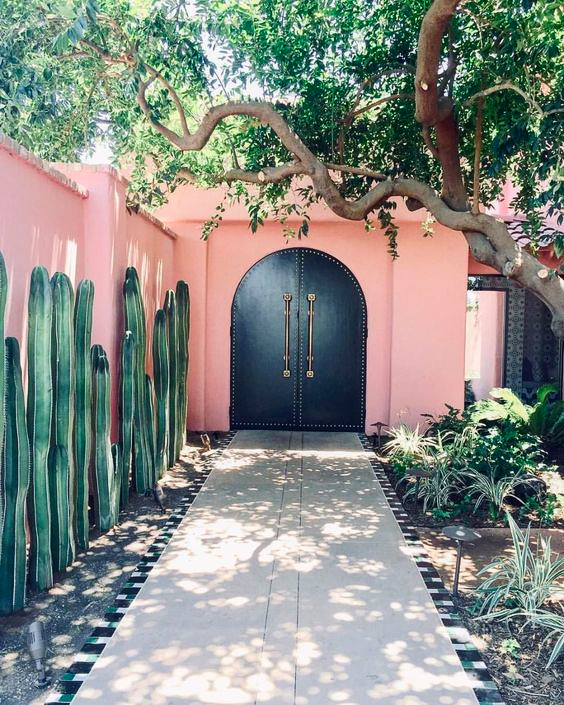 To be honest, I was a bit scared at first. It was a BIG risk, and even though I'm 0% afraid of paint, we had decided to contract this part of the painting out and this risk was EXPENSIVE!
I officially decided to go for the pink on my trip to Arizona this past March. While I was there I did a few test swatches to see if I could come up with the perfect shade.
Because of scheduling, this was my only chance to see the color IN PERSON before it actually went on the house.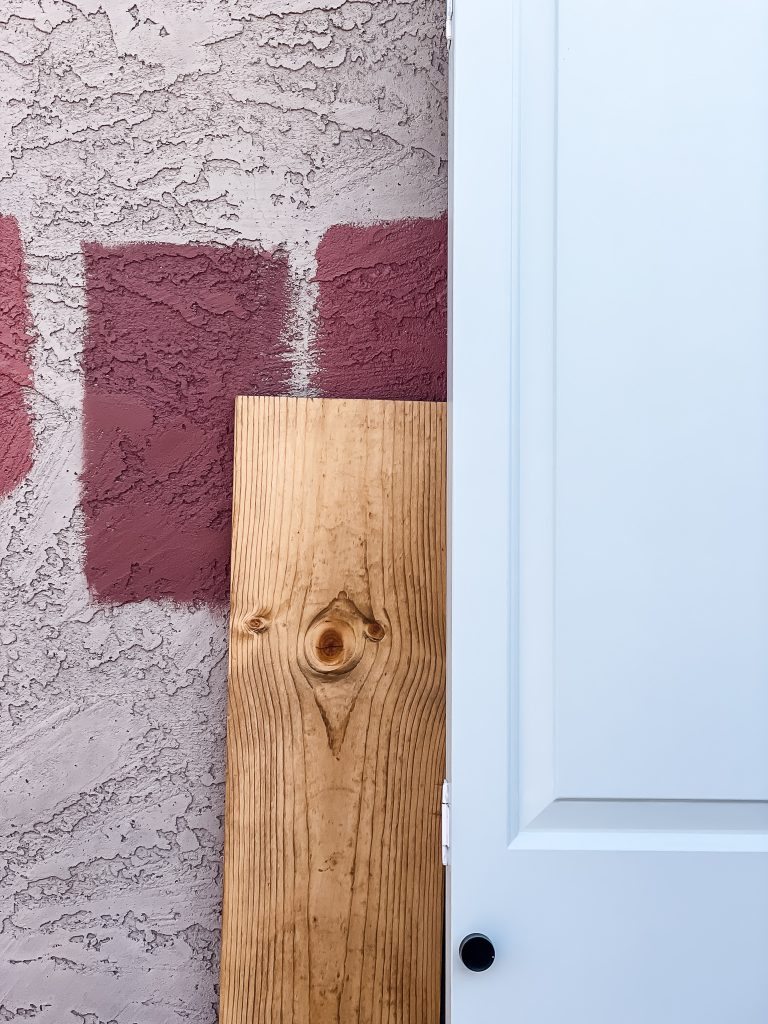 In the end, I liked the color but I didn't LOVE the color. The deep reddish pink felt too dark and too safe.
I needed to stretch my design brain a little more.
tHE EXTERIOR PAINT COLORS
I lost a lot of sleep over this decision. It literally haunted me for weeks. I just couldn't put my finger on the right color among all of the fan decks that I had at home.
About two weeks ago I was introduced to a paint line that is very well known in the Southwest (Dunn Edwards) and a lightbulb went off!
I immediately ordered swatches and a fan deck, and when they arrived I knew almost immediately that this brand was the missing piece to my color trouble.
Since I couldn't swatch on the actual Arizona house, I attempted the next best thing.
I laid all of my large pink swatches on my driveway on top of a roll of brown kraft paper and placed a black planter in the backdrop. I grabbed a few weeds out of my yard and threw them on top of the swatches.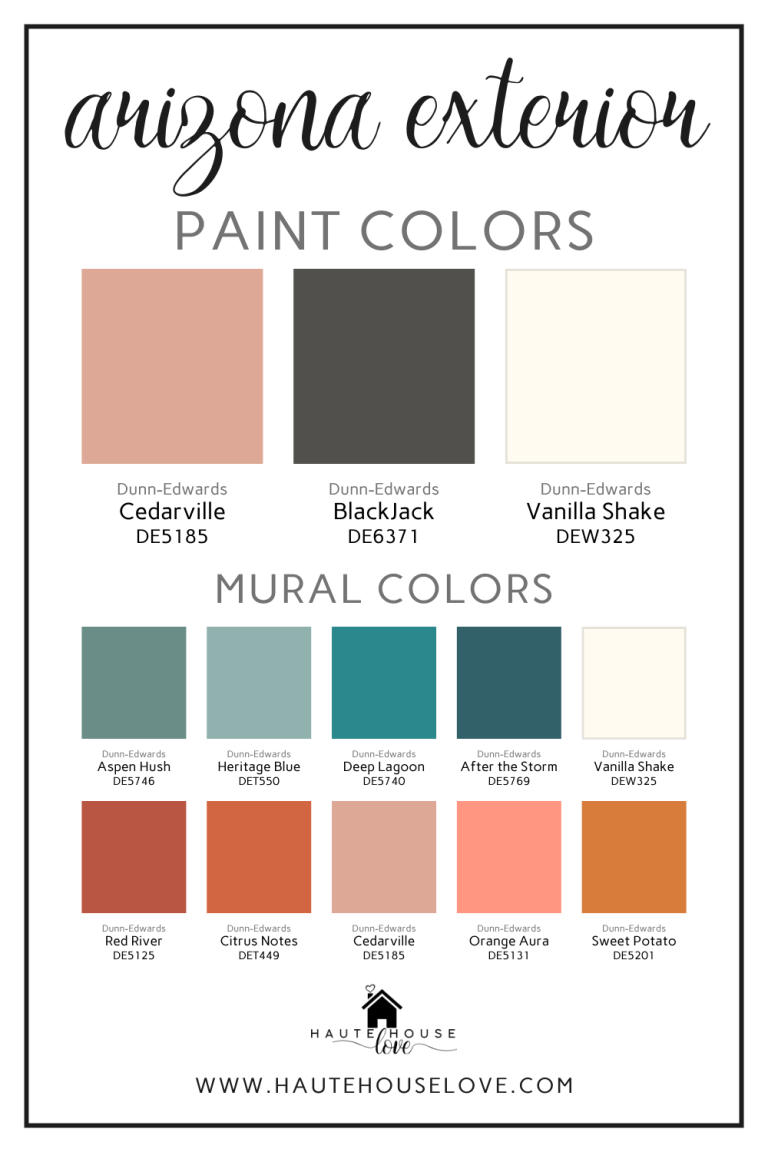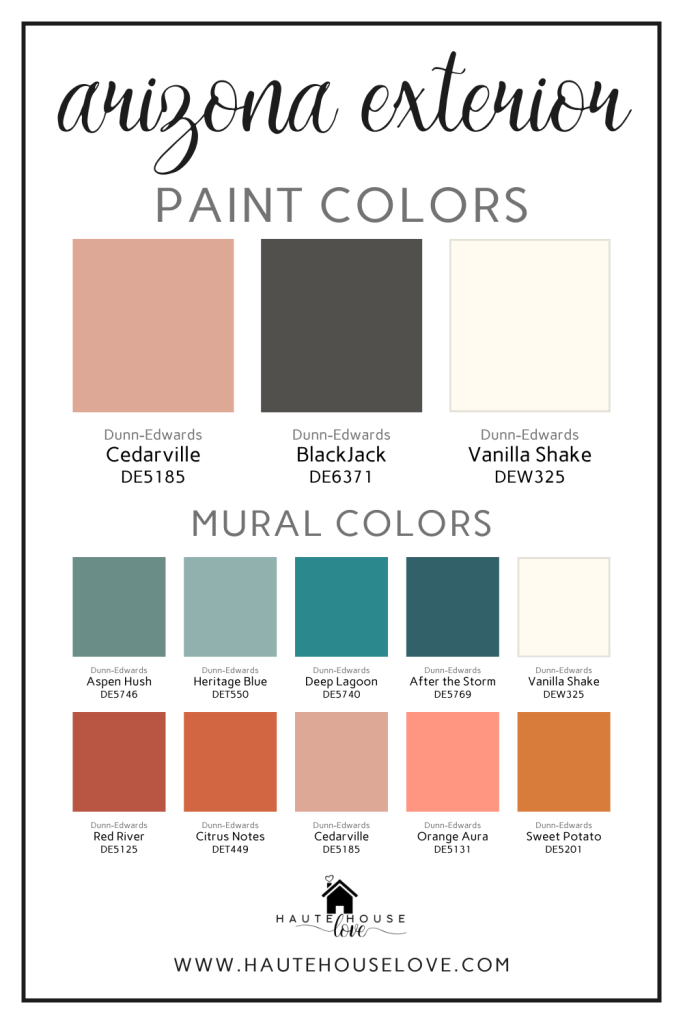 I stepped back, studied, and even phoned a friend.
When my friend happened to pick the same color that was my top choice, I knew it was the ONE.
Introducing, Dunn Edwards, Cedarville, and the accent shades, Black Jack + Vanilla Shake.
THE SECOND PAINTING PROJECT
At this point you may be wondering where the second part of the project comes in, and what in the world am I going to do with the rest of the above colors!
Have no fear! ERINNICOLESTUDIO is coming to my rescue, yet again, and we are going to tag-team a mural (paint by numbers style) on the backyard wall.
AND. I. CAN'T. WAIT.
You may remember when she came over to help me take on the mural in the playroom last year. She's an artistic magician and I couldn't think of someone more perfect for this job!!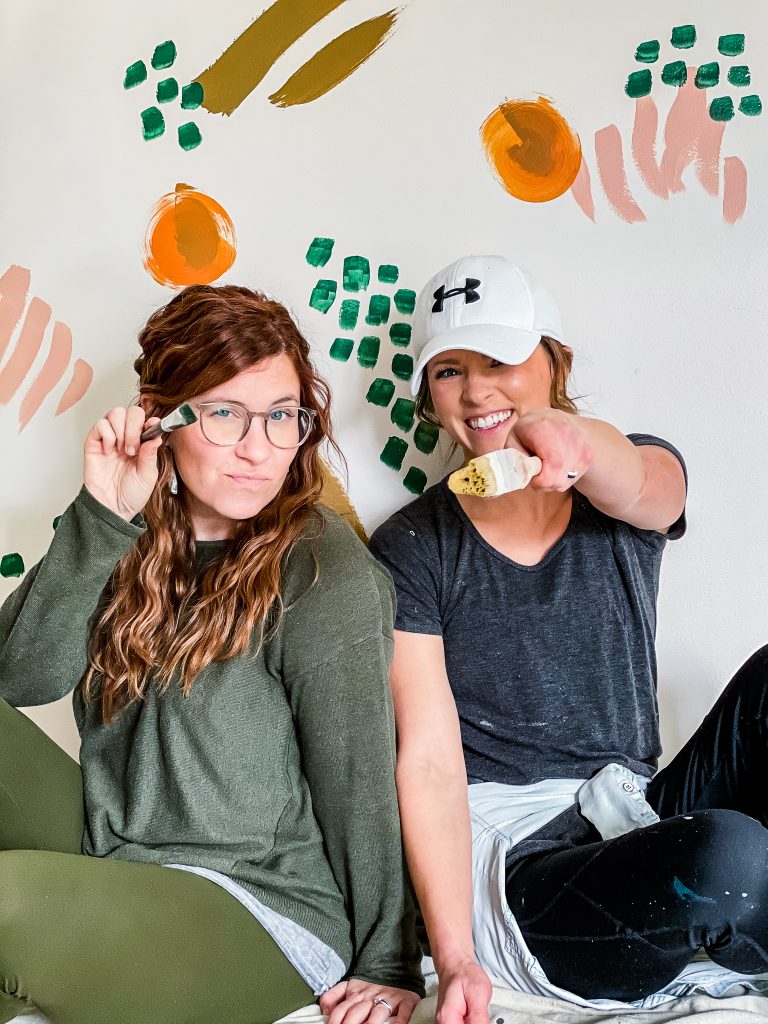 The Backyard mural design
Erin designed the most BEAUTIFUL mural art for the back yard and after the house gets painted, IT'S ON!!
I'm flying Erin out at the end of next week to help guide this art project and it will be 5 days of paint splatters, a coffee diet, and shenanigans!
Pedro is about to get a brand new backdrop (IYKYK) and I promise you won't want to miss it!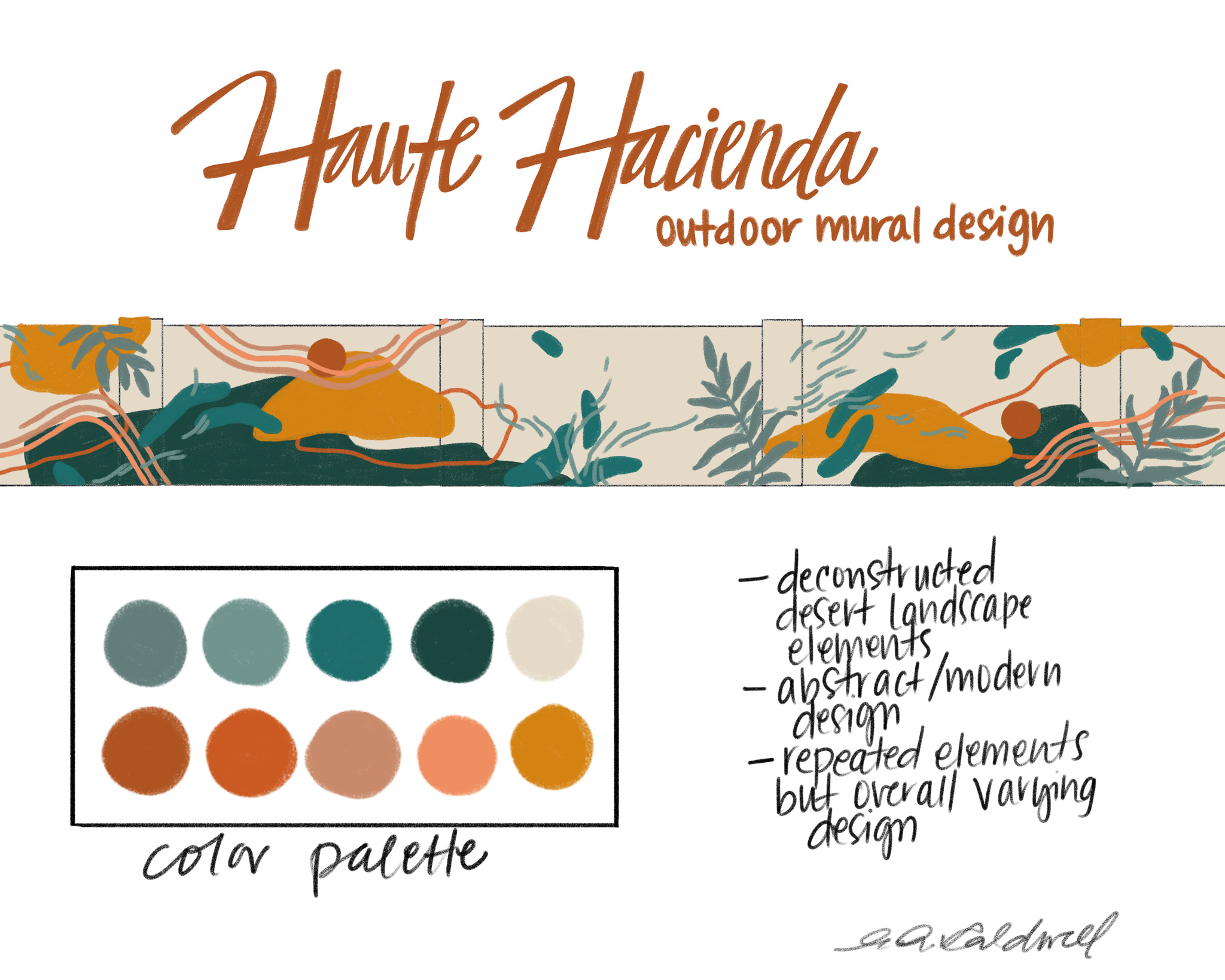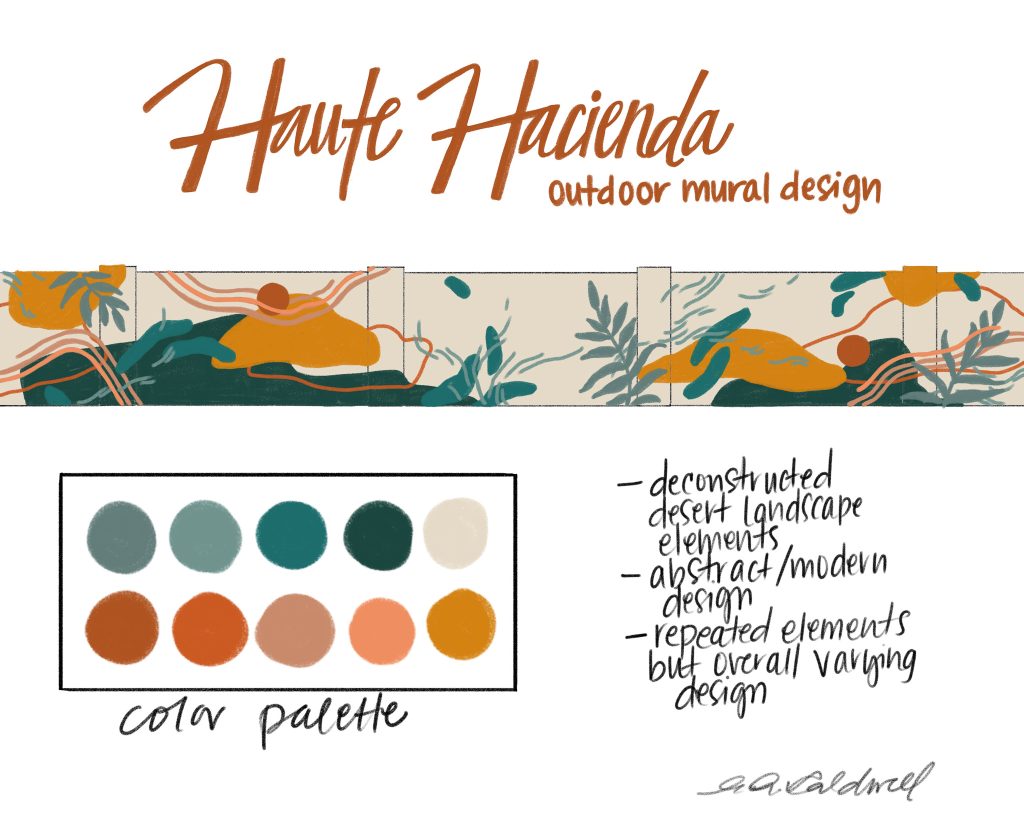 Buckle up, friends! The Arizona trips never disappoint and this project is no exception!
I'll see you in Scottsdale!