Wait Until You See This Mudroom Inspiration
It's time to reveal the updated design for our mudroom drop zone with black tile in a herringbone pattern!
---
There's something so thrilling about the hustle and bustle that comes with a brand new school year.
But are they more excited? Or am I?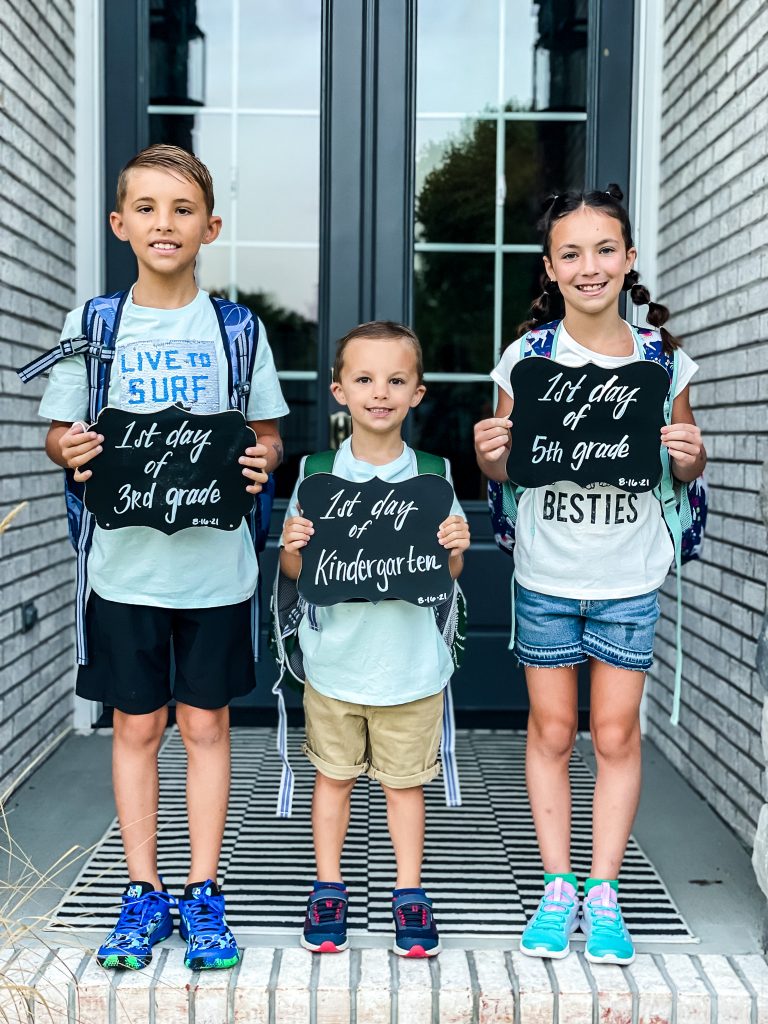 For some reason, this summer felt more taxing than most. Maybe it was because we traveled more and my work and housekeeping duties were confined to the small number of weekdays that we were actually home.
Or perhaps it's that the kids are fine with less structure as they get older, and I was the one missing the daily norm.
I'm fortunate to have the kind of job that allows me to work from home. Where I can jump back into mom-mode at the drop of a hat. The luxury of the situation is 100% not lost on me.
Even so, the feeling of a completely silent house at 8:00 am with a hot cup of coffee and everyone back on a regular schedule makes me all kinds of excited.
Seven whole hours of quiet.
Pin drops can be heard and productivity is calling my name.
I feel no shame in admitting that I live for this day!
Can you relate?
Maybe this anticipatory excitement is what made me jump headfirst into a complete space update that started as a simple cabinet organization moment.
Do you remember the day? If you missed it you can watch it HERE.
This post contains affiliate links. Thank you for supporting Haute House Love!
The Mudroom/Drop zone Before
Above is the mudroom storage/dropzone area from when we first built our home. If you are new around here you are probably thinking, "What's wrong with it?"
The easy answer is nothing. It was a perfectly functional space and served us well for our kids' younger years.
The cabinets above allowed space for the essentials: Masks, extra school supplies, and tubs of sanitizer, tissue, and disinfectant wipes. Although, no matter how I organized it, I was always left needing a tad more storage space.
The biggest culprit as my kids are getting older is that their sweatshirts and coats are getting longer.
Visually it just looked messy and the only way to fix it was to create more vertical space for hanging items.
Luckily, because of the cabinets being low and relatively short, I had 2 whole feet above the cabinets to work with.
Related: The Ultimate Command Center Guide – Smart Ideas For Back To School
how do you make A mudroom look bigger?
One of my biggest arguments when it comes to utilizing a small space is working with every vertical inch that is allowed. Oftentimes people forget that there is so much room for storage and organization if you just go up higher!
Using this principle in our drop zone helped to solve the dragging coat problem.
I began by taking down a set of taller cabinets from the laundry room. They were only 6 inches taller but the extra height combined with raising them 12 inches higher than the original cabinets made the biggest difference.
The taller cabinets helped solve the storage problem by giving us an added shelf in each cabinet, which ultimately led to more space to organize. The added height increased the function (and visual appeal) of the area because there would be more space coats and sweatshirts to hang in the colder months.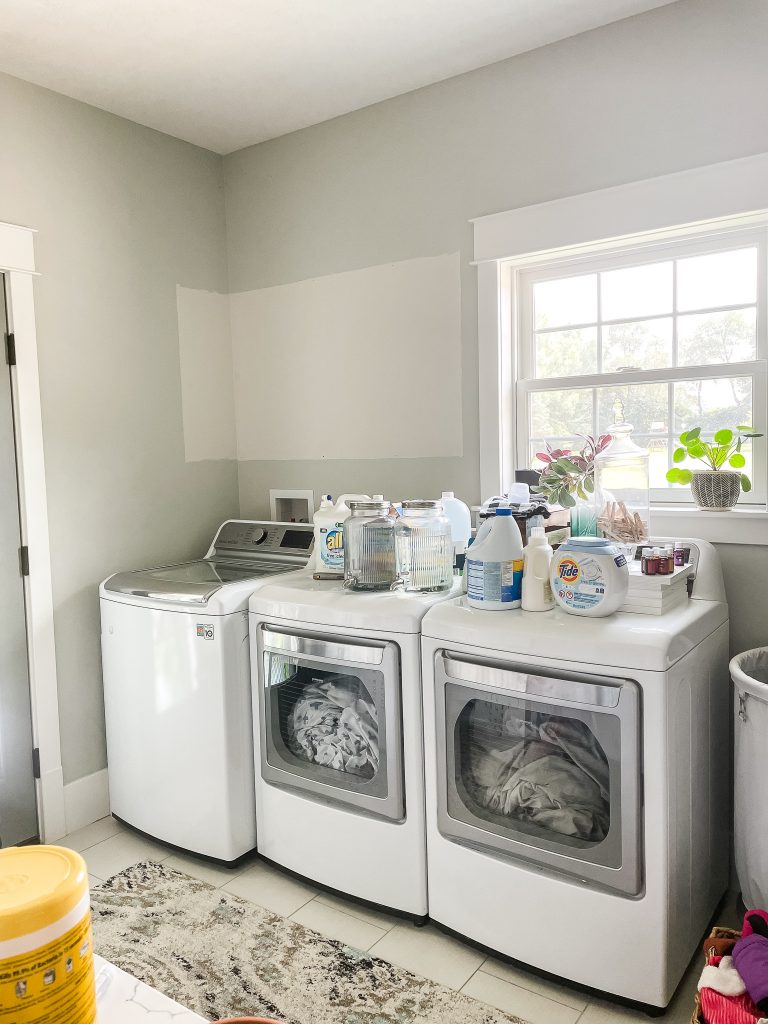 Related: 7 Home Organizing Mistakes You Are Making Right Now!
What makes a mudroom look nice?
There are several ways to make a visual impact when it comes to mudroom storage. Other than basic organizing baskets, hanging space, and concealed storage, I typically turn to an accent wall for an added touch!
Besides, after I ripped down all of the shiplap I needed something durable to replace it.
Without wanting to spend a ton of money in this space I turned to some of the tiles that I had leftover from the BASEMENT BAR PROJECT that I completed this past spring.
I decided on a stacked tile for one portion of the wall, then took to the polls for the bottom portion. My friends over on INSTAGRAM helped me choose a traditional herringbone pattern. Laying this tile pattern was a learning experience and I shared some of my learned best tips over on TikTok.
Mudroom Reveal
Let's be real. This is a FAUX reveal… Only because I haven't taken the time to put the finishing touch on this space.
Can you see what it is?
Ok, now can you ignore it for just a hot sec and focus on JUST the tile?
Cool 🙂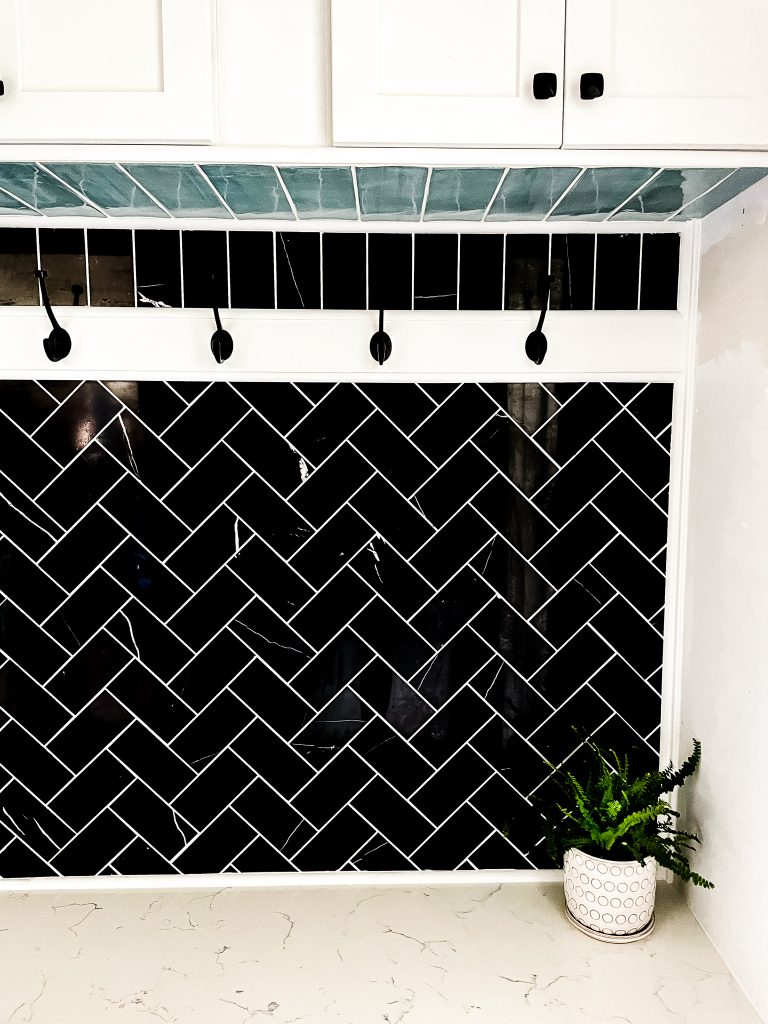 This space turned out to be everything that we needed it to be and more!
Great use of space.
Plenty of storage.
Visual appeal!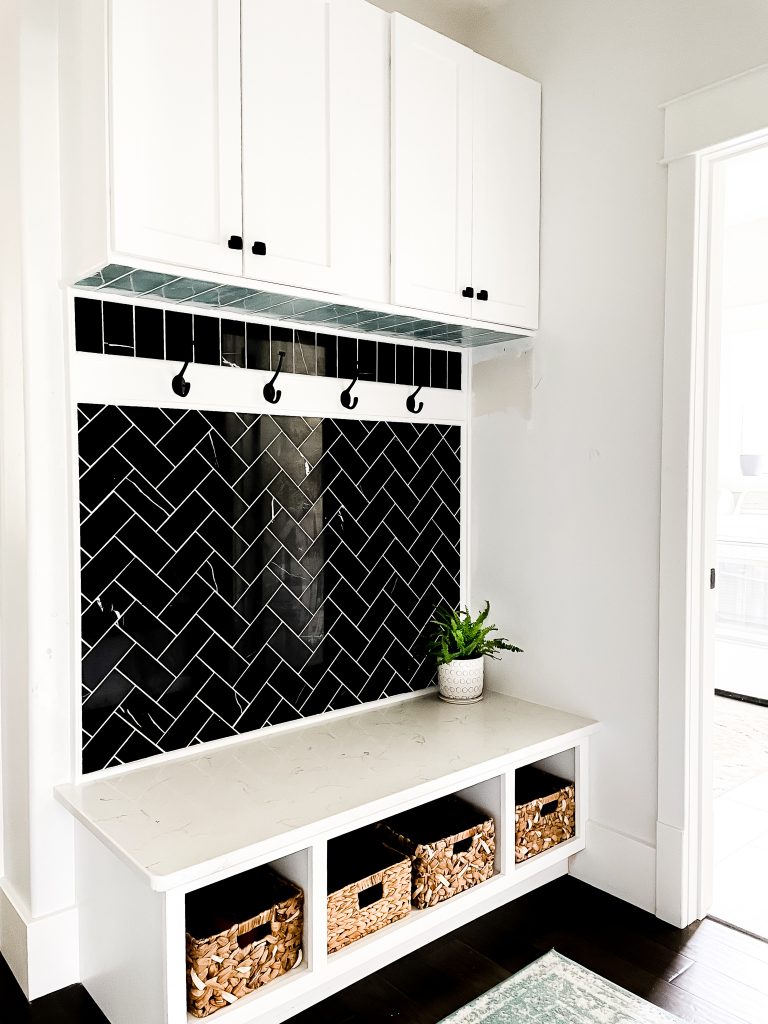 Oh and the paint? That will become this weekend's project.
PROMISE!
Related: How to paint a room – 5 must-know tips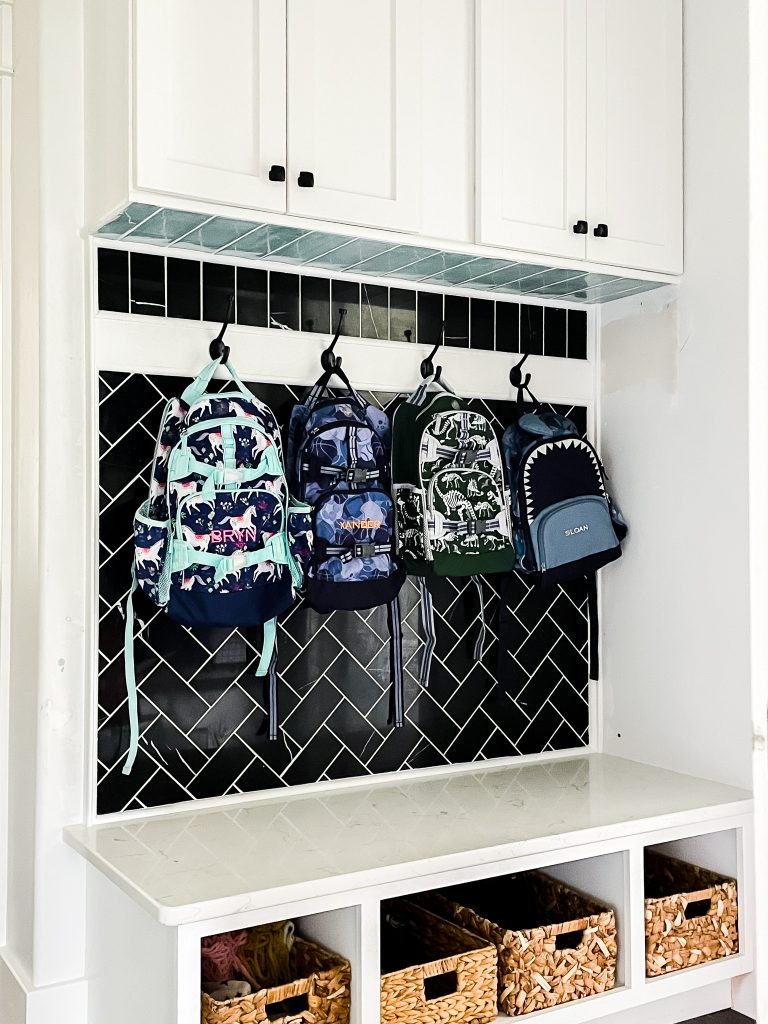 SHARE ON PINTEREST!