Paint Colors In Our Modern Eclectic Home
One of the most frequently asked questions burning in my inbox revolves around the paint colors we chose for our modern eclectic home.
If you have been following along on INSTAGRAM for a while you know that I'm no stranger to a good pop of color. However, I tend to choose my paint color pops very strategically.
If you were to empty my home down to the bare bones you would see that 80% of my walls are covered with muted and neutral colors. Im a firm believer that the bones of a space should go the distance, and bold colors should be in statement rooms and spaces that are easier to swap out.
This is likely why I'm such a huge fan of bring in bold color and print with PEEL & STICK WALLPAPER.
Keep reading to take a virtual tour of the rooms on the main floor and to see all of the paint colors I chose for our Modern Eclectic Home!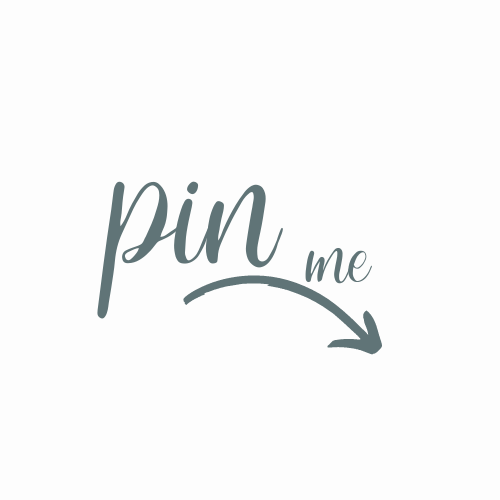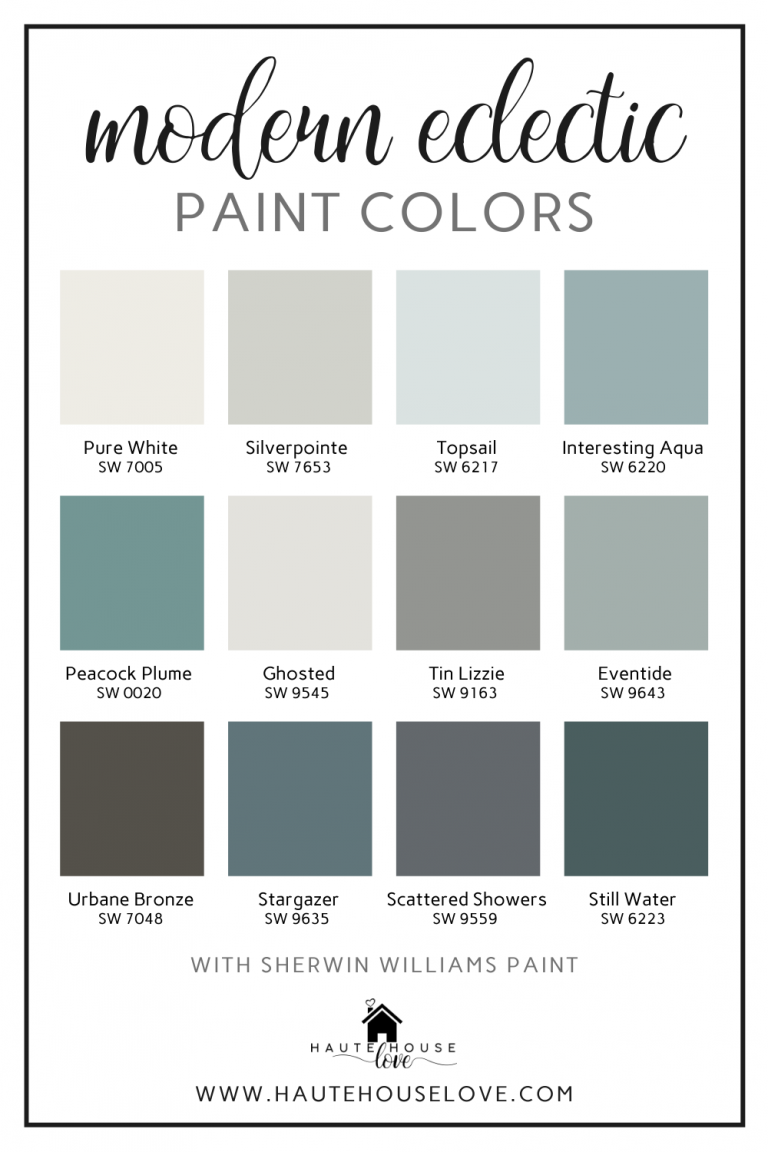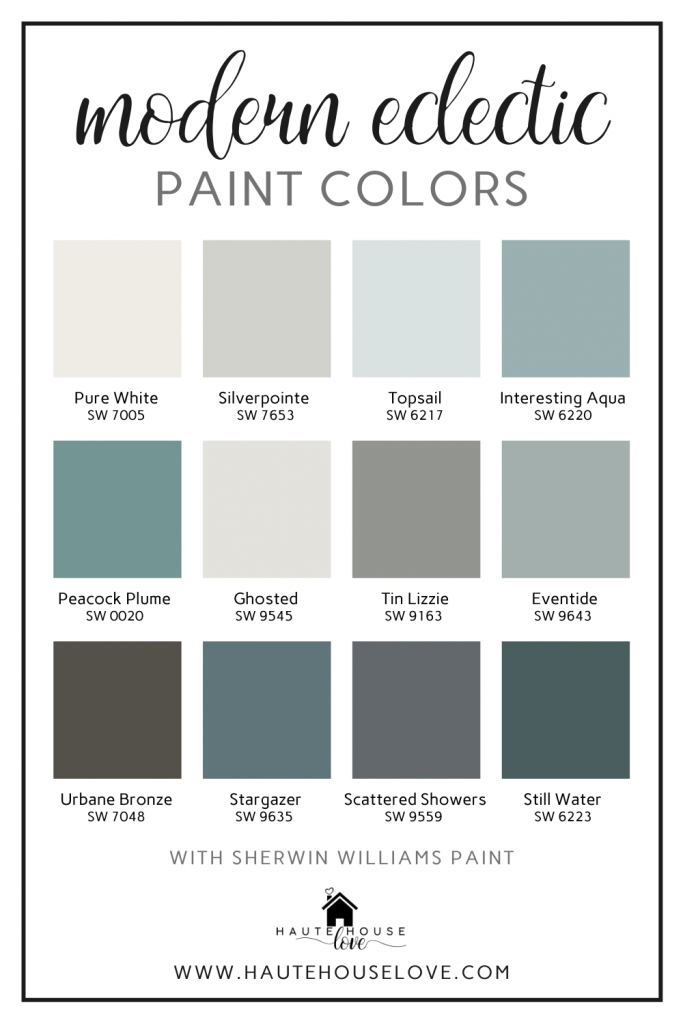 this post contains affiliate links
FRONT DOOR PAINT COLOR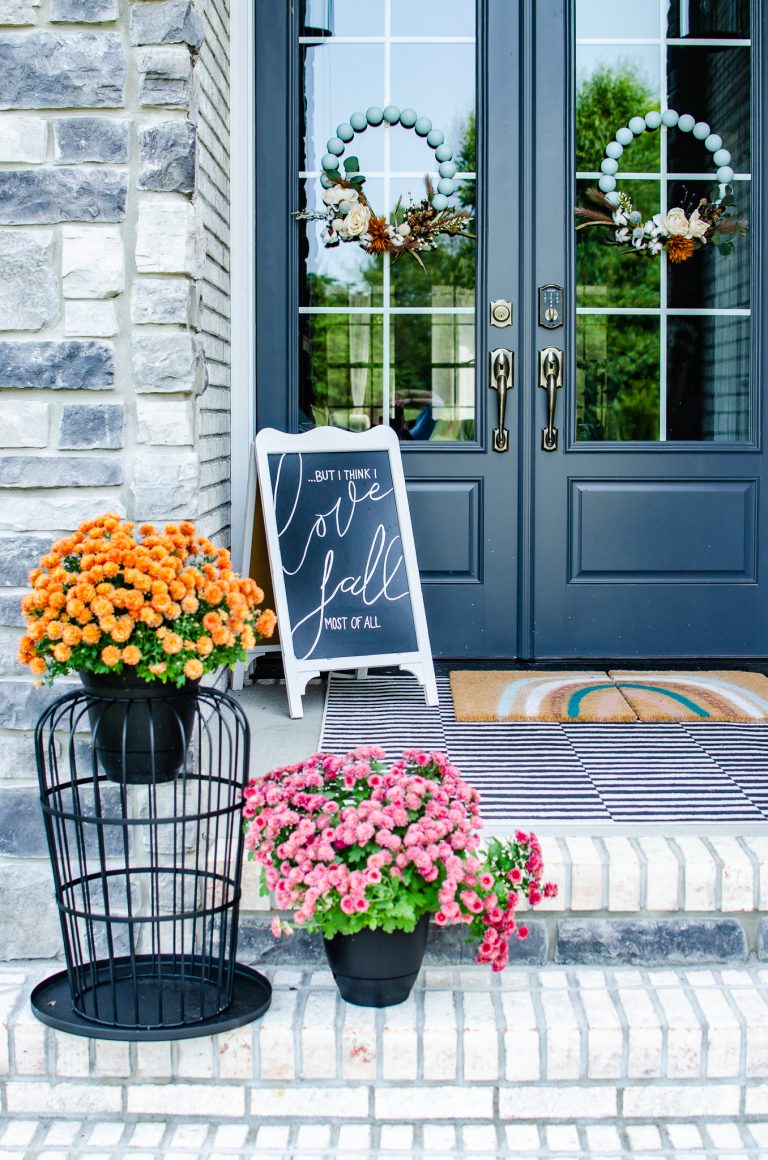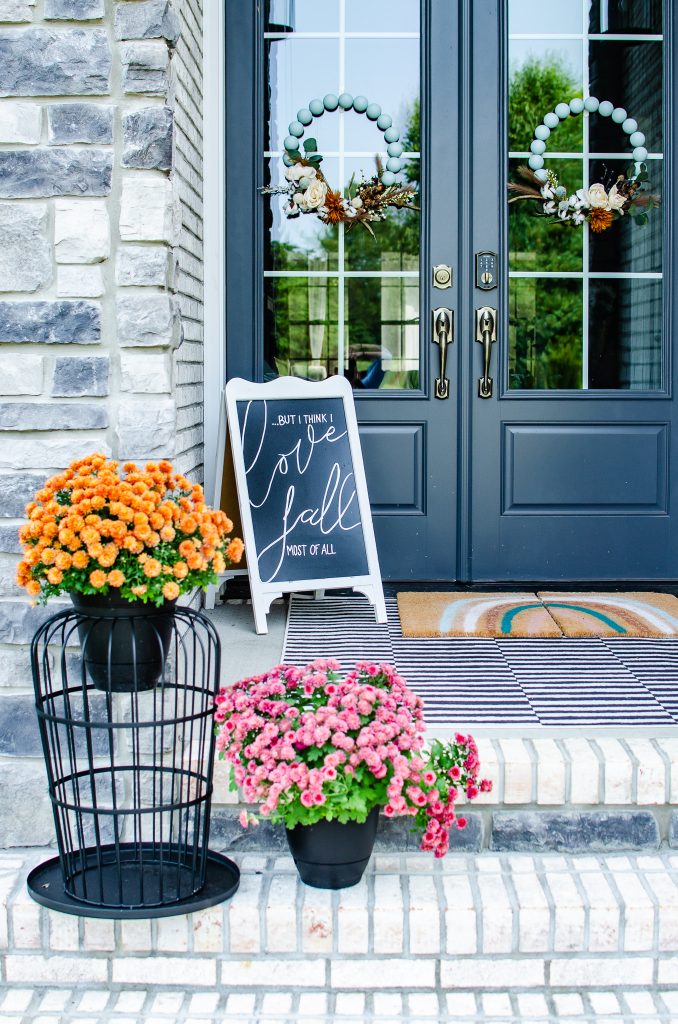 Front Door Color: Sherwin-Williams Peppercorn (SW7674)
Entry Paint Colors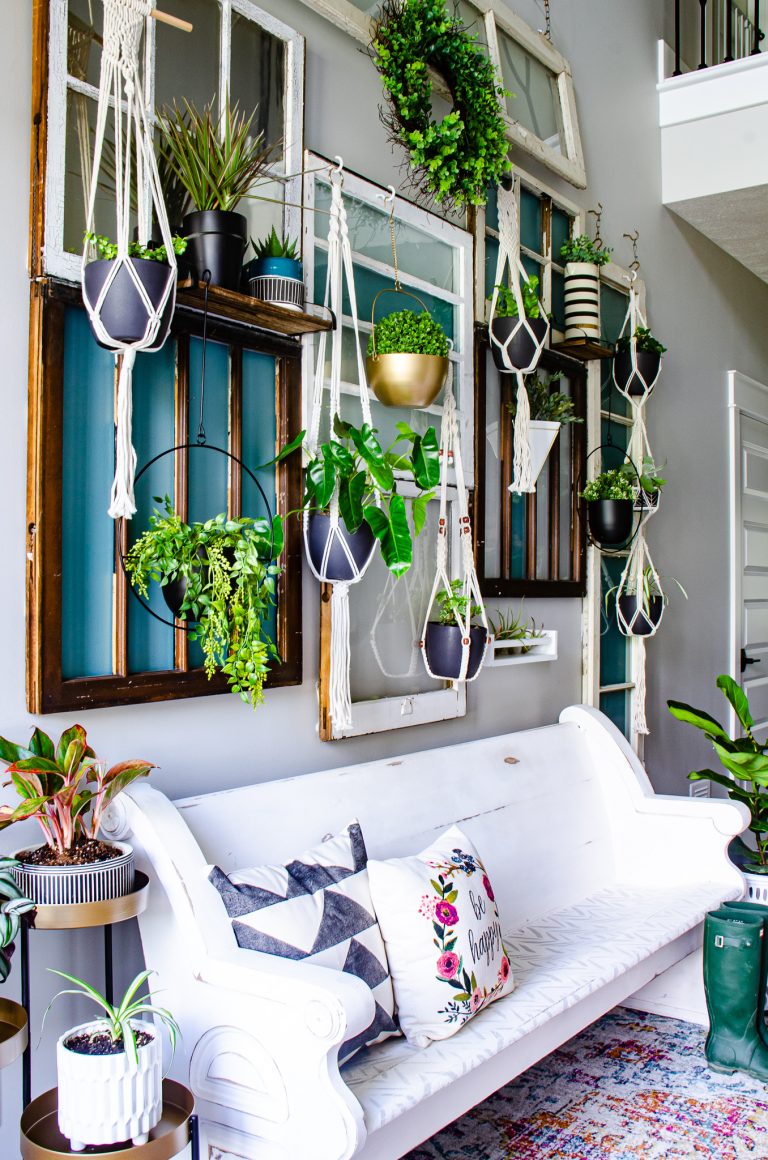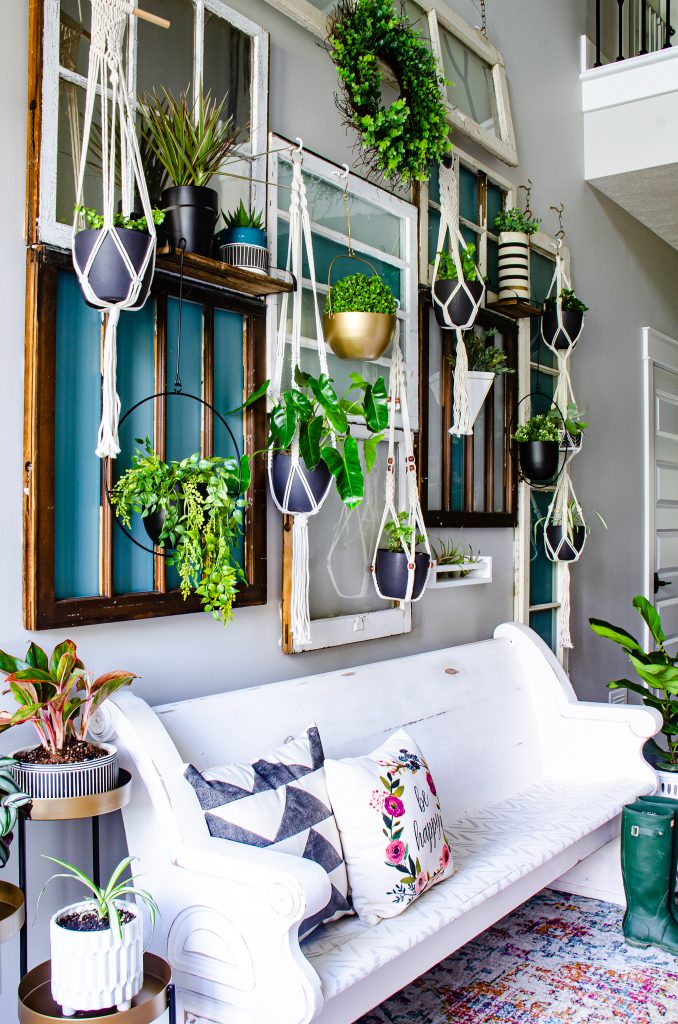 Wall Color: Sherwin-Williams Repose Gray (SW7015)
Window Accents: Sherwin-Williams Peacock Plume (SW0020)

OFFICE PAINT COLORS
Wall Color: (Left) Sherwin-Williams Storm Cloud (SW6249)
Wall Color (Right) Sherwin-Williams Stargazer (SW9635)
Mural Colors: Weekend (Turquoise), Ella Rose (Pink), Garden Essentials (Green) by Magnolia Home
Cabinet & Trim Color: Sherwin-Williams Pure White (SW7005)
SHOP MY OFFICE

MASTER BEDROOM Paint Colors
Wall Color: Sherwin-Williams Eventide (SW9643)
Ceiling/Headboard Trim Color: Sherwin-Williams Urbane Bronze (SW7048)
Trim Color: Sherwin-Williams Pure White (SW7005)

Master Bath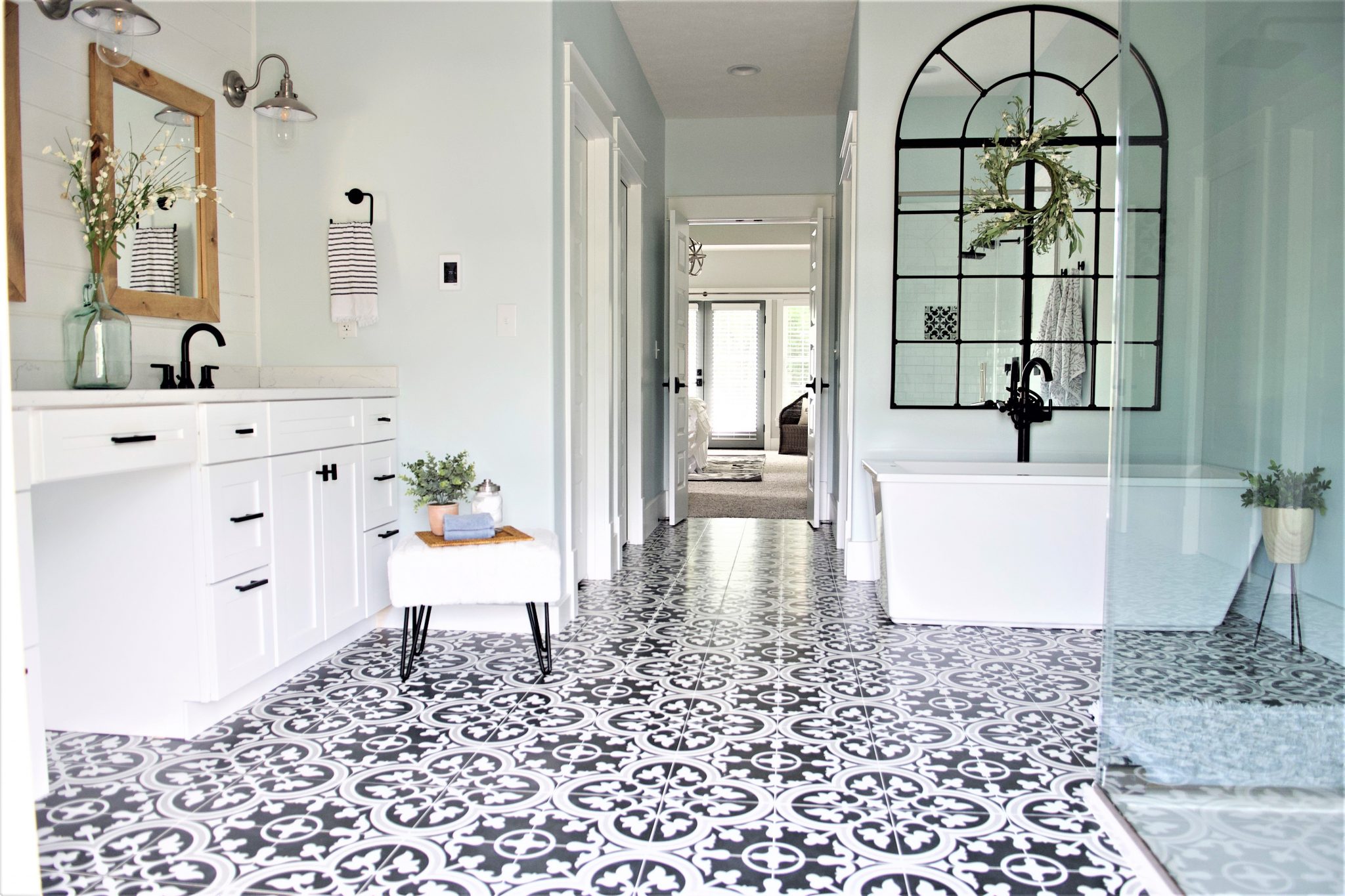 Wall Color: Sherwin-Williams Topsail (SW6217)
Trim Color: Sherwin-Williams Pure White (SW7005)

Garage Entry & Command Center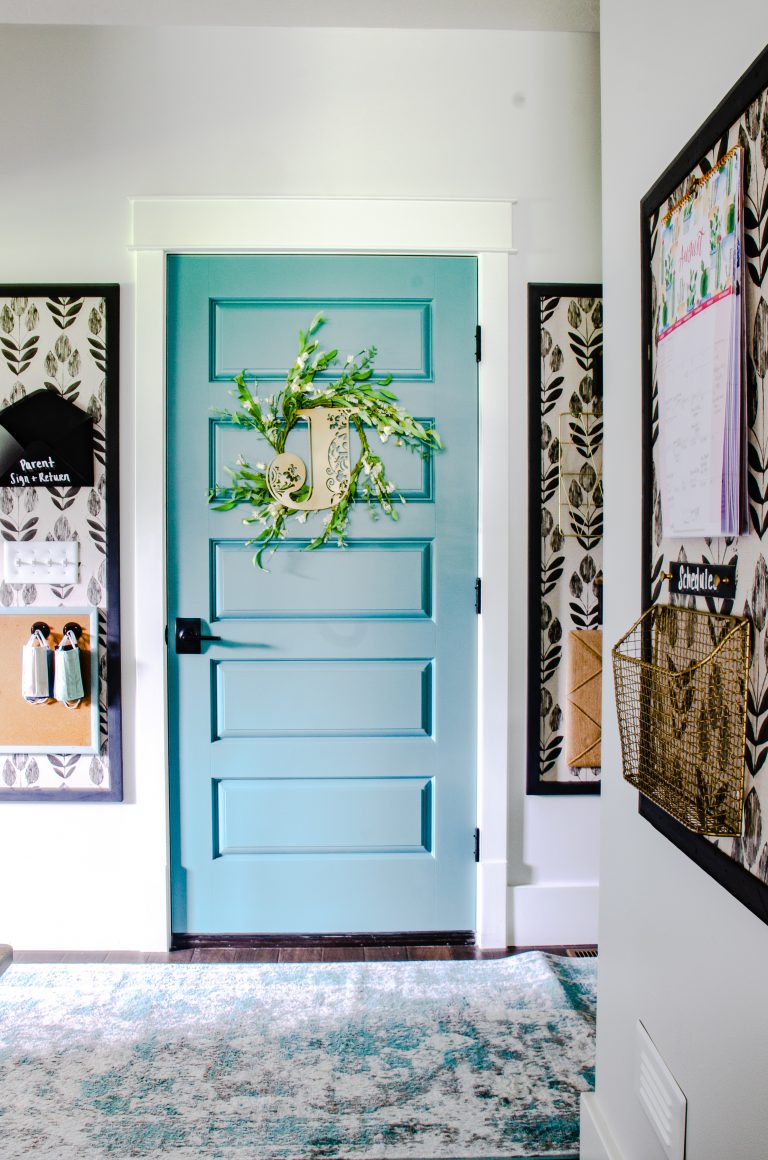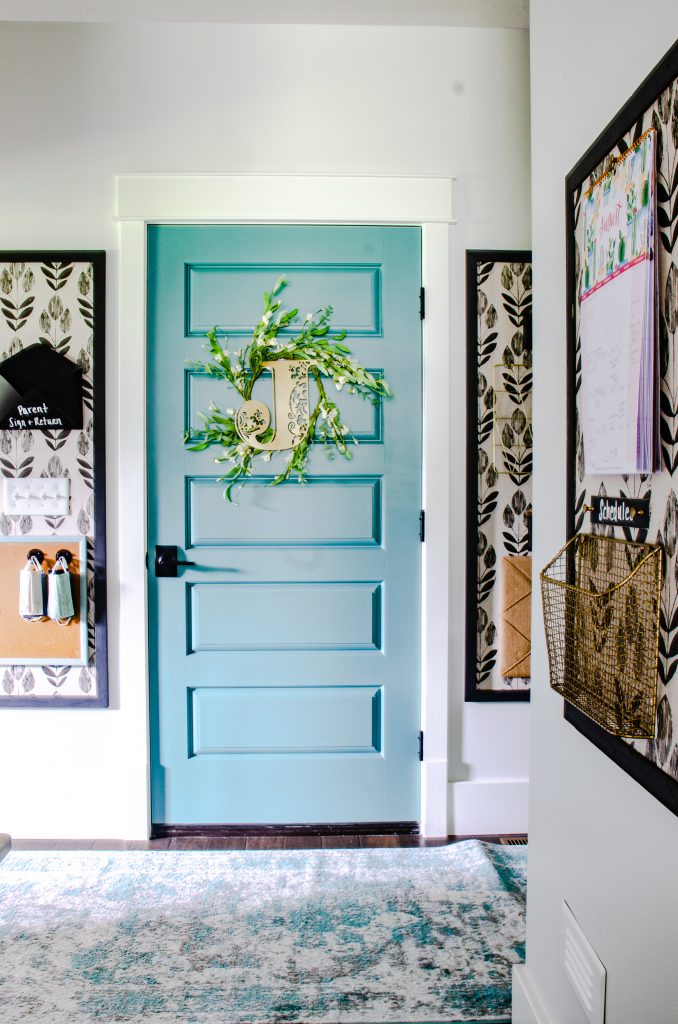 Wall Color: Sherwin-Williams Ghosted (SW9545)
Door Color: Sherwin-Williams Peacock Plume (SW0020)
Trim Color: Sherwin-Williams Pure White (SW7005)

fORMAL lIVING rOOM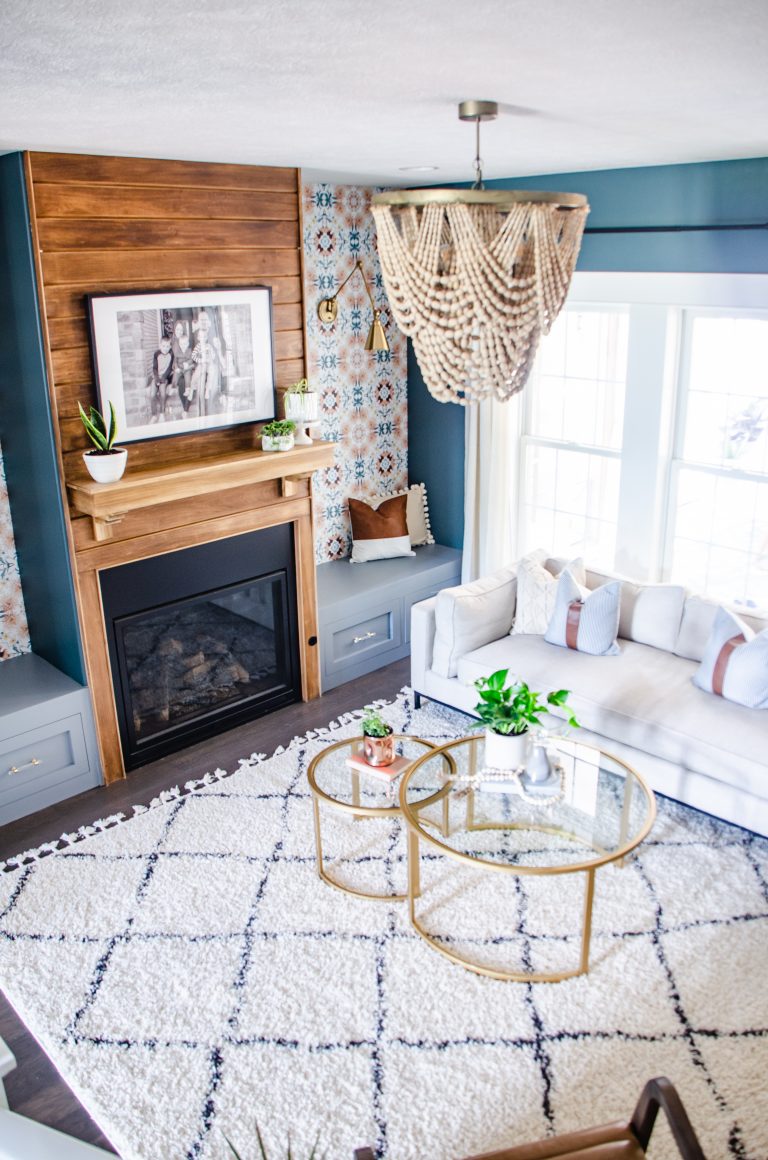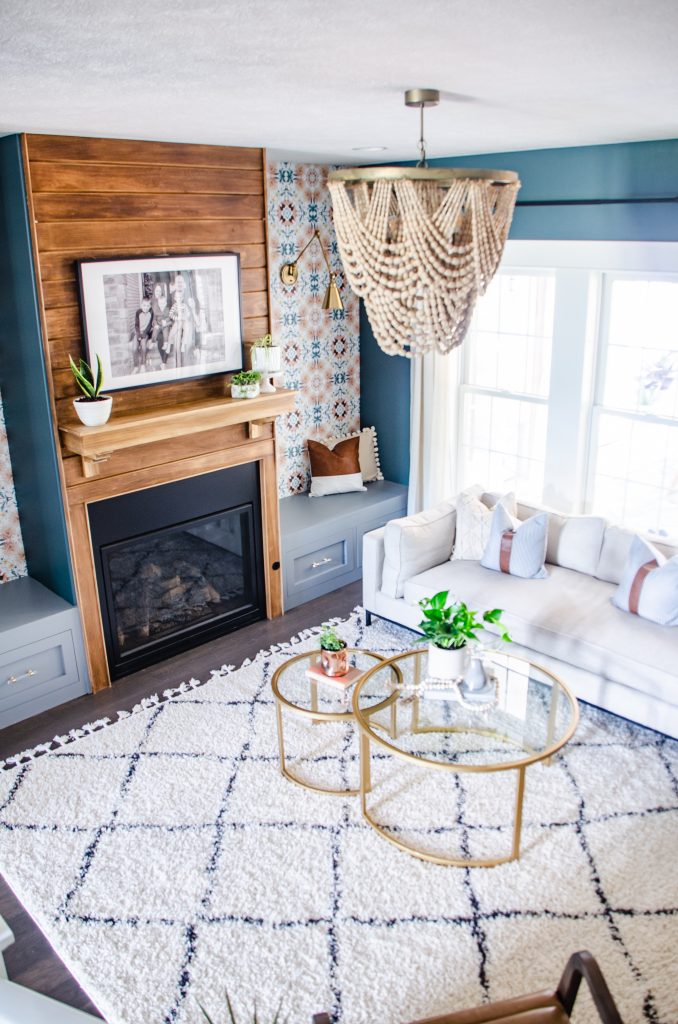 Wall Color: Sherwin-Williams Still Water (SW6223)
Built In Bench Color: Sherwin-Williams Scattered Showers (SW9559)
Trim Color: Sherwin Williams Pure White (SW7005)

KITCHEN Paint Colors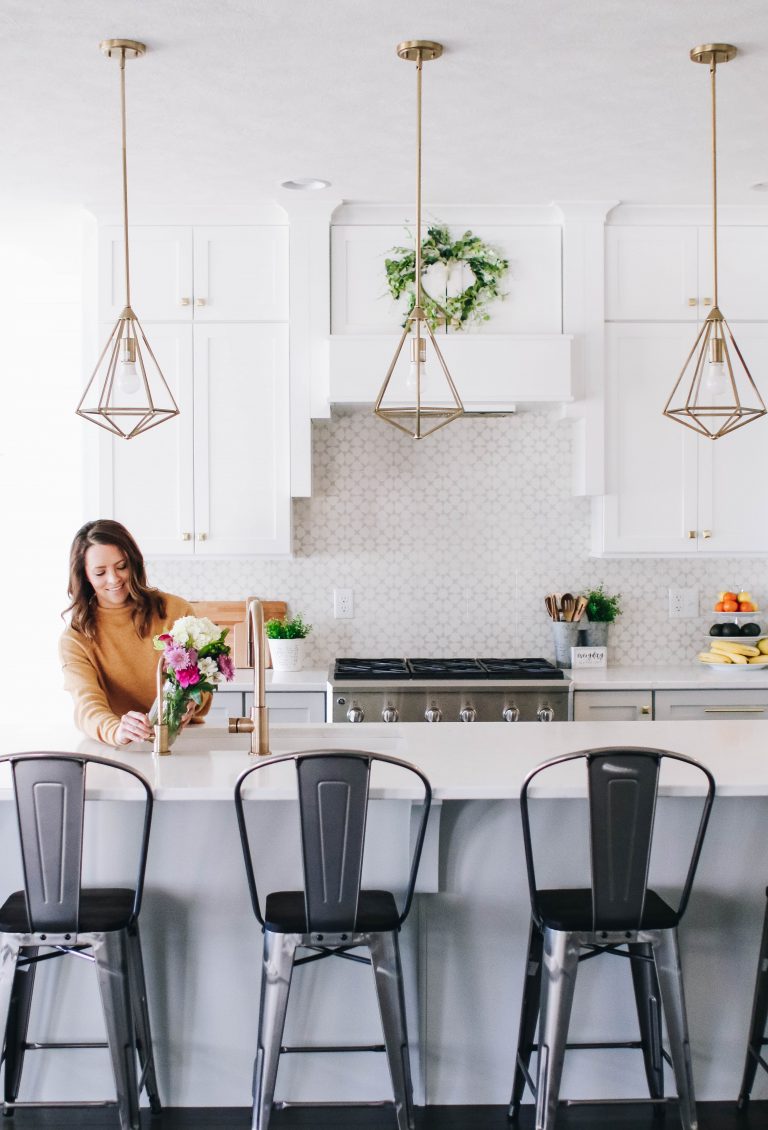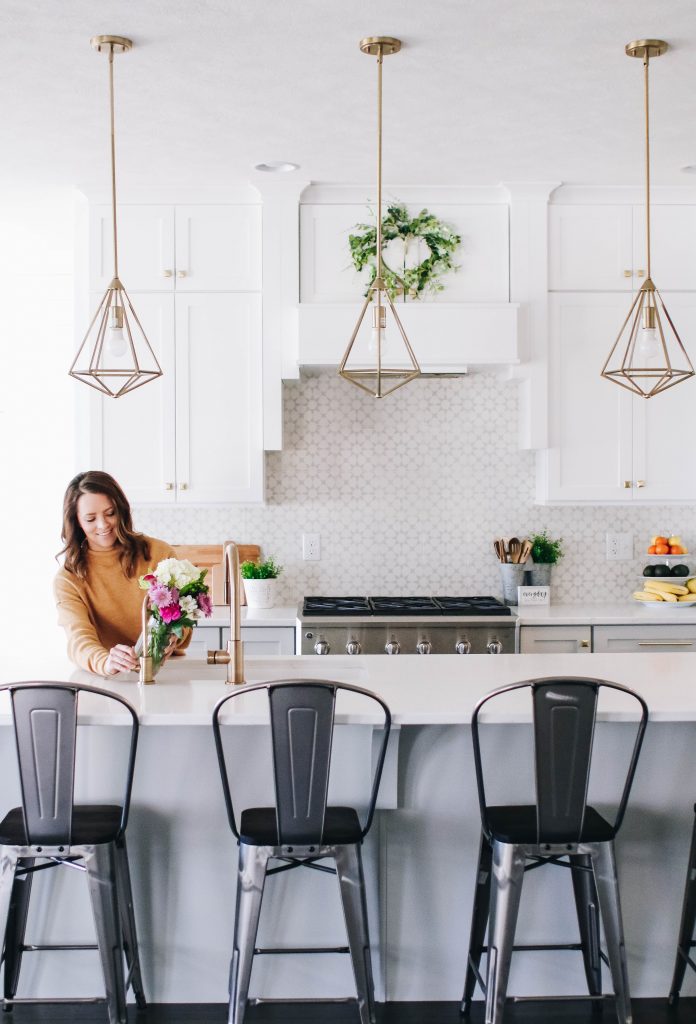 Upper Cabinet Color: Sherwin-Williams Pure White (SW7005)
Lower Cabinet/Island Color: Sherwin-Williams Silverpointe (SW7653)
SHOP MY KITCHEN

hearth Room Paint Colors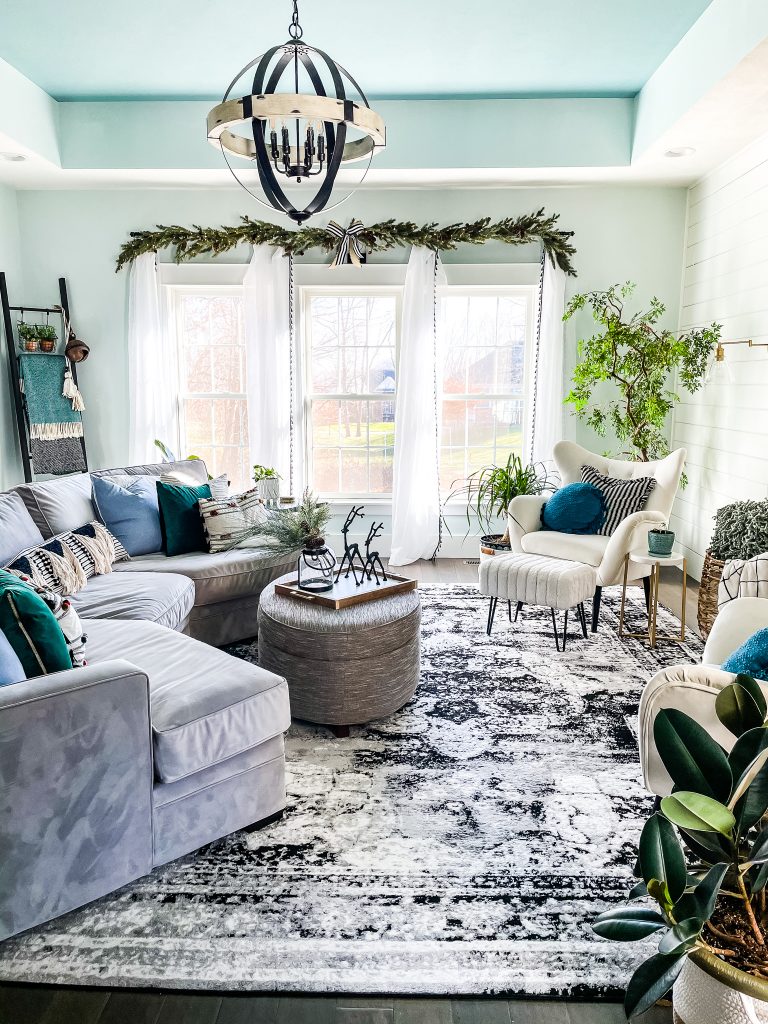 Wall Color: Sherwin-Williams Topsail (SW6217)
Ceiling Color: Sherwin-Williams Interesting Aqua (SW6220)
Trim Color: Sherwin-Williams Pure White (SW7005)

Laundry room Paint Colors
Wall Color: Sherwin-Williams Silverpointe (SW7653)
Exterior Door Color: Sherwin-Williams Tin Lizzie (SW9163)
Cabinet & Trim Color: Sherwin-Willians Pure White (SW7005)
SHOP MY LAUNDRY ROOM

Airbnb Arizona arizona rentals basement bar design blog hop Budget Friendly christmas gifts crafts decor DIY diy projects easy diy FAQs fashion favorite things fitness Friday Faves gardening Gift Guide home decor home decor ideas home design home improvement home organization How To Jeffrey court kitchen design living room modern boho most requested links Organization organization ideas paint Paint Colors peel and stick wallpaper Random Thoughts recipes scottsdale arizona Sherwin Williams the weekender this week's content this week's FAQs travel vacation rental wallpaper