19 New Ideas For Subtle Fall Decor
I don't know about you, but when it comes to fall decor I'm all about simple.
Except for pumpkins.
Real ones.
And lots of them!
But not until October.
And its currently still August.
So I digress.
This year I desire for my seasonal decor to keep in line with the primary color scheme in my home, with a slight pop of fall-ish color.
Is that even a thing?
It is now!
---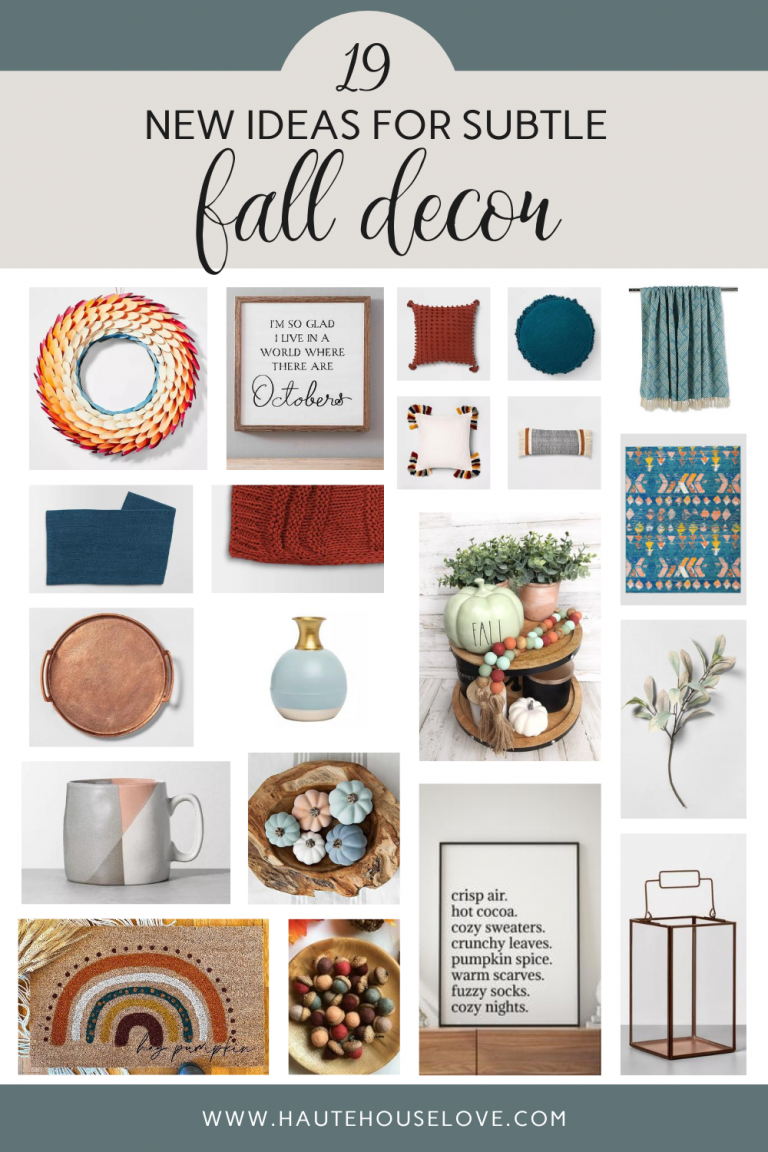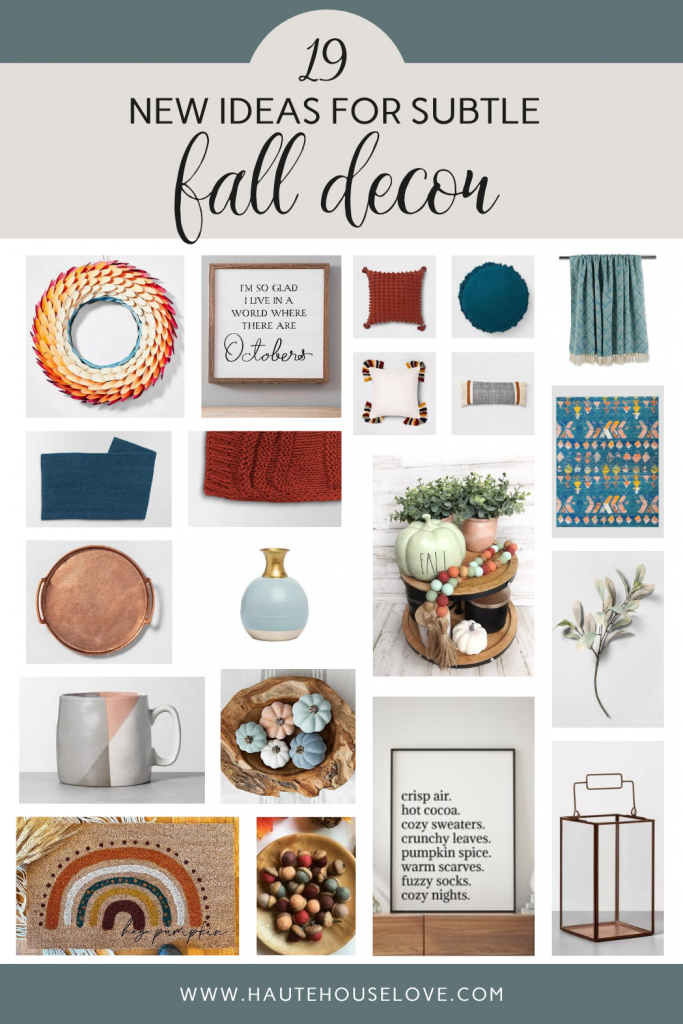 This season I've taken the time to round up 19 of my absolute FAVORITE fall-ish finds. All coming in under the $40 mark and ALL perfectly fitting for my turquoise inspired, fall-ish desired home.
If you are new here, Hi! I'm Kera. I am a blogger, home stylist and mom of 4. I have a colorful, collected eclectic style with pops of modern vintage and cottage boho. If you enjoy my content I would love to connect with you on Instagram where I share my daily projects and home inspiration!
This post contains affiliate links for your shopping convenience. Thank you for supporting Haute House Love.
---
Front Door Decor
Lets start with the CUTEST wreath I have EVER seen. I mean, the second I saw them I popped two in my cart and pre-ordered them before passing go and collecting $200. (Do you get my reference?!?)
They are NOW available to order in real time so you will need to RUN over and snag some for yourself. These things will go like hot cakes. Promise!

How do I love this front door mat?!? Let me count the ways!! This hand painted rainbow is so stinking cute and I love the option to customize the phrase on the front (which is only $5 more).
It can easily take you through different seasons depending on how you customize, which is always a plus in my book! This particular rug is from Etsy but could be a DIY option for those feeling crafty.

Ok, ok. Im perfectly aware that this outdoor rug is not technically fall decor, but for the sake of my turquoise and copper fall-ish round up this one hits the mark! How cute would it be layered under the rainbow mat above?!? It's perfect for the fall vibe in my home so, therefore I say, come home to mama!!

---
Throw Pillows & Blankets
Throw pillows. I cant even with these finds! I love the fringe detail and the pop of fall-ish color. These are all from target and have consequently made their way into my shopping cart. OOPS! Now the question is, do I put them in the living room or the hearth room?? Only time will tell.

Throw blankets are a cool weather staple. I love the texture and pattern in these options and they go perfectly with my fall-ish color scheme! Get in my mailbox!

---
Tabletop Staples
Fall-ish stems are a must this time of year. I love these because they have hints of orange and blue without being a full out fall color. They are a transition stem which means I may even be able to leave them out year round.

I'm a sucker for lanterns and these copper beauties are calling my name! Comes in two sizes and both are under $30! I will stuff them with candles or fall floral and plop the right next to the fireplace! Done and Done!

Speaking of copper. I'm currently obsessing over this tray which is screaming to be added to my fall-ish decor. Place this baby in the center of an ottomon with a neutral vase and a few of the stems I talked about above and you have the perfect subtle seasonal statement.

This mug isn't technically fall decor but it fits in the tabletop category because, hot coffee. And cuteness. I love a staple mug and this one from the hearth and hand collection at Target fits the bill in both size and seasonal fall-ish ness.

---
Mini Accessories
Anyone who loves boho decor likely has a wood bead garland. I'm obsessed with the fall-ish colors in this beauty! I may dare to DIY this one myself but if you would rather just click and ship this is the perfect option at a great price point!

I love this little acorn set because felt just screams fall to me! It's warm and cozy and reminds me of a warm hug on a cool night! The obvious place to style them is in a bowl on a table. However, I would also consider DIY'ing these cutie pies into a fun fall-ish garland to hang along a mantel or styled over a coat hook with a piece of linen fabric. The options are endless with this find!

These little pastel pumpkins are the perfect pop of fall-ish color. Like the acorns they can adorn a decorative bowl but can also find home under a cloche, inside a lantern or atop a mantle scape.

---
Neutral But Noteworthy
I cant let this post go by without a few good fall signs. Granted they aren't my pops of color but they are subtle-ish and will fit perfectly in virtually any home-ish.
One is a ready made sign and one is a printable that you can turn into a DIY of choice.

---
The ONE And ONLY Splurge
Ok, ok, I KNOW I said that all of the items hit under the $40 mark but this is bonus item #20 and I am so obsessed that I HAD to share. You know when something just jumps out and says "BUY ME" and then you look at the price tag?!?
Fortunately, this one isn't crazy over budget and for that reason, its in my cart. How cute will it be with the tabletop decor above?!?


---
Happy Fall-ish Shopping, Friends!!
Need more home inspiration? Head to my BLOG or click on these popular posts!