The Ultimate Master Bedroom Reveal
The master bedroom reveal is here! This space is finished and it's everything I dreamed it would be! Below you can see photos from all angles of the room as well as a detail source list and FAQ's.
You can see before photos and the original mood board IN THIS POST.
this post contains affiliate links
Q: What are the dimensions of this room?
A: The bedroom is approximately 14′ x 18′ not including the little alcove that leads to the master bath.
---
Q: What are the paint colors in this space?
A: Im a Sherwin Williams loyalist all the way! The ceiling is Urbane Bronze, SW 7048 in Emerald Satin. Its the 2021 color of the year and the color that inspired this whole bedroom design! The wall color is Eventide, SW 9643 in Emerald Designer Satin.
---
Q: The benches at the end of the bed… Are those Pottery Barn?
A: Im thrilled to say that while these look so much like the Leather Tufted Stools from Pottery Barn they are NOT! These are a near exact dupe at 1/3 of the price! A budget find for sure!
Shop Bedding & Stools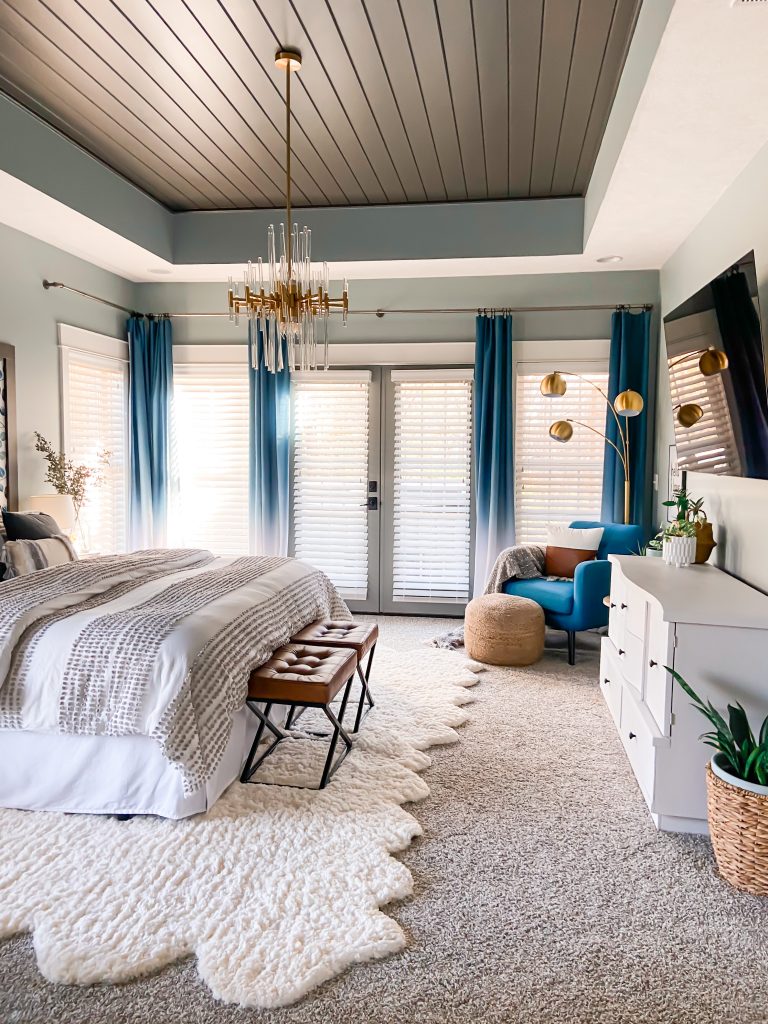 Q: How high are the ceilings?
A: Our primary ceilings are 9 feet high and the recessed portion is 10 feet.
---
Q: What size rug is this?
A: It's actually two rugs!! Since the bed covers most of the rug I opted to go the less expensive route and purchase two smaller rugs instead of one large rug. There are 2 – 6'x7′ rugs in this space and they overlap slightly in the middle. If you look below the stools at the end of the bed you can see it. But barely!
Shop Curtains + Rug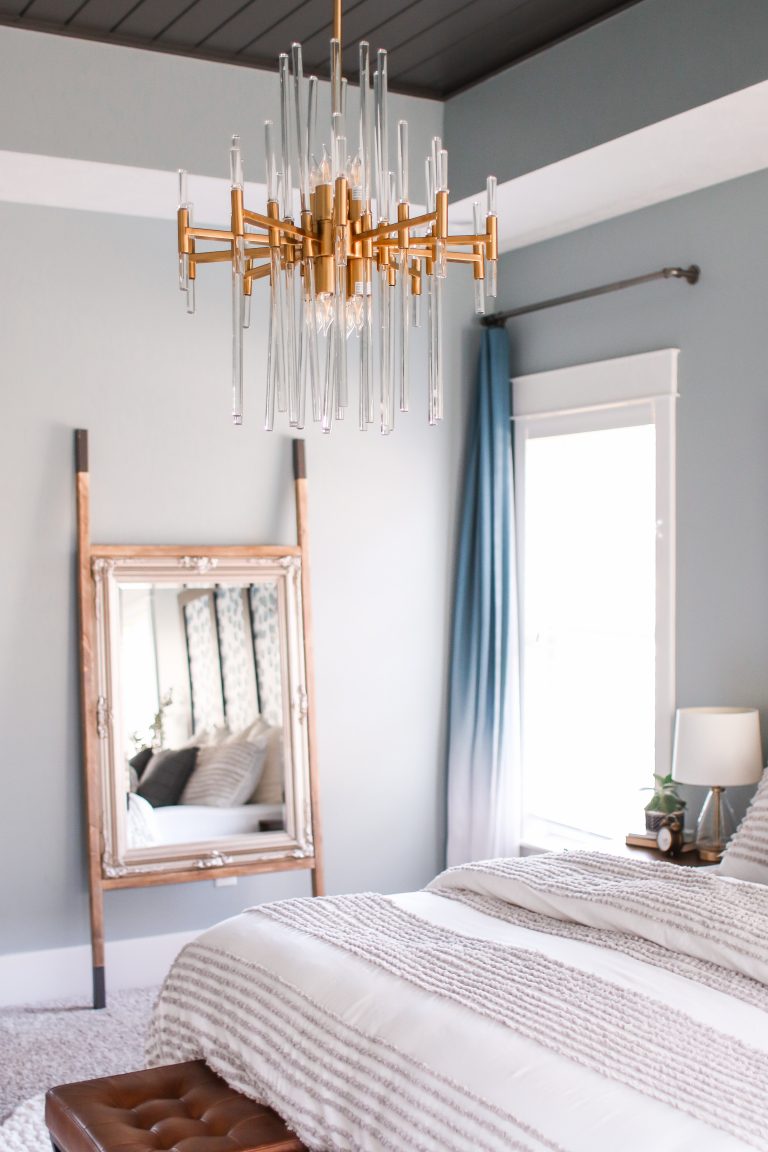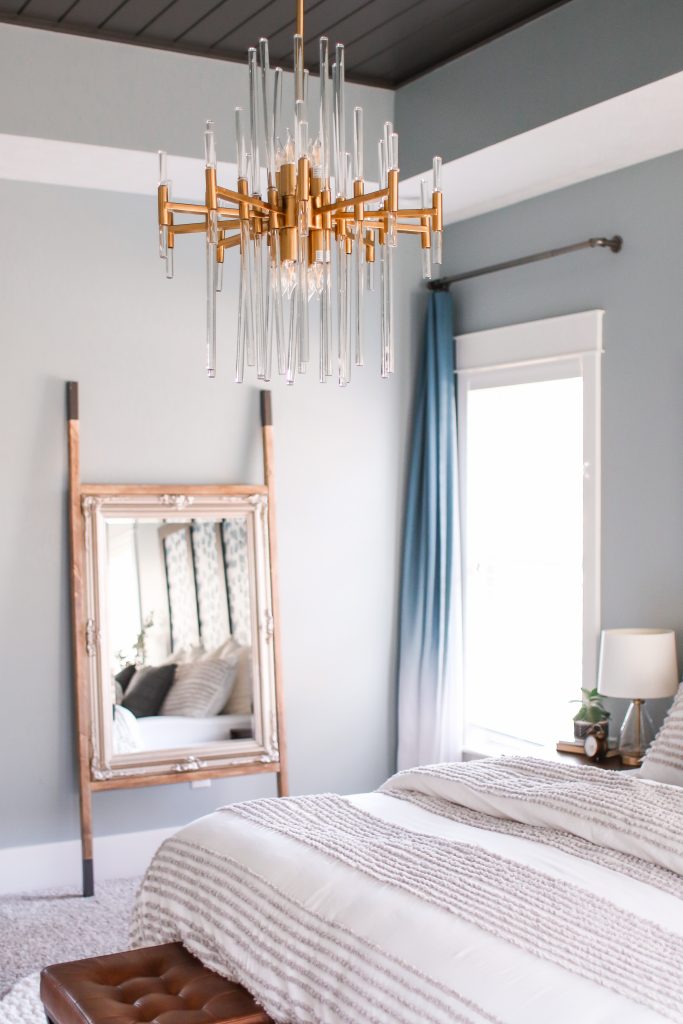 Q: Tell me about this chandelier. It's GORGEOUS!
A: This chandelier is made of metal and glass and the light bounces off it beautifully when it is turned on. The price point was definitely a higher but I believe in splurging on a few things in each space. When I couldn't stop thinking about it I knew it was a piece I HAD to have.
---
Q: That mirror is SO COOL! How did you make it?
A: I will share a detailed tutorial on Instagram as well as a blog post on the process next week!!
Shop Lighting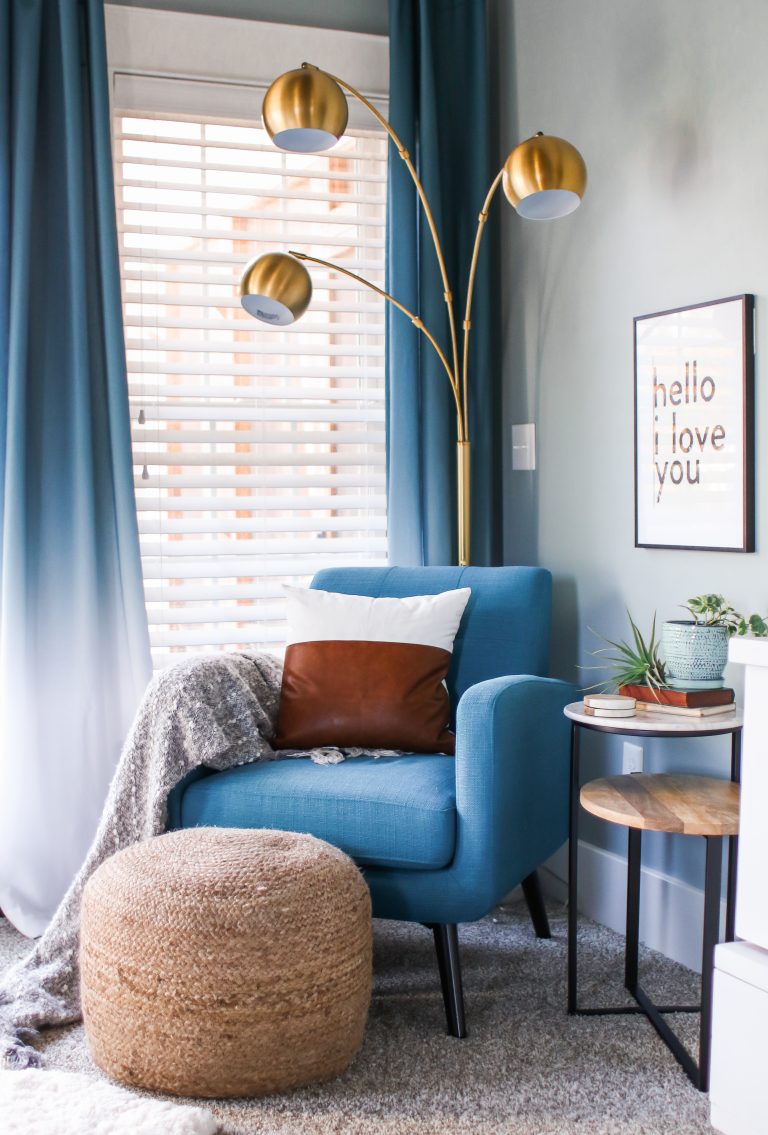 Q: Im obsessed with the reading nook! Can you share sources??
A: Absolutely! Everything is sourced below!
Shop Reading Nook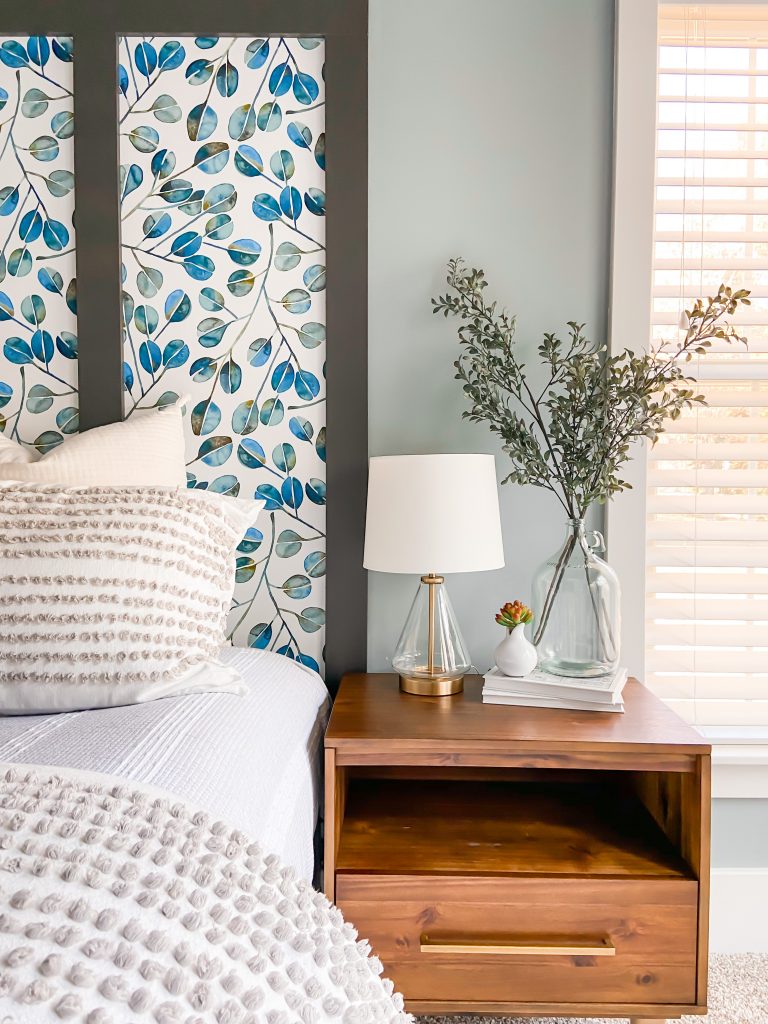 Q: I love the nightstands! Where did you get them?
A: I found the most perfect nightstands on AMAZON of all places! The only problem is that they were low to the ground. So I opted to add legs! I purchased THESE legs as well as a HARDWARE kit and painted then installed them. It was a super easy DIY that made a massive impact!
Shop Nightstands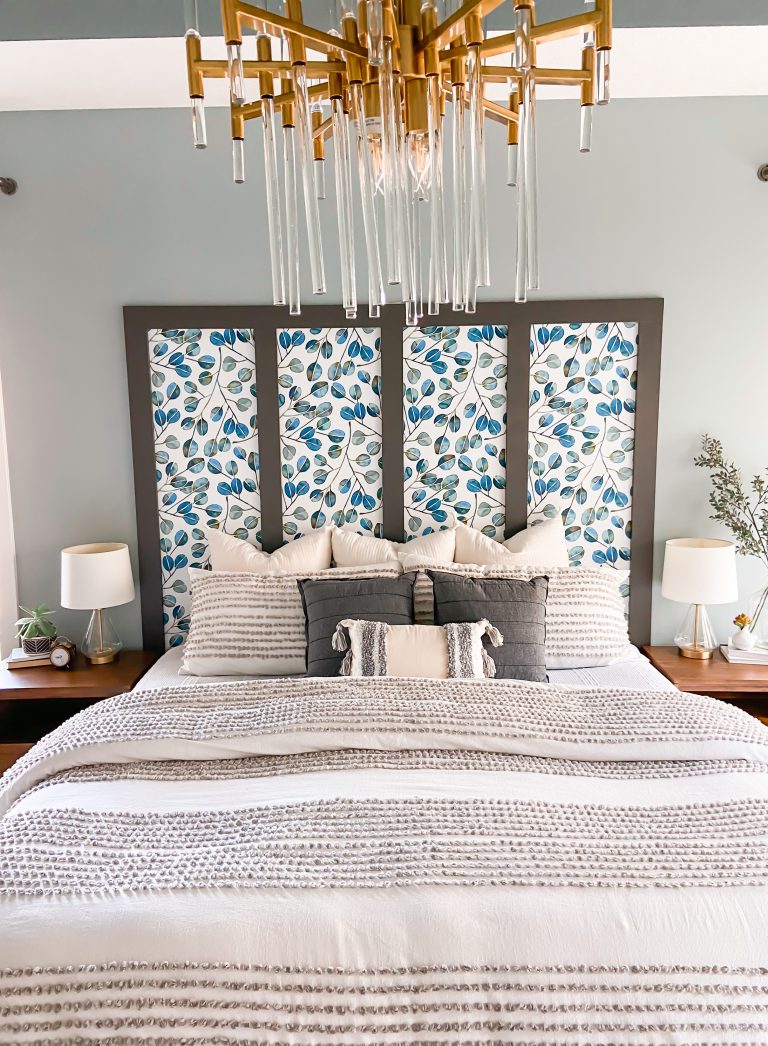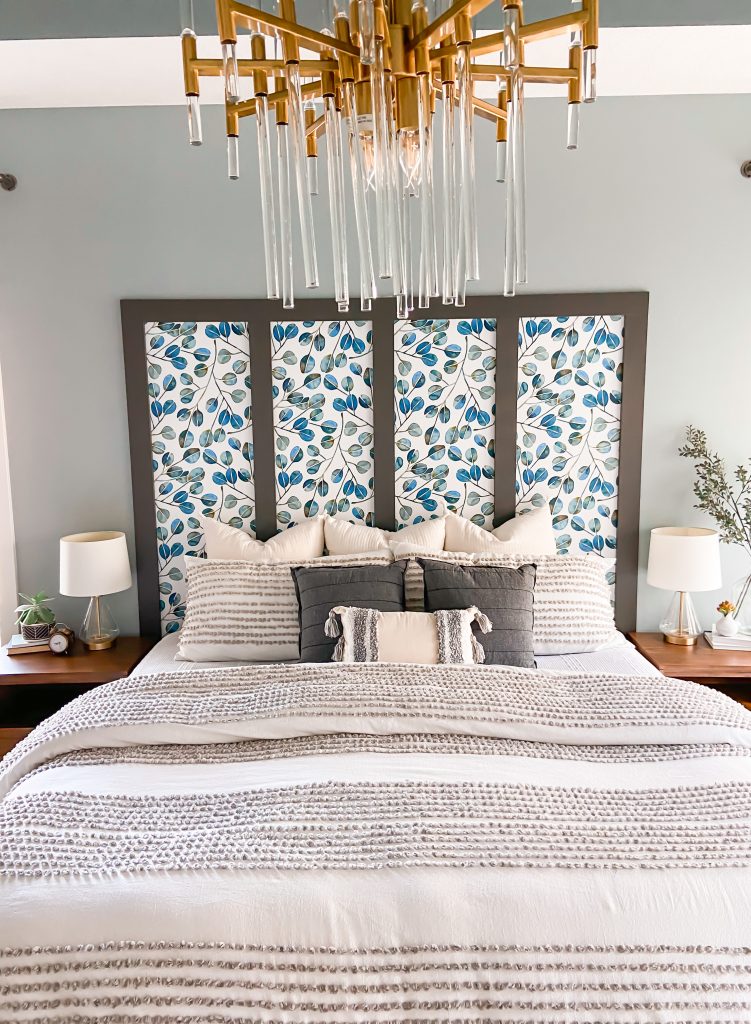 Shop Headboard

Shop Master Bedroom