Wait Until You See This Playroom Design
It's officially time for the first room makeover of the year and it's going down in the hardest working kid space in our home.
THE PLAYROOM!
In the 2.5 years we have lived in this house I have done several small projects to make this space feel cohesive and organized. Unfortunately, it has yet to claim its own personality.
Friends, that is ALL about to change in the coming weeks!
Playroom 2.0 will undergo a massive transformation with paint, get furniture that actually FUNTIONS for our family, and include spaces that will easily transition as the kids grow.
playroom before
You will likely look at these before photos and thinking what on earth needs to be changed about this space?
Hear me out…
1 – The furniture and decor are 90% leftover from old room projects. Nothing was chosen for this space with a specific design in mind. It has always been about mixing and matching and making it work (for the time being).
2 – My style has changed SO much since we moved into this house. Instead of having a light and bright space I now desire to have a colorful, collected and eclectic space. This new design feels perfect and the kids are excited for the change!
3 – (And this is the big one) Our kids needs are changing and therefore the play space needs to accommodate!
So here we go!! All of the old furniture and decor has been sold, new (Sherwin Williams) paint and furniture has been purchased. Lets do this!
playroom (2.0) considerations
Functionality
The number one consideration I take when designing a space is how it will function for the people who will use it the most
Our playroom will obviously house toys, but as my kids get older they also want a fun hang out space.
This particular room also has an attached bathroom. With that in mind also tried to think ahead to family visits and future sleepovers. We wont need it as a guest space often, but having the option will be really nice.
In a few years we will transition fully out of the toddler phase. I want a section of the room to be ready for full out crafting. I made sure to design a section of the room that will house pretend play for now, then accommodate creative play later.
Storage
Fortunately, this particular room is LOADED with amazing storage space. It has a large toy closet on one end and a smaller closet claimed for dress up. Purging and rearranging will become evident as the makeover takes place but we wont need major changes here.
I'll also be adding some kind of media console to house a small TV as well as end tables
Seating
I have struggled the most with seating in this space! Over the past few years we have tried various setups and we didn't love any of them. Bean bags and small chairs weren't enough. A couch, accent chair and (train) table wasn't favorable either.
In the end I decided that we needed more of a lounge type feel that would accommodate all 4 kids plus the occasional cousin or friend.
Keeping I mind the potential of an additional guest space, I landed on the idea of a twin daybed with a trundle. We also purchased a hanging swing for a secondary option.
personalization
Since we have a girl AND boys in this house it was super important to me to add in personalized elements that were both masculine and feminine. There will be elements of fluffy texture and pink complimented by structural design, muted orange and green.
I'm also planning on keeping the kids art work and possibly adding updated photos of each kiddo.
element of fun
I can't even tell you how excited I am about the element(s) of fun that we will be incorporating into this space! As with several of our other kids spaces we will be incorporating murals.
MURALS with an "S."
As in more than one!!
The mural that inspired this entire design came from a wallpaper pattern that I fell in love with a few months back. I just didn't love the price!
I knew with a little patience and guidance from my artist friend, Erin, I could probably pull off the look with paint. So that's exactly what we will be doing!
---
the color scheme
Just like my recent living room and master bedroom makeovers, I will again be using my favorite, Sherwin-Williams, paint!
There are SO many fun colors going into this space. I think some MAY surprise you!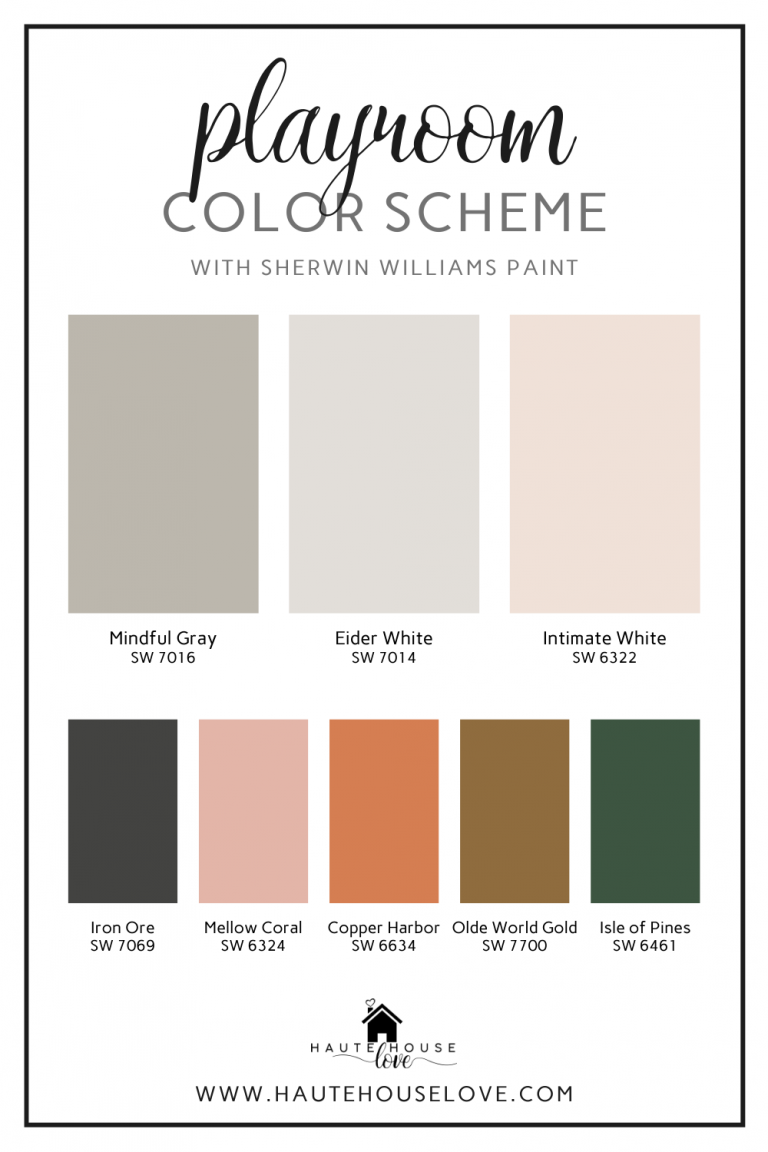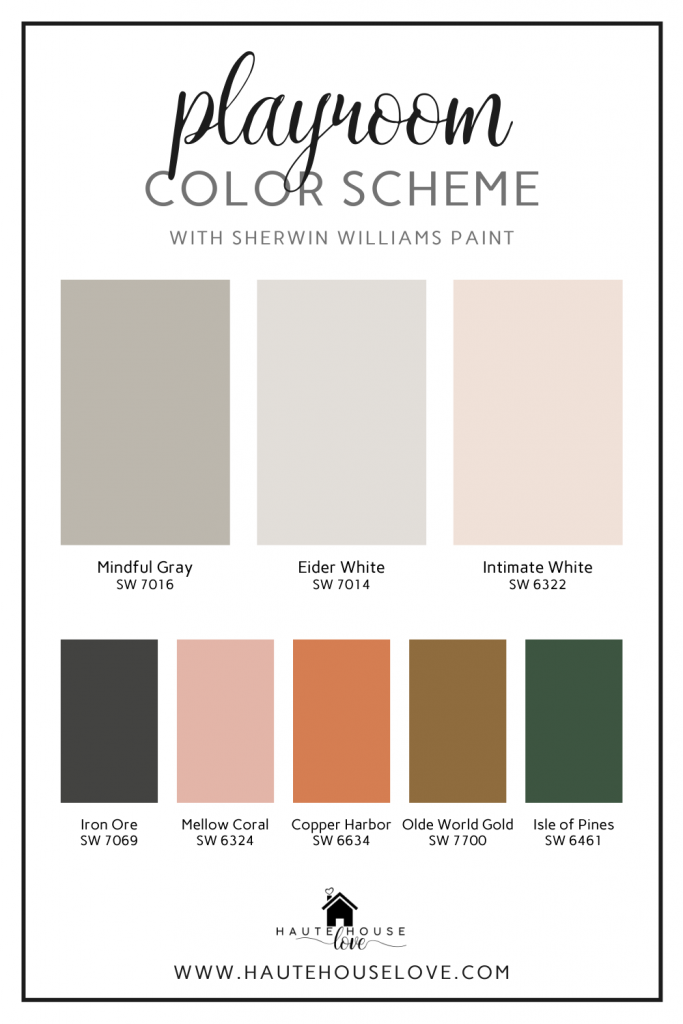 The main inspiration coming from a wallpaper pattern that I fell in love with.
There are also plenty of neutrals that will help the room flow with adjoining rooms.
The design board
Im trying something a little different with this space.
My typical design boards are usually planned out down to the last detail.
This time I'm going to start with a little inspiration and let my mind wonder as the space starts to come together.
This may make for a slightly longer project timeline but im excited about letting my creativity guide my direction.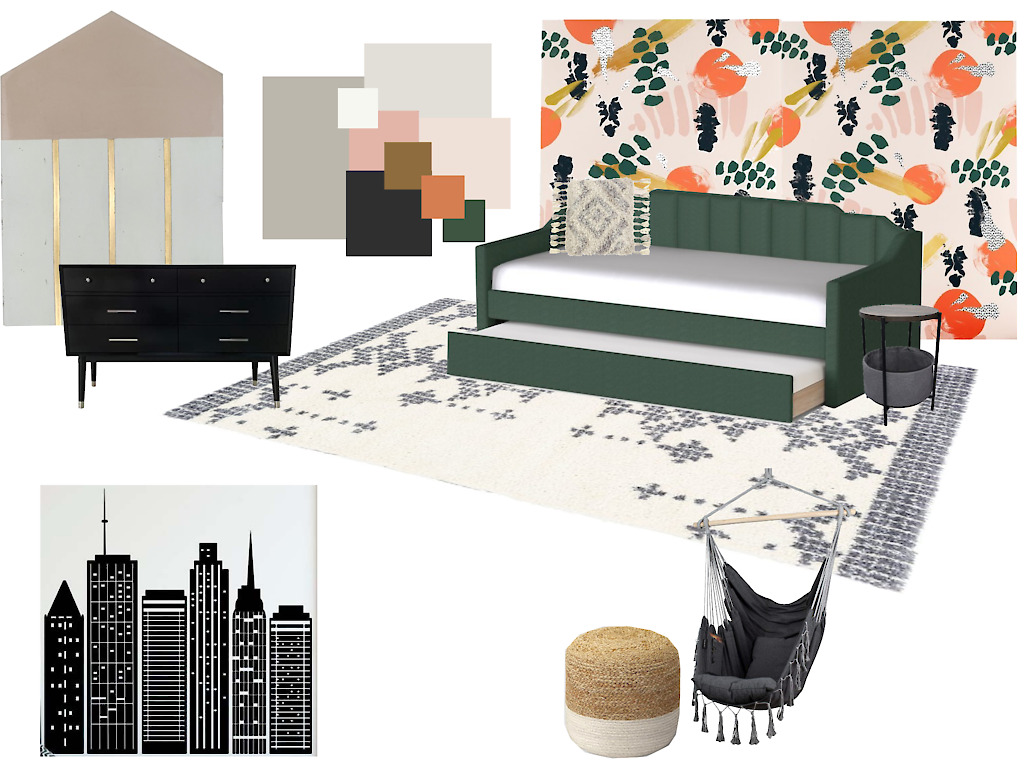 The project starts this week!
The transformation that will take place with paint alone is going to be amazing!
The details at the end will pull it all together.
come hang out on Instagram for full project details!