The Best Outdoor Curtains & How To Clean Them
Looking for the best outdoor curtains? Search no more! Then put this simple cleaning method in your back pocket for later!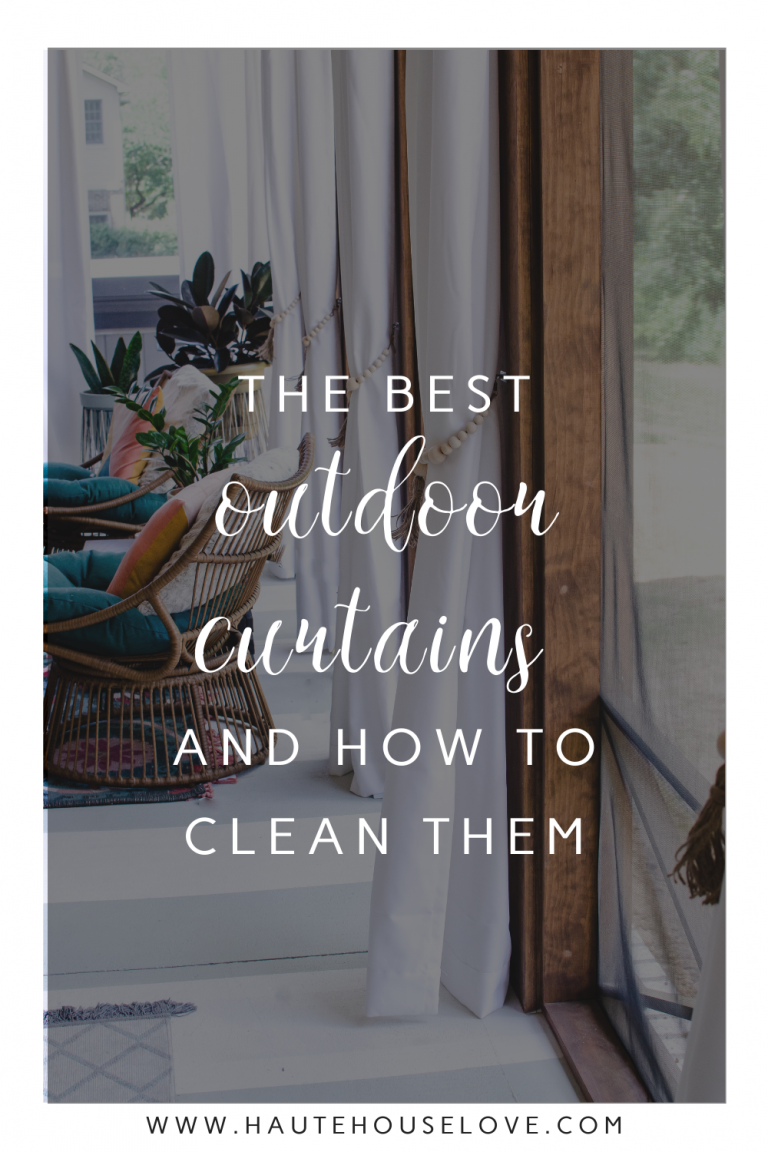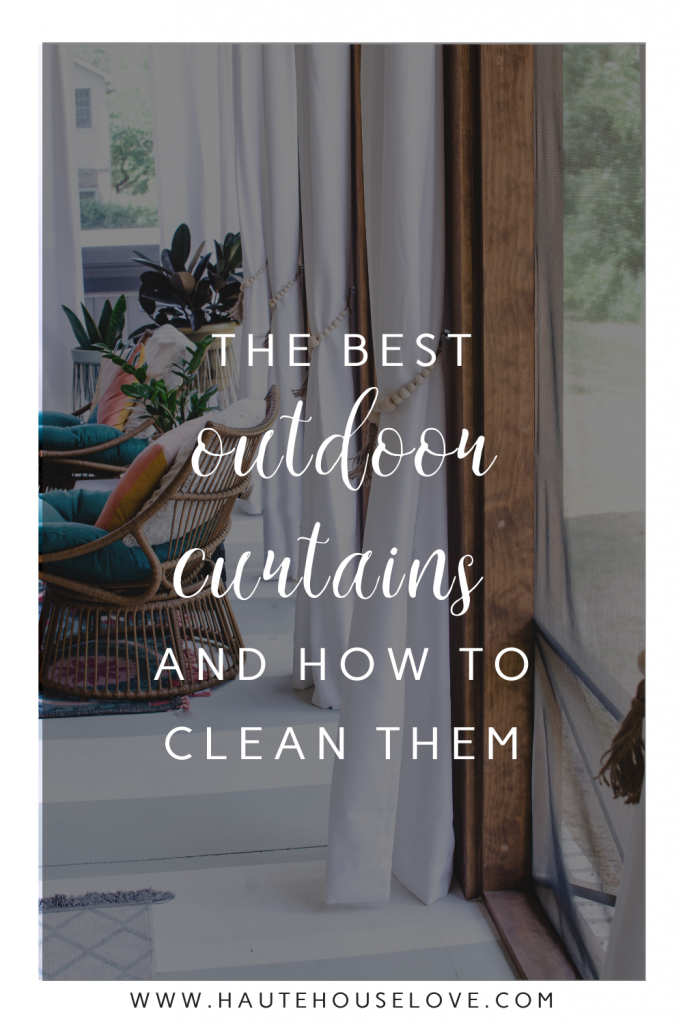 It finally feels like spring in Indiana! Birds are chirping in the early morning and are a welcome companion to the brisk air that pours in the windows as I wake at dawn.
Inspired by the weather, my husband threw out the idea of getting the back porch cleaned up so we could start using it ASAP.
I was all about it!
You see, I'm a sucker for a good weekend project so when hub expresses interest there is no need to ask me twice!
The past two summers we threw a lot of our resources into our back porch. In 2019 I painted the porch floor and we hired a contractor to screen 2/3 of it in.
In 2020 we added new furniture and decor, cozied it up with OUTDOOR CURTAINS and even splurged on a hot tub!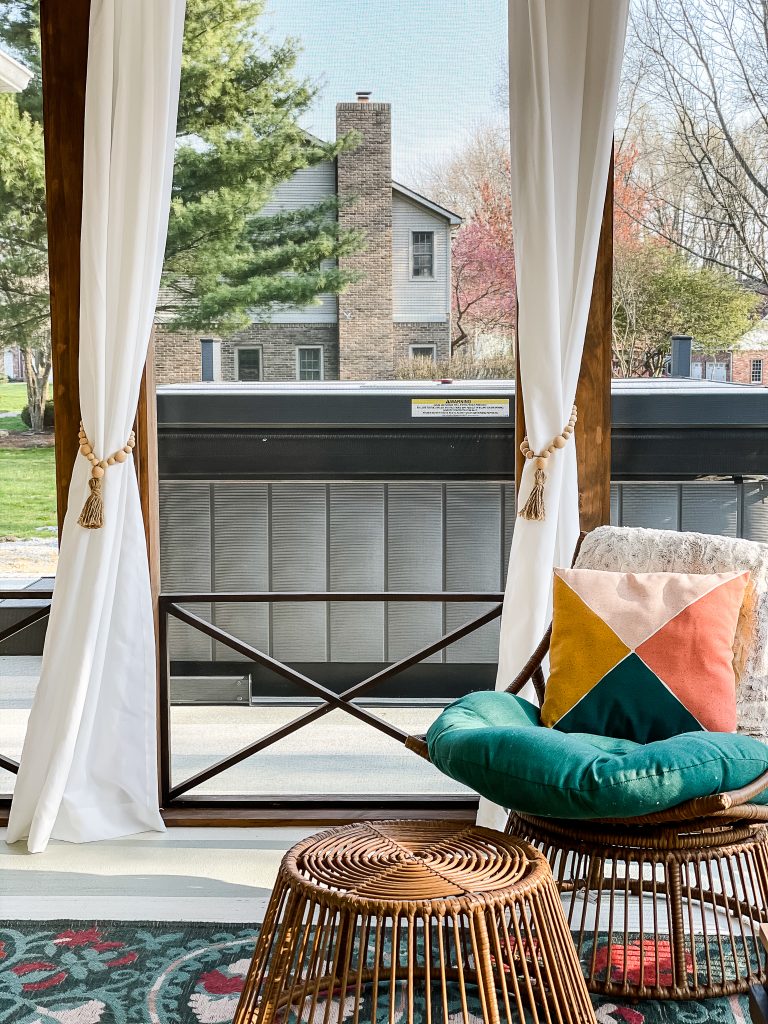 I also created several SIMPLE ONE HOUR DIY projects to give it more personality.
This year, we will make a few small additions, but its mostly the year to finally just enjoy it all.
this post contains affiliate links
THE BEST OUTDOOR CURTAINS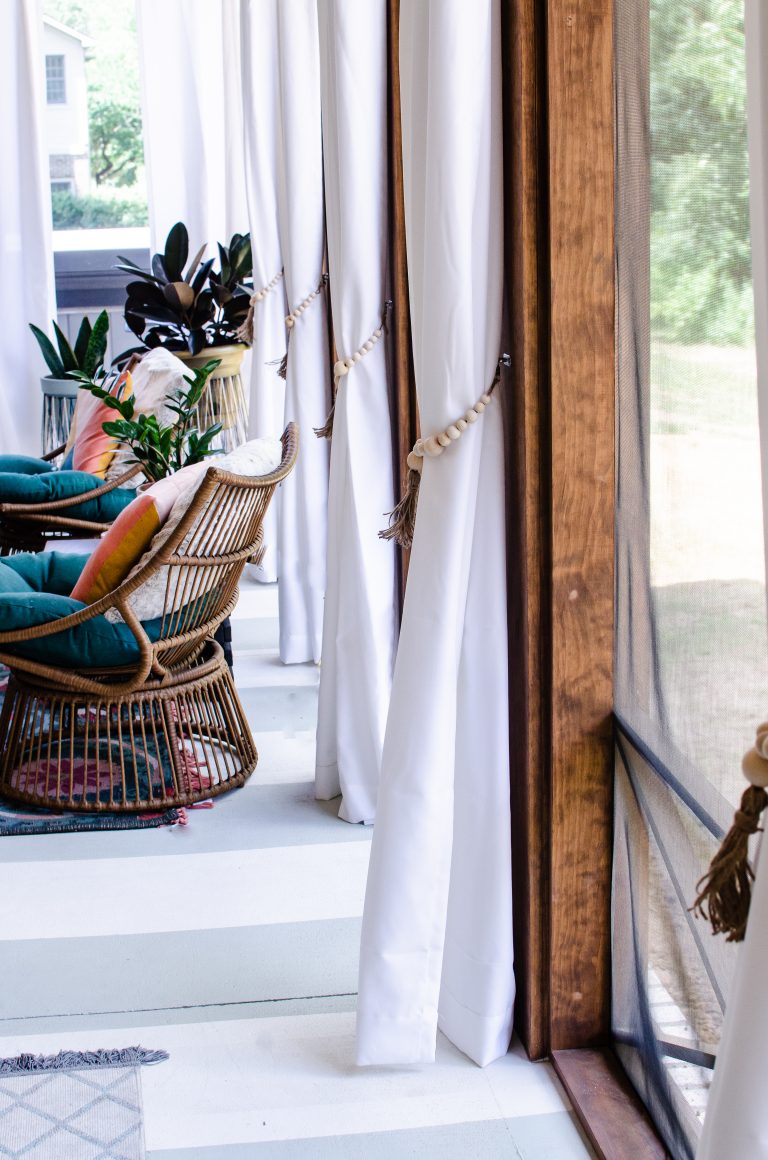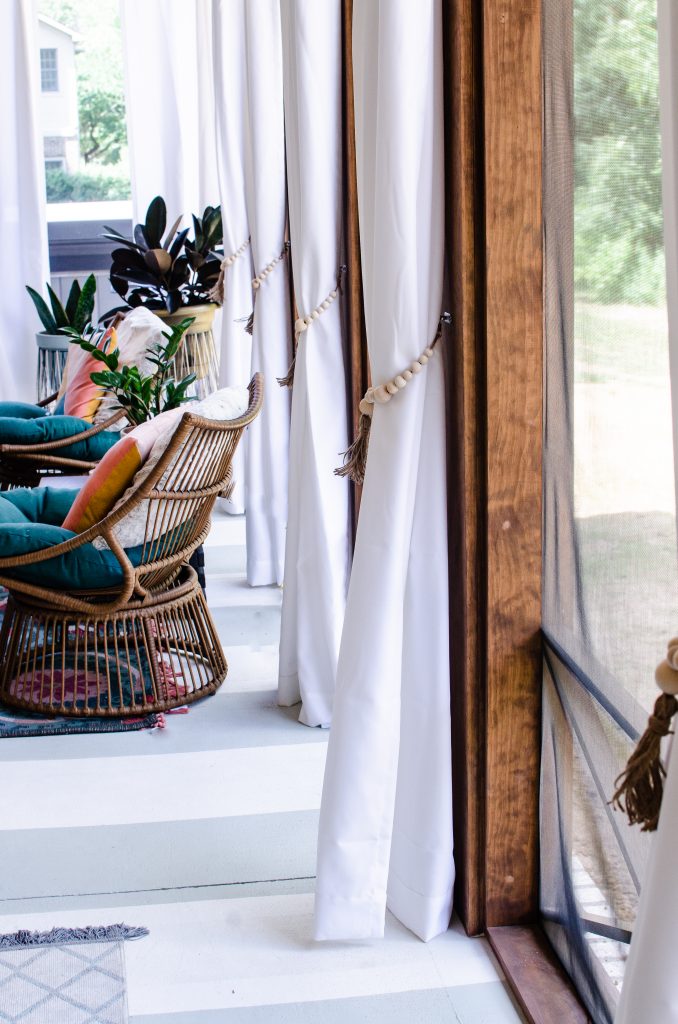 I have to be honest. I was a little nervous to take the plunge on outdoor curtains for this space. I KNEW I would love the look but the fear of maintenance made me want to look the other way.
During this time I did a LOT of research. I knew I wanted something not only economical, but also that cleaned well, were easy to put up and take down, AND provided us the privacy we desired on the back of our home (aka, not sheer).
Did a curtain like this exist?
I'm excited to say that they DO!!
I found our OUTDOOR CURTAINS on Amazon of all places and they checked every single box!
The initial reviews sold me almost immediately. Nice thick fabric. Light Blocking. Velcro Tops. Several Color Options.
And at around $24 per panel they were worth a try for me.
(P.S. I noticed today that they have a coupon code for 50% off — STEAL!
I bought them. I LOVED THEM!

How To Clean Outdoor Curtains
(method can also be used for white outdoor patio cushions with removable covers)
My biggest concern when it came to purchasing outdoor curtains was if I would be able to easily clean them.
When the time came to do so I tried a variety of methods and landed on one tried and true one that worked well for me.
**NOTE** this method worked well for me personally. Results may vary depending on circumstances like climate, frequency of washing, exposure to elements, etc.
Products Used For Cleaning:
Free & Clear Laundry Detergent
Oxi Clean
Liquid Bleach
Method Used For Cleaning:
Heavy Duty Wash Cycle
Hot Water
Extra Long Soak
Tumble Dry on Low for 20 minutes. (to remove wrinkles)
Even though I have a high capacity washer, I determined that less was more in the case of dirty curtains. I found that placing 3-4 panels per wash cycle would allow for a thorough clean with out congesting the washing machine.
I added the laundry detergent into the machine as usual and sprinkled a full scoop of oxy-clean right into the tub. I then added liquid bleach into the designated bleach section of my washing machine.
I first tried to clean the curtains in a regular wash cycle. It wasn't enough. They were clearly clean but I knew they could be better. The second time around I opted for a heavy duty cycle (which lasted twice as long as a normal cycle) and added an extra long soaking time for an extra touch.
(I've read that pre-soaking in bleach water would work as well, however I did not personally try this.)
The extra-long wash cycle did the trick for me! My curtains came out as good as new!
The curtains were a little wrinkly coming out of the washing machine so I opted to tumble dry them on low for 20 minutes before re-hanging them.
They came out perfectly wrinkle free!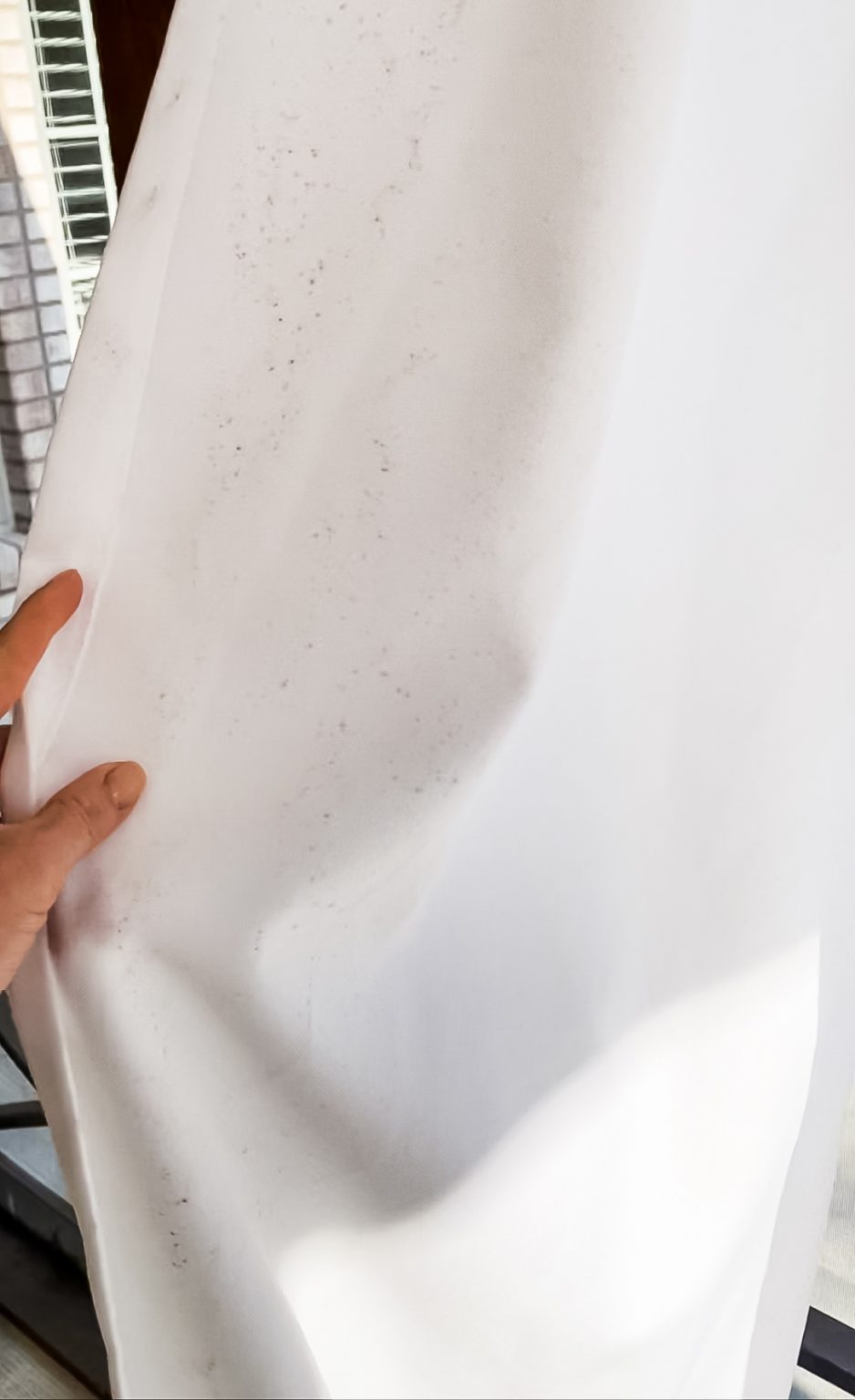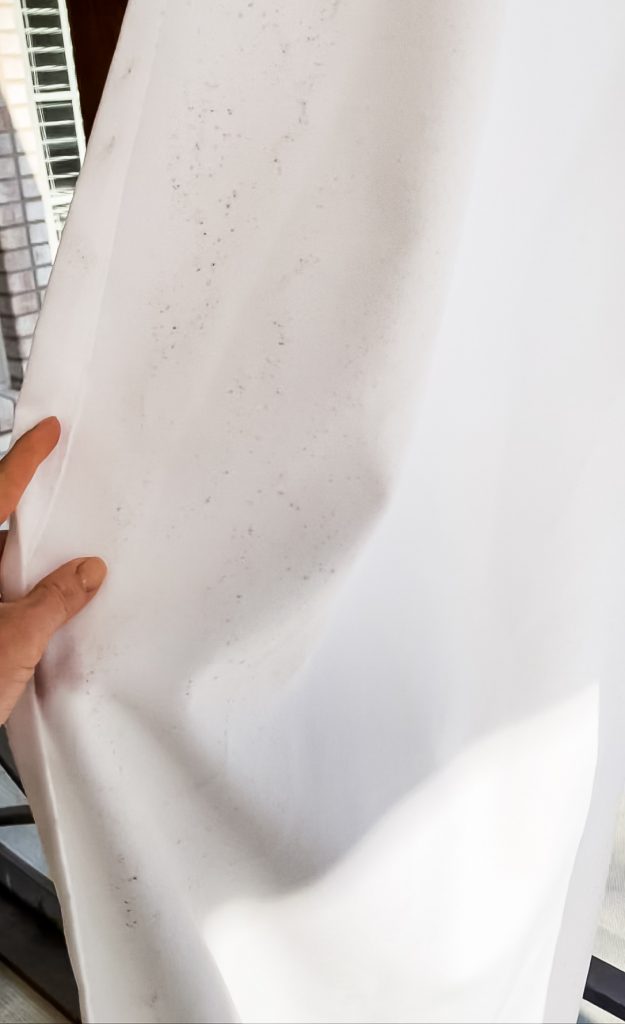 (this method worked great on our white patio cushion covers as well)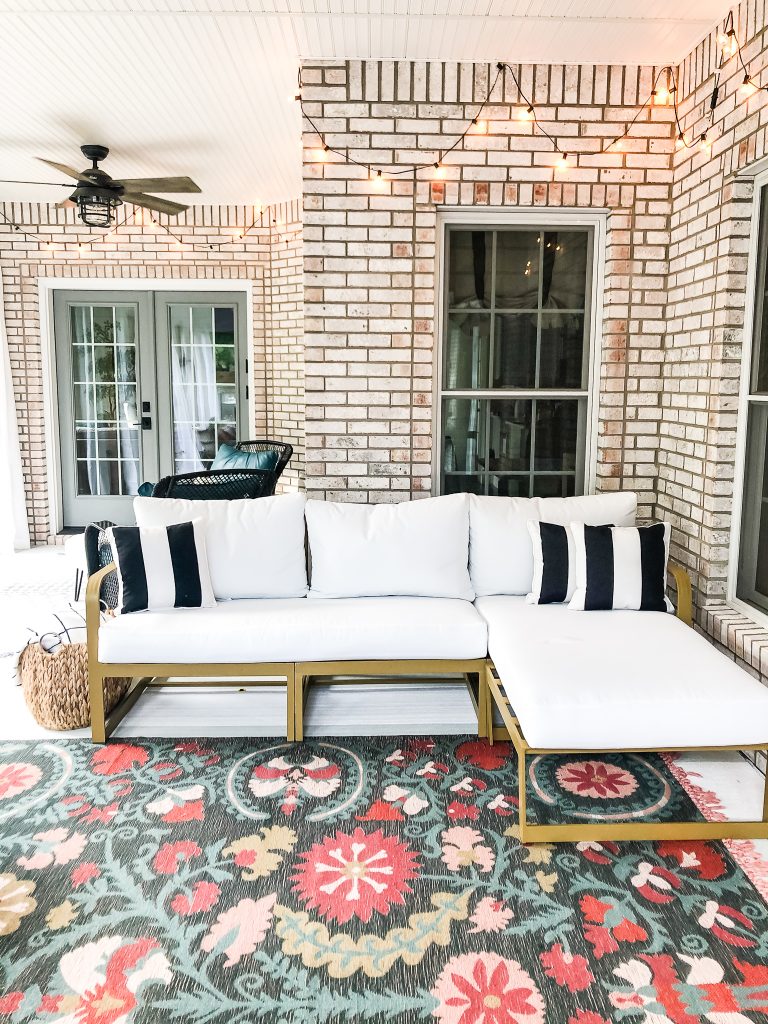 FYI – If you are even THINKING ABOUT grabbing the OUTDOOR CURTAINS.
RUN
As I write this the price just dropped from $23.99 per panel to $11.99 per panel! Such a STEAL!!
If you snag some for your home please let me know what you think in the comments! Id love to know how you plan to use them in your home.
Thanks for hanging out today, See you next time!
Airbnb Arizona arizona rentals basement bar design blog hop Budget Friendly christmas gifts crafts decor DIY diy projects easy diy FAQs fashion favorite things fitness Friday Faves gardening Gift Guide home decor home decor ideas home design home improvement home organization How To Jeffrey court kitchen design living room modern boho most requested links Organization organization ideas paint Paint Colors peel and stick wallpaper Random Thoughts recipes scottsdale arizona Sherwin Williams the weekender this week's content this week's FAQs travel vacation rental wallpaper