Our Arizona Moving Story – One year HOUSE TOUR
It has been one year since we moved into our new home.
One year since we dug up our deep DEEP roots, moved across the country and traded our dream home for our dream life.
You can read our full moving story HERE.
In a way, it seems like we have been here forever. Or maybe we were just forever longing for a life like this.
A fixer upper, a community environment and sunny skies have stolen our hearts. The kids are thriving in their new school and activities. Tommy and I are both working from home, except for the 5 to 10 days per month that he now travels for work.
We have made friends that are like family. We spend WAY more time outside. There is more peace in a home that is just the right size instead of oversized.
And with no family near, we have learned to rely on each other more than ever.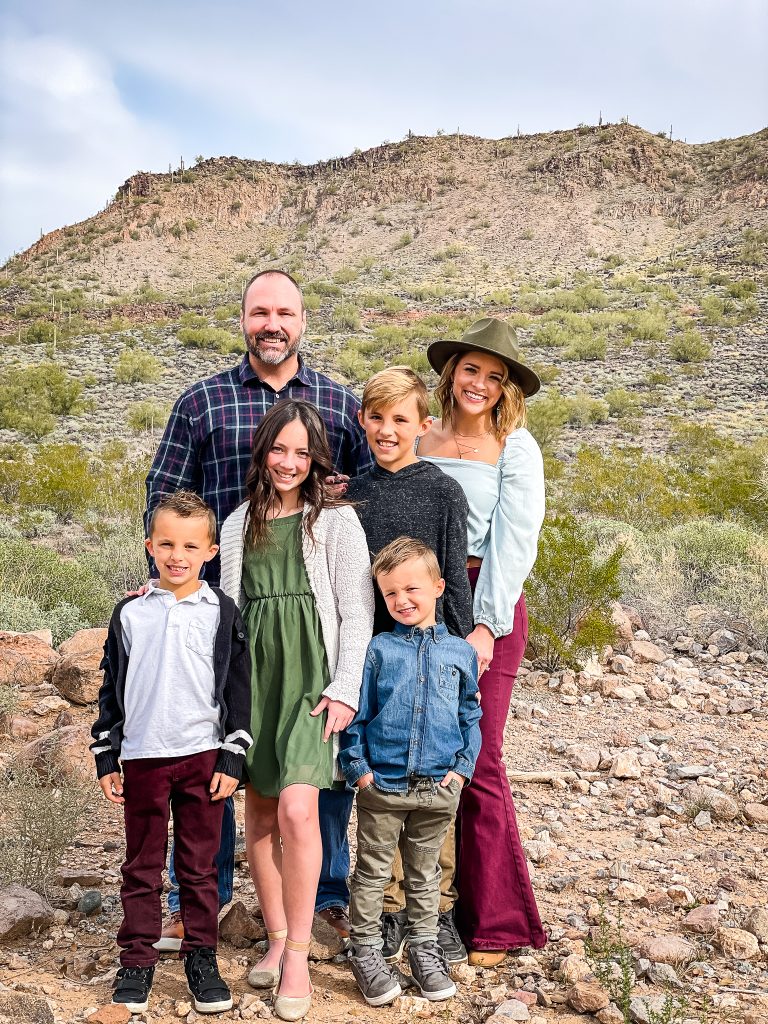 I have always found great pride in my work, but this past year has been a whole new learning curve.
I have taken on the builder grade to custom made mentality.
In the past year, I have ripped out dated floors and old light fixtures. Discovered leaks in the ceiling and mold in the walls. Replaced original hardware and painted more surface area than I ever have before. And furnished this home from complete scratch.
The crazy thing? Its only just begun!
I never did an official photo tour on the blog when we moved last year (because life). But today is the day!
Im going to give you a glimpse of the transformation that this home has undergone in the past 12 months. Some rooms haven't been touched yet. And others are straight up shocking!
I'll tell you what's coming up in projects for the next few months and what I hope to accomplish in each room moving forward.
Front Porch/Yard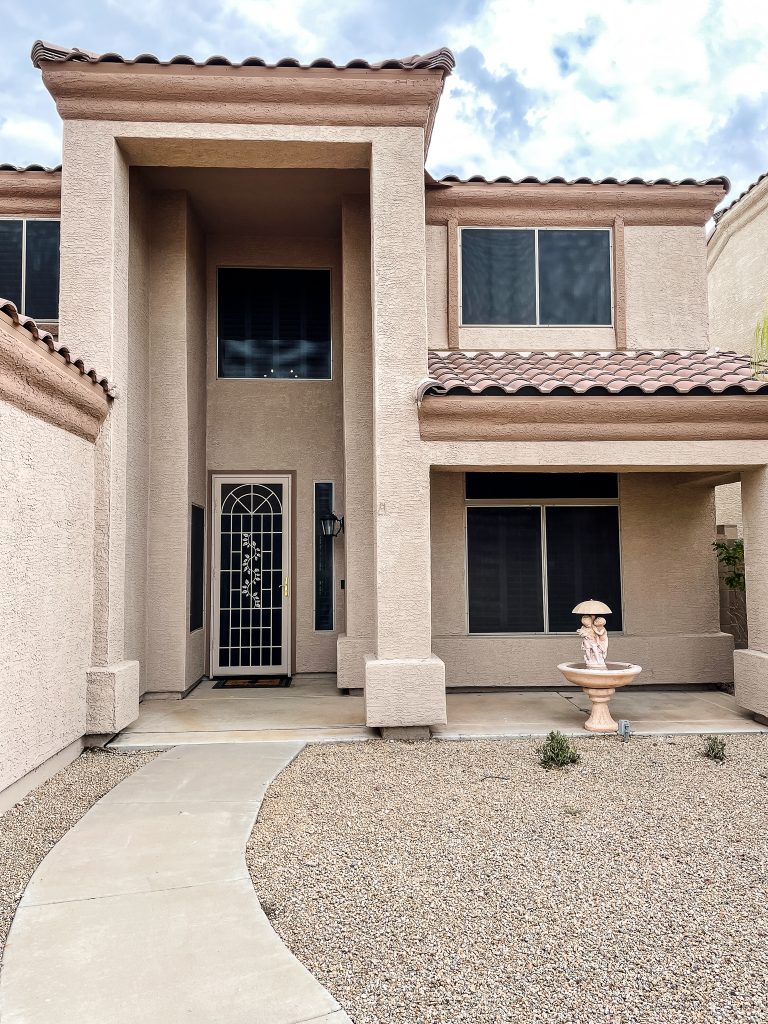 The front porch took on a big makeover with the first few months of living in our home. I painted the front door and the front porch, added new hardware and lighting. This transformation had to be approved by our HOA, so while it's not as extravagant as I would have loved to make it, its still the perfect balance of my style while still working for our neighborhood.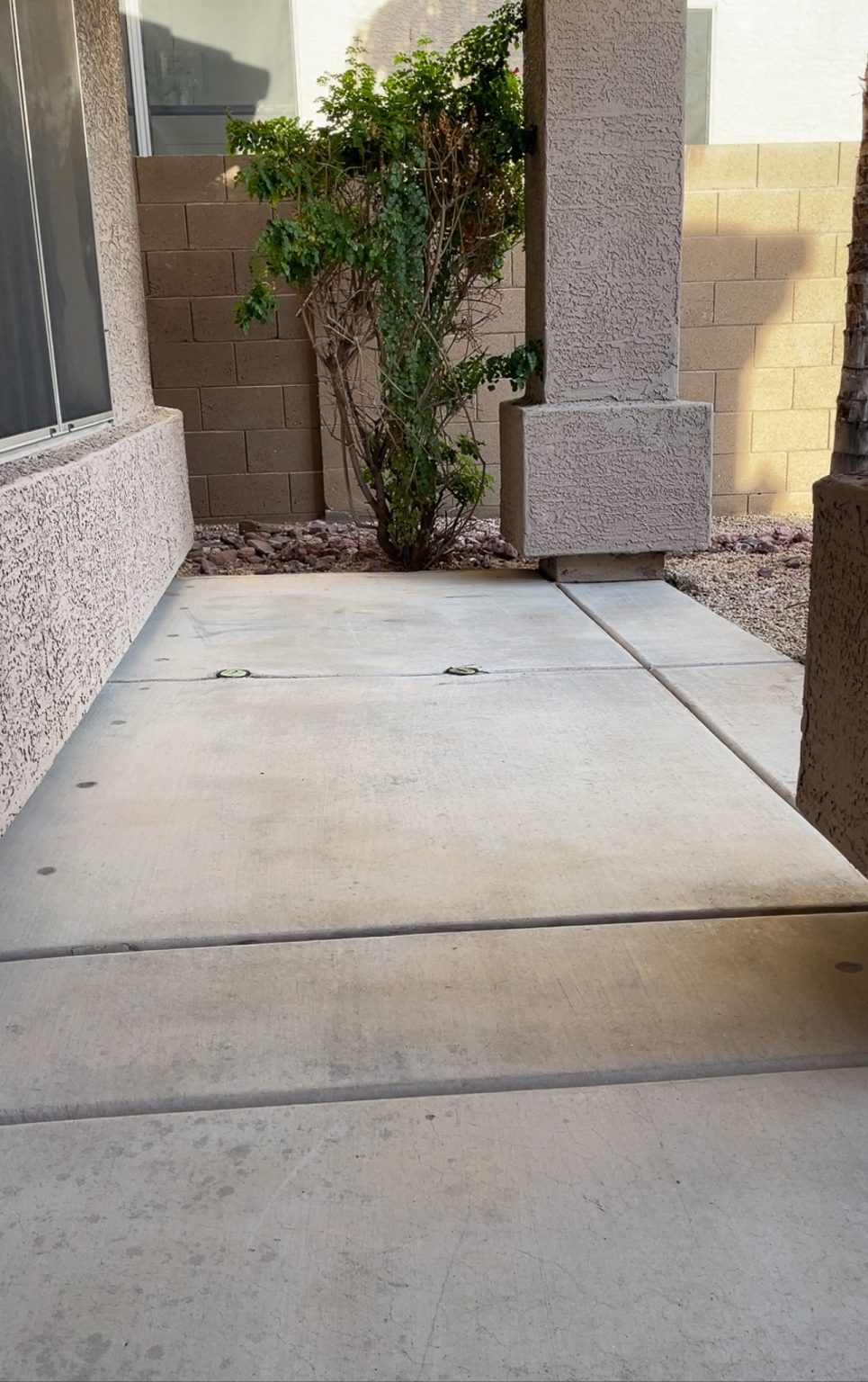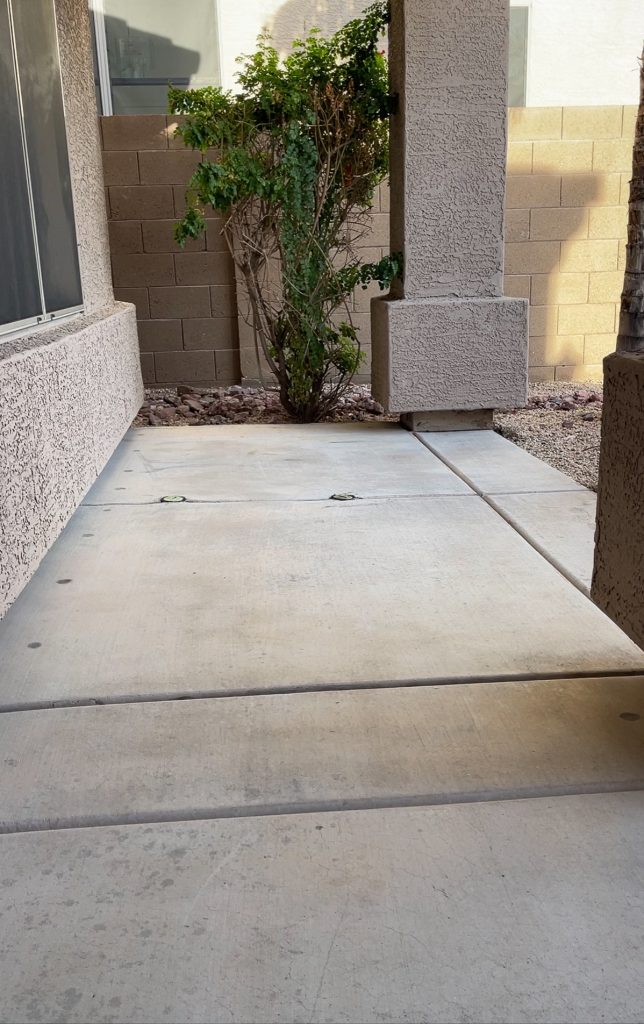 Our yard had some tweaking this past spring, with all of the old rock pulled out, new irrigation to replace the leaky one and a paver walkway repacking the stone to the left of our home.
Future projects/plans: I would really love to paint the exterior of the house eventually. But it's not a high priority at this time.
Living Room
The living room was the first space to receive a total transformation. New floors and baseboards, new paint. EVERYTHING. It was the first space that truly made this house feel like home.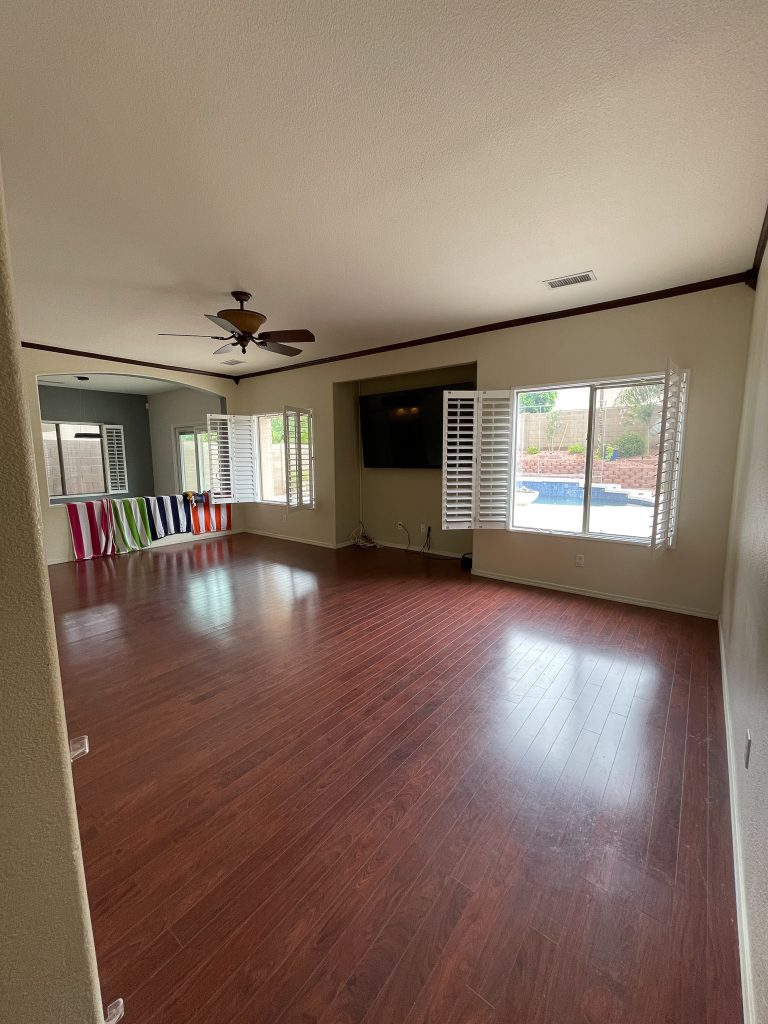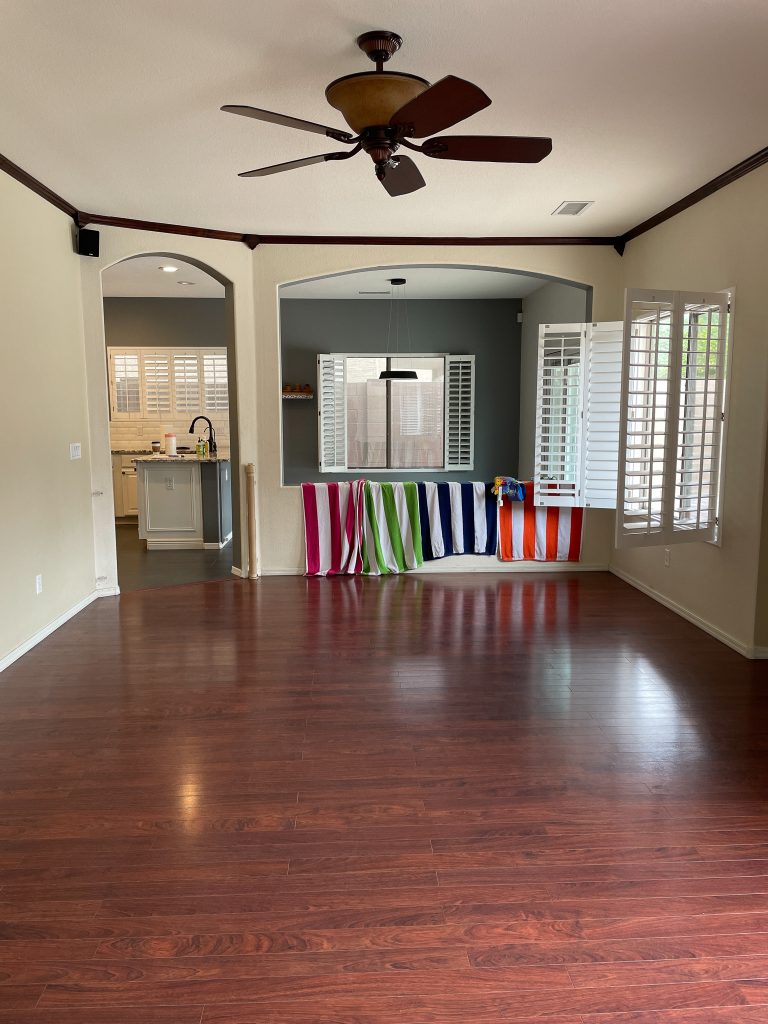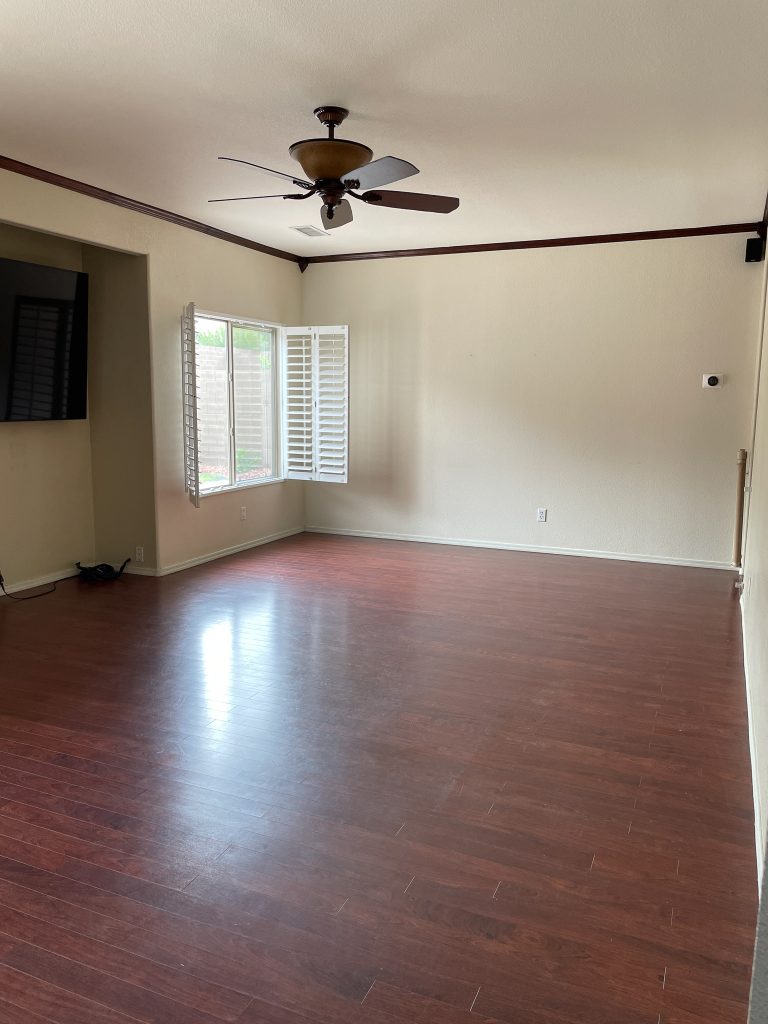 Future Projects/Plans: a DIY built-in storage unit in the nook under the TV painted a fun pop of color. Wood accent wall on the plant/basket wall and a few more furniture pieces.
Home Office
My office was the first room to really take shape after the HUGE mold problem we uncovered in the fall of 2022. I needed a calming and creative space to work, so I could BE creative. I was also desperate for the fireplace mantle to be a focal point for our first Christmas in this home.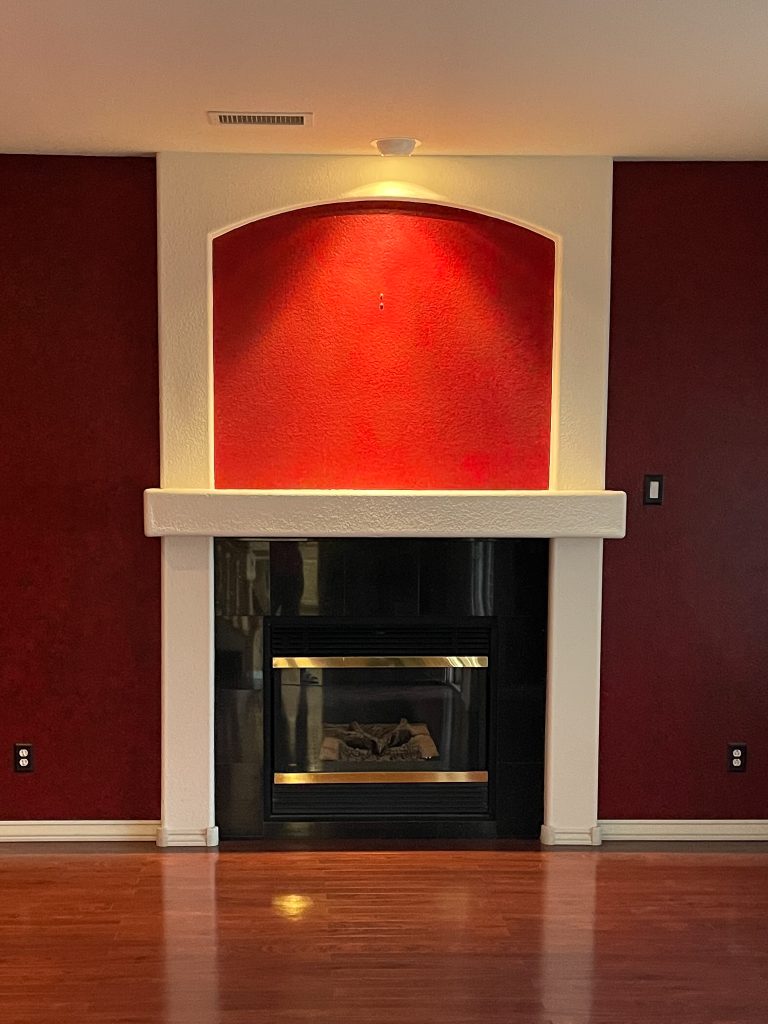 Earlier this summer I did an easy DIY plant shelf project to make the fireplace feel complete.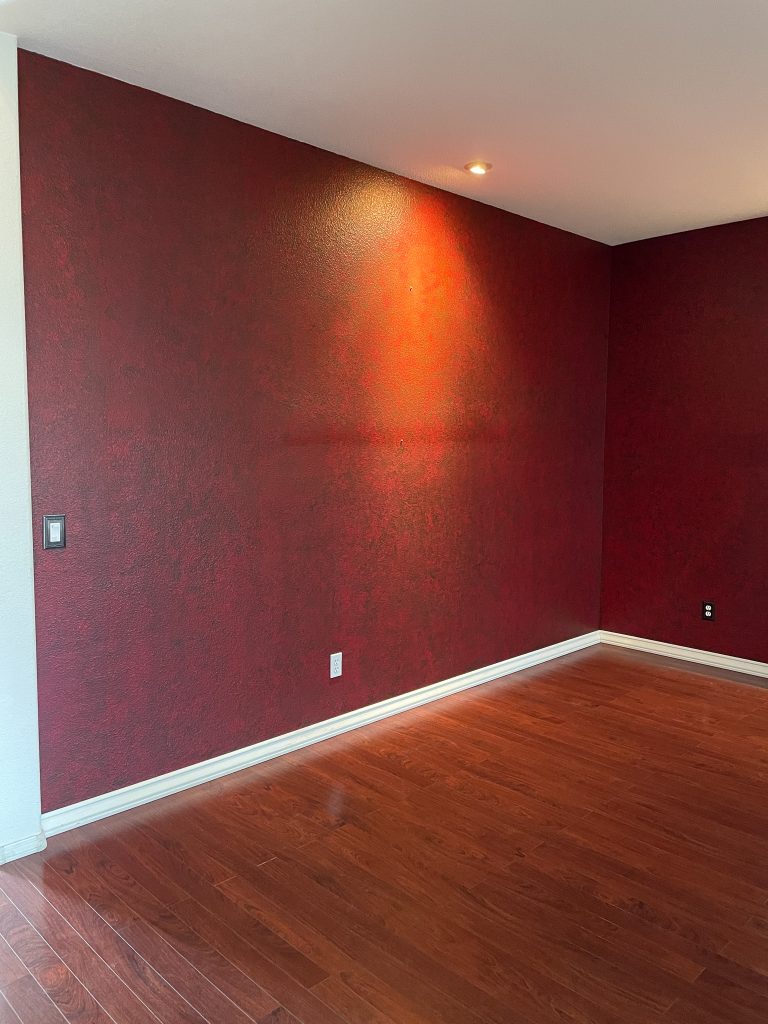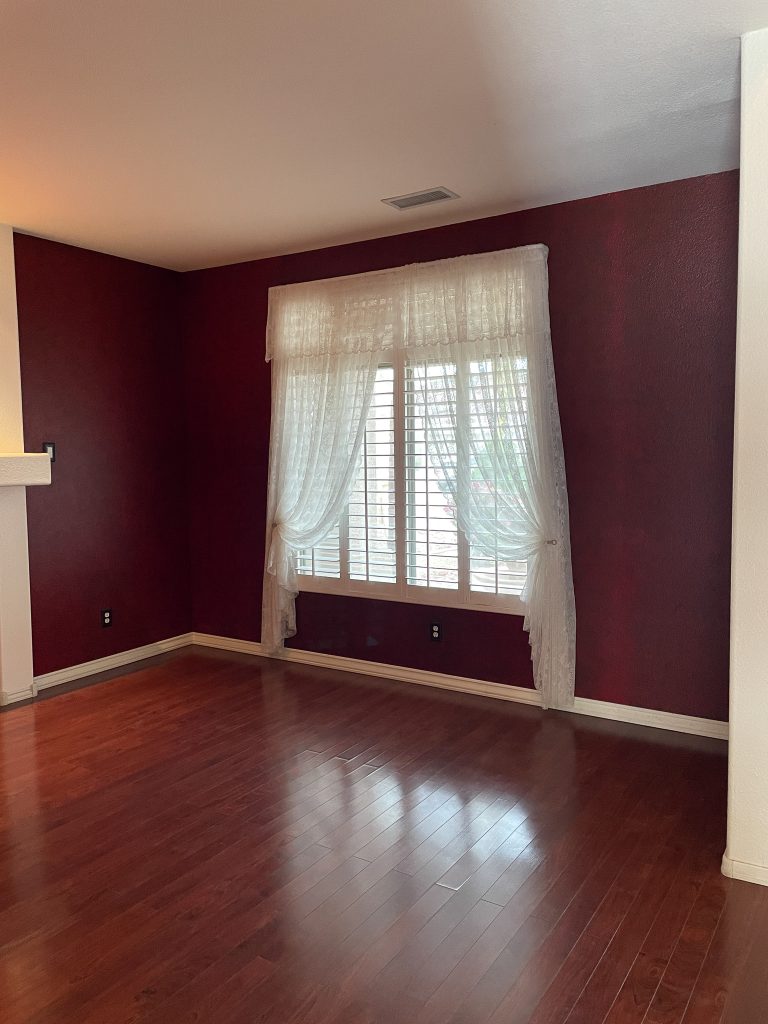 Future projects/plans: Add a sofa/coffee table to this space and move the bookshelves to flank the fireplace. Add curtains and a few more storage solutions. Add art/gallery wall above the future sofa.
Kitchen
The kitchen has gone virtually untouched since moving into the home with the exception of a few in-cabinet organizers and a new refrigerator. The kitchen was semi-remodeled about five years ago, so we are making the best of it for now.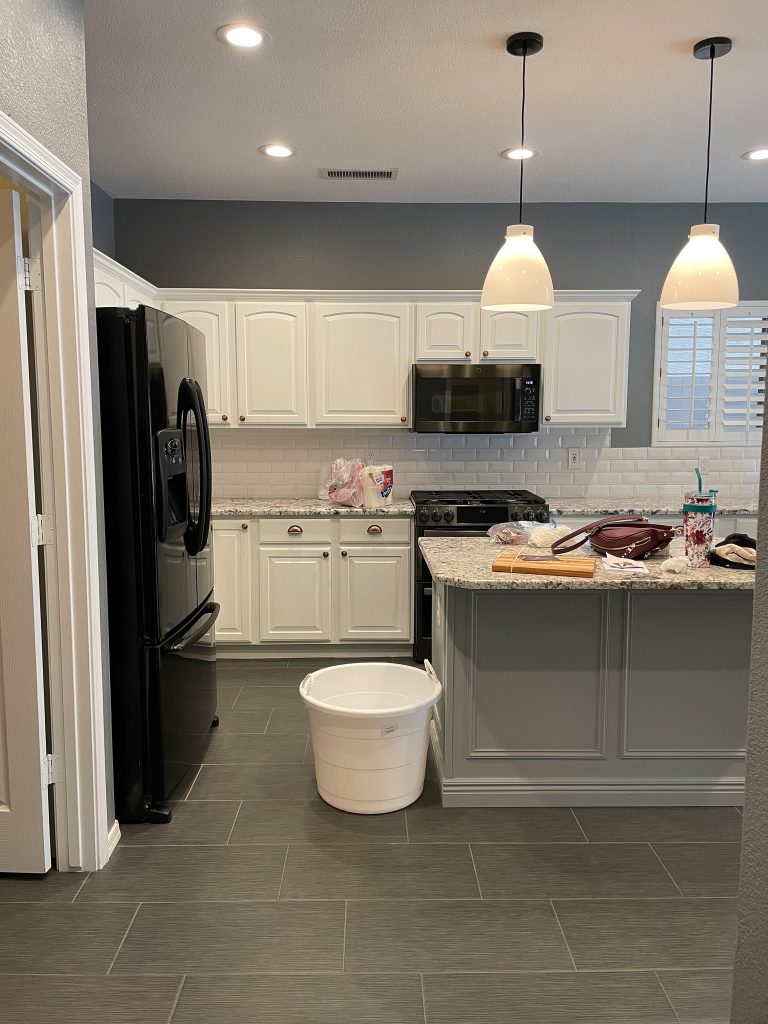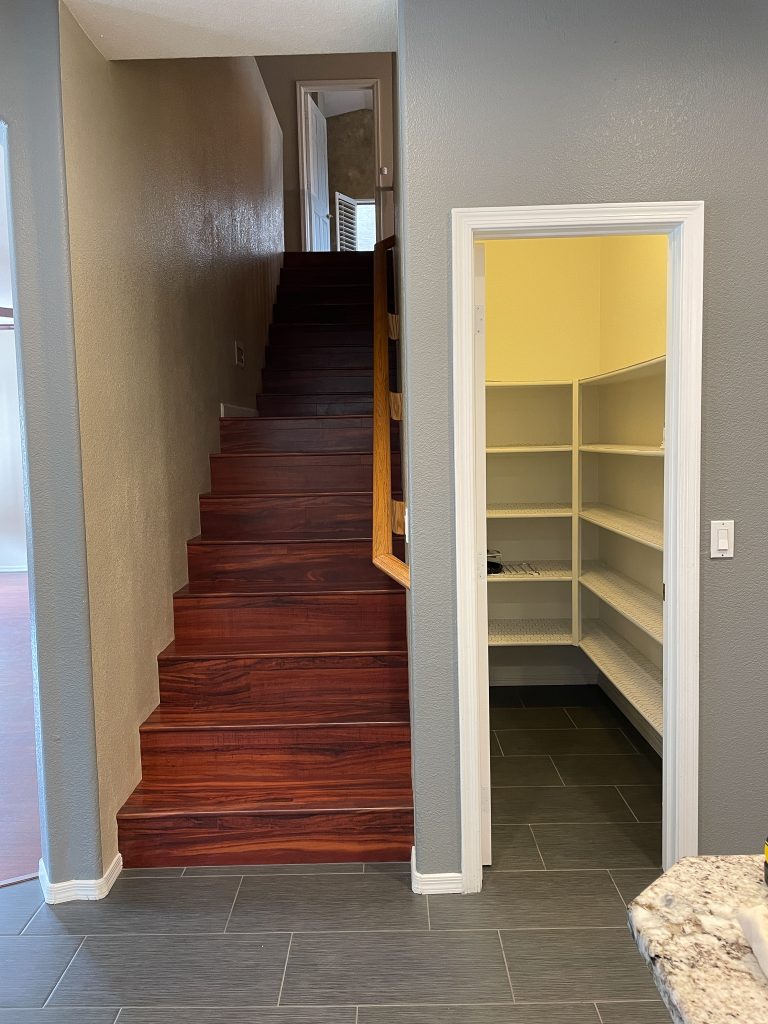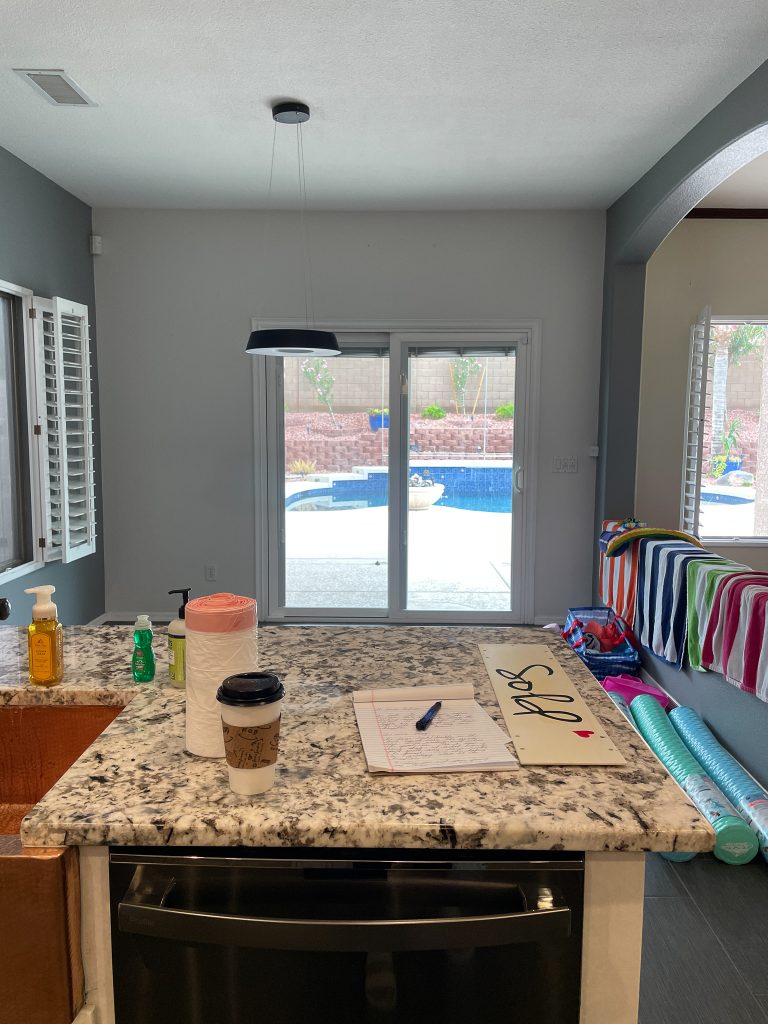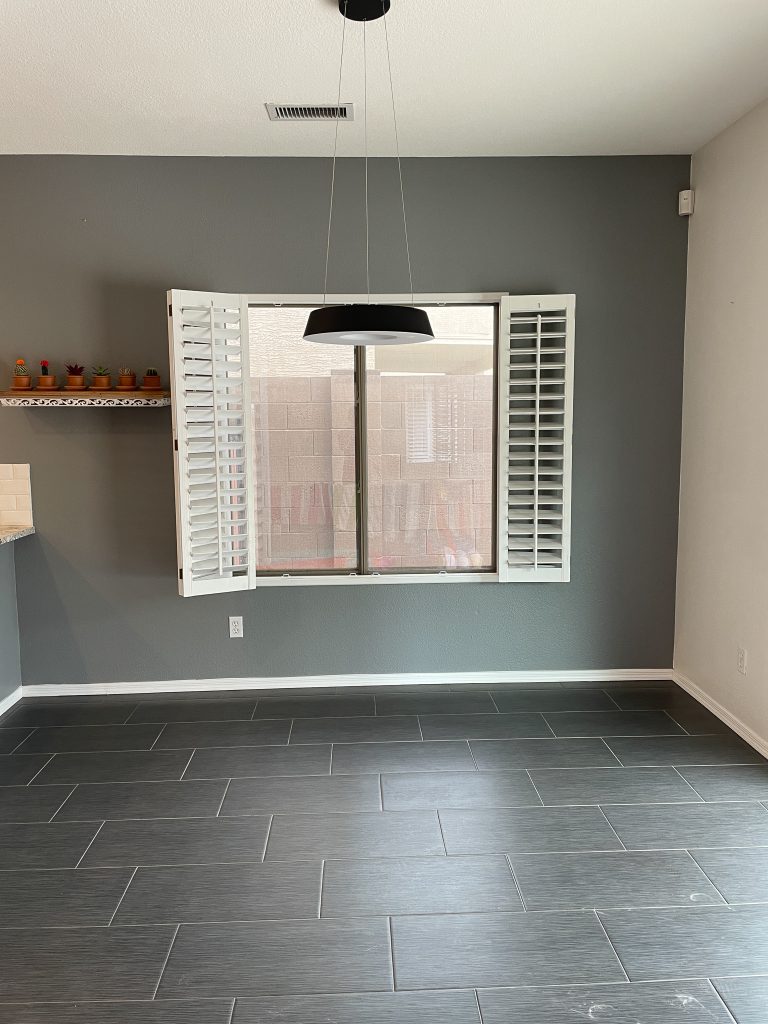 Future projects/plans: Kitchen island makeover. Add new door trim and baseboards. Paint the walls. New over island lighting. New sink and fixtures. Potentially wallpapering the walls. Eventually I would LOVE to build a kitchen table!
Dining Room
We aren't a "formal" dining family, so we decided to make use of the space in a way that would be more functional. A kids' area for crafting/homework made sense as well as an almost-completed command center and drop zone area since the room is so close to the garage entry of our home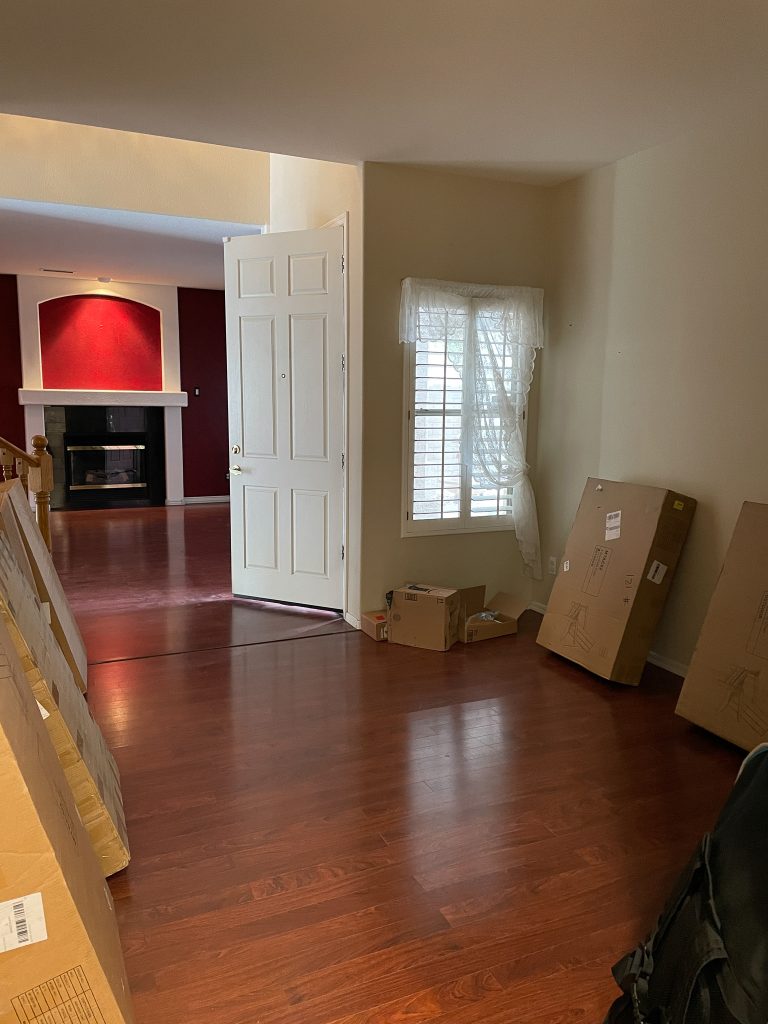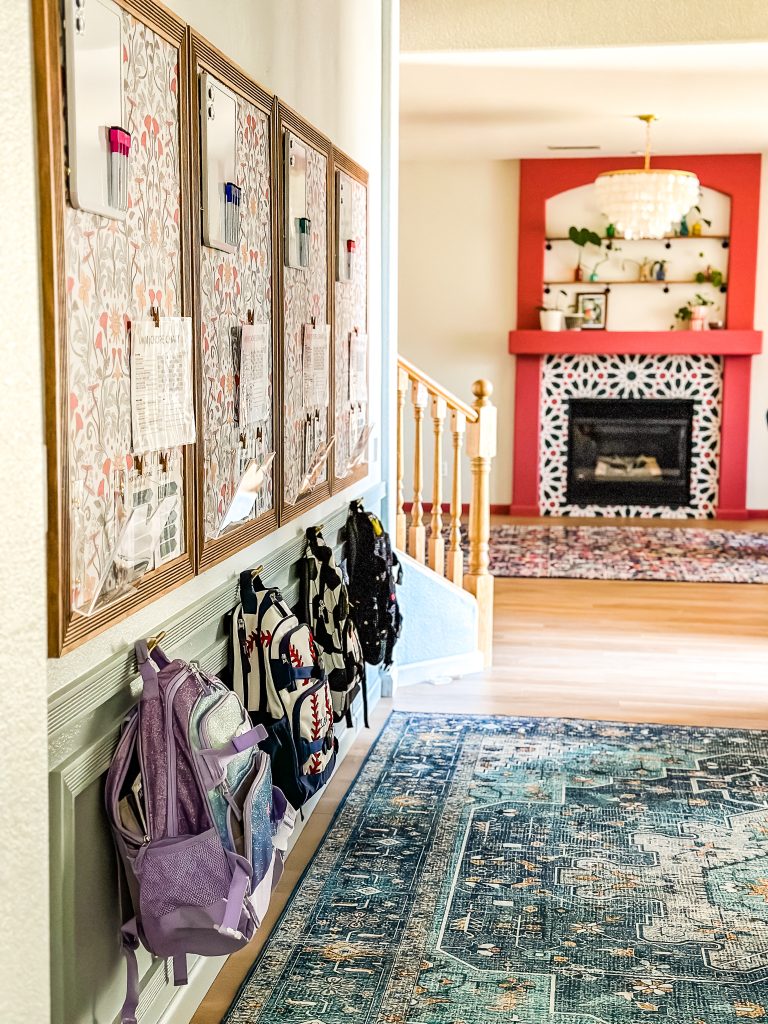 Future projects/plans: Once the command center is complete, there is one window that eventually needs to have its plantation shutters removed. The window will need new trim and curtains added. Then this room will officially be complete!
Laundry Room
The laundry room in our home is another that has gone completely untouched with the exception of new paint and hardware on the garage entry door of our home.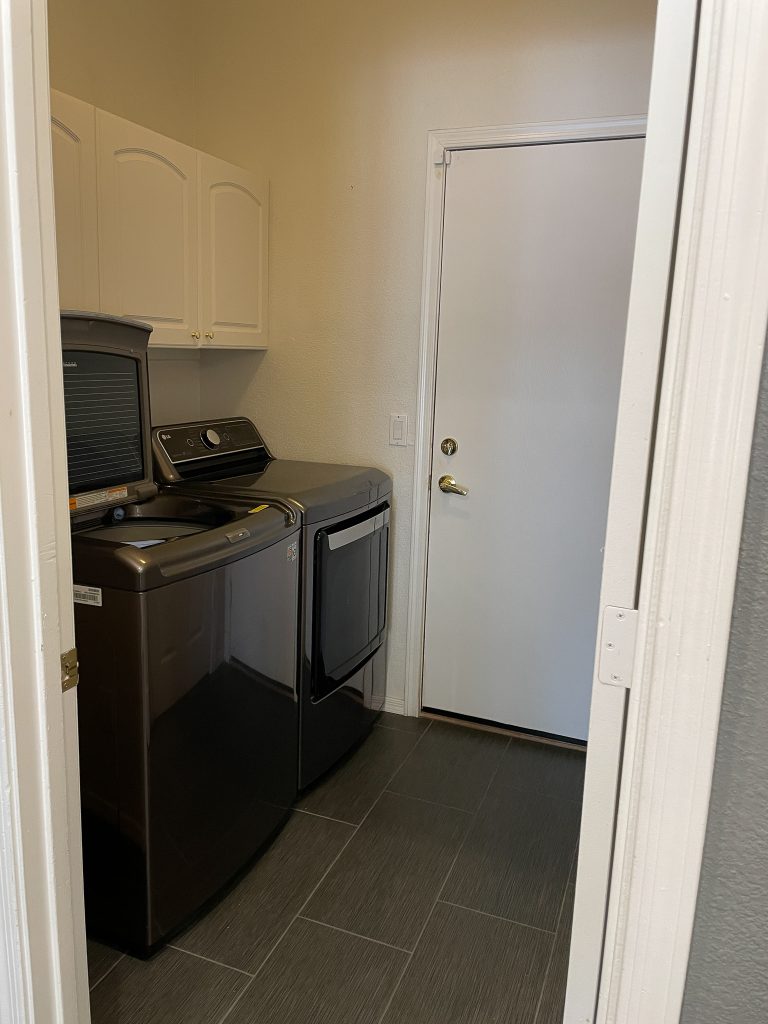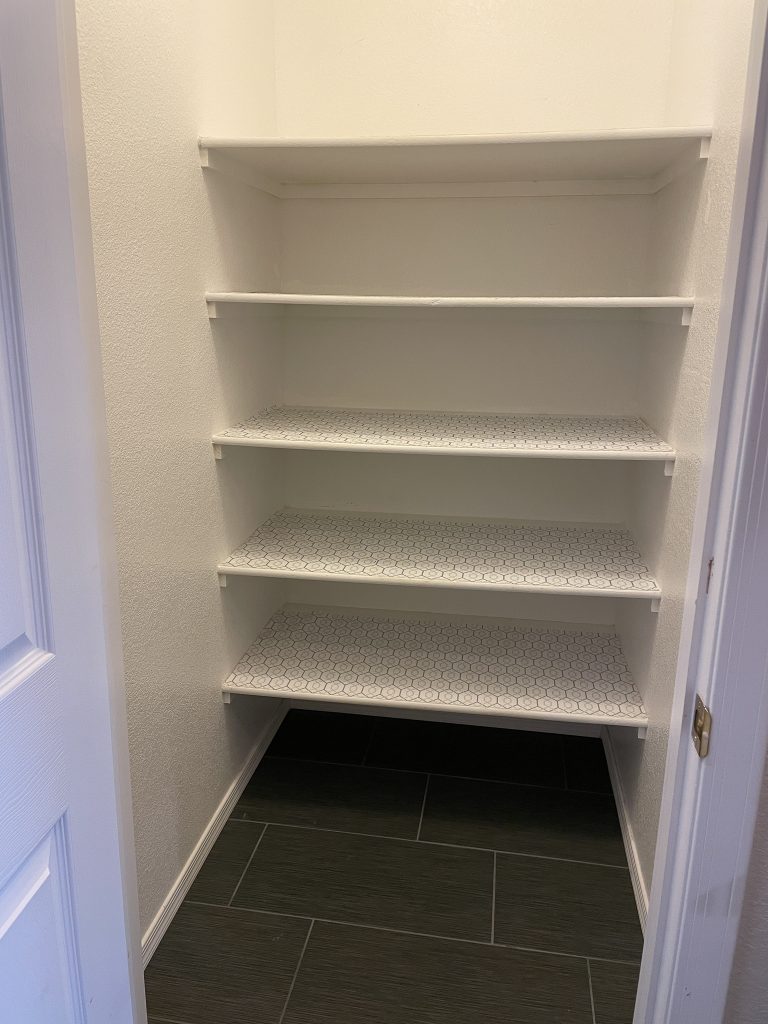 Future projects/plans: The cabinets in this space are terribly old and not the best as far as functionality. I would love to rip the cabinets down and create a custom built-in storage area that takes full advantage of the vertical space.
There is also a decently-sized closet in this area that serves as overflow/storage. It's functional, but I'm not opposed to making it more custom as well. It's just not super high on the priority list.
Bryn's Bedroom
Our daughter's room (formerly a first floor den) officially became a bedroom within this past year with the addition of a built-in Ikea closet system. This space also received new floors, paint, a ceiling fan, curtains and a brand new bed fit for a pre-teen.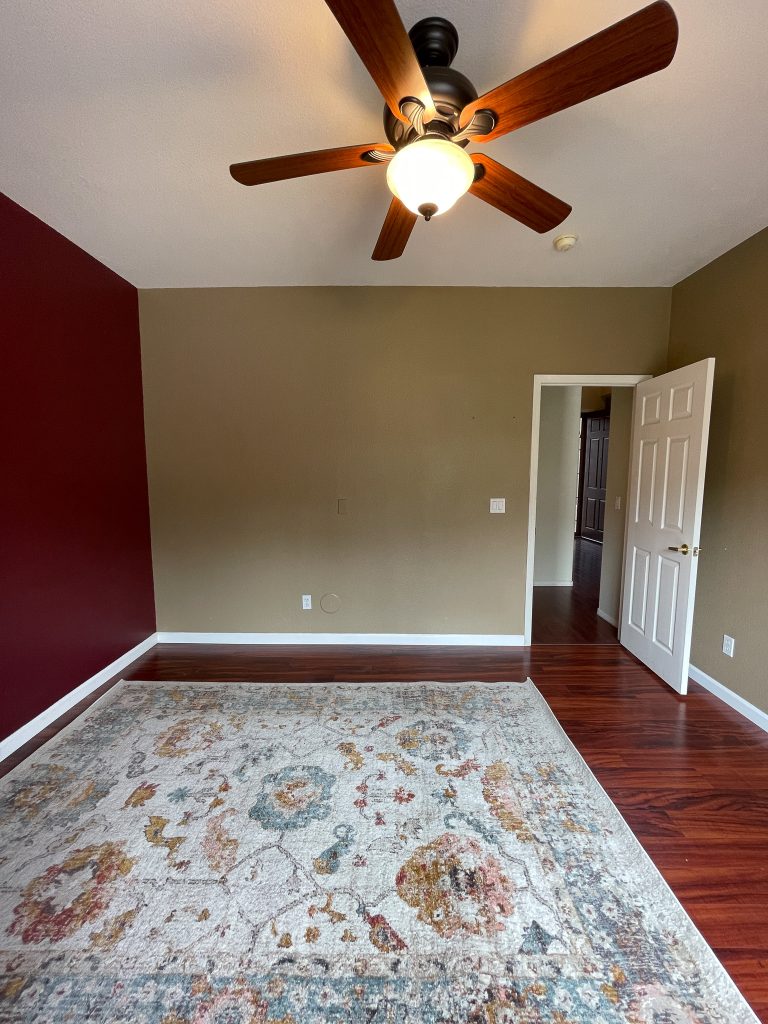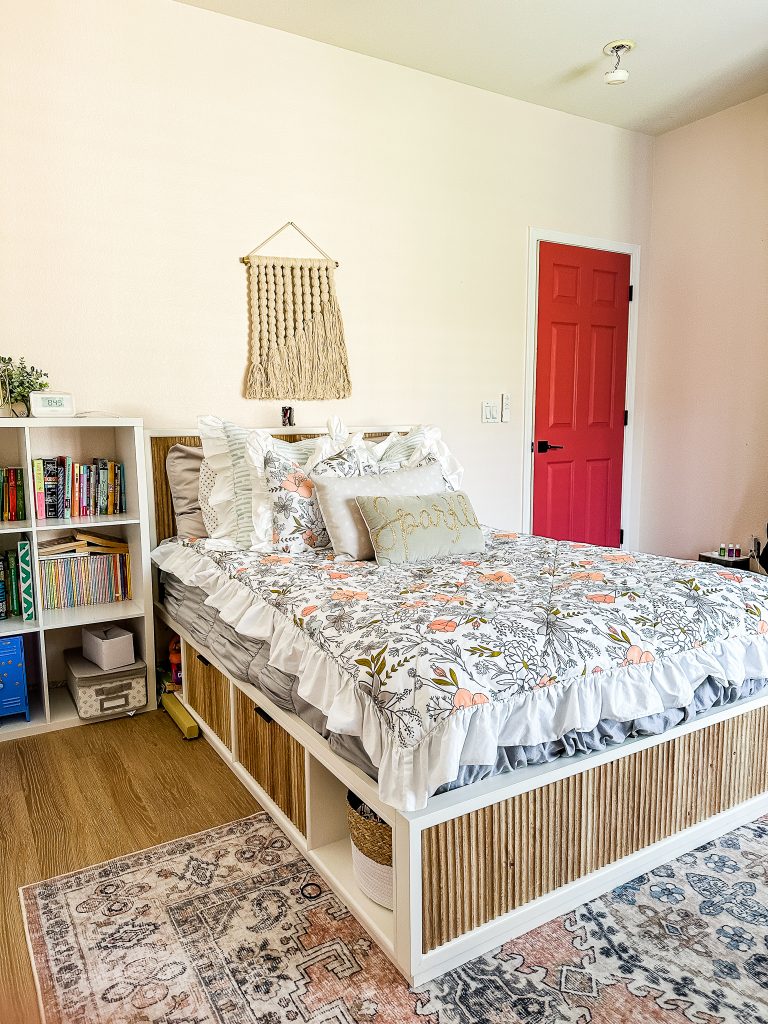 Future projects/plans: I still need to take out the plantation shutter in this room and add new trim to the windows and doors and add baseboards. The biggest thing her room needs at this point is some extra special touches to fit her age. A desk/vanity area with a mirror, a place to hang photos and a proper end table with a reading lamp are all on her wishlist. I would love to find a vintage desk to makeover for her. Thinking it may be a fun Christmas project!
Downstairs Bathroom
Zip. Zero. Zilch. This room looks exactly the same as the day we moved in. It will eventually be getting a full remodel, but that's probably a bit down the road still.
Stairs
These stairs are one of my favorite features of the home and also the project I have avoided the longest. The walls have been painted, but I'm super nervous about replacing the stair treads and risers. Next month is the time though, and the stairs will be my next big project! I may add some decorative moulding to the walls as well.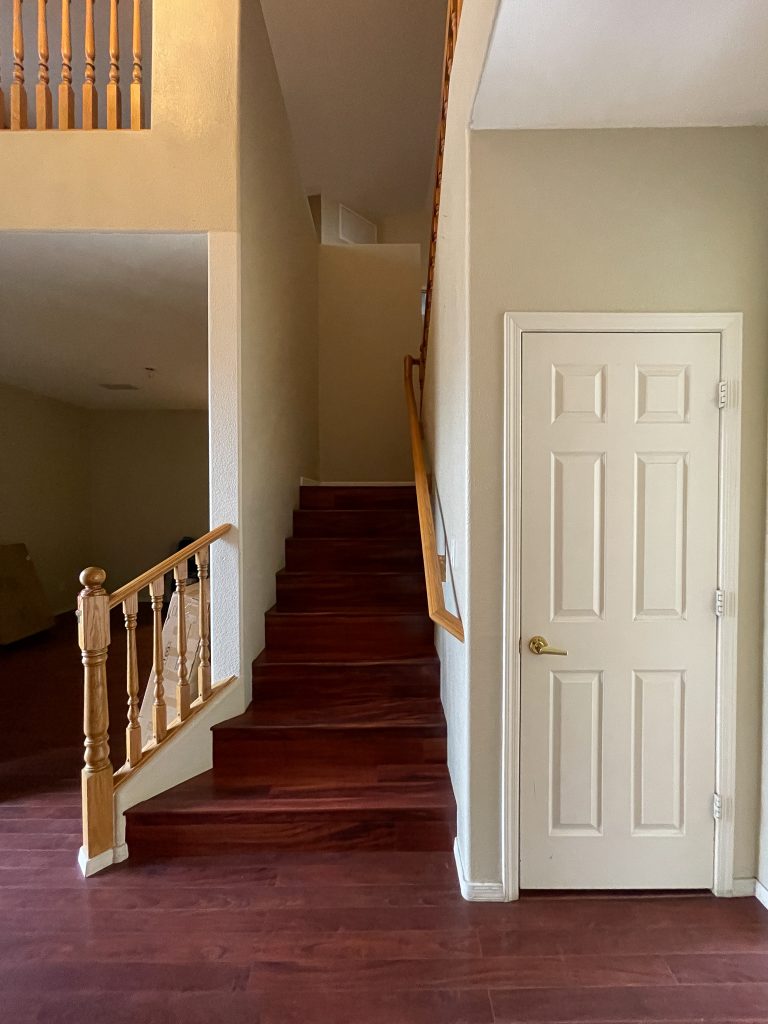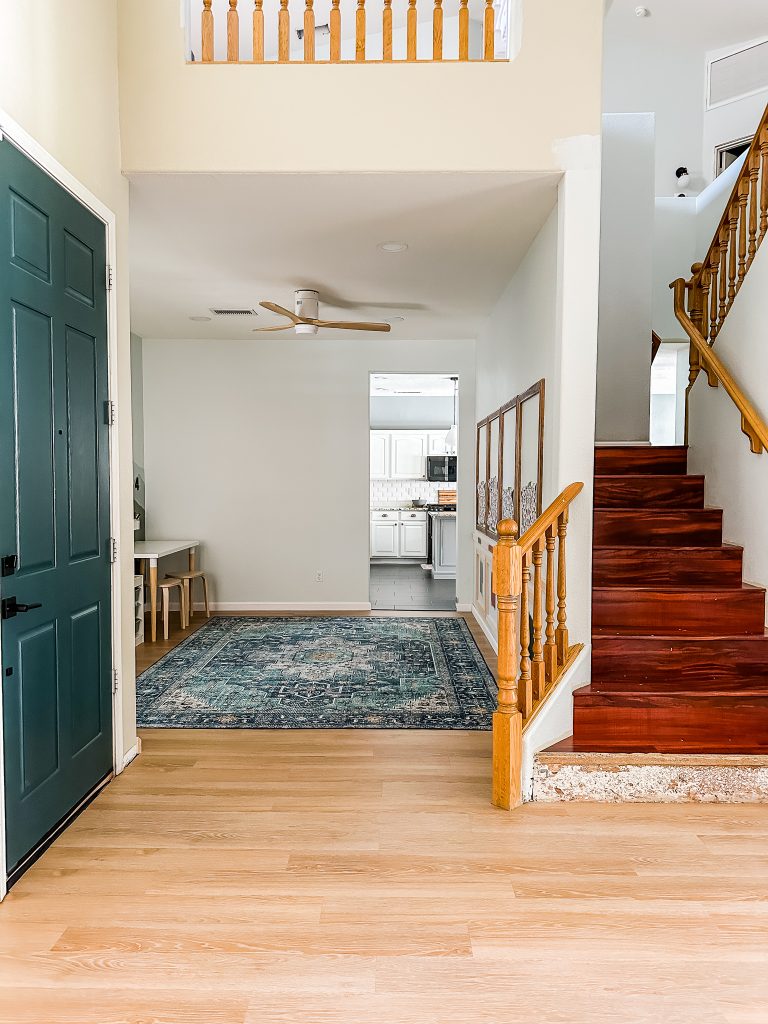 Future projects/plans The stair railings need to be replaced/updated, but that likely won't happen this next month. I'm still trying to decide if I'm going to replace the entire thing or not, and it really needs to be done at a time when the kids aren't home, for safety. Likely sometime next summer when they visit grandparents.
Primary Bedroom
The primary bedroom. This space has my whole heart! This room received a huge two-week makeover this past spring right before Tommy came home from a long tax season in Indiana. It received the full nine yards. New floors, new ceiling and wall paint, door, window and baseboard trim, a rug, curtains and accessories.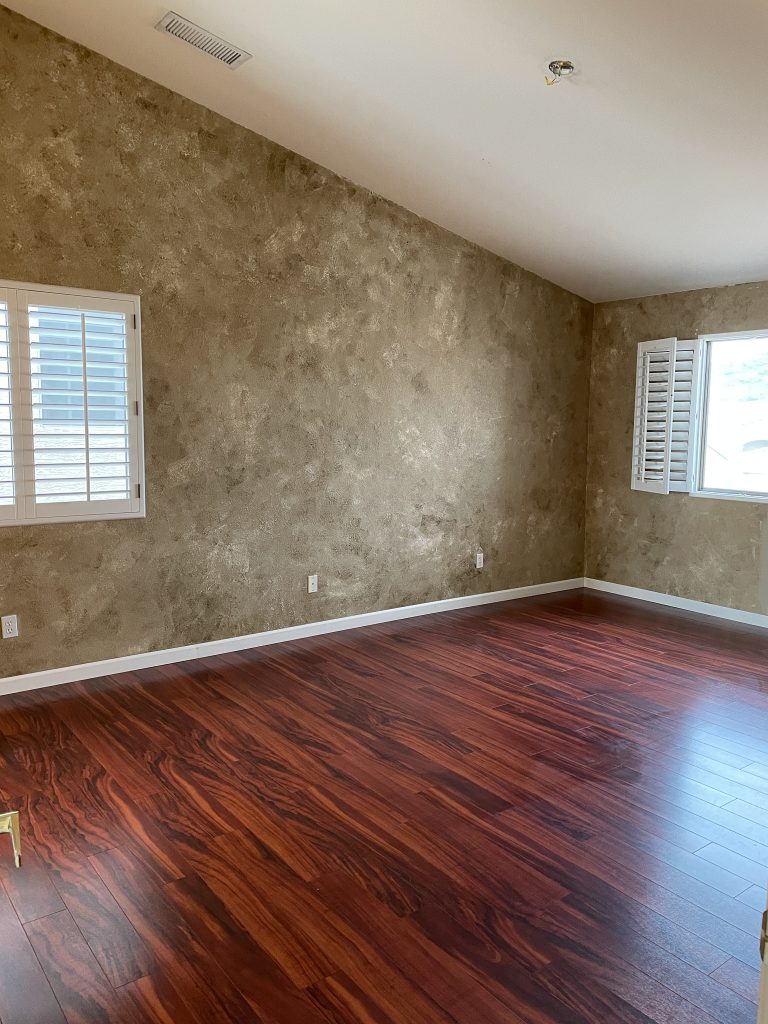 I absolutely love the perfect balance of masculine and feminine in this space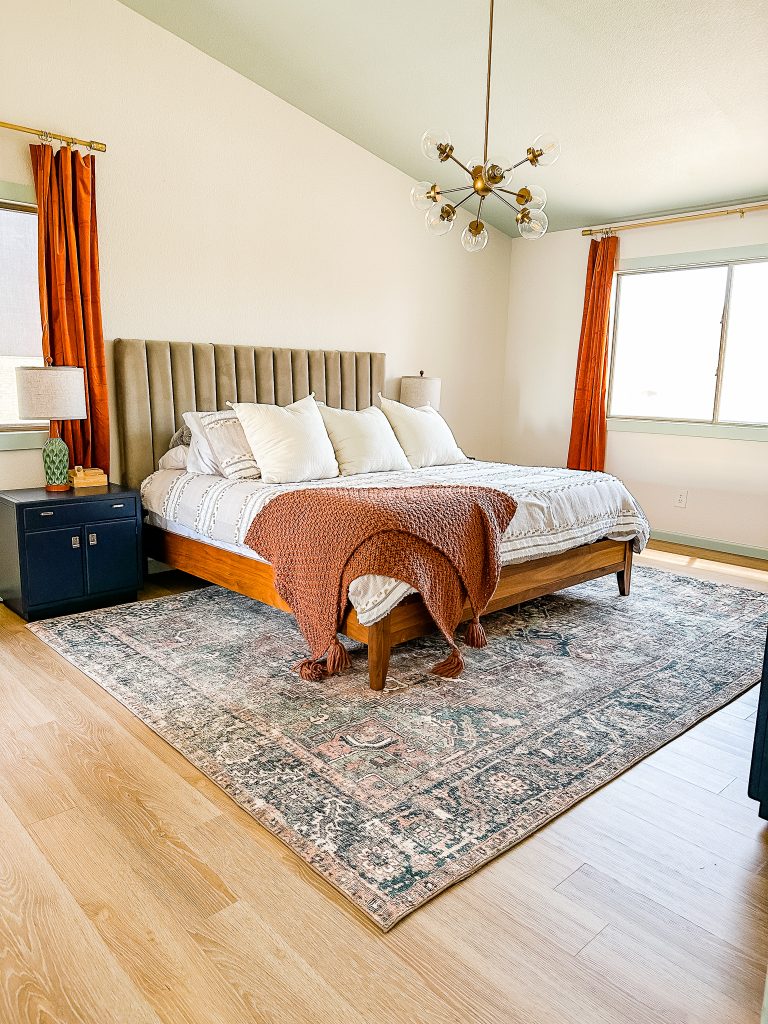 Future projects/plans: This room feels about 97% complete at this point. I definitely want to add a large photo/art over the bed, but overall, I'm happy with how simple it is. It fits our needs perfectly.
Primary Bathroom
Another space that has remained virtually the same since day one. Do you see a common theme here? I did take off the doors to the closet before we moved in, repainted and added a more functional closet system. I also replaced the vanity lights that were basically falling off the walls.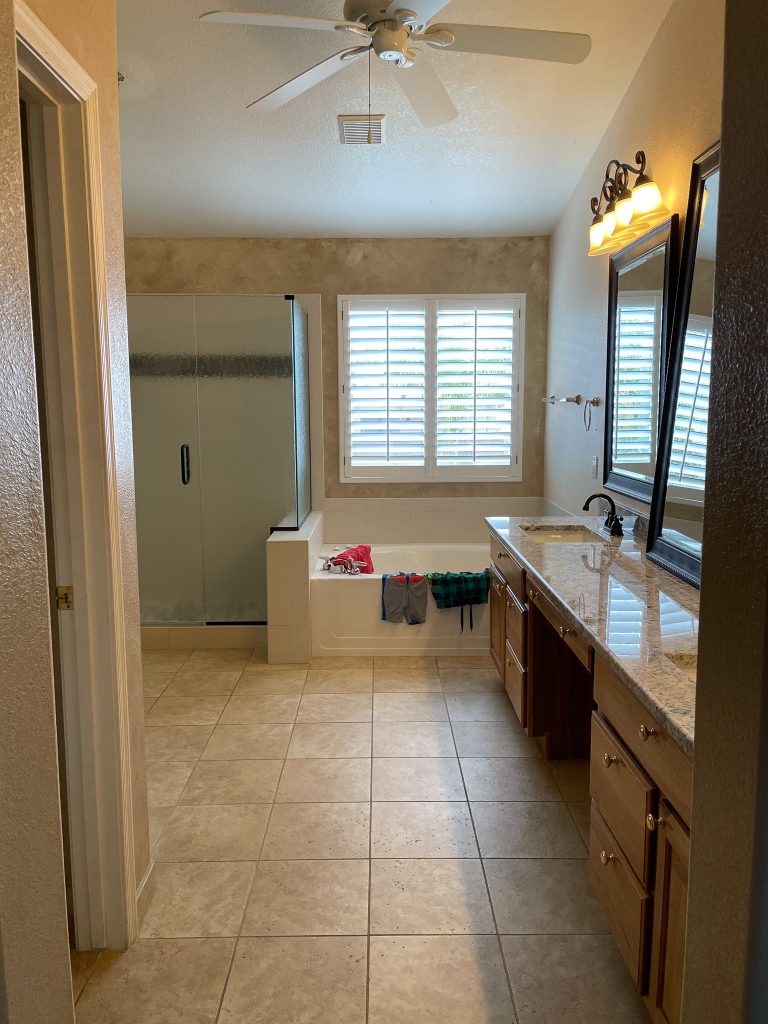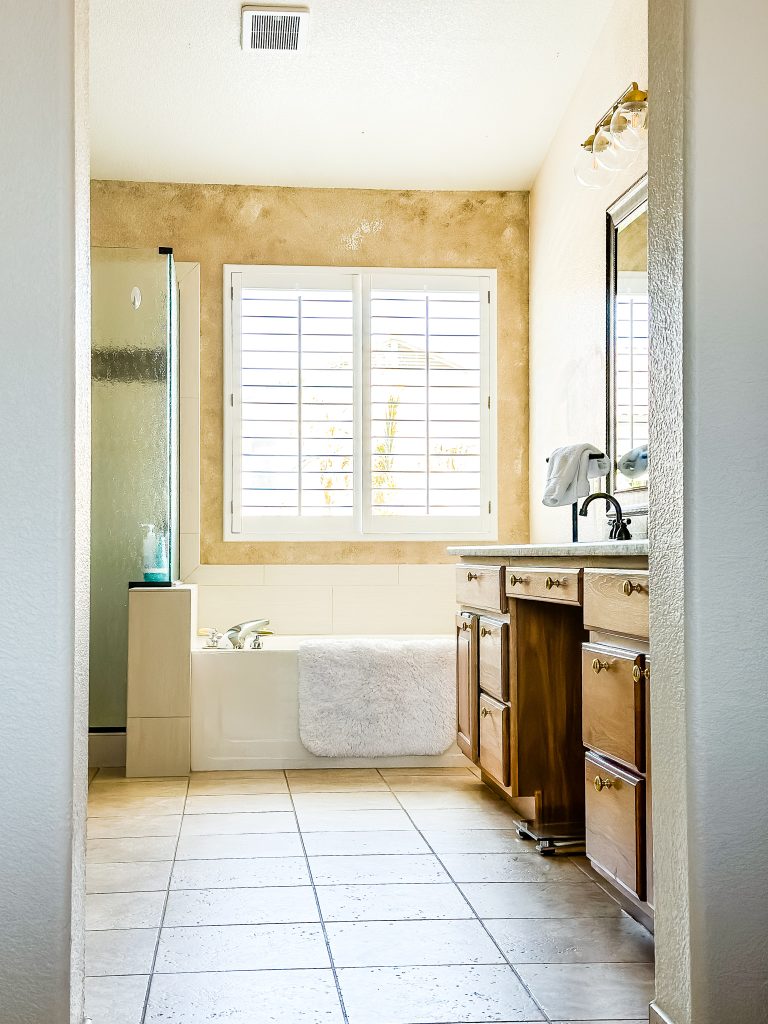 Otherwise, this room remains the same! It will likely be getting at least a phase 1 makeover in the next year, but I haven't made any official plans yet.
Loft
This space has served a lot of different purposes in the past year as musical rooms were a common theme the first several months we lived here. Over the past three months, it has received new paint/floors and settled into its permanent identity as the Lego/play room.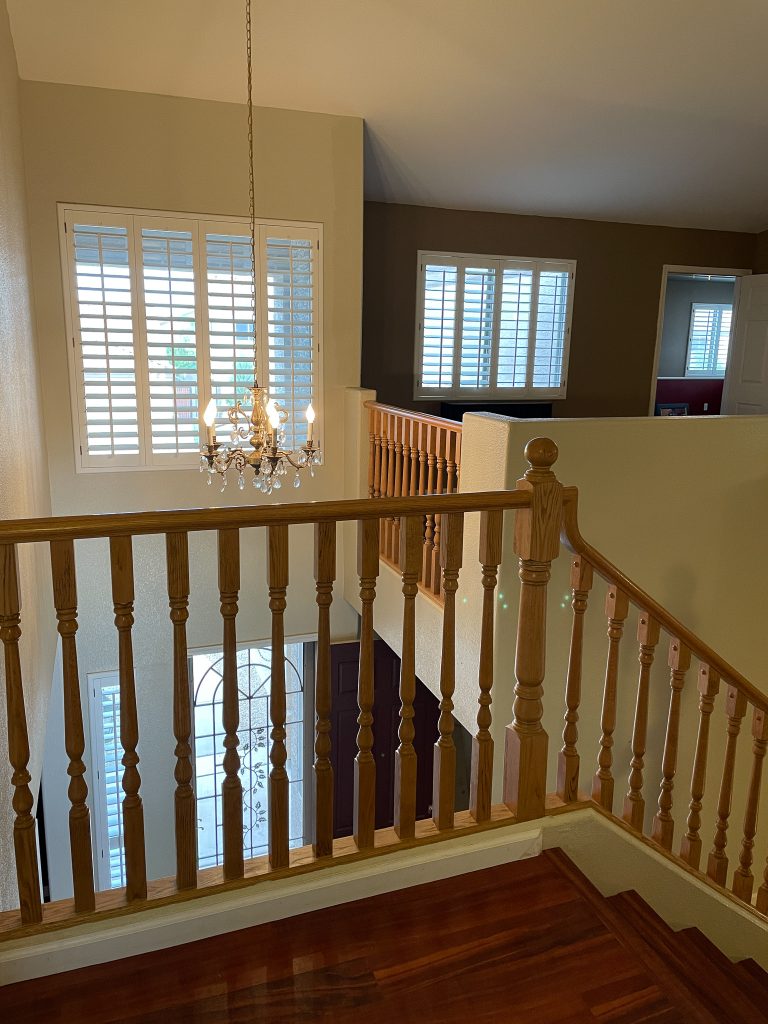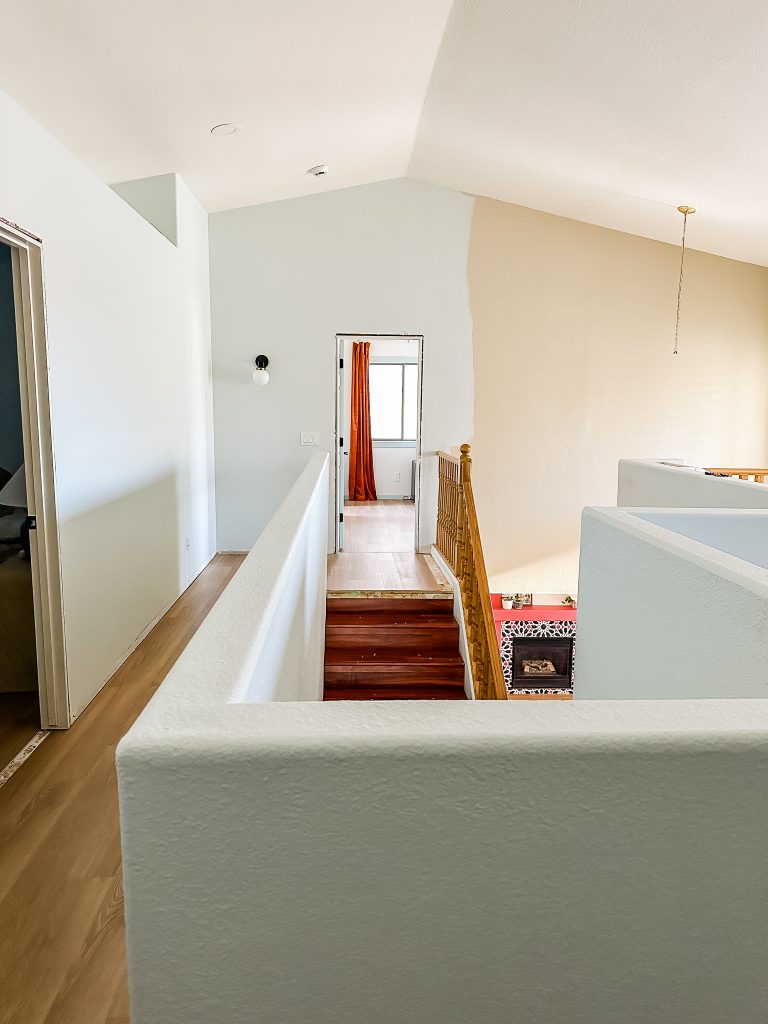 Future projects/plans: This room, like many others, still needs trim and baseboards. I would also love to utilize one wall of this room as a kids library area (maybe an Ikea hack built-in) and another as a space to display their lego sets/art. I also have plans to build the boys a big Lego table for Christmas.
Guest Bedroom
This room makeover has so many fun memories attached to it including the one where I get taken out by a hybrid mattress. IYKYK. The guest bedroom came together this past spring right before I had friends come to visit for a long weekend. This space is small but mighty and also semi functions as a play area as it holds a lot of the kids' overflow toys.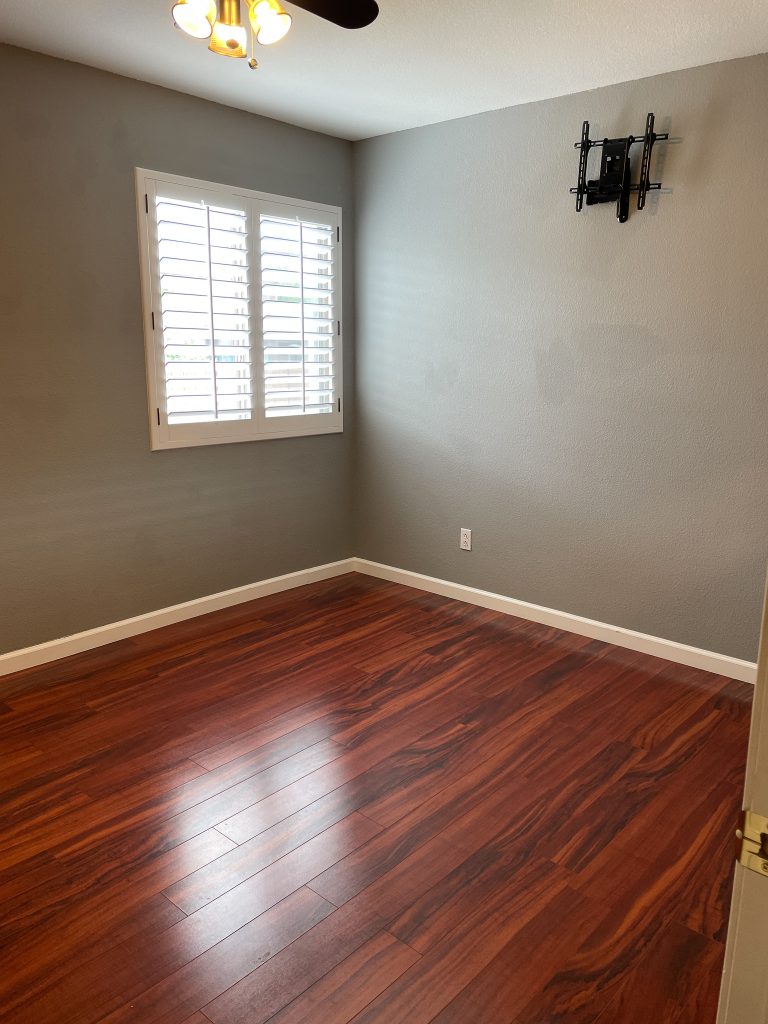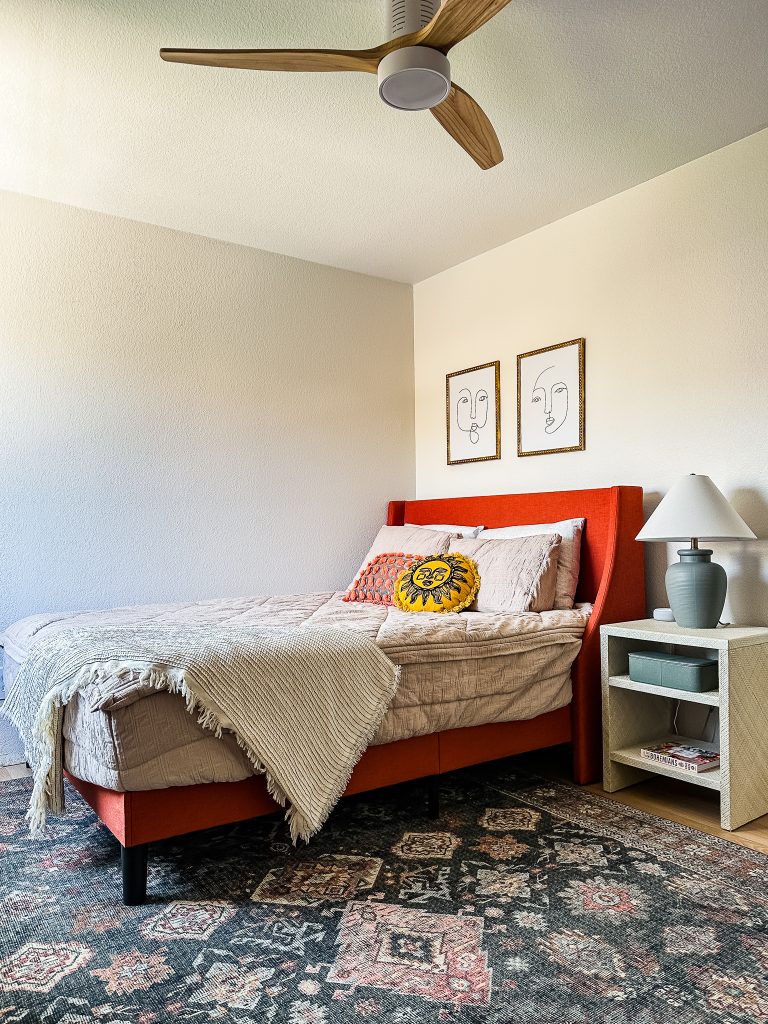 Future projects/plans: I would LOVE to paint a mural in this room some day, add a seating area, a few plants and some personalized art.
maks' & Sloan's Shared Bedroom
This room was virtually unusable for four months as it was one that went down hard in the mold debacle of 2022. Shortly after the new year, I was finally able to give it new floors, paint and basic furnishings.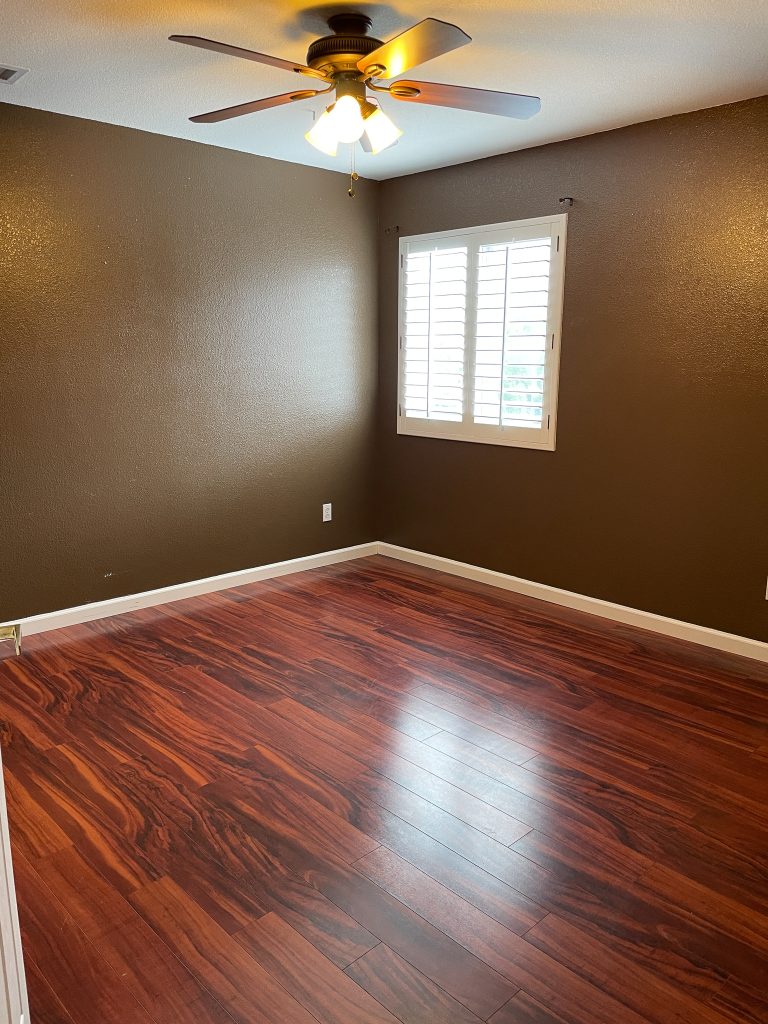 Future projects/plans: An accent wall behind the bed with really fun wallpaper that the boys picked out. Real dressers/oversized nightstands and a DIY book display area.
Xander's Bedroom
When we first moved into this home, Xander was living in the guest room. After the boys' shared bedroom was finished, he decided he wanted to sleep in their old room, and musical rooms began. I tore off his closet doors, gave him new paint and floors and curtains, then moved his bed and rug into the room. He's a pretty simple kid so he was happy with that for the time being.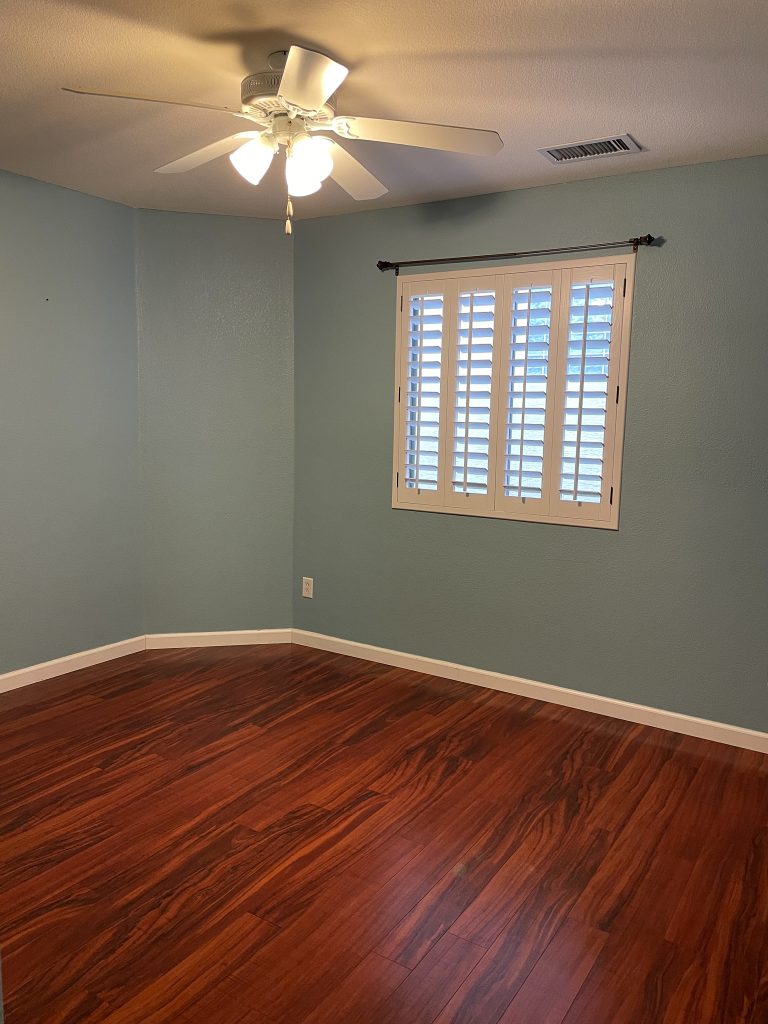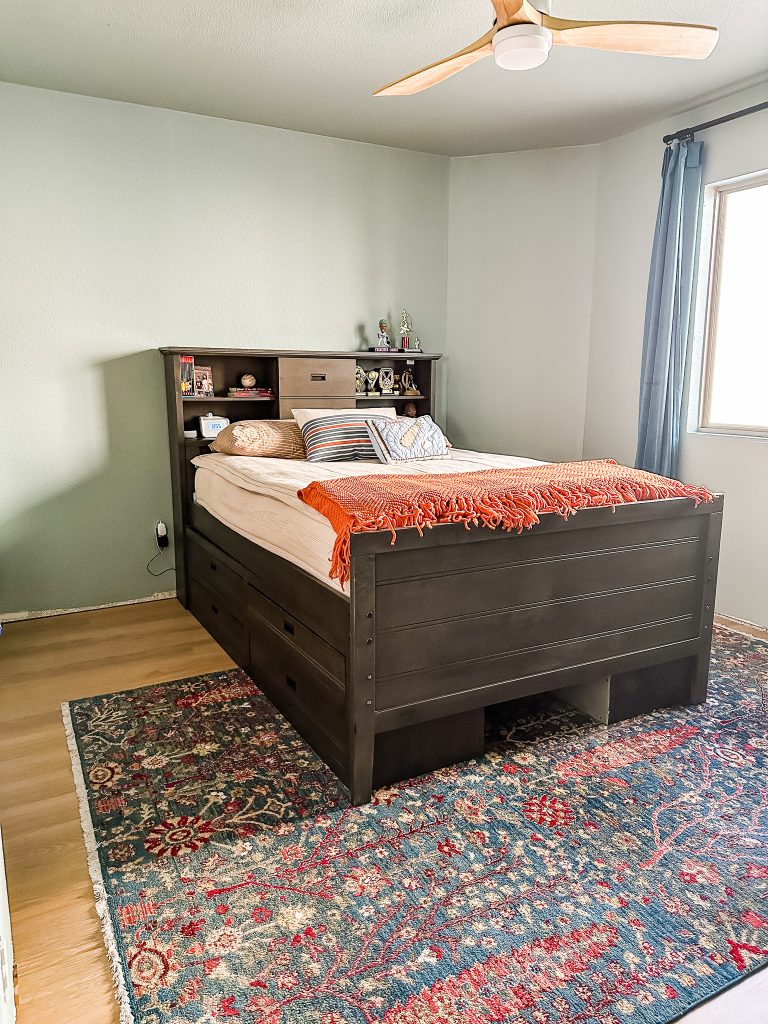 Future projects/plans: Reinstalling closet doors, adding a desk, an accent wall, more lighting options and a place to display photos/memories
Boys' Bathroom
Have you noticed the theme with the bathrooms? Nothing has been touched in here either. A full demo reno is definitely needed in the future.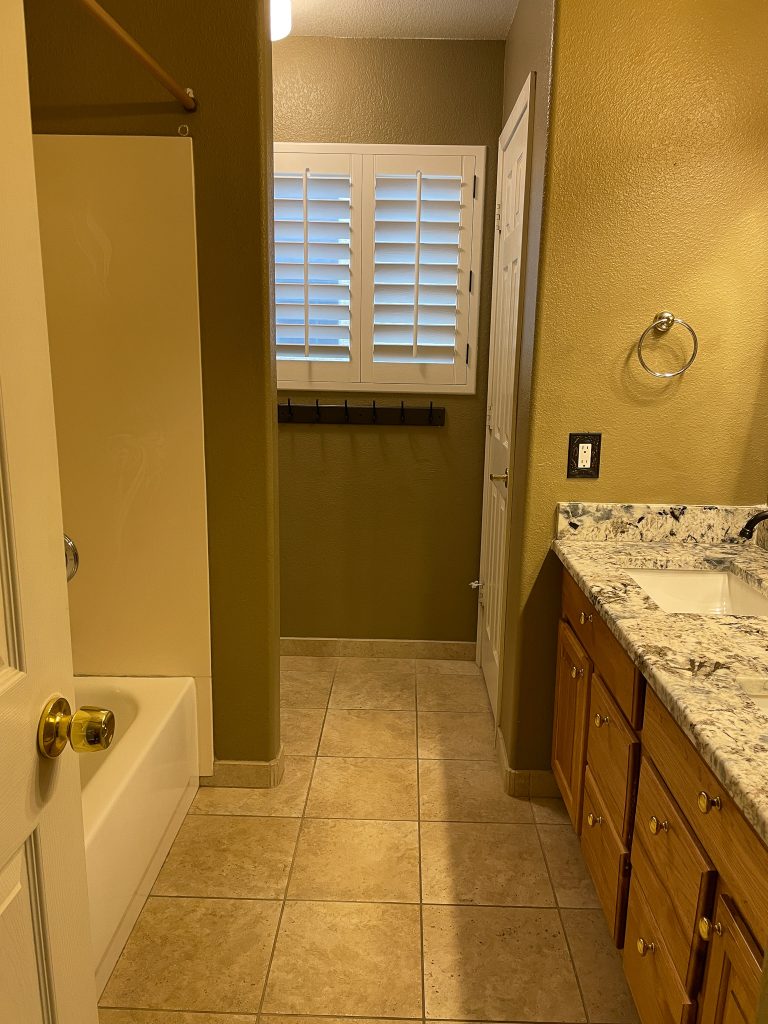 Bonus Room
This is a room I have never shared on social media! Not because it isn't worthy to be shown, but more so, because I worked on it during my three-week social media break last year! This room had old nasty carpet when we first took possession that we ripped out almost immediately. This room functions as my husband's office/man cave/guest area. We had friends visit us last minute, so they could attend the 2023 Fiesta Bowl, and we had nowhere for guests to sleep!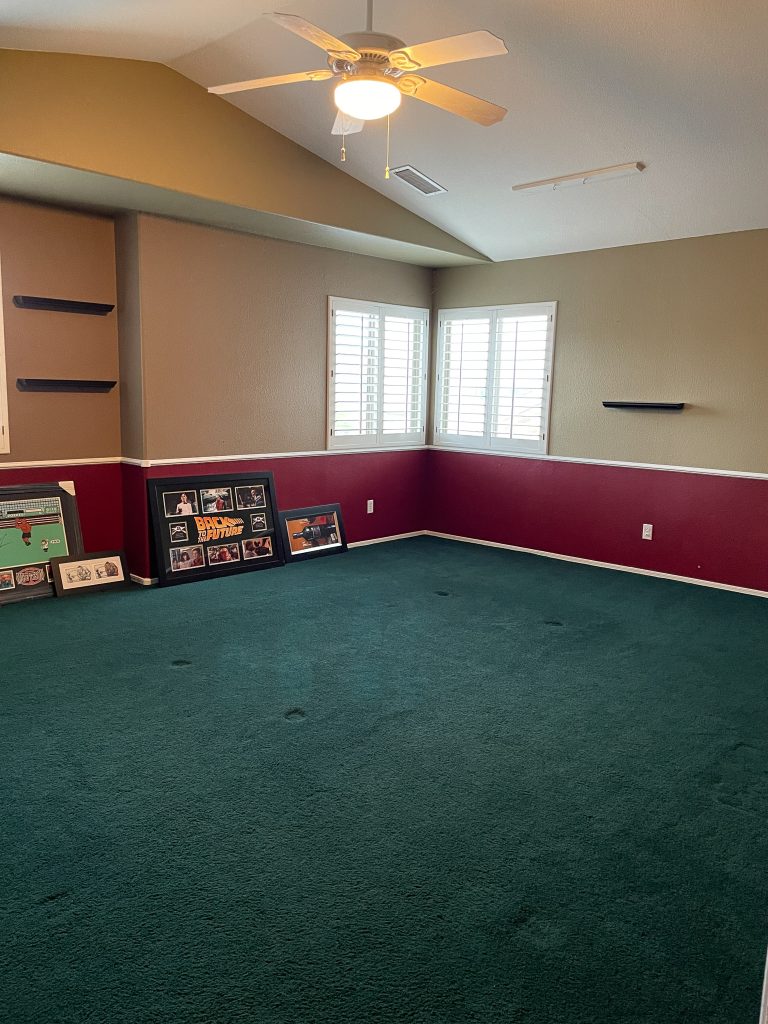 The day after Christmas, I jumped in head-first and gave this room new floors, fresh paint and curtains. We moved my husband's office set up and our sleeper sofa from the loft to the bonus room, and we instantly had more living space again!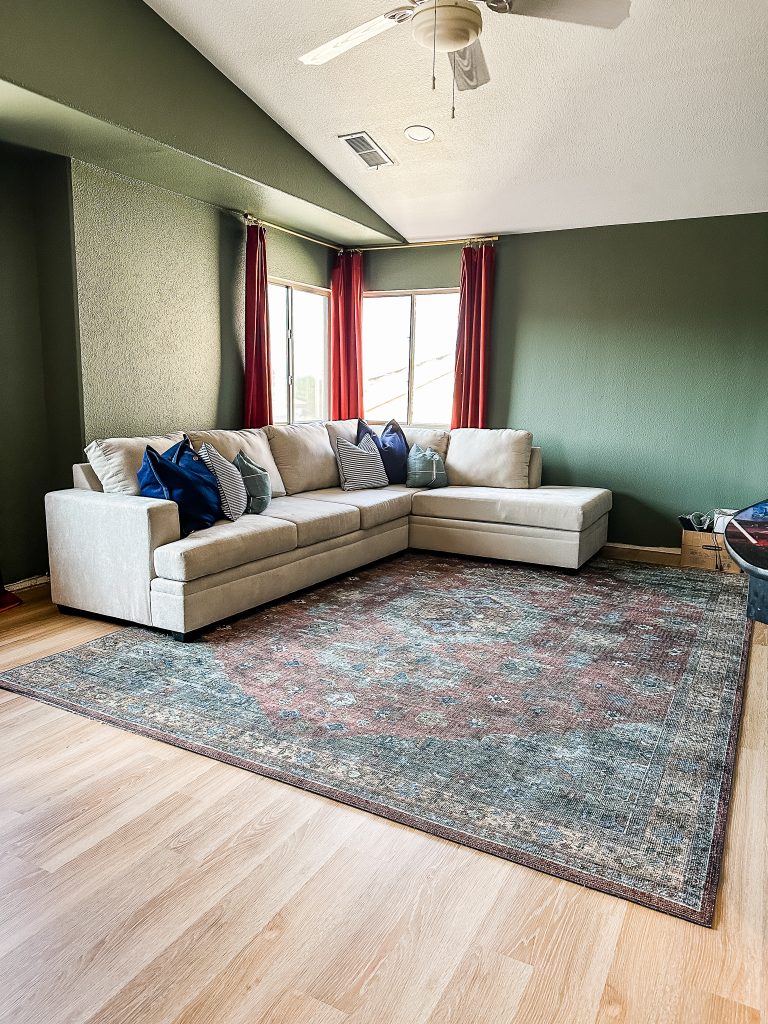 Future projects/plans: This room, like most still needs window/door trim and baseboards. I'll also replace the ceiling fan and I need to either buy or DIY a TV console situation. Other than that, it's just hanging all of my husband's sports/movie memorabilia! This space I may knock out on a weekend in the near future!
Backyard
We love our backyard so much! The north-facing orientation, the pool, the mountain view! Our landscapers have done most of the work in this space so far: fixed broken irrigation, tore out a bunch of overgrowth and laid new pavers and rock. I have added basic furnishings, but the BIG project will come hopefully this spring!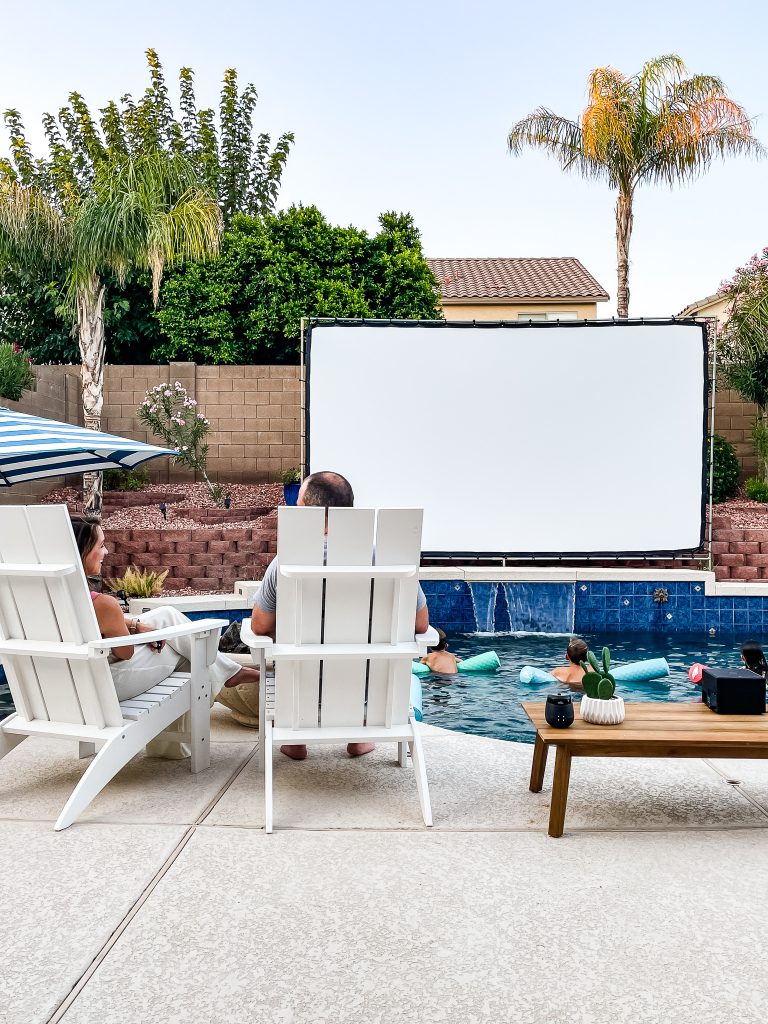 ADIRONDACK CHAIRS | OUTDOOR RUGS | EGG CHAIRS | OUTDOOR TABLE & CHAIRS | OUTDOOR CURTAINS
Future projects/plans: a BIG custom mural along all three walls of the backyard. String lights, fixing our broken misting system, add a few cactus and other plants. Add lounge seating!
full year, full hearts
Looking back, I checked so much off the project list this year, but there's still so much more to do. I'm ready for it though! Ready to make more of this house our home!