Formal Living Room – One Room Challenge: Week 7 (the barn doors + a sneak peek)
Hi friends! Welcome to my ORC week 7 update!
I can not believe we are one week out from the reveal of these spaces! I personally have 5 days left to finish because next Tuesday morning I fly out for a business trip. Lucky for me I work best under pressure, so bring it on!!
This week i'll be touching on a new build for this space as well as FINALLY revealing a (mini) sneak peak at furniture and accessories. Im determine to keep a lot of this secret so that the reveal next week will be that much better!!
If you have joined me from the One Room Challenge website, WELCOME! My name is Kera. I started Haute House Love as a home design and consulting business back in 2018 and have recently started blogging. I mainly create content around simple DIY, woodworking projects and home inspiration. I would love to connect with you over on Instagram where I share a LOT of my day to day projects. Now, let's get back to the challenge!
If you have some catching up to do I am working on my formal living room for this challenge. Here are the previous blog posts if you want to play catch up.
(Week 1) (Week 2) (Week 3) (Week 4) (Week 5-6)

This post contains affiliate links. Purchasing through these links may give me a small commission at no extra cost to you. Thank you for supporting Haute House Love.
THE BARN DOORS:
This past week I decided it was a wonderful idea to start another custom build. I mean who wouldn't want to start a huge project with less than two weeks until the big reveal?!? Apparently I'm up for the challenge.
If you watch my instagram stories you already that I have decided to add double barn doors to this room. These doors will most definitely be functional but they will likely serve as a decorative element 95% of the time. Our formal living room is pretty open to our kitchen/hearth room and we love the extension of living space, but also love the option of closing it off if/when needed.
I started building the frames for the doors last Thursday and Friday and by this past Monday I had all 4 complete (2 frames per door – one for each side.) The bottom of the frame is a 1×8 to match our baseboards and the rest of the frame is made with 1x6s. I chose select pine as my wood and made pocket holes to attach it all together. These barn doors are my largest build to date sitting at a whopping 40"x102" each.
You can click here to go to my Instagram page to watch the whole building process in my highlights.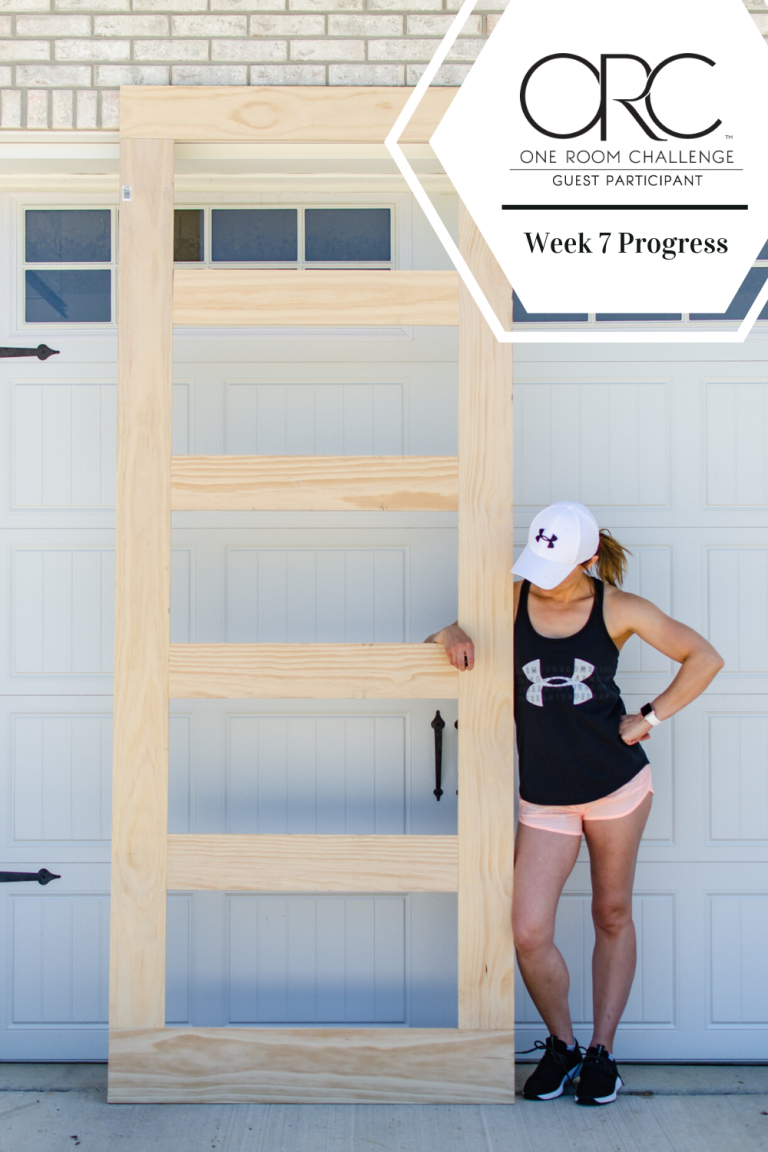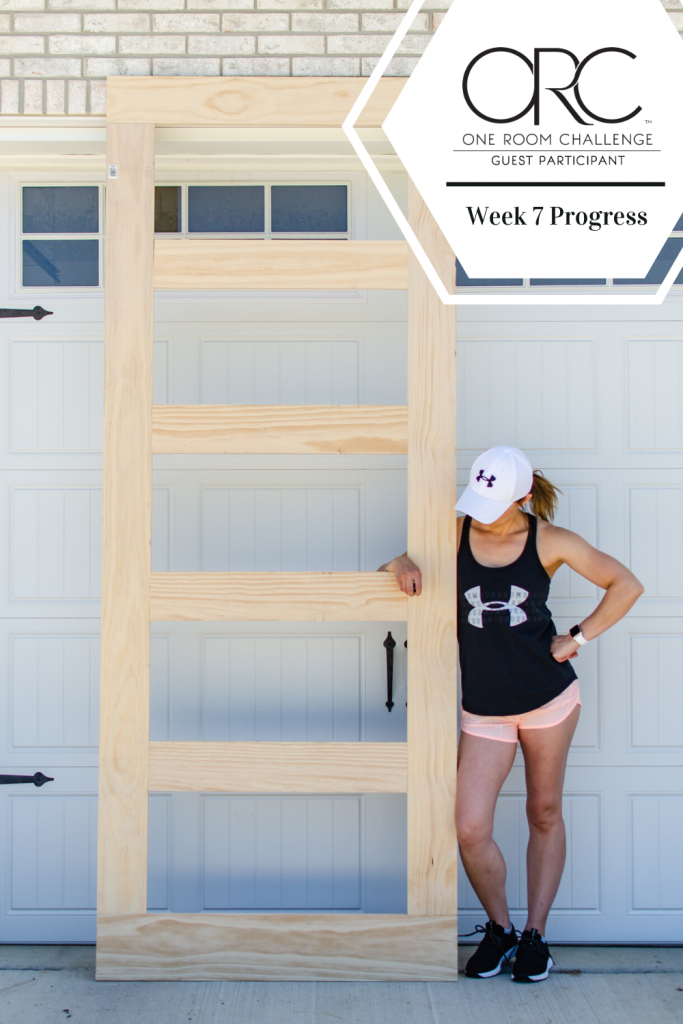 Once the frames were build I clamped them to a piece of 3/4in maple plywood and attached them one side at a time with wood glue and my brad nailer using 1-1/4 inch nails.
Next I took a few hours to patch all of the holes & imperfections. This morning I gave it a really good once over with my orbital sander and 120 grit sandpaper and patched again where needed. I sanded once again this afternoon. Priming and painting will start tomorrow and I have a really fun detail in mind to make the doors stand out. It's going to be so good!!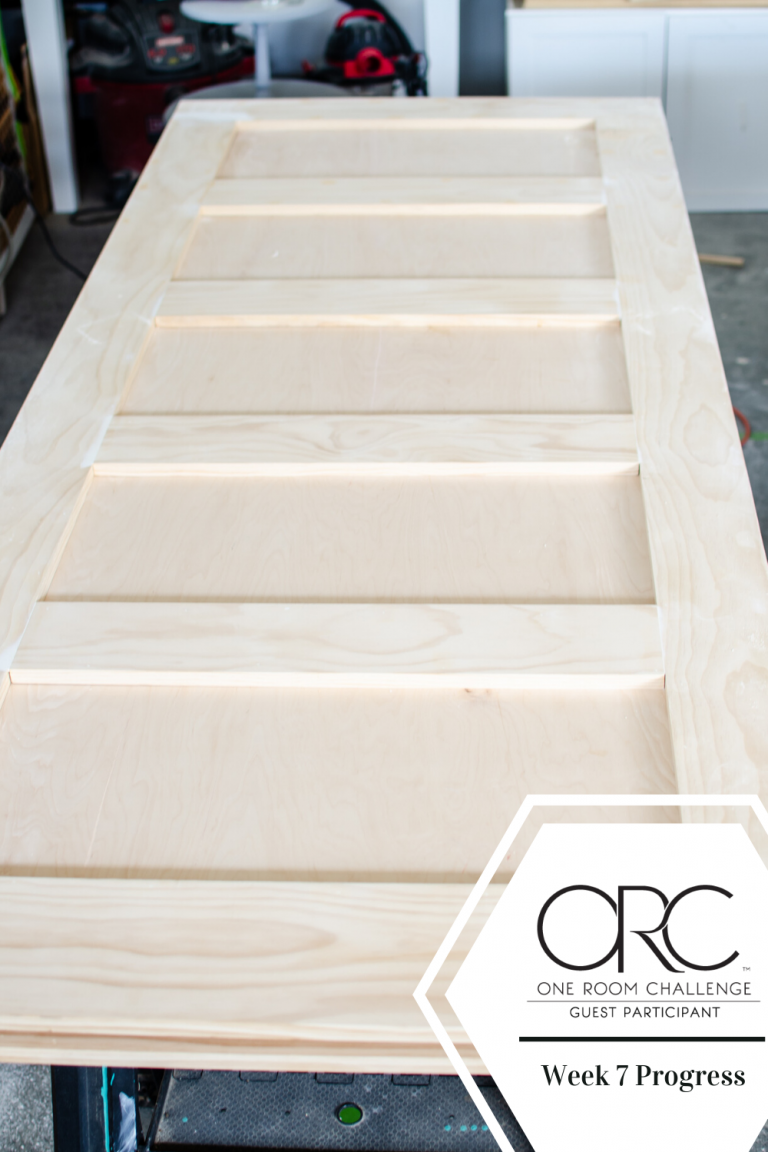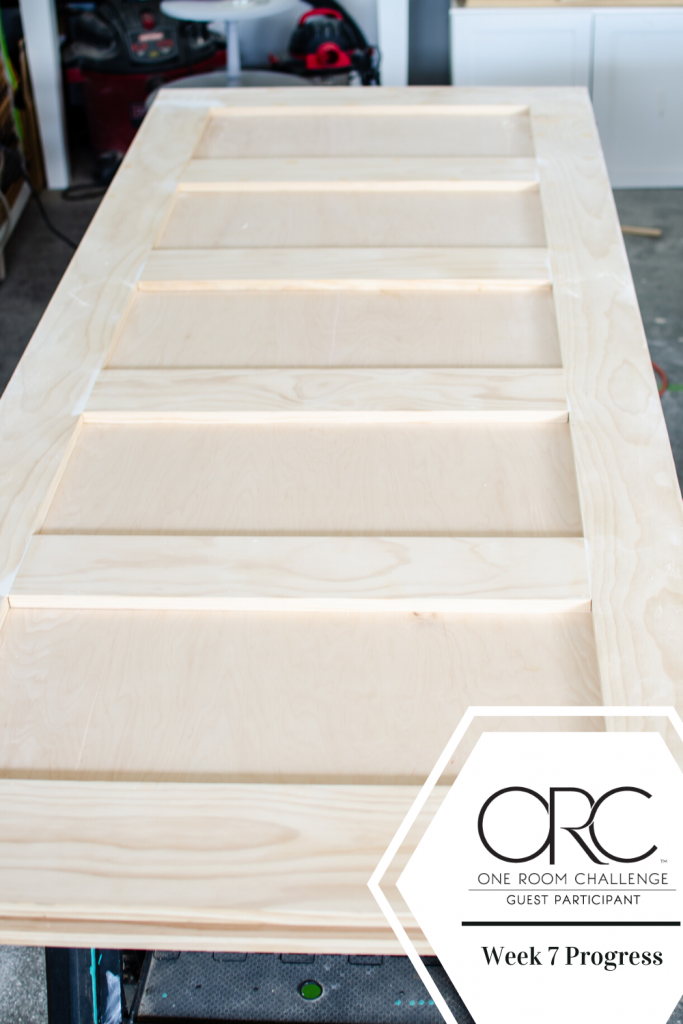 The only thing i'm bumming about is that my door hardware (which is sponsored) won't arrive in time to hang the doors for next weeks reveal. I knew before committing that this was a possibility so Im just going to roll with it and we will get them hung in due time. (I'll update the final blog post when I do)
I am, however, completing the doors fully and they WILL be making an appearance in the room for the reveal, so don't you worry about that!!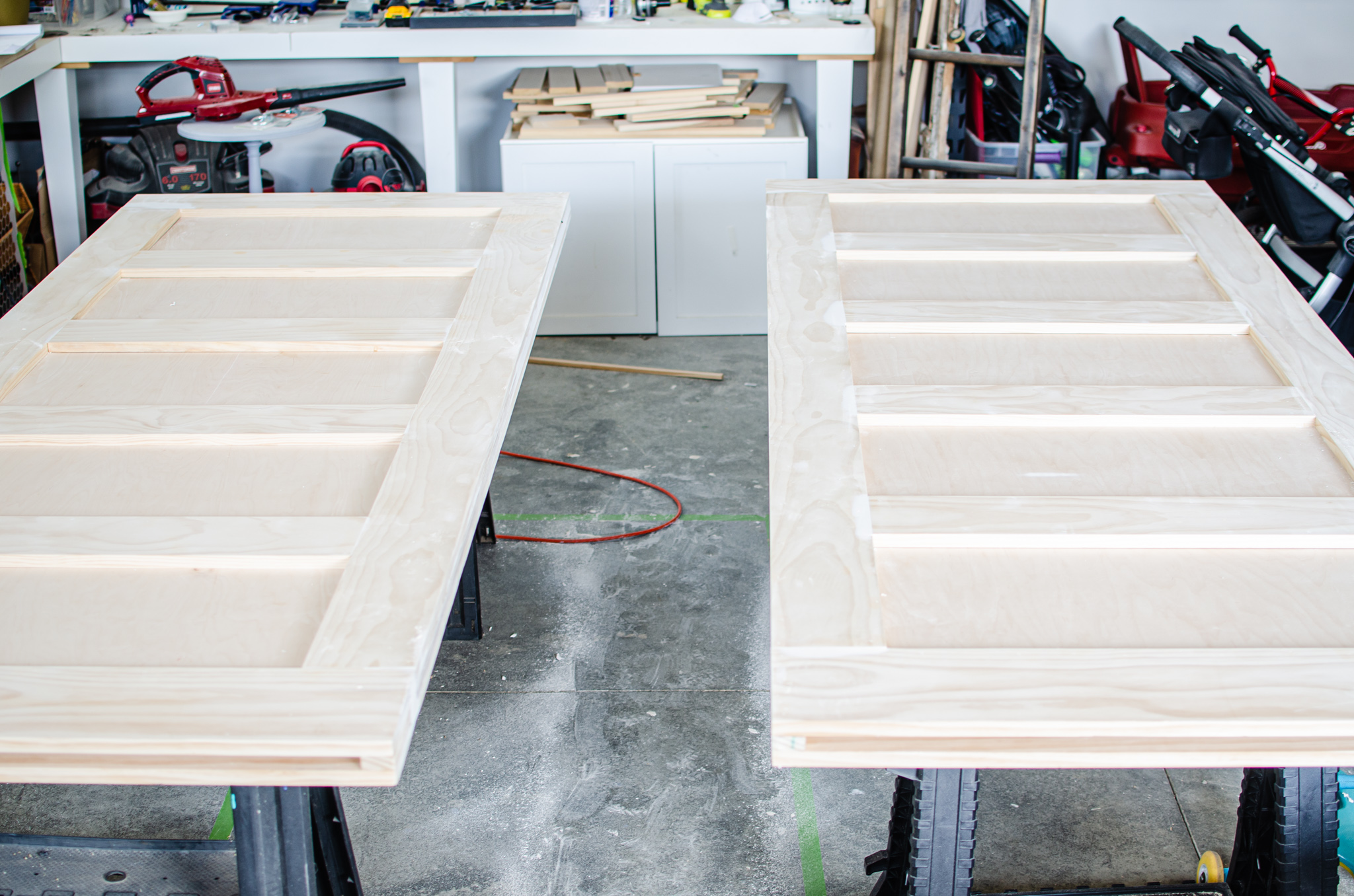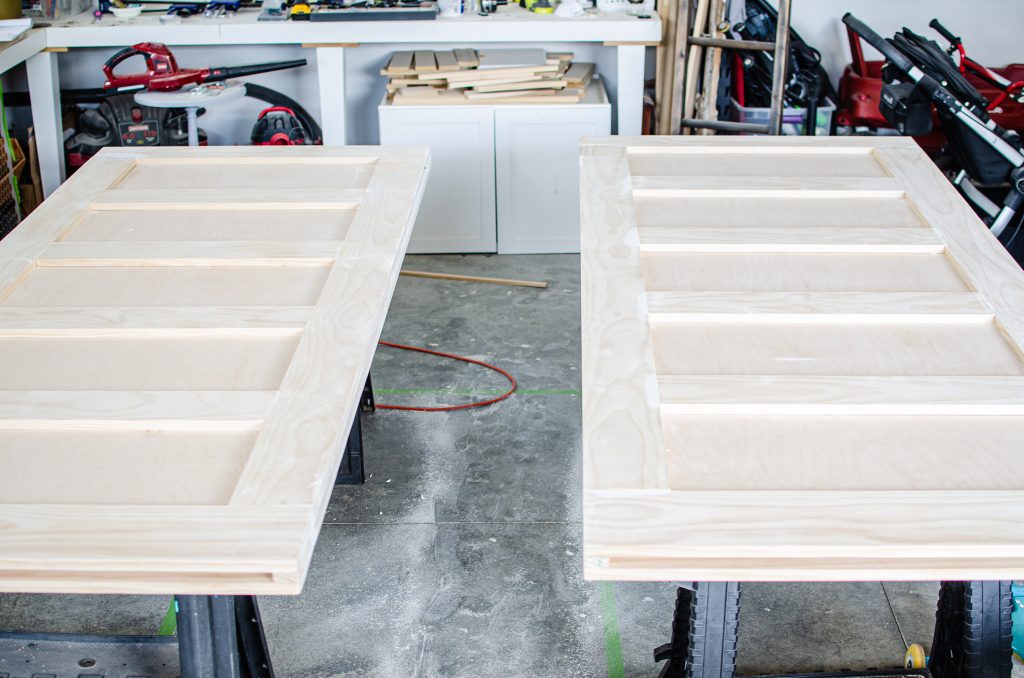 FURNITURE & ACCESSORIES (mini sneak peek)
Throughout these past weeks I've taken you through all of the detailed DIY projects in this space. What I HAVEN'T touched on is what will be filling this space as far as furniture and decor. I honestly debated long and hard if I would show any of it before week 8 — I tend to be a fan of keeping a tad bit of suspense. Just yesterday I decided that a mini sneak peek (to wet the whistle, if you will) would be the perfect compromise.
Here are a few snippets of what's to come as I prepare to reveal this space.

A geometric rug with tassel accents in an unexpected size.
A long, deep seat, low profile sofa with a subtle pattern.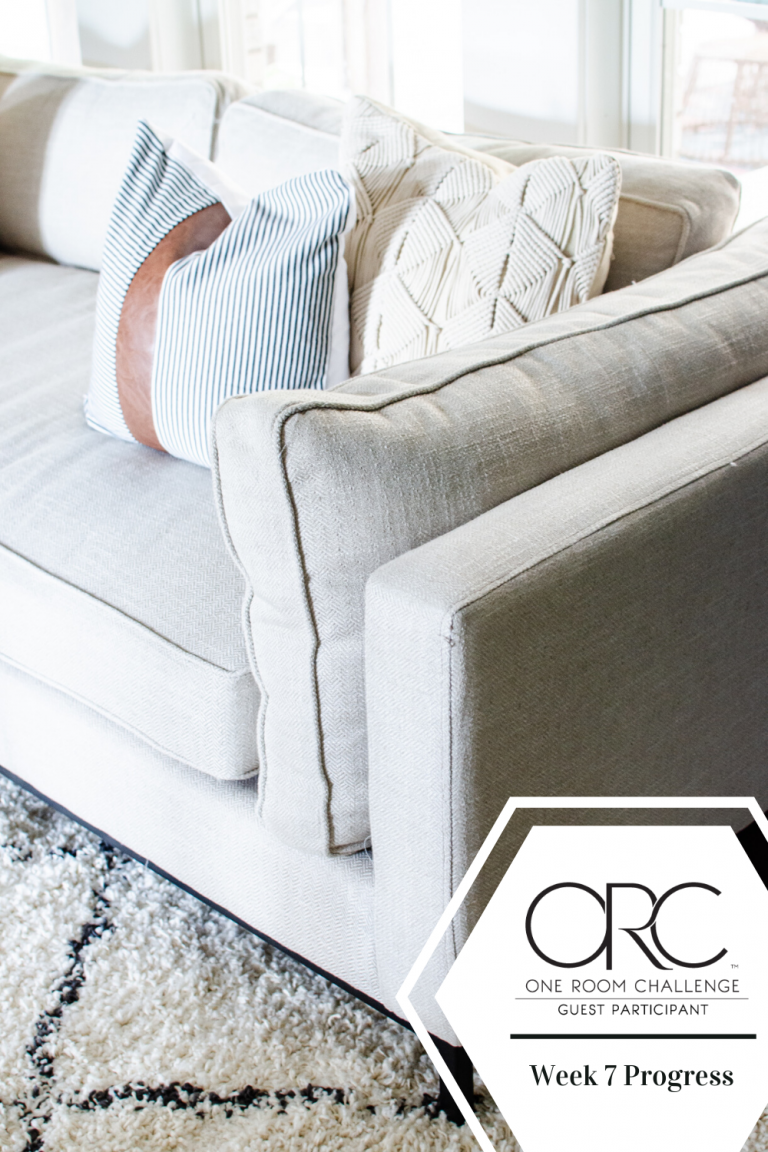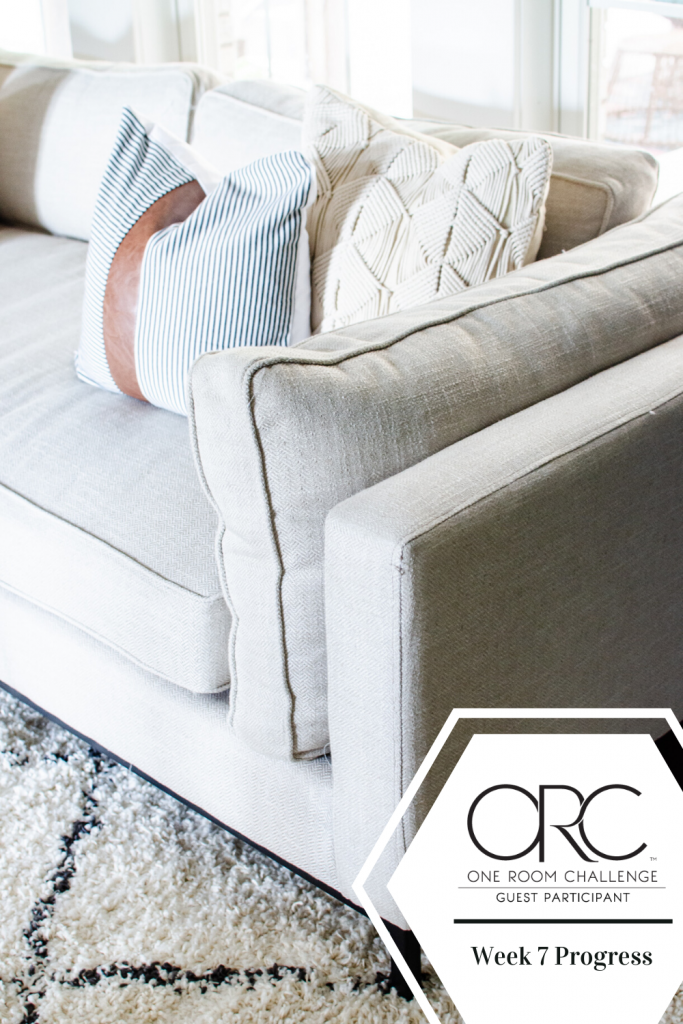 A handsome textured leather accent chair with recliner feature.
Accent tables with similar shape but completely different finishes & details.
Throw pillows with various textures and details.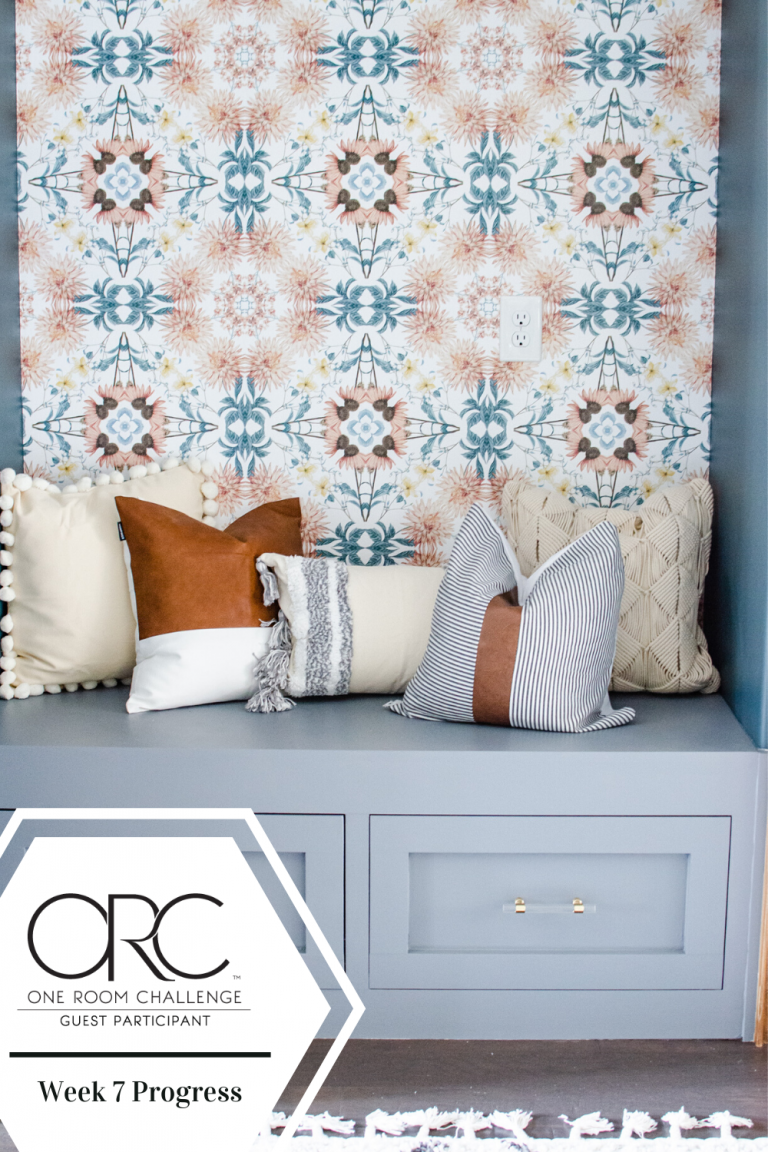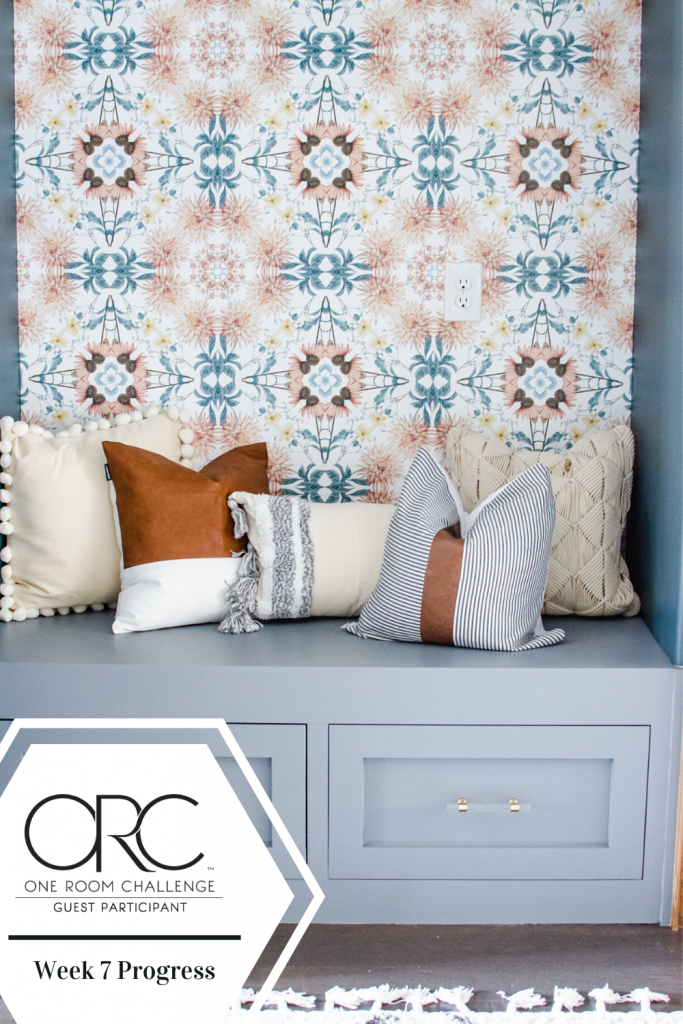 And with that Im calling it a wrap for the week 7 update!! Let's all say a quick prayer that I can get everything finalized and photographed before I leave for my business trip!!
See you next week!!! I hope you are as excited as I am for the final reveal of this space.
If you enjoy my content I would love to connect with you on Instagram where I share my day to day projects and inspiration!!