Our Arizona Moving Story Plus Q&A
After last week's BIG ANNOUNCEMENT about our upcoming move to Arizona, I was so touched by all of the sweet comments, messages, and overall excitement for our next chapter.
This decision was the farthest thing from easy and now that the news is official it's time to fill you in on all the details!
Last week I put up several prompts over on INSTAGRAM asking what YOU were interested in knowing about our move and the questions came in like wildfire!
So without further adieu, here is the nitty-gritty about what prompted us to consider moving, what's happening with my husband's tax practice, some of the first project plans for our new home, and TONS more!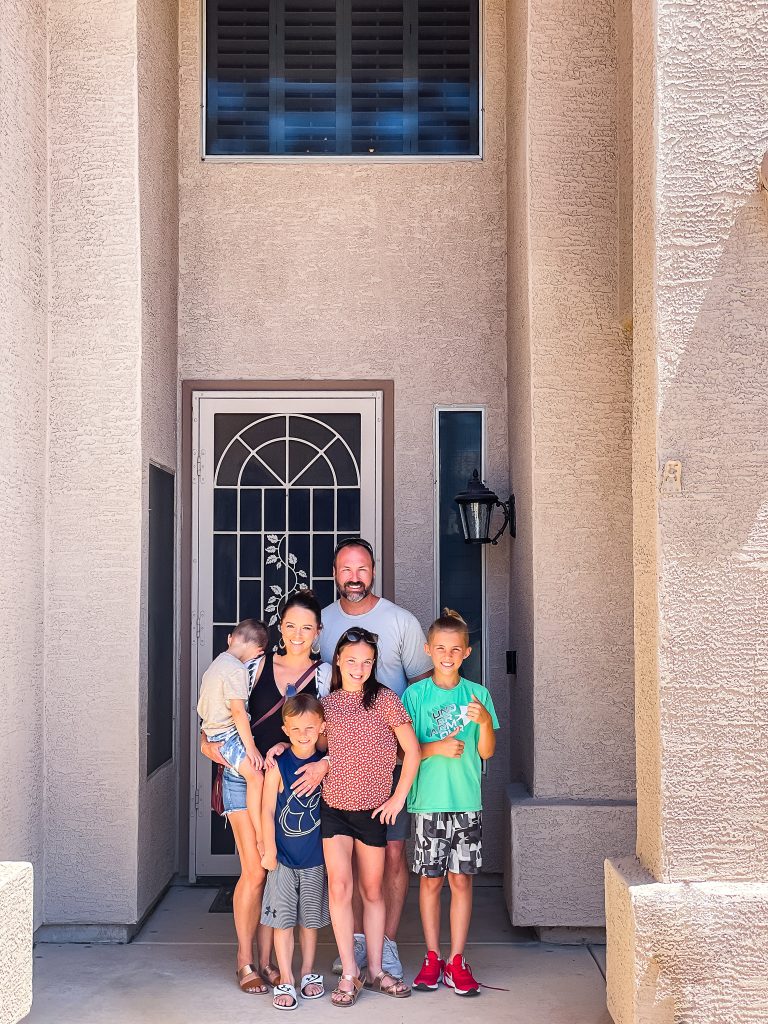 Q: WHAT PROMPTED THE BIG MOVE?
A: It honestly started out as a joke after we took the kids to the HAUTE HACIENDA this past Christmas. We were all SO SAD to leave so the running joke at home any time there were kids arguing or it was a super cold day was: "Let's just go to Arizona," or "We're shipping you to Arizona."
Around mid-February, all jokes aside, my husband and I sat down and had our first real conversation about what moving might look like. Our only thought previously had been retirement, but could it be possible before then?
The more we talked about the pros and cons and everything in between, the more we warmed up to the idea. A few weeks later we started involving the kids in the conversation. And a month after that we called a local realtor, confidentially explaining that we were "maybe, possibly, one day POSSIBLY considering a move."
We knew two things at this point:
1 – We didn't want to list our home and create unnecessary talk in our small town. Just in case nothing ever came to fruition.
2 – We didn't want to force anything. Just getting to this point alone took a lot of talking, consideration, and prayer.
In our minds. If this was going to happen. It's because it was supposed to happen, and we are simply along for the ride.
---
Q: HOW DID YOU END UP SELLING YOUR HOME WITHOUT LISTING IT?
A: As I mentioned previously, we did talk to ONE realtor in our area. We chose her because of her well-known portfolio of selling homes in our price range and likely knowing the type of buyer that we would need. We also trusted that she would keep our tentative plans hush-hush.
About a month after we made the initial call, she called to let us know that she had a family that fit the bill for us. I was in the middle of the LAUNDRY ROOM RENOVATION and felt super weird about letting someone walk through when I was mid-project.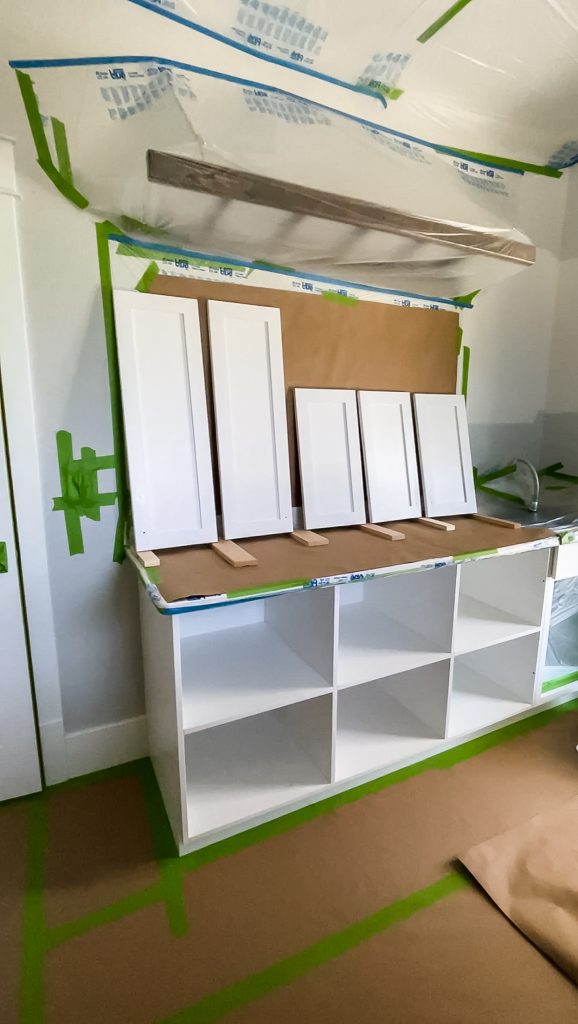 But this family was super interested and was also visiting from out of town and needed to see the house right away. AS IN THAT SAME EVENING!
Since it was the end of tax season there wasn't time for a full-out conversation so I sent Tommy a quick text that we had the opportunity to show the house that night, and he agreed that we should go for it.
After a brief moment of panic, I stopped work in my tracks and spent the next 4 hours trying to get the house into some kind of "showing" order. Luckily our cleaning lady had been there just a day or two prior so the house wasn't a complete wreck, but still needed a good amount of attention.
That afternoon was a complete blur, and all I remember was keeping the kids confined to one room after school, then running to grab them a quick Chick-fil-a dinner then heading to a baseball game while our house was being shown.
This family loved the home but their loan situation wasn't one that worked in our favor, so no offer ended up coming in.
A few short weeks later, I received the same call from our realtor again!!
---
Q: How did the timing of the buying/selling process work out?
A: Super-long story short, the second family that walked through our home ended up being our buyers. But it was a ROAD to get there. They started off wanting to haggle on price and furnishings, even though their budget far exceed the sales price of our home.
We were super quick to decline each and every offer.
After all, We didn't HAVE to move!
About 3-4 exhausting weeks later, we finally decided to give our last and final NO.
In our minds, this was starting to feel like we were forcing it and we didn't want to feel that way about selling our home.
At this point, summer was quickly approaching and we came to the conclusion that it probably wasn't going to happen for us right now and we were ok with that. There was no way I would consider moving after school had started, and the timing just didn't seem to be on our side at this point.
Two more weeks passed and with no more showings on the radar, we decided to go ahead and bulk up our summer with trips and camps, and conferences.
Then, about 4-5 days before our family trip to Arizona in June, our realtor called with news.
The second couple had come back with a full price offer, full price for the furnishings & full waiver of inspection. It was also clearly stated that the offer would stand for an extended period of time in hope that we would reconsider.
Our first initial thought was a flat-out NO! Knowing how difficult they had been in the negotiation process we could only imagine how difficult the escrow process would be.
However, our realtor was reassuring. They had no other homes on their radar and they couldn't stop thinking about ours. After a few days of thinking about it, we slowly came around to possibly considering it.
Our biggest contingency at that point was finding a new home for our family. So when we flew out to Phoenix a few days later, our vacation quickly turned into a house hunt.
---
Q: How many houses did you see before finding your new home?
A: We ended up seeing 16 houses over about 11 days. 3 were virtual before we flew out. There was another home that was super SUPER close to being the one, but it was lacking one bedroom that we desperately needed.
The home we ended up purchasing was the 15th out of the 16 that we saw. Because we still had a standing offer on our Indiana home, we were able to go into escrow on both homes on the same day.
---
Q: HOW DID YOUR FAMILIES REACT TO THE NEWS?
A: Some have been amazing and some have struggled. Unfortunately, I'm not in a place where I want to elaborate more than that. Ultimately it's our little family and therefore our choice of where we live and how we want our kids to grow up.
---
Q: WHAT IS HAPPENING WITH YOUR HUSBAND'S TAX PRACTICE?
A: The tax practice isn't going anywhere! The eventual goal is for him to run dual offices. But Tommy also carries an EA (enrolled agent) license which means he is federally licensed in tax law and can prepare taxes anywhere in the US.
He will be back in Indiana monthly (during non-tax season months) and work remotely the rest of the time.
During tax season we never see him anyway so the first-year plan is that we will be in Indiana mostly then fly back a few long weekends a month and work remotely when he's with us.
---
Q: WILL YOU BE LIVING IN YOUR RENTAL WHILE GETTING THE NEW HOUSE READY?
A: In short, YES, we are scheduled to be in the rental for two weeks while we attempt to get essential furniture and do a few immediate projects.
This was ONLY possible because we have an open calendar from switching property management companies, which was something we committed to back in FEBRUARY.
SO many crazy doors opened naturally for this move to run smoothly and that was just one of them!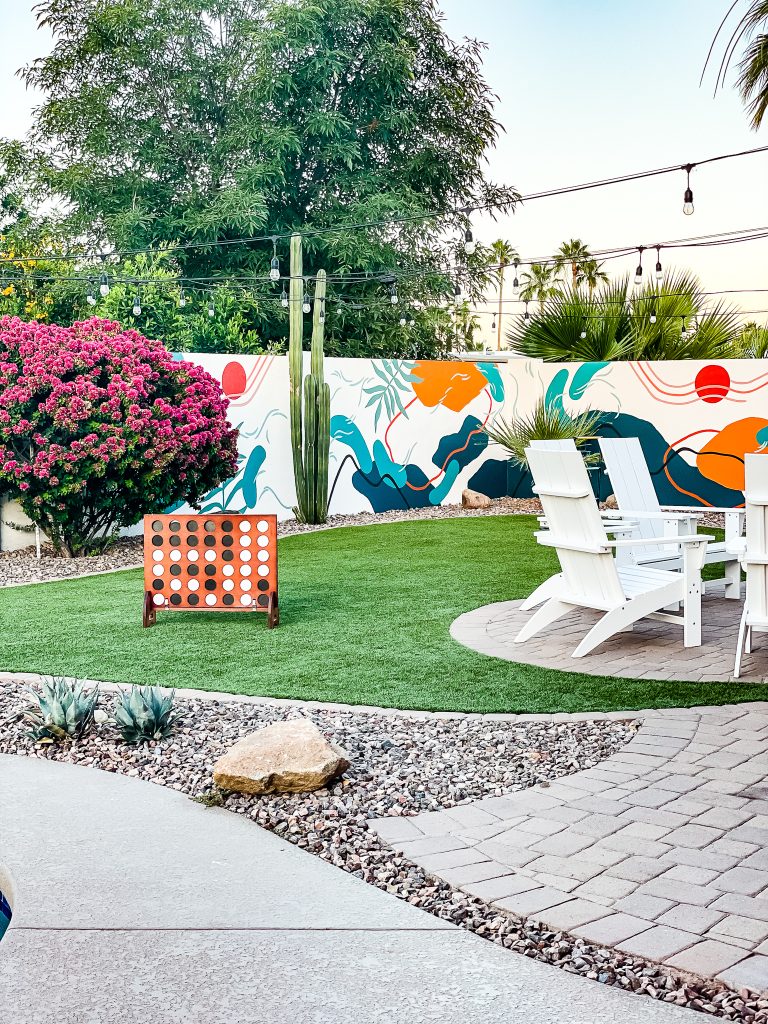 ---
Q: HOW ARE YOU PLANNING ON KEEPING ORGANIZED FOR THE BIG MOVE?
A: Purging like crazy pre-move and mapping out where everything will go ahead of time as we pack. All of the packing essentials are saved in my AMAZON SHOP!

---
Q: IS THE HOUSE YOU BOUGHT A FIXER-UPPER?
A: The bones are good. But it was built in the late 90's so it definitely needs some cosmetic work. ANNNNDDDD some color! I have so many projects up my sleeve and I'm excited to get started!
The first projects will include: new flooring, a bunch of electrical work (plus new lighting) as well as paint throughout!
---
Q: IS YOUR NEW HOME ALSO IN SCOTTSDALE LIKE YOUR VACATION RENTAL? OR ANOTHER AREA?
A: Our new home is in a northwest suburb of Phoenix. About 30 minutes from the Haute Hacienda.
---
Q: WHEN DO WE GET TO SEE THE NEW HOUSE?
A: For the privacy of the sellers, I likely won't share it until after we close at the end of the month. But here is a preview!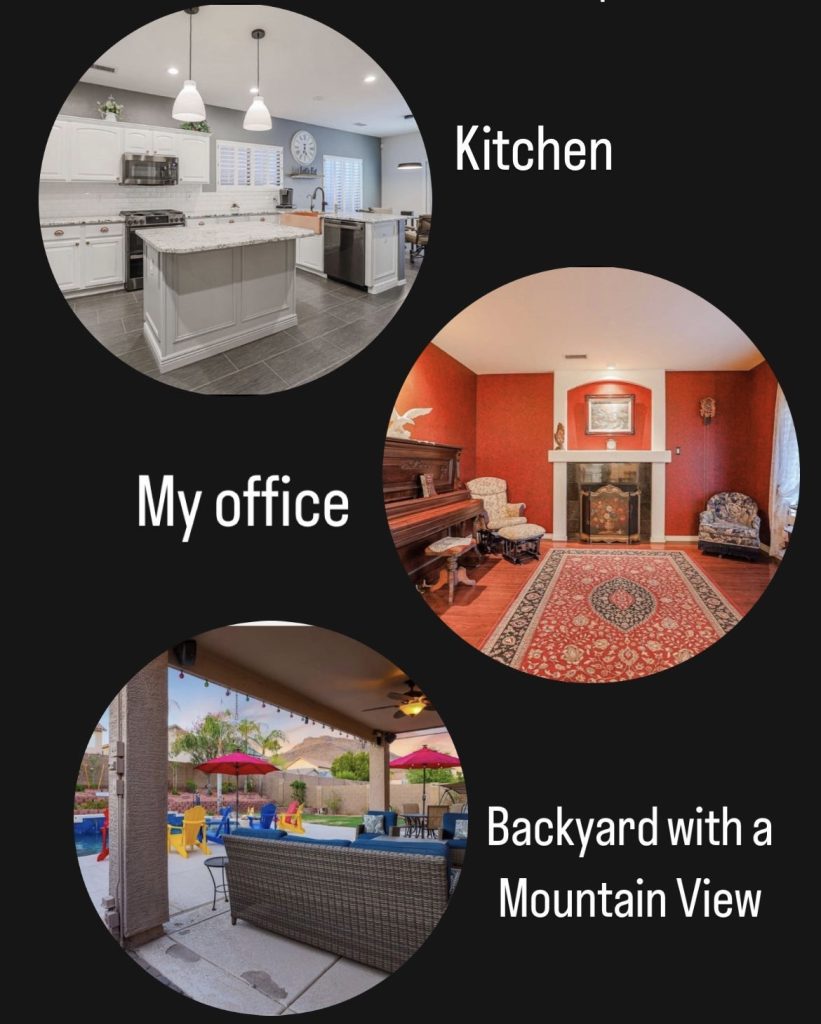 ---
Q: WHEN WILL YOUR LISTING GO LIVE?
A: We actually already sold our home! It was unlisted and we sold it fully furnished. Crazy right?
---
Q: IS YOUR HUBBY KEEPING THE PRACTICE IN INDIANA AND THEN OPENING ANOTHER ONE IN ARIZONA?
A: Yes. He is keeping the office in Indiana and will be traveling back and forth a lot. He's definitely open to building a bigger clientele in AZ.
With his EA license, he can practice anywhere and do taxes for anyone in any state. A does a lot of taxes remotely already!
---
Q: HOW DO YOU FEEL SINCE YOU JUST FINISHED BUILDING YOUR HOME NOT THAT LONG AGO?
A: We built our custom home from scratch and moved in on July 13, 2018.
I know and LOVE every bone of this home for so many reasons. For one – it helped shape me into the designer and DIY'er I am today.
But, it is SO MUCH to take care of. This home is 6800 square feet. It's a LOT of house. Too much house!
The older we get the more we realize that we want our dream life more than we want our dream home.
So we are downsizing by half, and moving to a place where we can give our kids more experiences over space. Is there a grieving process for this home? Absolutely!
But I can make any house feel like a home because that's my gift!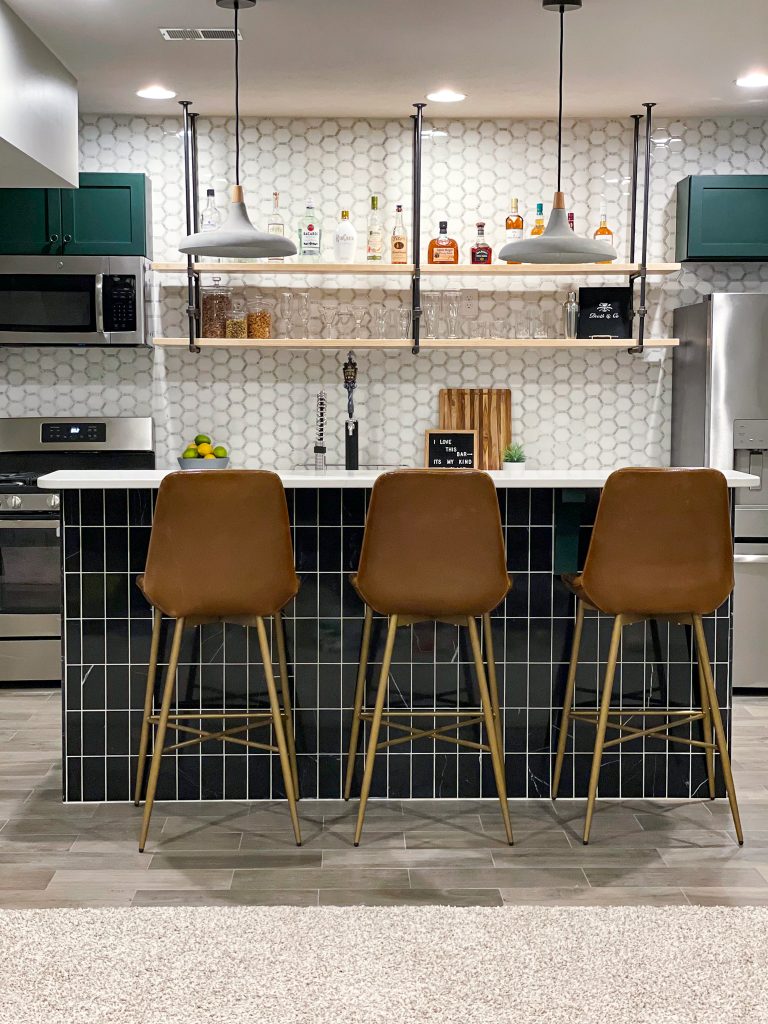 ---
Q: WILL YOU BE STAYING IN ARIZONA FOREVER? DO YOU PLAN ON EVER MOVING BACK?
A: After building our "forever home" and now deciding to move, I will definitely never say "forever" again. So my new answer is, Maybe? Or maybe not! We have been open this entire process to see what door opens, and I don't think the trend will stop there.
For now, this is what we choose for our family. If that choice becomes different in 3 or 5 or 10 years then we are definitely open to moving back or moving somewhere else.
I joke with my husband that if we need to move back that he will be moving back alone. But in all reality. we will do what is best at any given time for our family.
---
Q: HOW ARE THE KIDS DOING?
A: The conversation with them started shortly after we went out to AZ for Christmas. They have been a part of the whole process and we wouldn't have made the move if we didn't feel like they could make the adjustment.
There are definitely a lot of emotions to work through but overall they are excited too.
---
Q: HOW ARE YOU DOING EMOTIONALLY?
A: Surprisingly, I'm doing well. Overall I'm not a super sentimental person so for me this is just a house and the stuff is just stuff.
I'm VERY excited about all of the purging that I have been doing the past few weeks. It feels so good to just get rid of STUFF!
Also, I definitely have emotional moments but it's not consuming me.
---
Q: When are you officially moving?
A: The big move is happening at the beginning of August and you can follow along over on INSTAGRAM for daily updates and packing tips!
Chat soon!