IT'S A DESIGN COMPETITION – The Secret Is OUT!!
I have been holding out on you, friends!!
I have a massive secret I have been keeping from you and it's finally time to spill the beans.
Are you ready???
I JUST COMPLETED A MAJOR RENOVATION IN MY HOME!
It's a project that I had to keep under the radar while it was happening, but I've documented and recorded and photographed every minute…
And I can't WAIT to share it with you!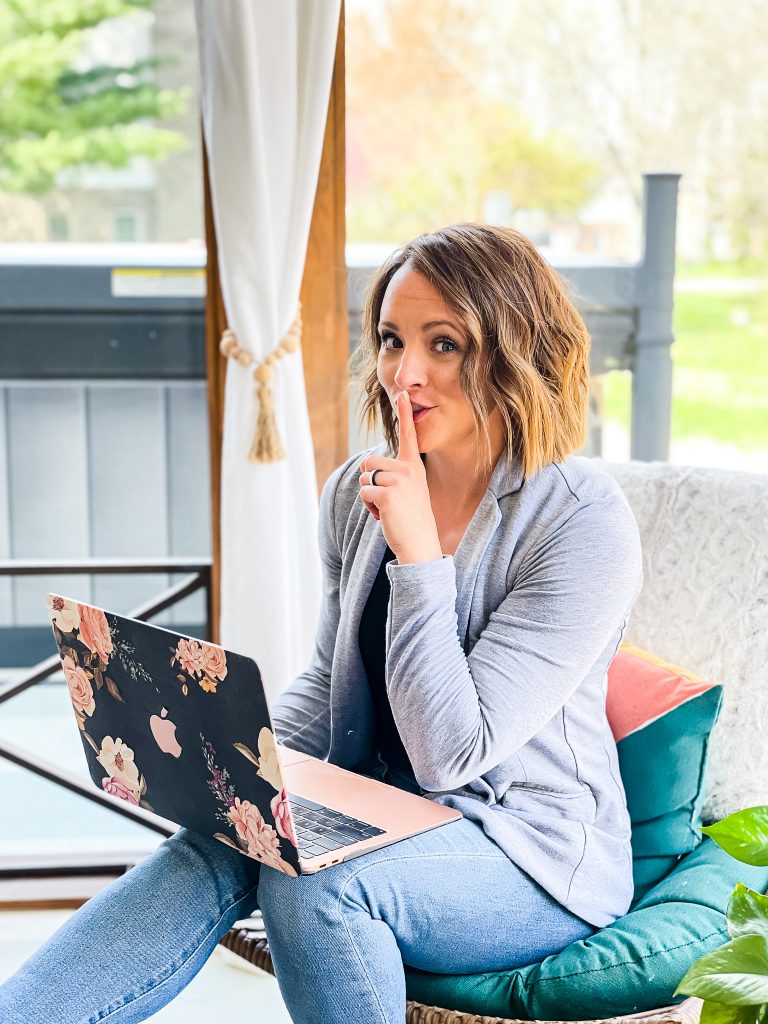 HERES THE SCOOP!
I am a FINALIST in the Spring JEFFREY COURT RENOVATION CHALLENGE!
What does that mean, you ask?
It means that i've been selected for a DESIGN COMPETITION and, friends, it's about to go down!!!
[convertkit form=2172100]
THE COMPETITION DETAILS
Back in November 2020 I was informed that I had been selected from a group of applicants to work with JEFFREY COURT on a room renovation in my home. I was 1 of 12 finalists chosen for the 5th Season of the Renovation Challenge.
Renovations started (in secret) the second week in February and we were given 6 weeks to complete and document the whole process via blog posts, video and photography.
SINKOLOGY and FROGTAPE joined in as sponsors of the competition and gifted all of the finalists amazing products to showcase in our projects.
The best part of this whole competition is that YOU get to participate as well!! The winner will be determined by votes so starting on APRIL 14 I will need your support more than EVER!! You will be able to vote once a day from every device you own! Grab your cell phone. VOTE!! Hop on your computer. VOTE!! Kids have tablets. VOTE!! You get the idea…
And don't worry, I'll be in your ear on INSTAGRAM every day to remind you.
CURIOUS TO SEE MY COMPETITION???
THE SPACE
This project stretched me beyond anything I have ever done before. I took on new challenges. I learned new skills.
The result?
A beautiful new space in my home!
Want to hear something crazy? I have NEVER shown you this space in my home.
Until NOW!
As I share this with you today the project is 100% complete but is just going live to the public now.
Over the next 6 weeks I'll be sharing every bit of detail with you both over on INSTAGRAM and here on the blog.
Next week voting will start and that's where YOU come in!
You will have the chance to VOTE EVERYDAY FOR YOUR FAVORITE and at the end of the challenge, a winner is chosen and awarded a $5000 prize!
HOW. COOL. IS THAT!?!?!
So without further adieu, HERE IS THE ROOM!!!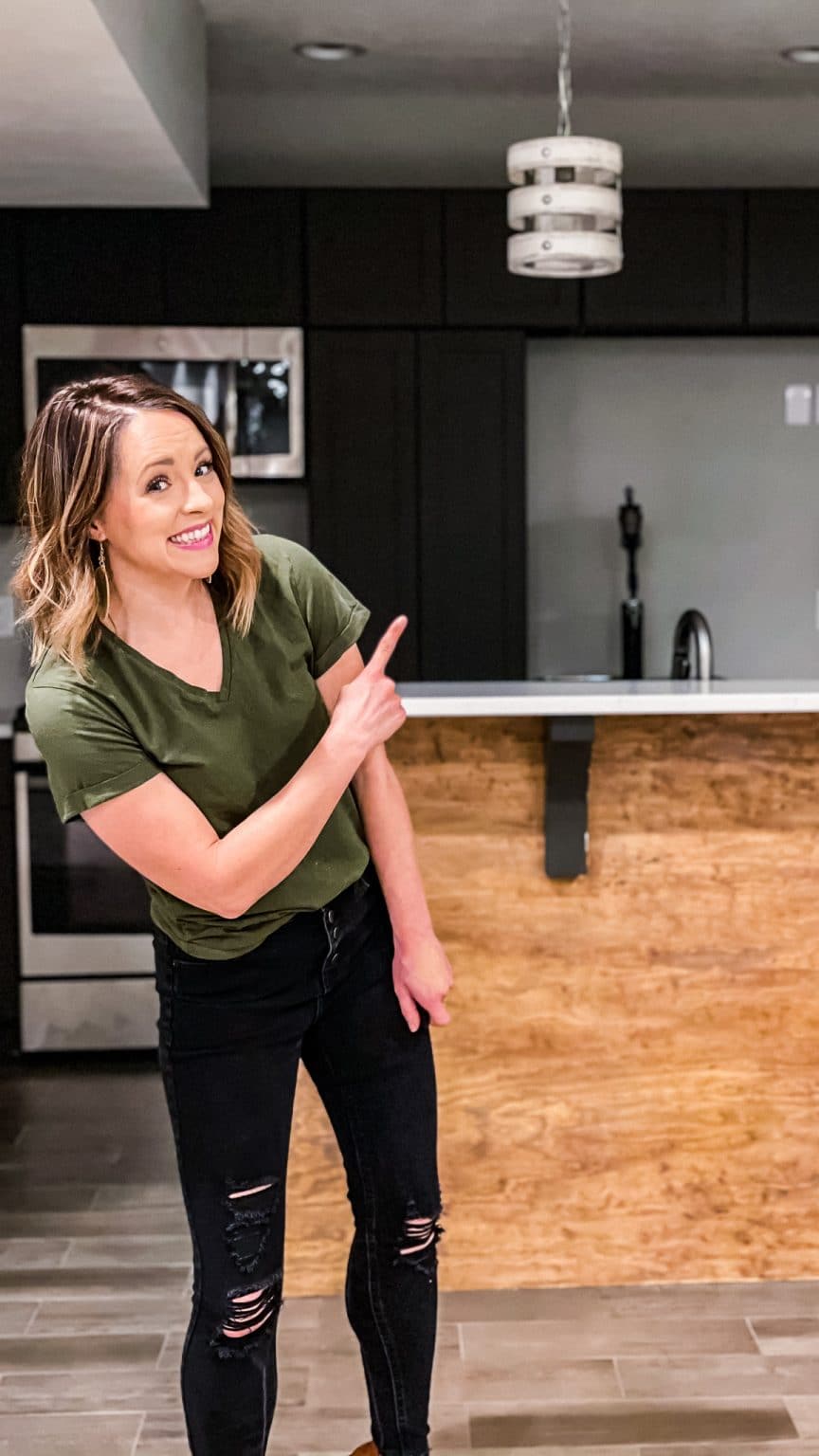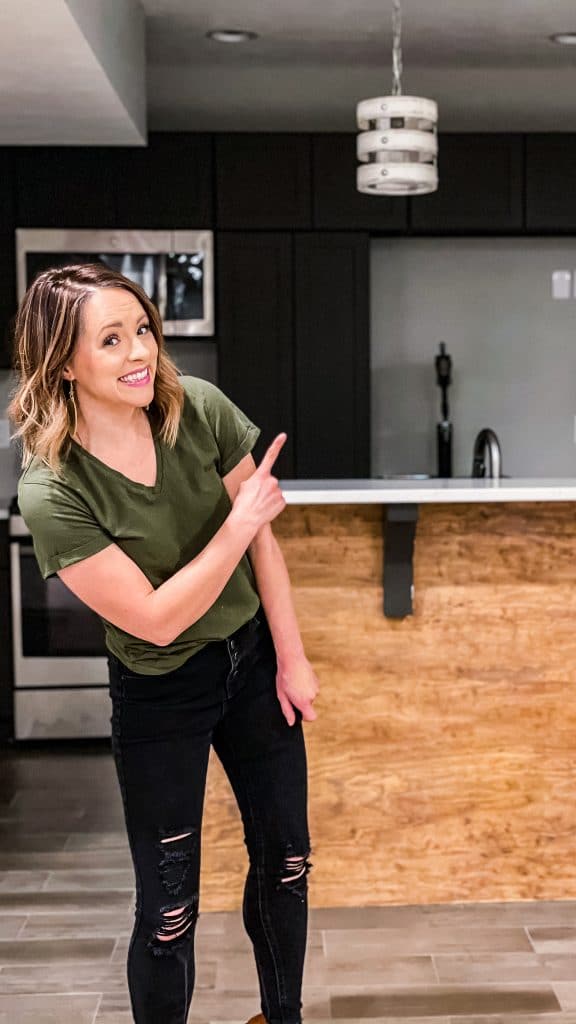 This competition is sponsored by Jeffrey Court, FrogTape and Sinkology.
THE BASEMENT BAR BEFORE
Our basement bar is a story to be told. It was designed in our build as a Mancave space for my husband, but some last minute issues with our cabinetry company lead to severe disappointment. Not only were the cabinets the wrong color when they arrived (they were butter yellow, friends) I was disappointed to see that the upper cabinet sizing and drawer fronts were wrong as well.
Despite having the cabinets sent back for repainting, the job was completely botched and we were left with an unfinished kitchen that was a sight for sore eyes.
Two and a half years later the cabinet company still hasn't made right on our basement kitchen (or any of the other cabinet mishaps in our home), and frankly, im TIRED of waiting. In fact, I already took matters in my own hands last spring when I build my own bench seating in the LIVING ROOM where cabinets from our build were completely MISSING!
THE BASEMENT BAR DESIGN BOARD
What's staying:
Tile Flooring
Appliances
Lower Cabinets (including Island)
Whats changing: everything else!
New wall and cabinet paint. (done with the help of FrogTape)
Tiled backsplash AND island (with Jeffrey Court Tile)
New sink (from Sinkology)
New lighting
Custom storage in the nook.
Open shelving
New barstools and accessories.
And MAYBE even an accent wall!
The mood of the design is modern and masculine, cozy and cave like. A perfect blend of stylish design features and a true bar-like feel.
Friends, I can't even tell you how relieved I am that this secret is now out! Im so excited to share this project with you every step of the way.
Remember when I said this was going to be like a pre-recorded TV show?!? It is time!!
ILL BE SHARING WEEK 1 STARTING TOMORROW (4/9/21)!!
Make sure to come follow along on INSTAGRAM for all of the detailed tutorials and subscribe to my blog for weekly updates!!
LETS DO THIS!!!
[convertkit form=2172100]
---
Airbnb Arizona arizona rentals basement bar design blog hop Budget Friendly christmas gifts crafts decor DIY diy projects easy diy FAQs fashion favorite things fitness Friday Faves gardening Gift Guide home decor home decor ideas home design home improvement home organization How To Jeffrey court kitchen design living room modern boho most requested links Organization organization ideas paint Paint Colors peel and stick wallpaper Random Thoughts recipes scottsdale arizona Sherwin Williams the weekender this week's content this week's FAQs travel vacation rental wallpaper