Wait Until You See These Laundry Room Makeover Plans
After nearly 4 years of living in our home, its time to tackle a space that has been driving me bananas since day 1 — lets talk about the laundry room makeover plans!
This space is about 80% functional for us with a laundry chute, two dryers, cubbies for sorting, and adequate hanging space. But it's definitely lacking additional storage and my personal style.
Keep reading to see the full design board for the space, what I've accomplished so far, and to find out what nationally known brand that I'm partnering with all because of a 7 second viral video.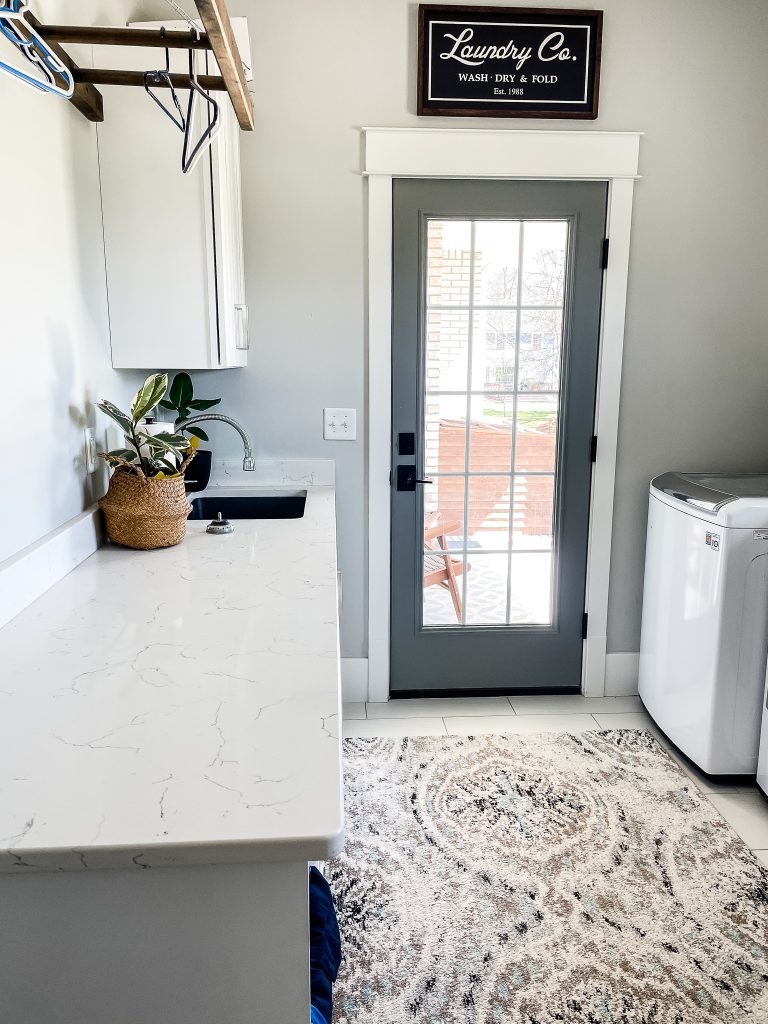 The Laundry Room Makeover Plans
The laundry chute area was never finished properly when we built our home 4 years ago. As in, our cabinet vendor failed to correctly order this entire side of cabinetry.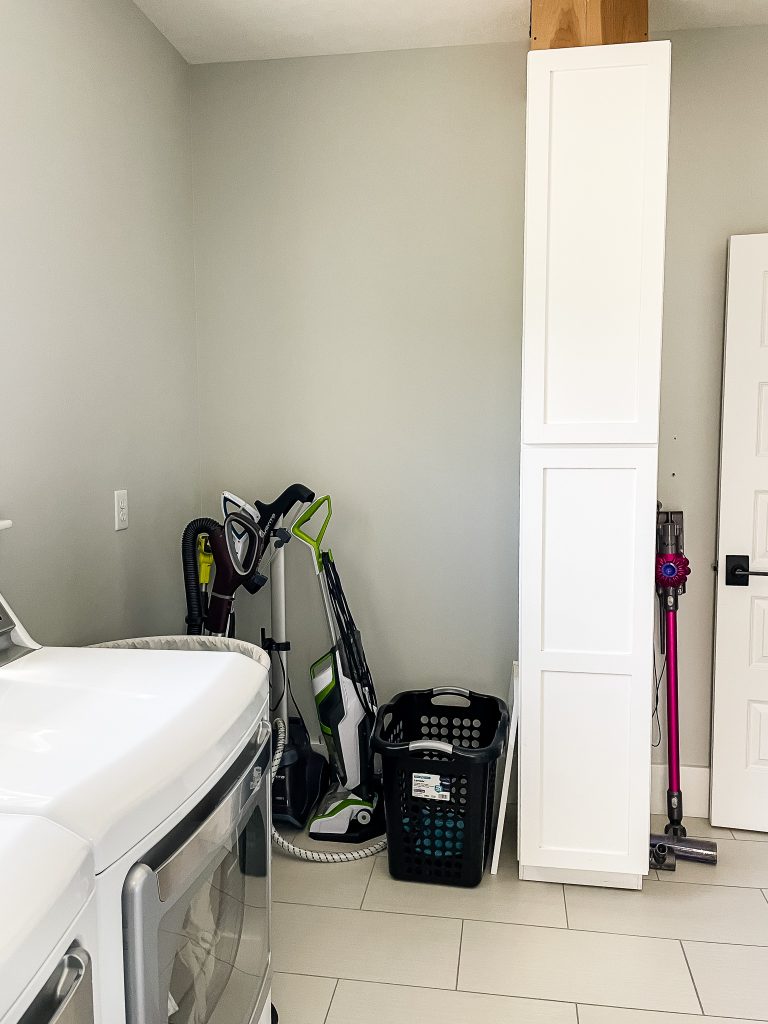 If you have been a long time follower over on Instagram, you have heard of our cabinet woes for many years. To put it nicely, it was an ordeal.
So its time to DIY a cabinet myself!
I'm going to build open cabinetry to the ceiling and conceal the laundry chute once and for all.
Here's the super professional mockup that I shared this week on Instagram.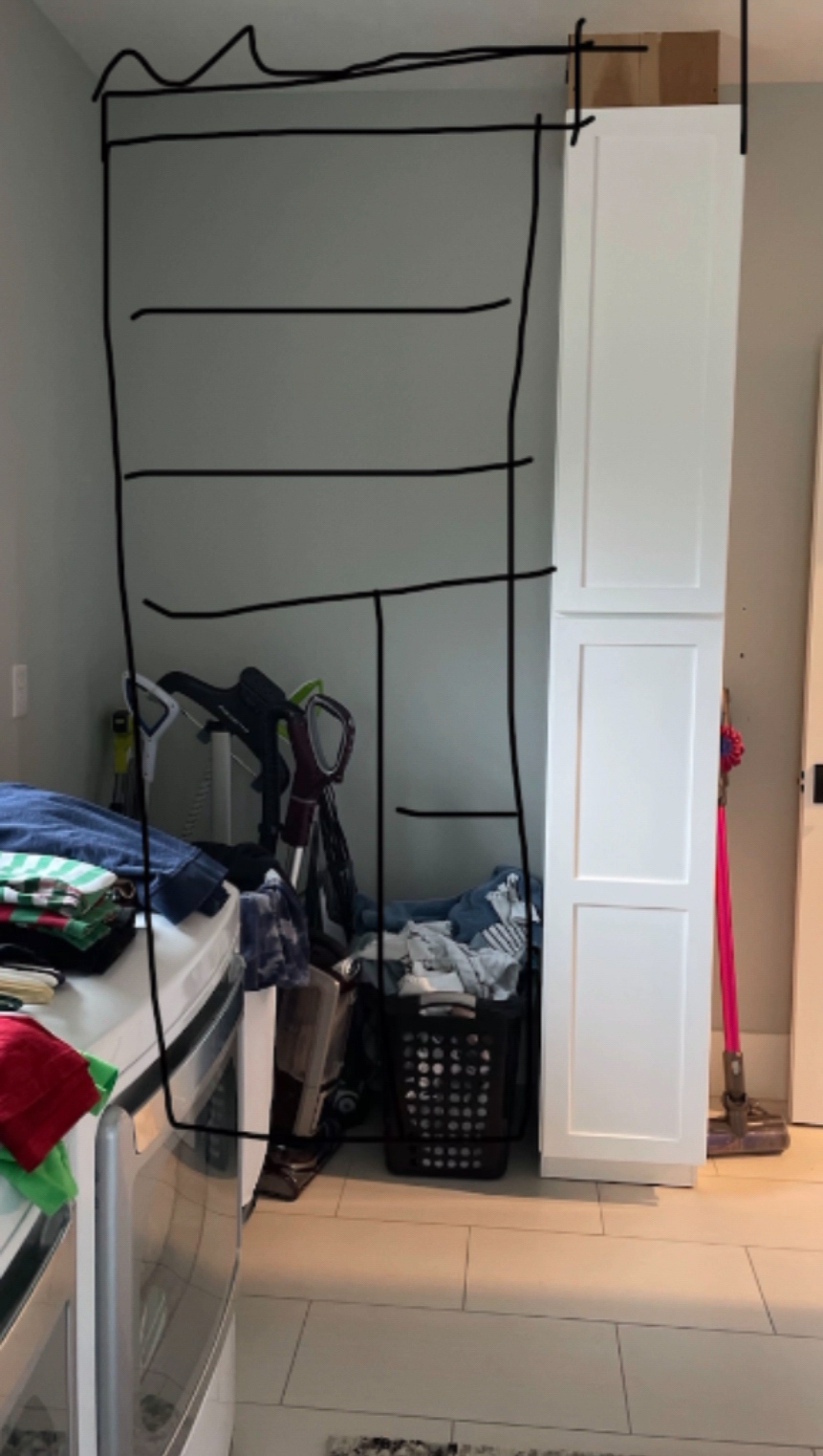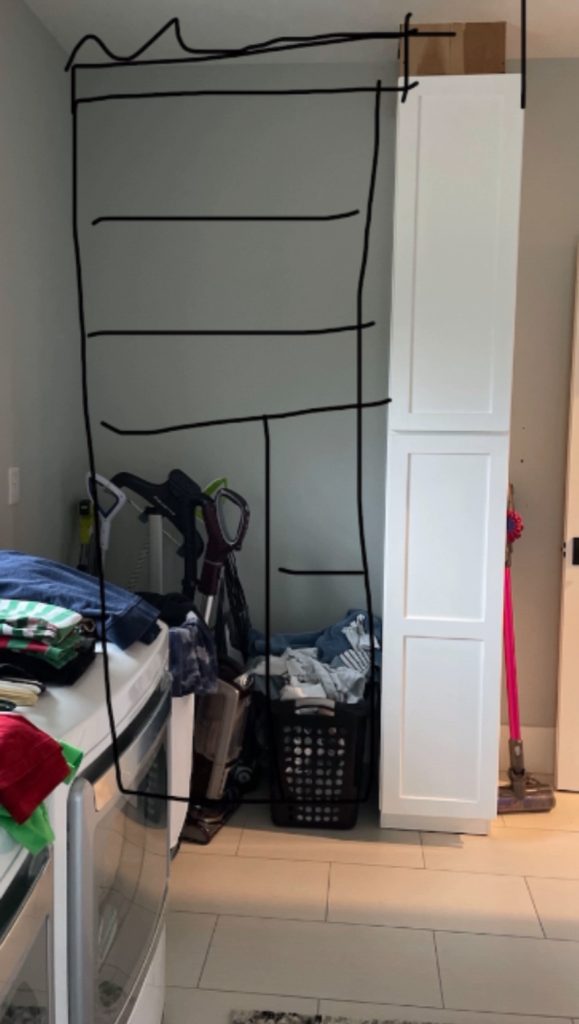 The other side of the room will be getting a super fun accent wall with wallpaper. I'll also be painting the cabinets and trim a contrasting color, build a new open shelf, add cabinetry above then paint the walls and add a new rug and accessories.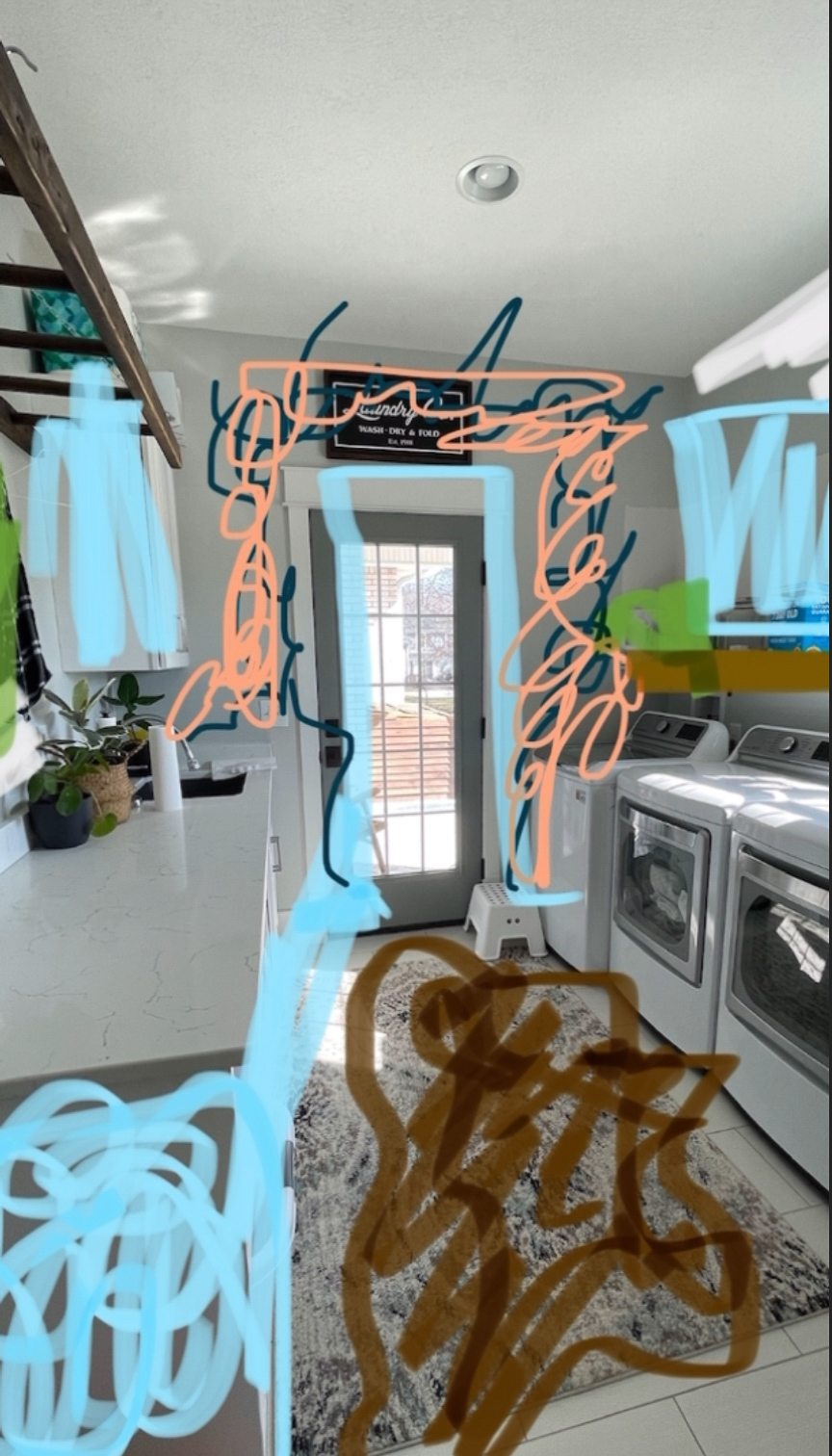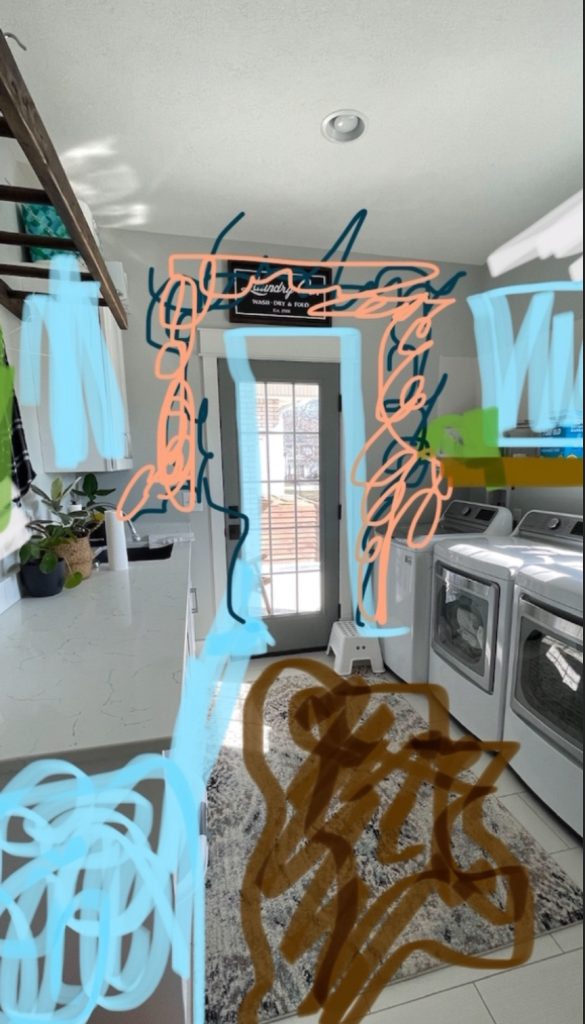 And just because I love you, here is the ACTUAL Mood Board for the space…
This post contains affiliate links. Purchasing through these links may give me a small commission at no extra cost to you. Thank you for supporting Haute House Love!
Laundry room makeover progress
The first two days of the project were all about building the cabinet that surrounds the laundry chute.
I started by framing the toe kick, then added walls, a floor and finally the divider and shelves. When this cabinet is complete ill be sharing a full tutorial of how I did it, but it's a very similar structure to the wine bar cabinet that I built in the basement kitchen renovation last year. Just on a larger scale.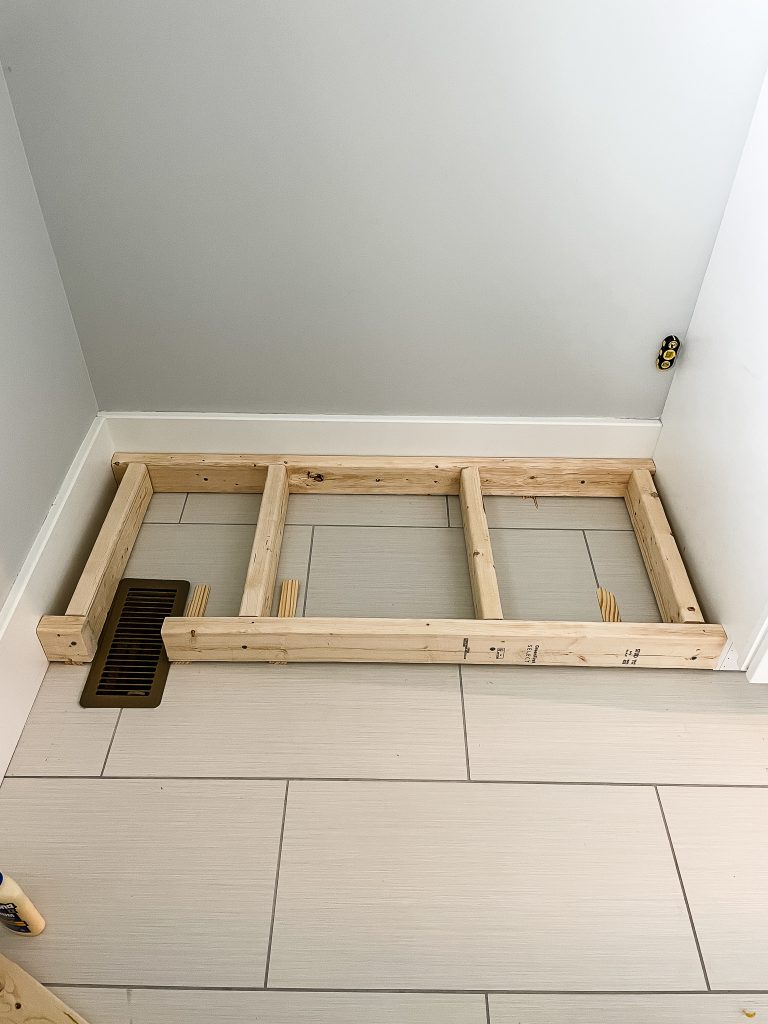 This weekend my goal is to get the cabinet framed out, the top part enclosed, and caulk so
its ready to start painting on Monday or Tuesday.
Who is the brand partner?
You probably remember last month when I wallpapered the kitchen in our Arizona home.
Well, this video received SO much attention across multiple platforms that it caught the attention of the Jungalow. Yes, THE JUNGALOW!! (and I'm not talking about the budget friendly line at target.)
They instantly offered me a wallpaper partnership, and I kid you not, friends. I about passed out in my office.
No brand better depicts my style than The Jungalow, and I'm so completely honored that they see value in my work.
You better believe these next few weeks are going to be filled with color, pattern and TONS of excitement.
Follow me on Instagram or Tiktok to watch the whole project unfold!


Blue Paint boho living room boys bedroom Budget Friendly Building Projects Chalk paint decor design DIY DIY Drawer Hardware DIY Drawer Pull diy projects easy diy entry entryway fall decor fall decor ideas flea market floral prints foyer front porch Garage Organization Gift Guide gold accents Gray Paint headboard home decor ideas home organization Home Projects house sign How To living room living room ideas living room inspiration modern boho old windows one hour diy One Hour Project one room challenge Organization Paint Colors Sherwin Williams slat wall two story foyer vintage