wait until you see these halloween exterior ideas
It's about to get SPOOKY around here with some Halloween exterior ideas!
For the first time ever, we have decided to take on Halloween decorating in our home.
Apparently this is a THING in our new neighborhood, and with inside projects being at a standstill for the time being I decided to bring up the idea to the hub and kids.
They were ALL about it!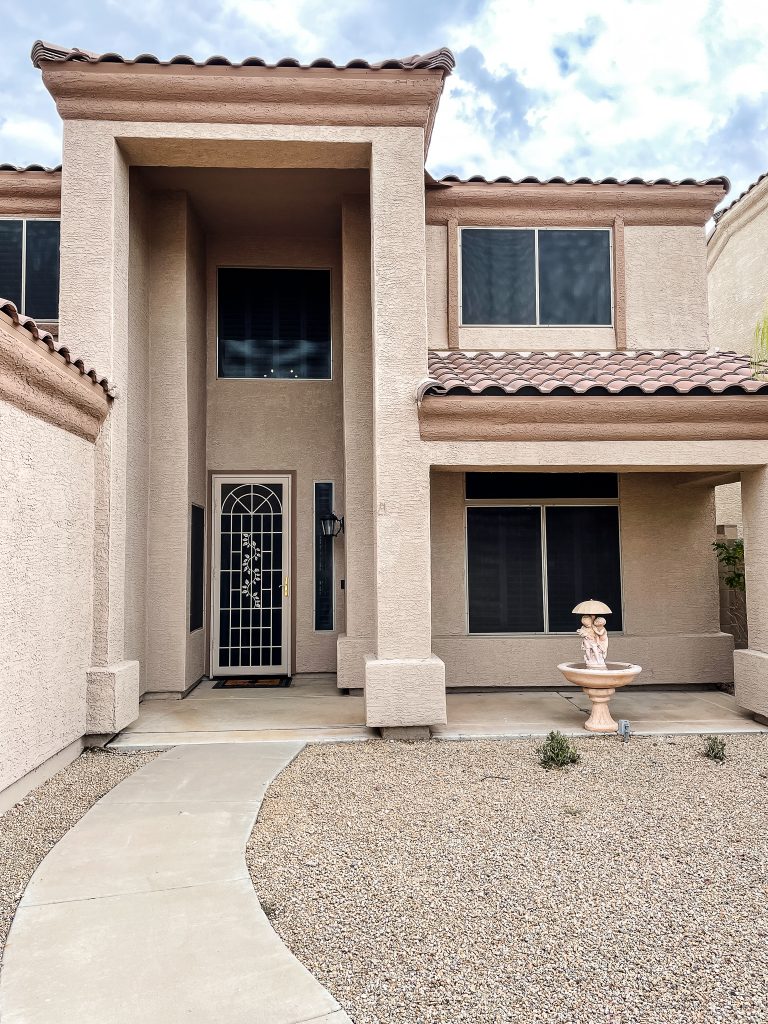 This is the front of our home and over the next few weeks I'll be transforming it into a spooky (but not tooo spooky) scene incorporating the front yard, sidewalk and porch.
This years chosen theme?
SPIDERS & SKELETONS!!
halloween exterior ideas from Amazon
Since I'm wanting to turn this around fairly quickly I decided to turn to Amazon for inspiration.
I chose a variety of skeleton and spider decor as well as a few rugs and coordinating (but neutral) furniture for the front porch.
Overall I'm envisioning the spider web coming down from the front porch roof melting into a scene of bones.
The sidewalk will be lined with flickering solar lanterns that will work perfectly for Halloween then transition seamlessly to other seasons.
The front door will be getting a makeover (as long as I can get the HOA to approve the plan in time) and I'll be incorporating a DIY doormat into that space as well.
The main porch area will be a scene of skeletons conversing by candlelight, with a spooky homemade chandelier hanging above.
Here is what I ended up ordering to make this idea come to life.
When should you decorate for Halloween outside?
There really is no right or wrong answer here.
But since Halloween is only a portion of the fall season I think its totally appropriate to let it ride the entire month of October!
All of the decorations I ordered should be in by the 27th of September and I'll be working on a few DIY decorations in the mean time.
My goal is to have all exterior Halloween decorations up by September 30th (ish)
Are you looking for some ready to go Halloween decorations? See what I snagged HERE.

Do it yourself Halloween Exterior ideas
Because I am who I am, I will always incorporate some DIY projects, and personalized details into my holiday decorating.
This Halloween set up will be no exception.
I'm planning on repurposing an old urn planter and water fountain into misting caldrons, painting a simple DIY doormat, giving new (spooky) life to an old foyer chandelier, and maybe a few other things.

I'm so excited about our theme this year and I'm so inspired that I already have ideas for how I can repurpose this decor for next year with a different theme!
Do you decorate your home for Halloween? Let me know in the comments!