DIY Stair makeover ideas: Revealed!
From the riser to the treads to the nosing, these DIY stair makeover ideas give you a complete overview of how to plan for a staircase remodel.
I've been avoiding it for months. It's right there in the middle of the house staring me in the face.
Not to mention it's ugly. Like, horrible cherry laminate ugly.
It's… THE STAIRS!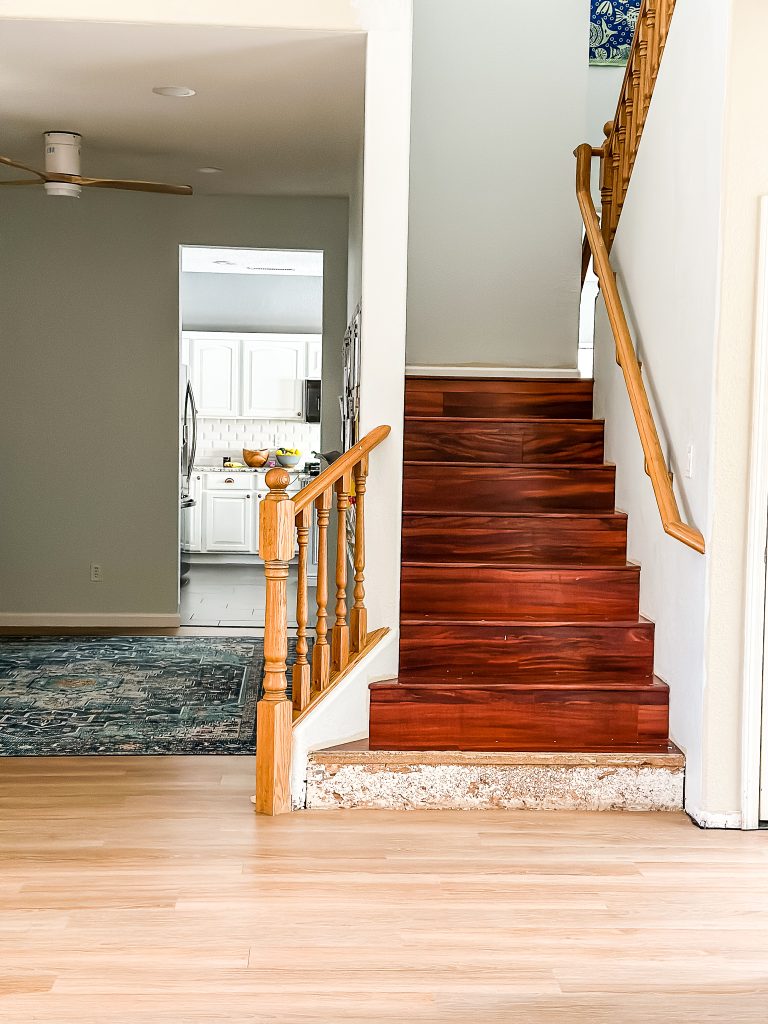 These stairs are the last piece of the flooring puzzle in our home. You'd think I'd be ready to check this DIY staircase makeover off the list and consider every foot of flooring in this house done. But, if I'm being honest, I've been avoiding it – dreading it – in part, because I wasn't exactly sure what I wanted to do with the stairs.
The other factor is the reality of how big of an undertaking a DIY stair makeover actually is.
All that to say… I'M NERVOUS!
And I know I shouldn't be. I've conquered building, tiling and flooring in the past. I don't think there's any such thing as an easy stair makeover, but I know can do this! I just have to pump myself up.
3 Stair Makeover Ideas I'm Using in My Home
Here's a glimpse into what its been like inside my brain lately when it comes to this DIY stair makeover.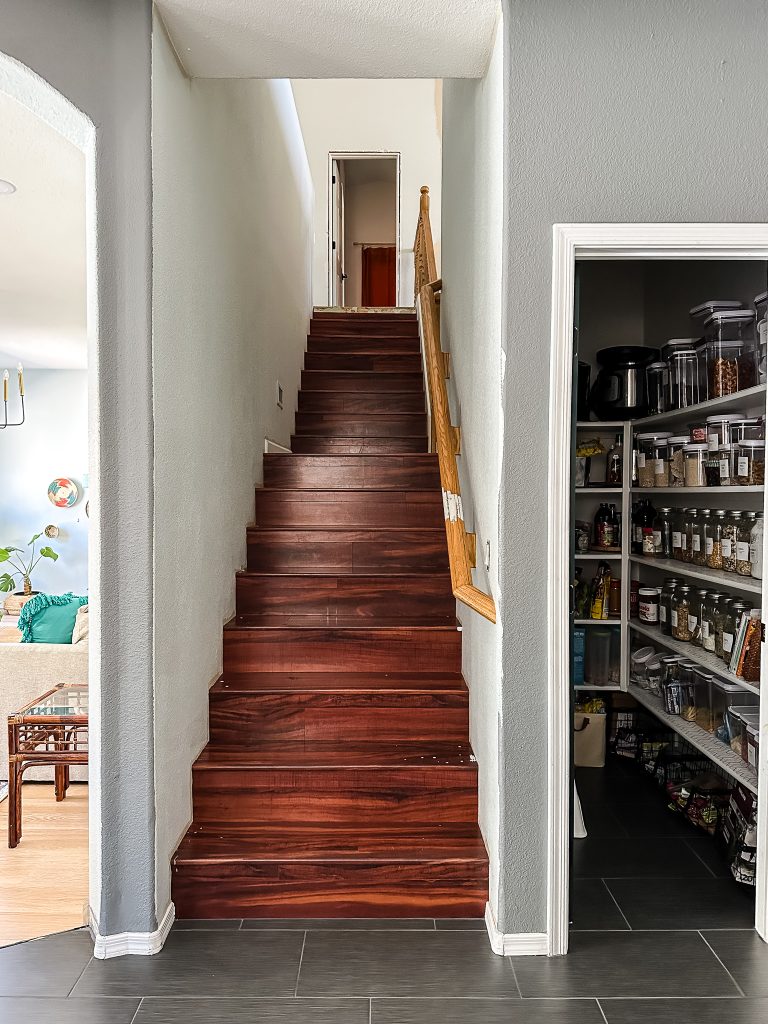 First of all, I always planned on using our DURA DECOR FLOORING, for the stair tread and nosing. But it was the riser that was throwing me off. I wanted to do something creative with the riser but couldn't figure out what. Paint and wallpaper have been used a ton, and I see it everywhere. I thought about tiling it but saw nothing but dollar signs with that route. I even considered muraling each step, but that seemed a lot more time consuming than necessary.
Then, my aha moment came… POLE WRAP!
I've seen pole wrap used on lots of projects – many from my other blogging friends – but I've never seen it used on stairs before.
But Wait, What is Pole Wrap?
If you're located in the Midwest, you've probably seen pole wrap in your parents' old basement. It's a flexible material that's great for wrapping load-bearing poles. Because it can bend and flex to a pole-like form, it provides great coverage without having to dry-wall a column over the pole.

DIY Stair Riser Ideas
When it comes to DIY stair riser ideas, think of the risers as little blank canvases. There's a lot you can do with them like adding tile or applying a fun peel and stick wallpaper pattern. You can get really creative here with little bursts of color that are eye-catching with every step.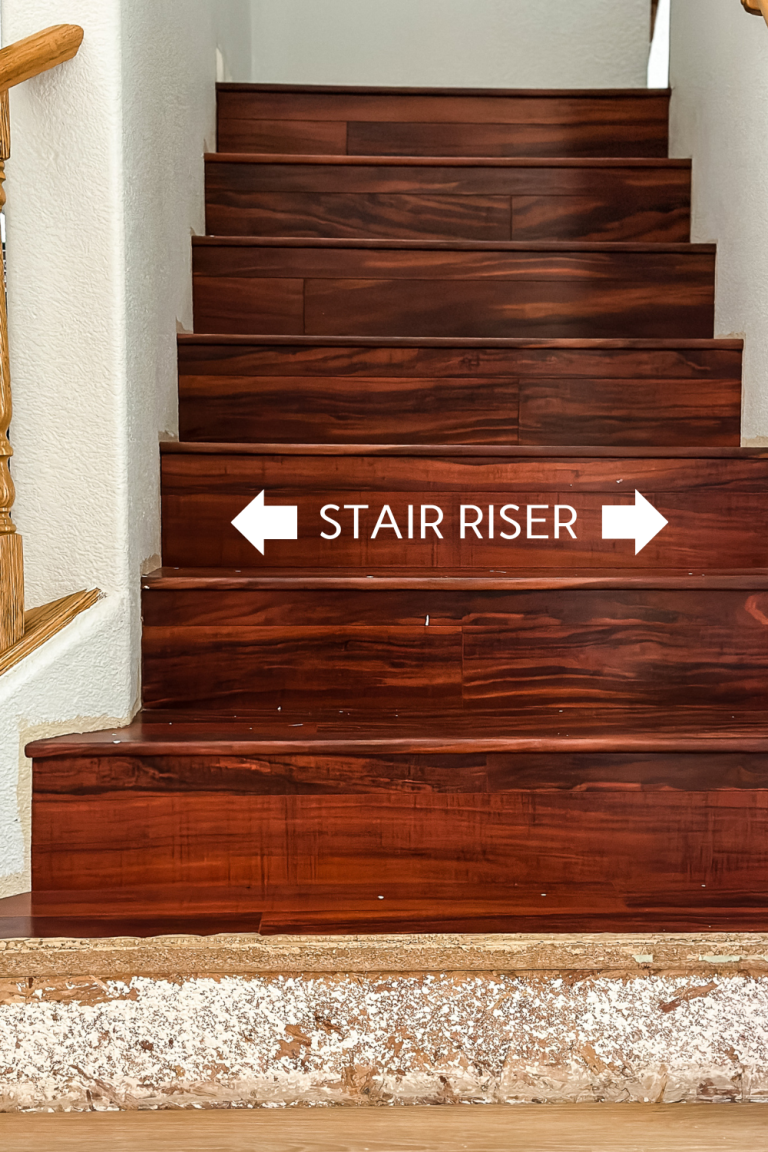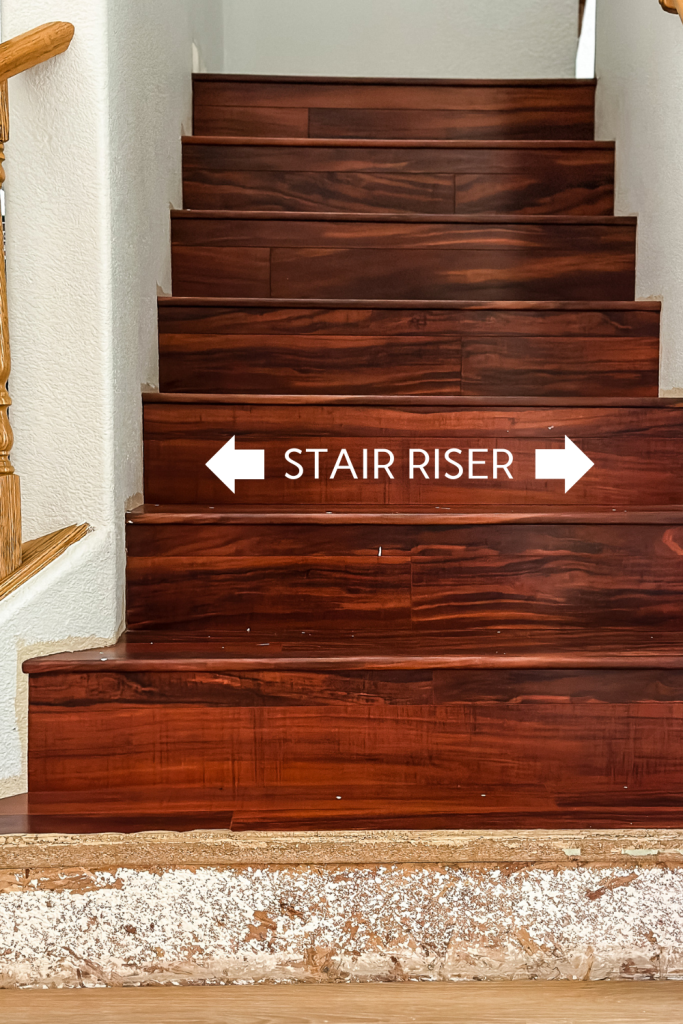 Of all the DIY stair riser ideas I've had in mind, I've decided to go with pole wrap on the risers. My plan is to cut the pole wrap, so that the slats will be horizontal. I'm thinking about painting them a fun color before installing them with floor glue and a few brad nails.
But what color should I paint them?? I'll probably need your help deciding…
DIY Stair Tread Ideas
Stair treads are the horizontal parts of the stairs where you place your foot.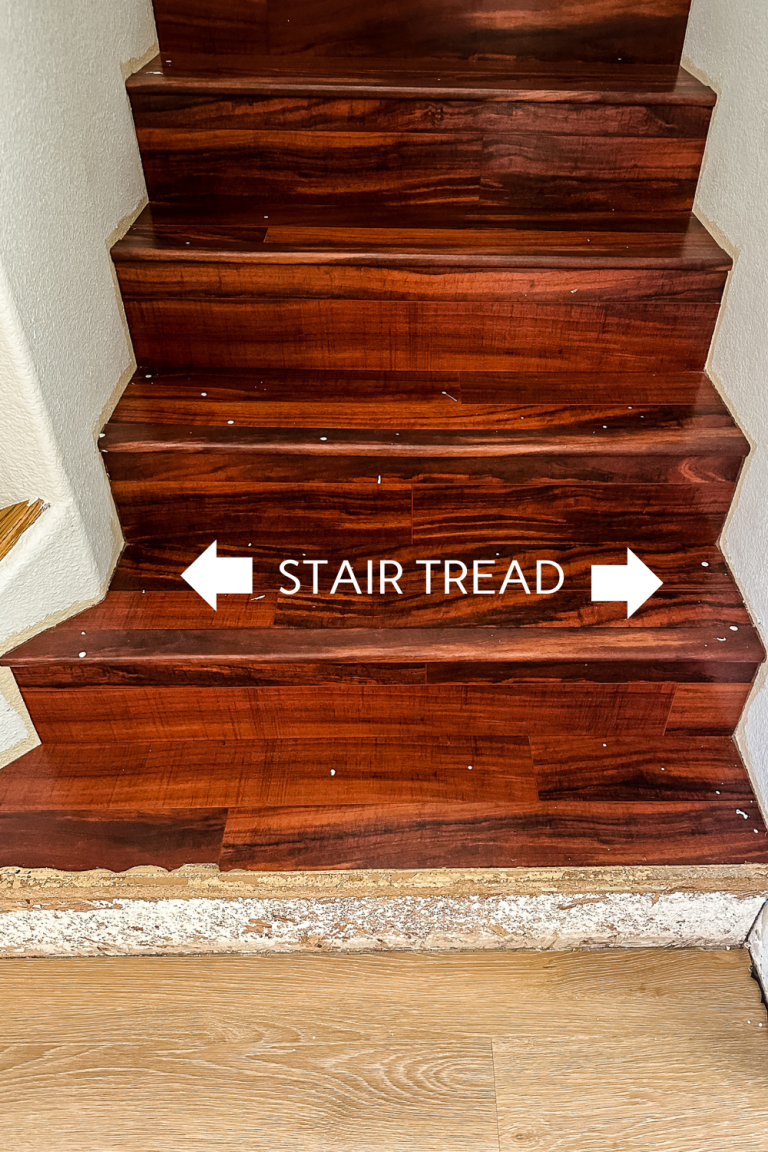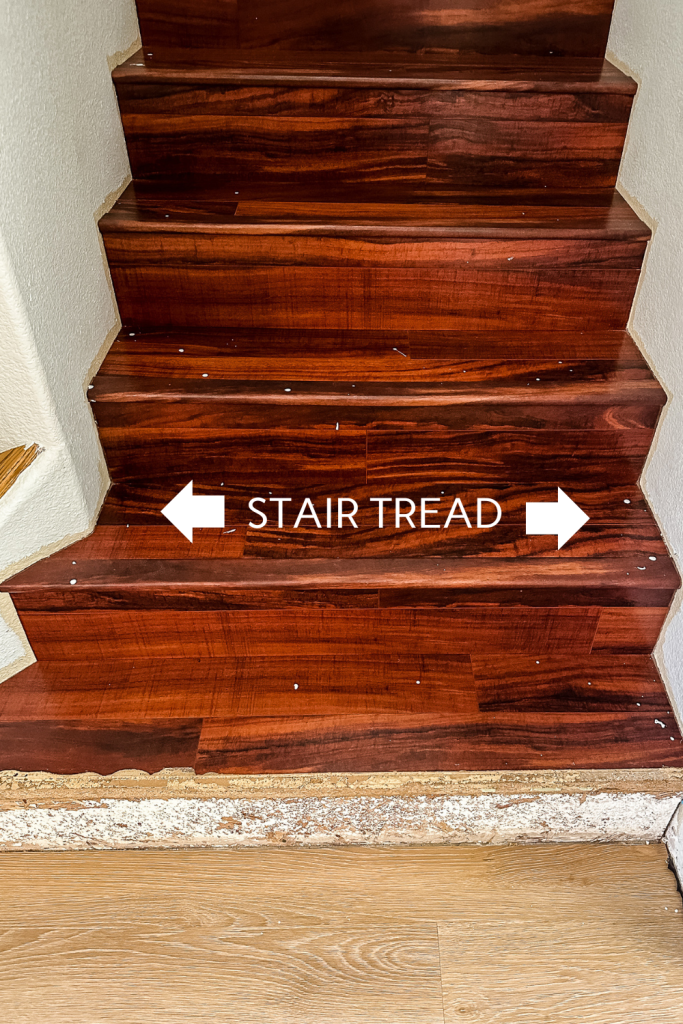 If you choose to DIY wood stair treads, there are a lot of different wood colors and finishes you can choose from. Replacing the treads can give the entire staircase a major face lift, but whatever you decide to do, focus on durability. Making stair treads attractive is one thing, but they are a functional part of the staircase. You'll want to make sure the stair tread you choose is durable enough to withstand heavy foot traffic.
I thought about doing brand new stair treads, but sometimes simpler is better. I chose to go the economical route by using our leftover flooring instead. It's rigid core flooring from Dura Décor, and the color is Golden Glow.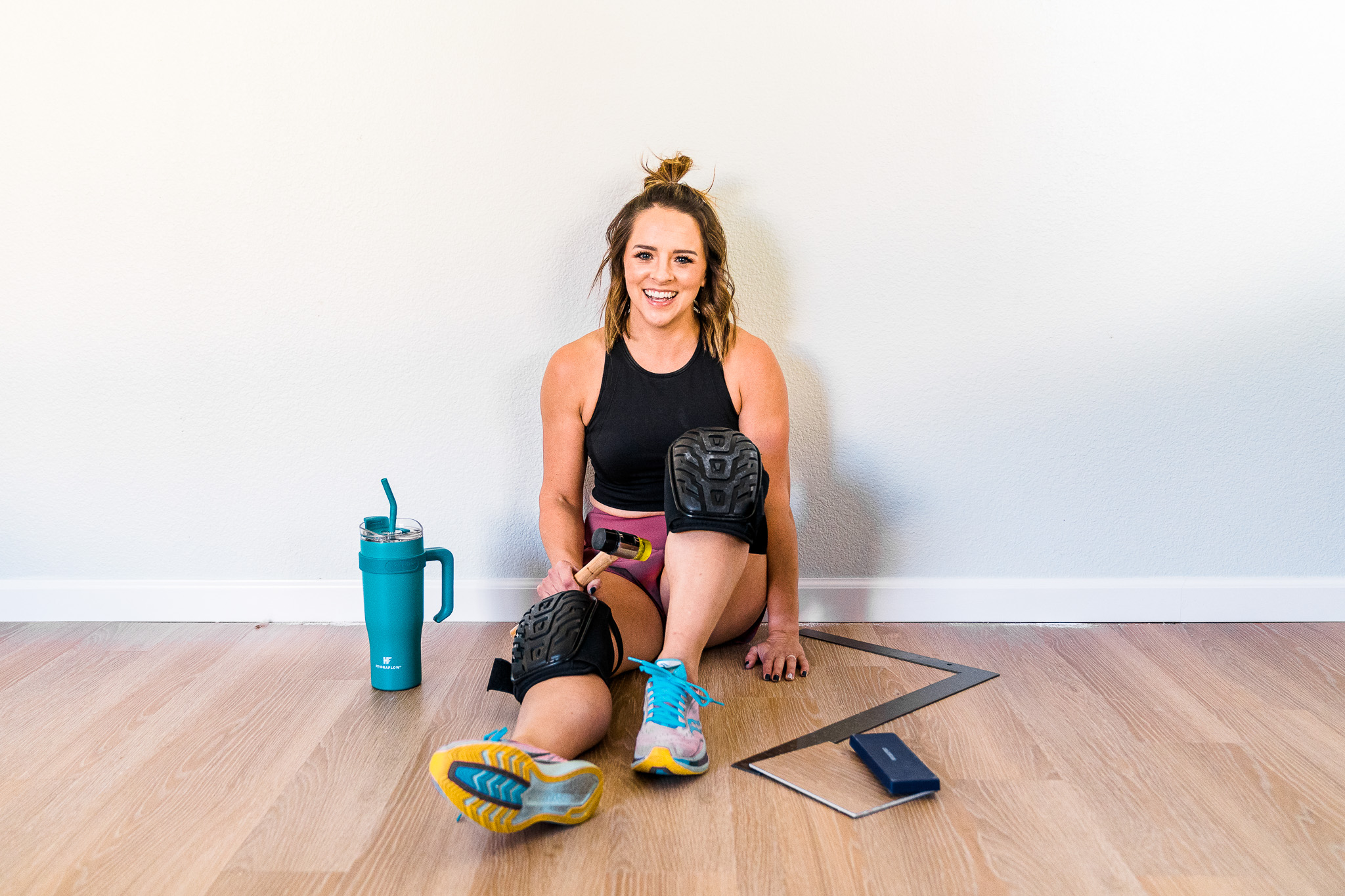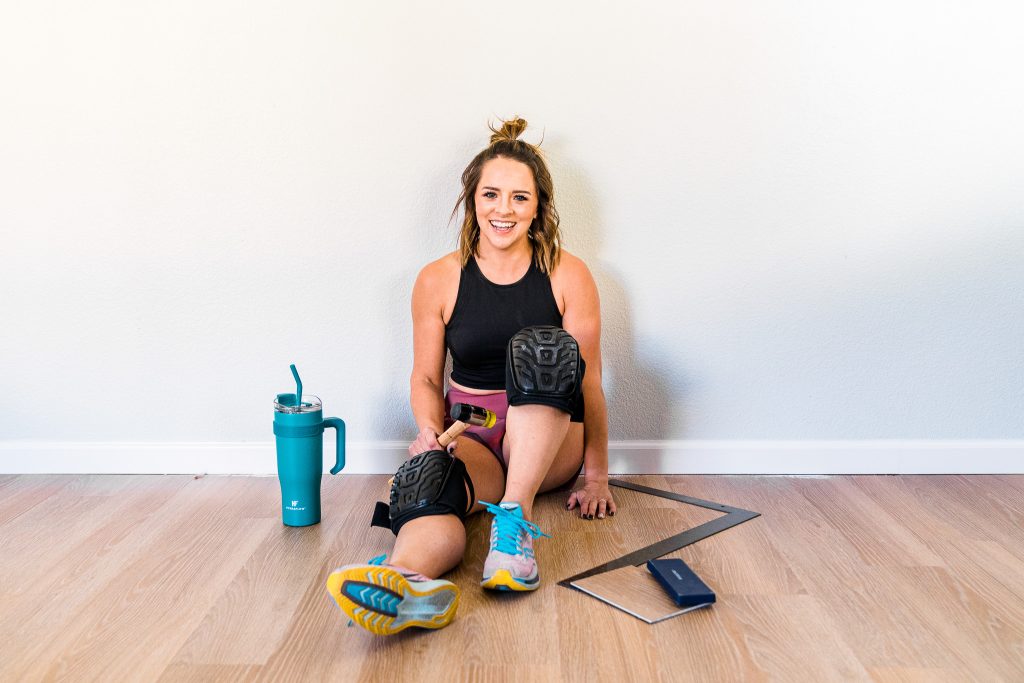 DIY Stair Nosing Ideas
Stair nosing extends a little bit beyond the stair tread to allow for a larger surface area to place your foot when stepping.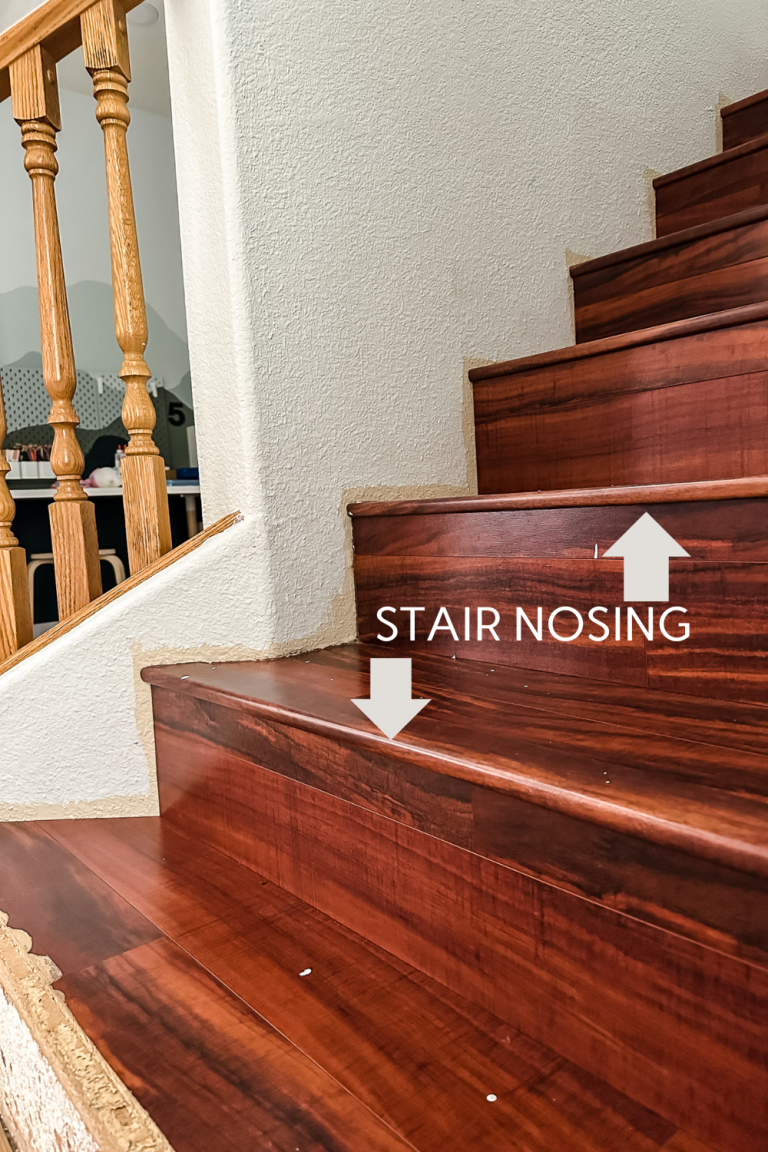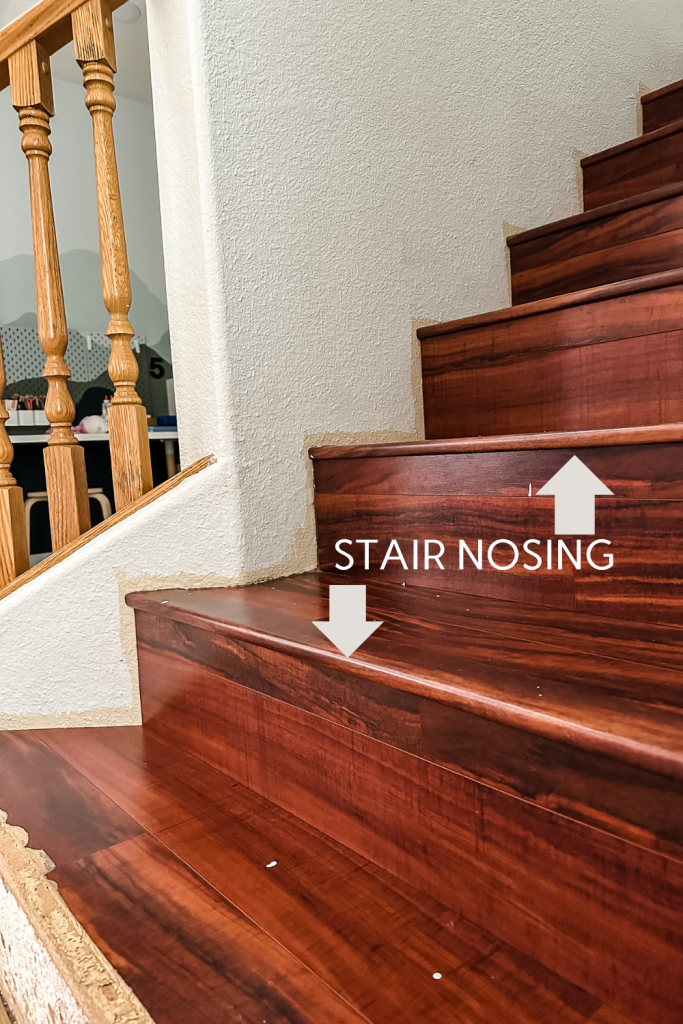 The nosing can come in any number of looks and finishes, but to keep things modern and clean, I'm using nosing from Dura Décor that coordinates with our flooring. That way, there will be a completely seamless look for this DIY stair makeover from the tread to the nosing and every inch in between.
Next Steps for my DIY Staircase Makeover
As you can probably guess, the stairs are the next big project on my list. I've moved out of DIY stair makeover ideas and am closing in on actual construction. And I'm pumping myself up to do it.
STARTING NEXT WEEK!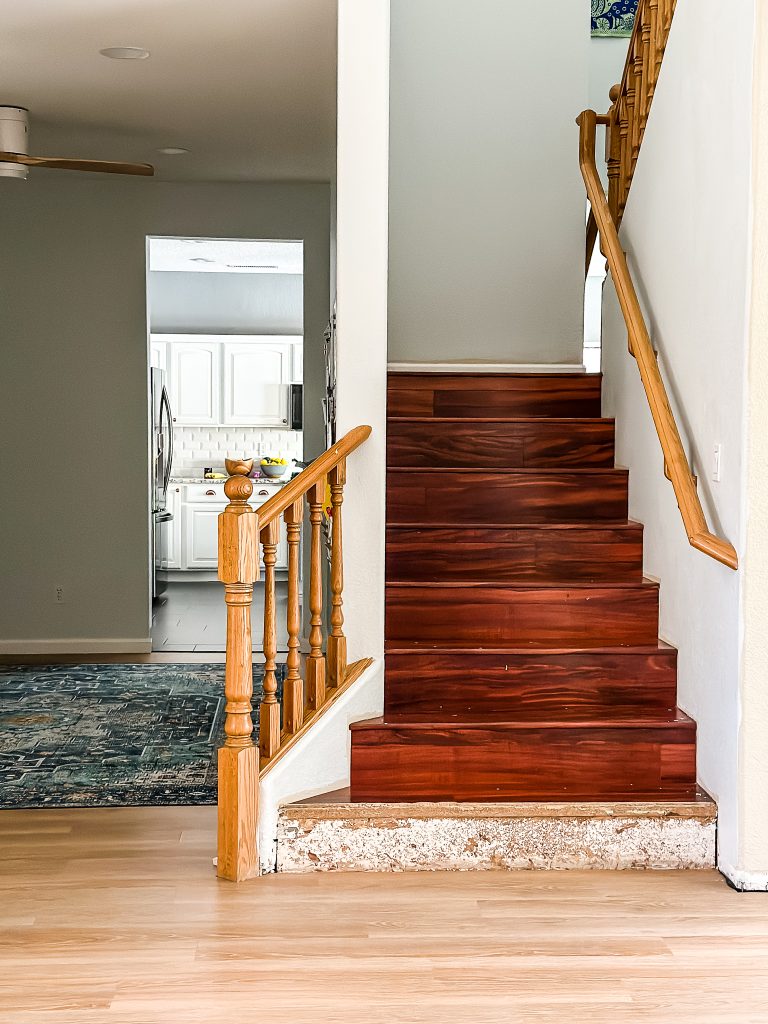 The focus will be on the actual stairs though. I may change the railings down the road, but for now, it's me conquering those stairs.
Will my idea to use pole wrap on my DIY staircase make over work? Only time will tell. Be sure to follow along over on Instagram to see the tools I'm using, the mistakes I'm making, and everything else I have to figure out along the way!
Send me all the good vibes as I dig into this one. I'll need them!