5 things your kitchen sink needs right now
This week I organized my kitchen sink.
We have been in our new home for just about a month and this area was making me batty.
Fumbling around in a space that I use multiple times a day was proving to be more stressful than helpful.
So I purchased a few simple organizers and went to town!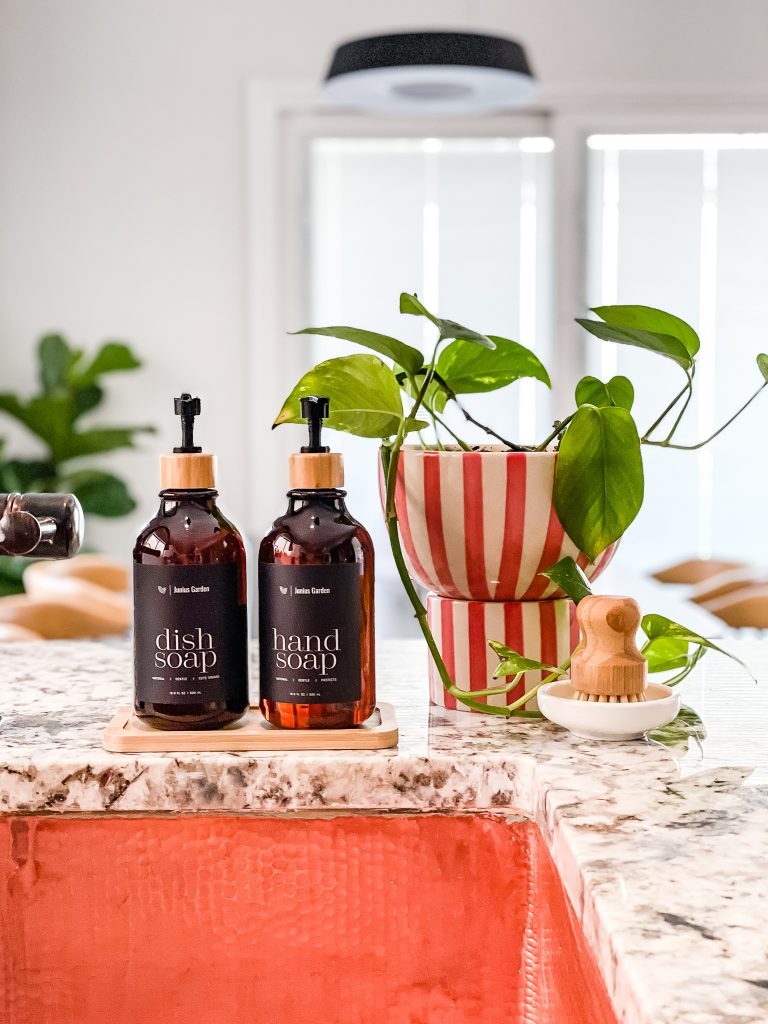 This post contains affiliate links. Thank you for supporting Haute House Love!
want to skip to the good stuff?
here's the 60 second before & after.
CLICK HERE for all of the sources that I used to organize my kitchen sink!
5 things your kitchen sink needs right now!
A SLIDE OUT ORGANIZER – I love an organizer that stores a ton plus allows quick easy access to every day items. These slide out organizers are perfect for the kitchen sink! Just make sure to measure your under sink space before ordering!

CLEAR CONTAINERS – One of the best ways to keep a kitchen sink area organized is to be able to see what you have (and what you need) Clear containers make this easy!

MATCHING SOAP DISPENSERS – Matching soap dispensers on the countertop are great for easy washing access PLUS they make the space look really pulled together.

PAPER TOWEL STORAGE – For a quick clean up or face wiping we always keep paper towels near the kitchen sink. I love these self sticking options for the cabinet roof or inside the cabinet door.

LABELS – Labels are a given with any organization project. These sets come with a ton of options for keeping your home organization efforts cohesive!

***BONUS*** – I love adding peel and stick wallpaper to the bottom of the sink cabinet. It brings an element of unexpected fun and also protects the cabinet bottom at the same time. Here's the wallpaper I used in our sink!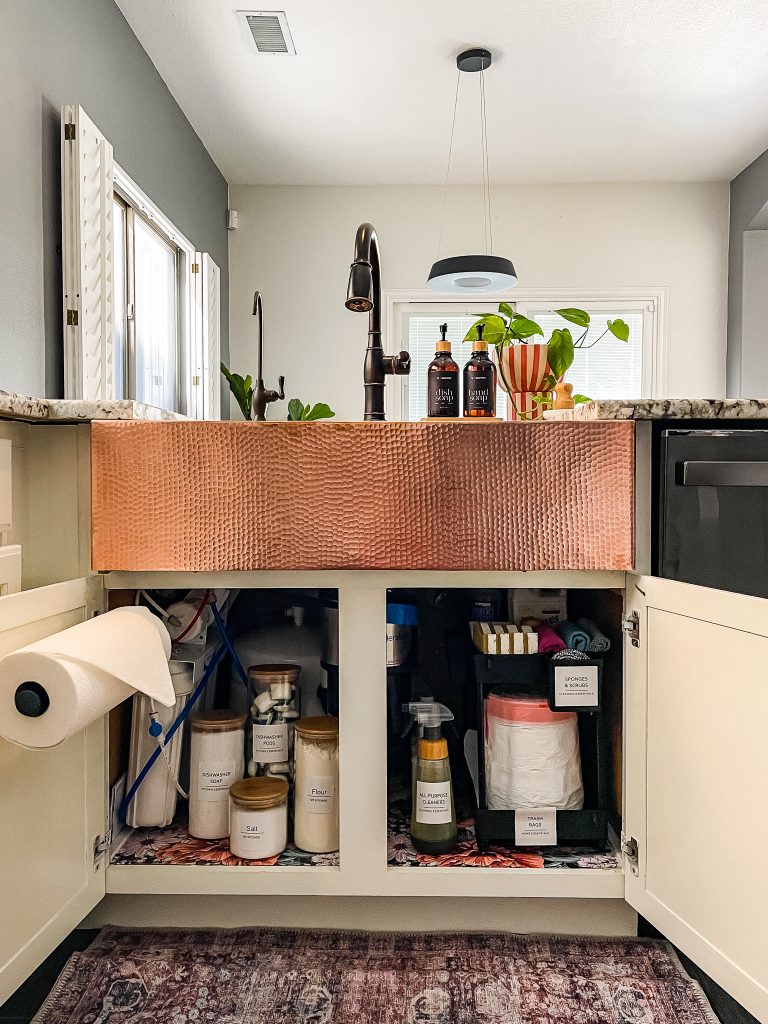 how do i keep my sink area organized?
Purge and get rid of anything that's empty or not used multiple times a week in the space
Purchase slide out organizers, clear containers, soap dispensers, paper towel storage and LABELS!
Take time to fill the containers and label everything. Then give everything a designated space in the cabinet.
Do keep back stock of hand soap and countertop cleaners in the back of the cabinet for easy access.
Don't over clutter. Less is more in this space, as you will need to get to things quickly and often.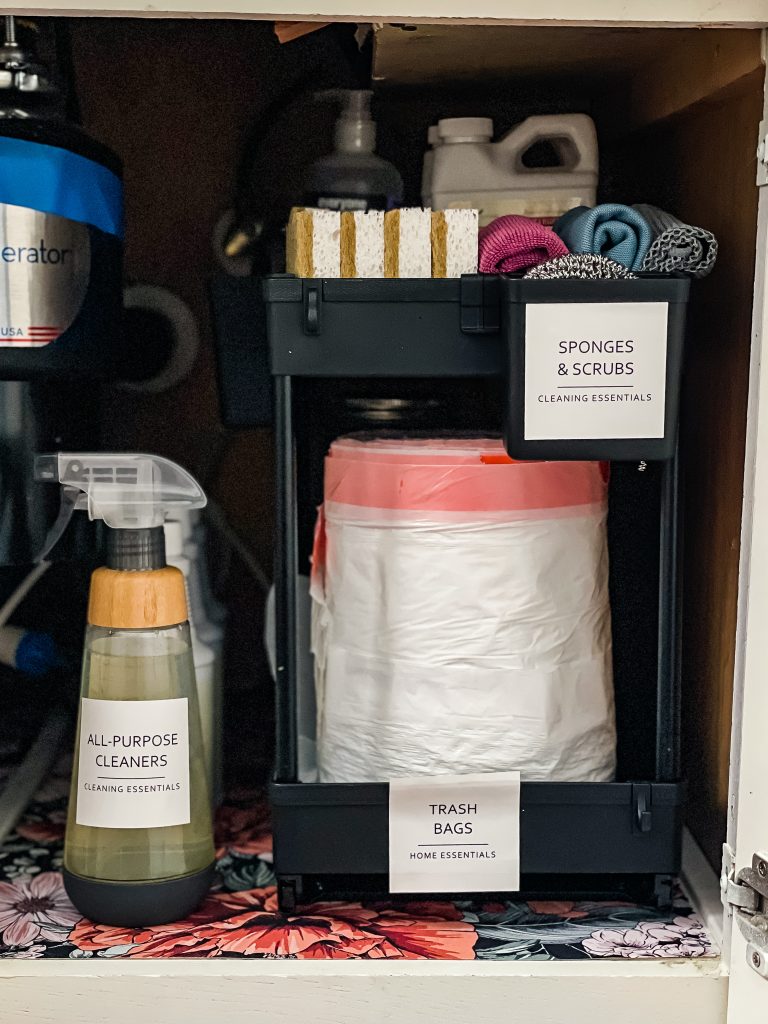 what should be kept under kitchen sink?
Anything that you use in that immediate area on a weekly basis (or for safety purposes) should be kept under the kitchen sink.
Some examples include:
dish/dishwasher soap
hand soap
trash bags
sponges/dish scrubbers
countertop/sink cleaner
dish towels
paper towel
sink plugs
fire extinguisher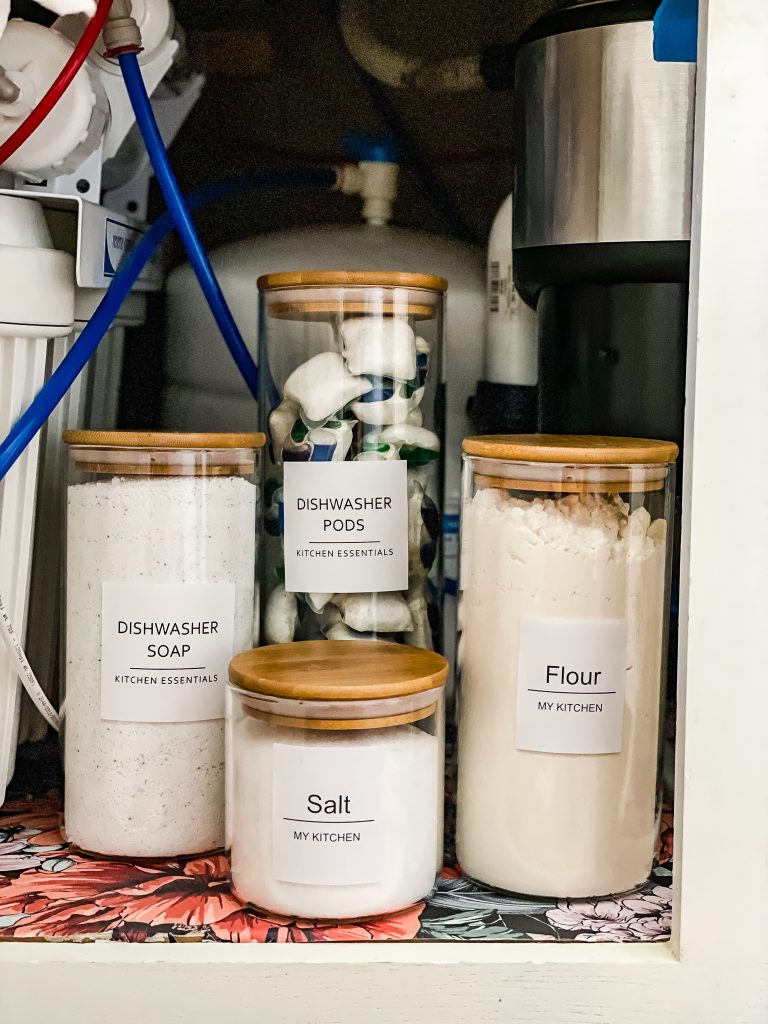 Did I miss anything? What do you store in your kitchen sink area? Let me know in the comments!