Give Your Terracotta Pots a Painted Ombre Effect With This Easy DIY
Today I'm going to show you how to take a plain old terracotta pot and paint it with an ombre effect. You will absolutely LOVE this easy painted planter project. It's a fairly quick DIY that will give you an adorable painted pot to put on display for a little curb appeal.
In the past year I've become brave enough to take on the responsibility of house plant mama. This is a pretty big deal for me since I tend to be one of those who somehow manages to kill every form of plant life I come I contact with.

Update: 5 Lessons I Learned as a New Houseplant Mom
But planters for said houseplants can be expensive!
To solve this problem I have created a simple painted planter project that you can create with an inexpensive terracotta pot and some paint. Keep reading to see how I did it!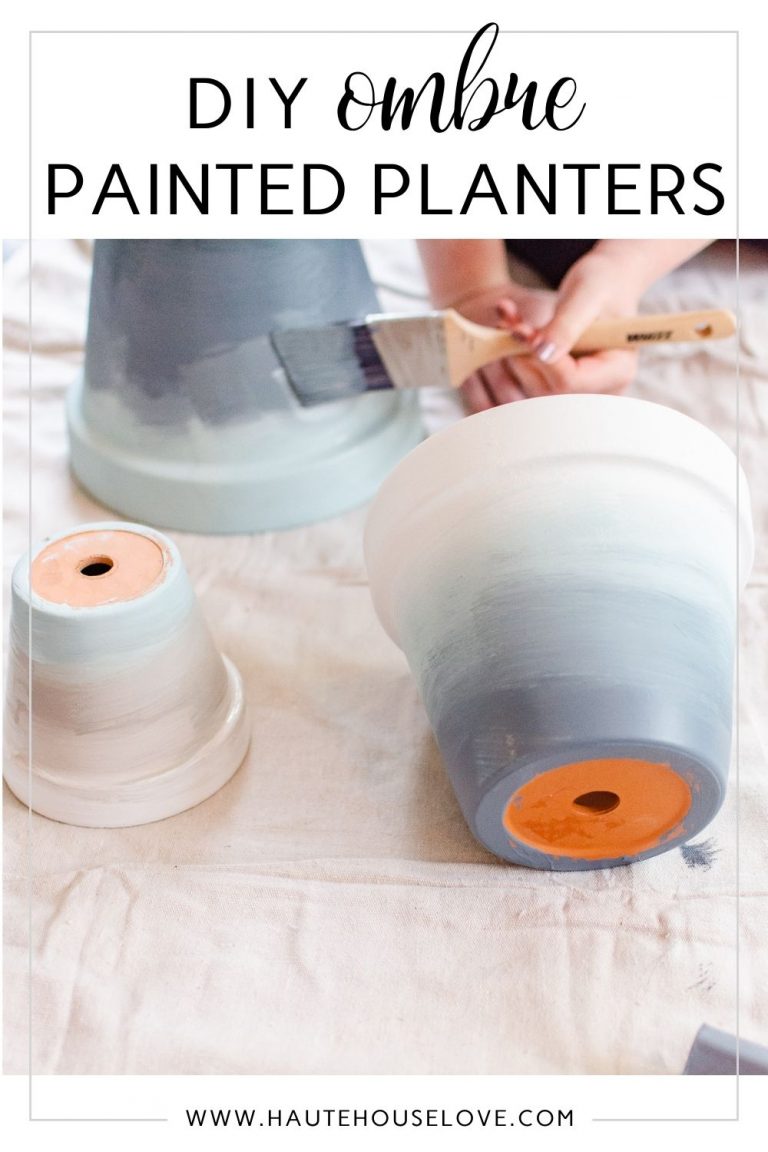 This post contains affiliate links.
Materials needed:
TERRACOTTA POT: (Be sure to choose a pot with a drainage hole. Painting the pots will seal the pourers that help drain water in the first place)
PAINT BRUSHES: (I used a variety that I had on hand. Inexpensive, throwaway chippy brushes work perfectly for this project)
Paint of Choice in 3 colors: (I have tried this with leftover acrylic, chalk type and latex paints that I have already on hand and all seem to work well.)
Sealant: (I love THIS SPRAY SEALANT or WAX PASTE for chalk paint but clear POLYACRYLIC that you can brush on will work fine too)
Drop Cloth or Old Towel
---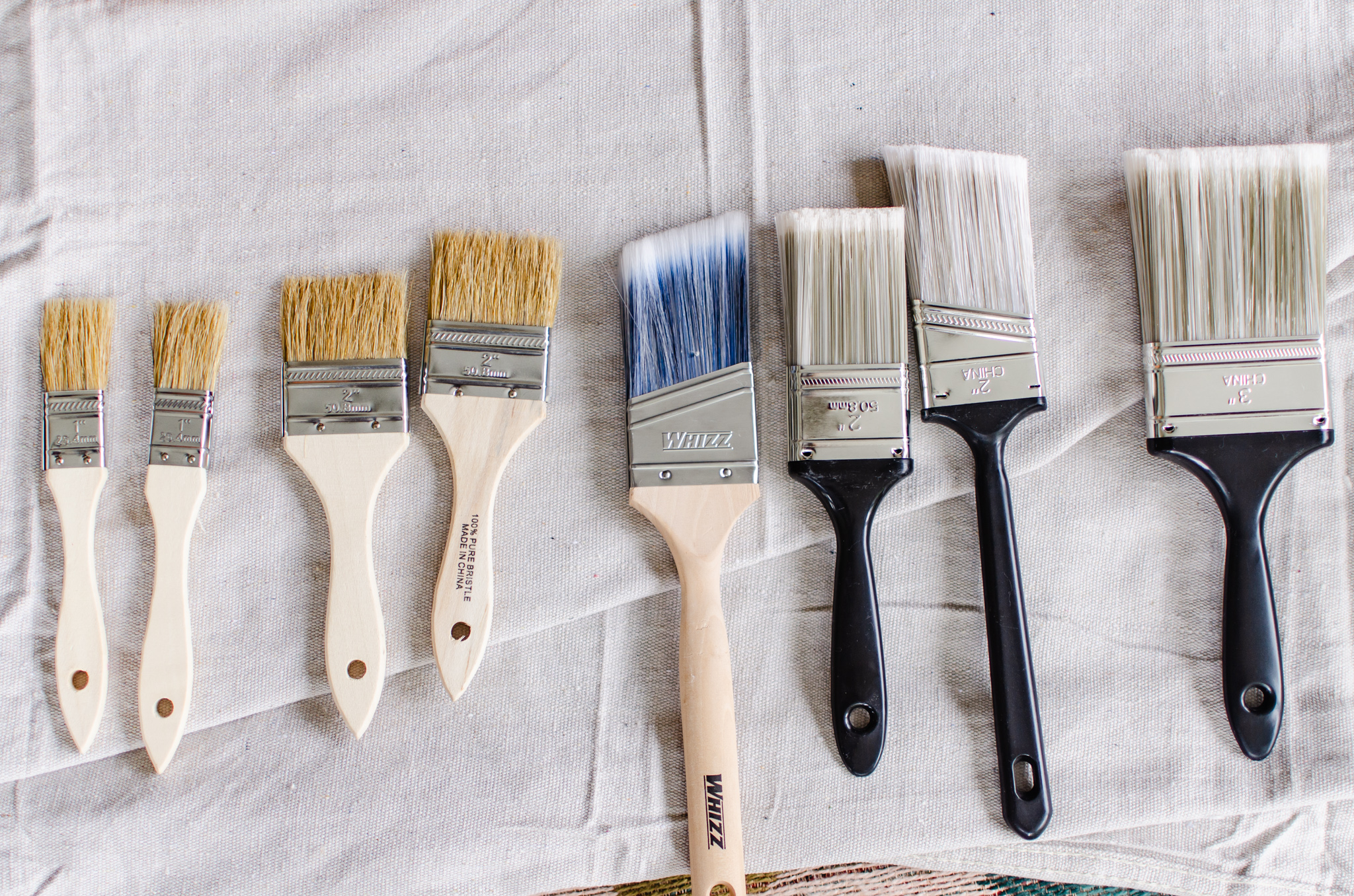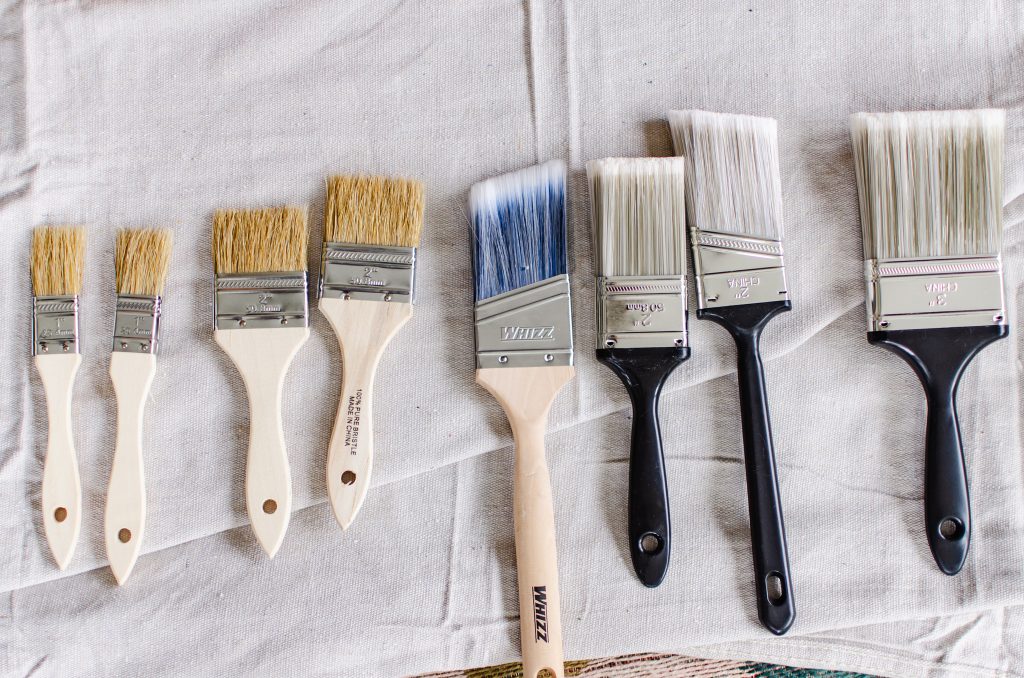 what is the best paint to use on terracotta pots?
The best paint to use on terracotta pots is a latex, chalk or acrylic based craft paint. They are quick drying and easy to work with and some even have a built in sealer! The good news is that these are likely paint types that you already have around your house!
I would suggest avoiding oil based or enamel paint because it tends to be messier, harder to clean up and takes longer to dry.
get organized:
Paint tends to dry quickly on terracotta so having everything out and ready is key to success with this particular technique since
Place towel or drop cloth in your work area. Lay out the paint you will use and choose one paint brush for each color. Then choose two other paint brushes to use as your "blending" brushed. Lay them in between your single color brushes.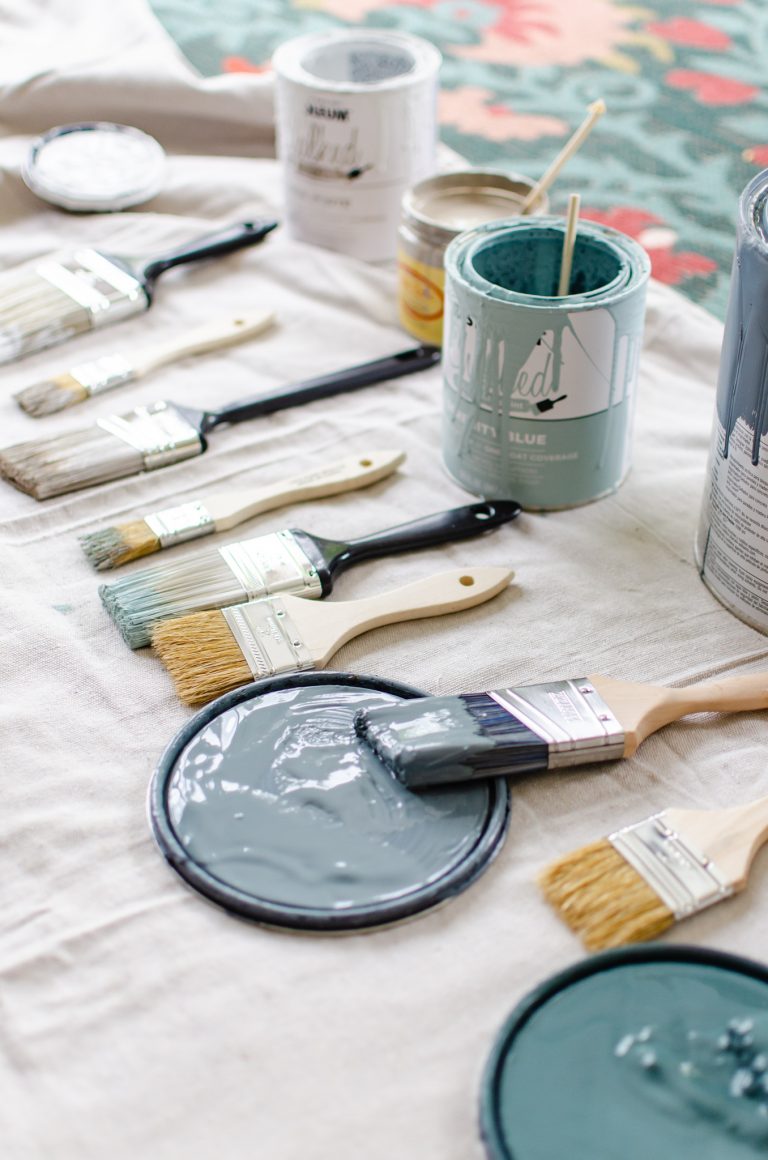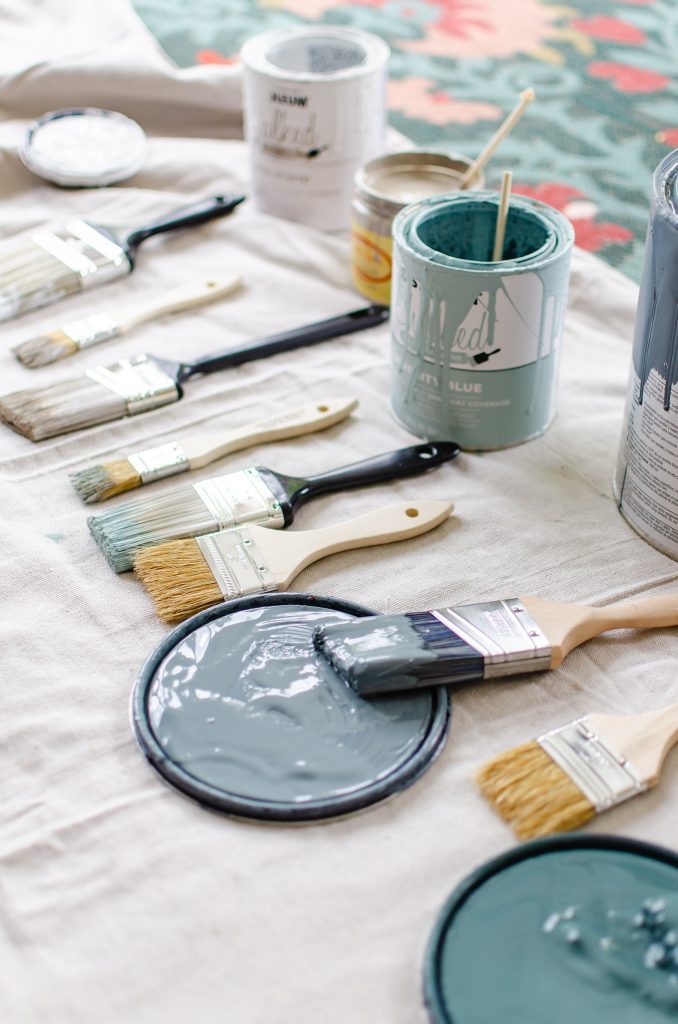 Do you need to seal terracotta pots before painting them?
Paint will not stick to sealer, so sealing should always be done after painting! Latex and some acrylic paints have built in sealer so check your labels to see if sealing is even necessary. If you are using chalk paint they will definitely need to be sealed after. I would suggest a WAX BASED PASTE sealer or water based polycrylic.
Start painting:
NOTES: You will have the best results if you work from lightest color to darkest color. Also terracotta pots tend to soak in paint quickly I chose to work on one side at a time.
Step 1: Apply a thick coat of paint in the lightest color to one side of the terracotta pot.
Step 2: Immediately add second (medium shade) color below it, slightly overlapping the light shade.
Step 3: While both paint colors are still wet, take your blending brush and blend the lighter color into the darker color. Add more paint as needed and blend until you get an even mixed look.
Step 4: Add third (dark shade) color to the bottom of the pot, slightly overlapping the medium shade.
Step 5: Repeat step 3 with medium and dark shades.

When you are happy with the colors/shading allow to dry and move onto the next side of the pot. Repeat steps until all sides are covered.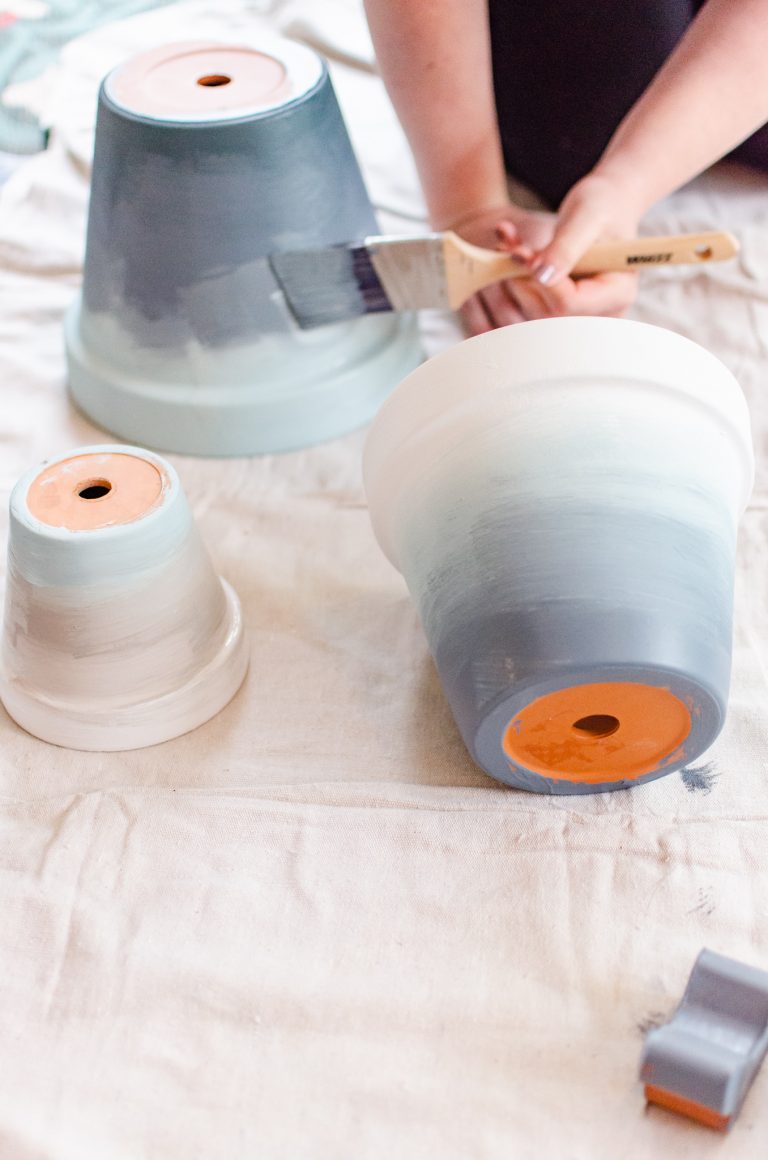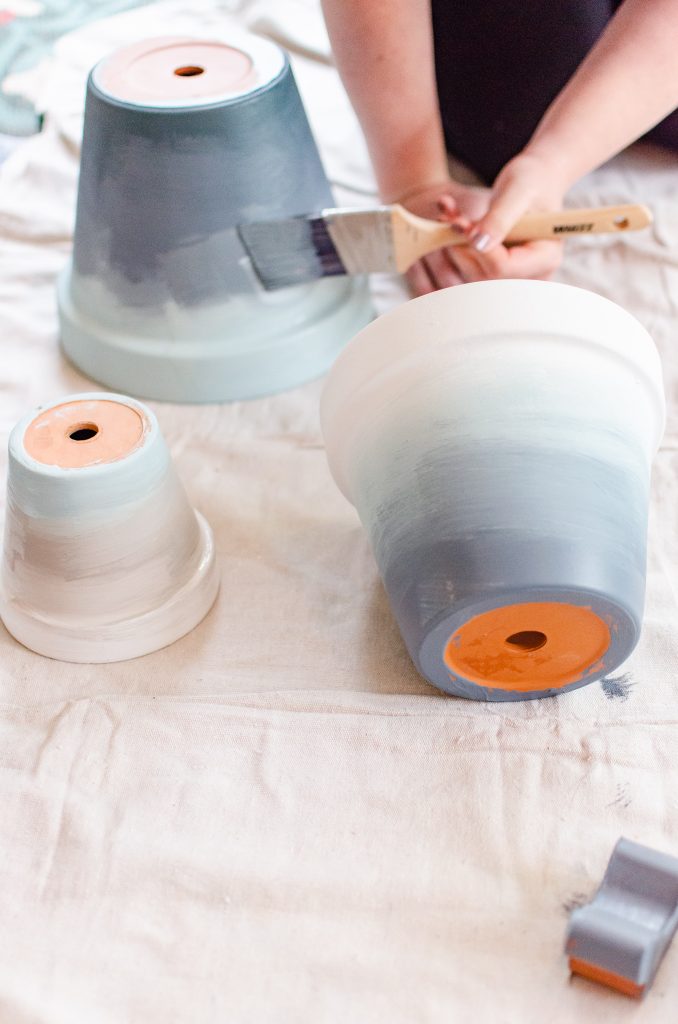 what color should i use on my painted planters?
The true ombré effect is created by blending one color to another going from light to dark. It typically uses one color family (like blues) but don't let your creativity make that a hard and fast rule. Consider using a lighter tint of color for your painted planters, especially if you're planting heat sensitive plants.
When painting is finished allow to dry and seal with spray sealant or two coats of clear polycrylic if the paint doesn't already have a built in sealer. Finally, transfer your plant babies into their new homes with indoor safe potting soil.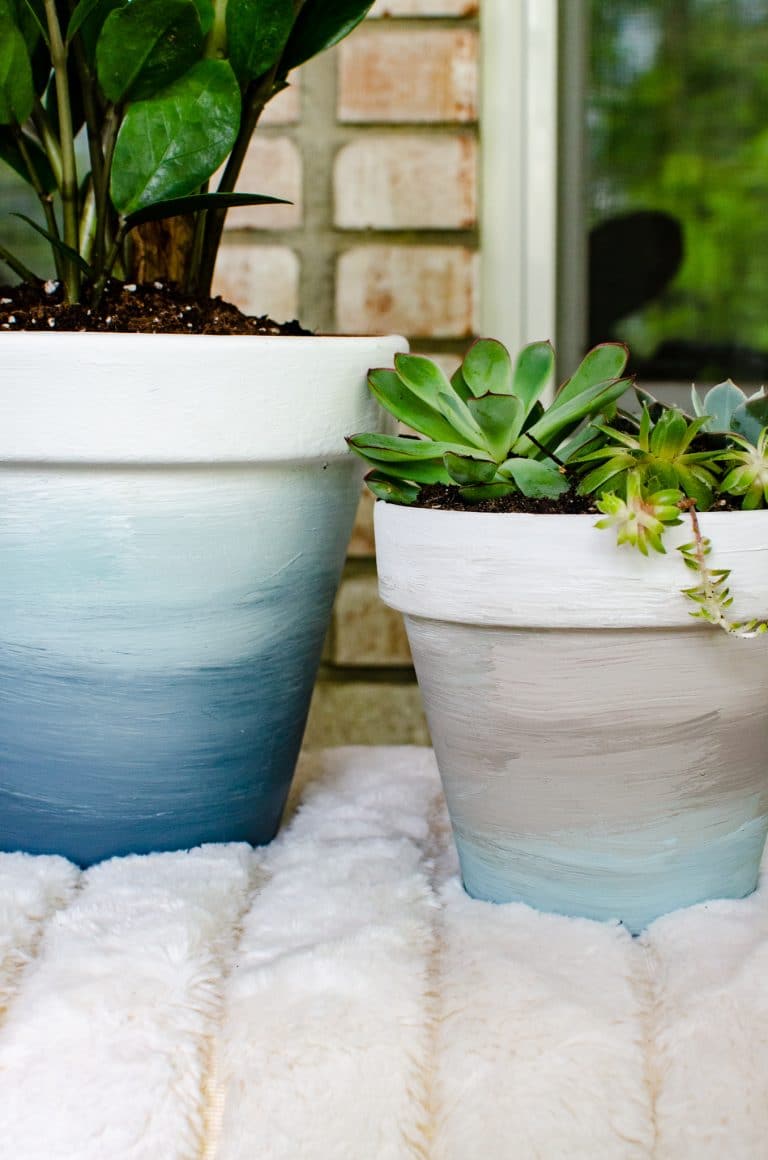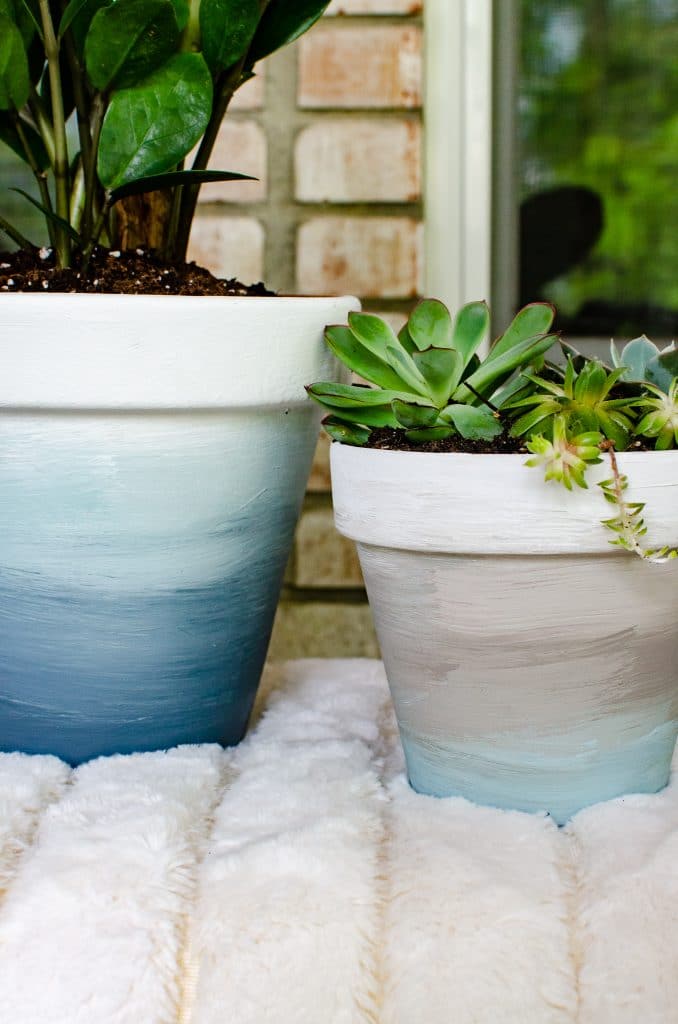 Here's a quick recap for you: remember to prepare all your materials ahead of time for this painted planter project. Terracotta pots soak up paint quick, so you'll want to make sure you read my tips on how I paint them for best results.
See how easy this painted pot project is? The ombré effect makes your simple terracotta pots look expensive store bought planters!
Ready to give it a go? I'd love for you to leave a comment or tag me on INSTAGRAM if you decide to try this project for yourself!