25 Educational Game Ideas for a Home School Room
School is officially back in session! Can we all agree that this year is weirder than ever? Whether your kids are in a school building part time or schooling fully at home, they need a good brain break every once in a while. Because of this, I have compiled a list of 25 educational game ideas to bring some excitement to the school day and to break up the monotony of video calls and worksheets.
If you are new here, Hi! I'm Kera. I am a blogger, home stylist and mom of 4. I have a colorful, collected eclectic style with pops of modern vintage and cottage boho. If you enjoy my content I would love to connect with you on Instagram where I share my daily projects and home inspiration!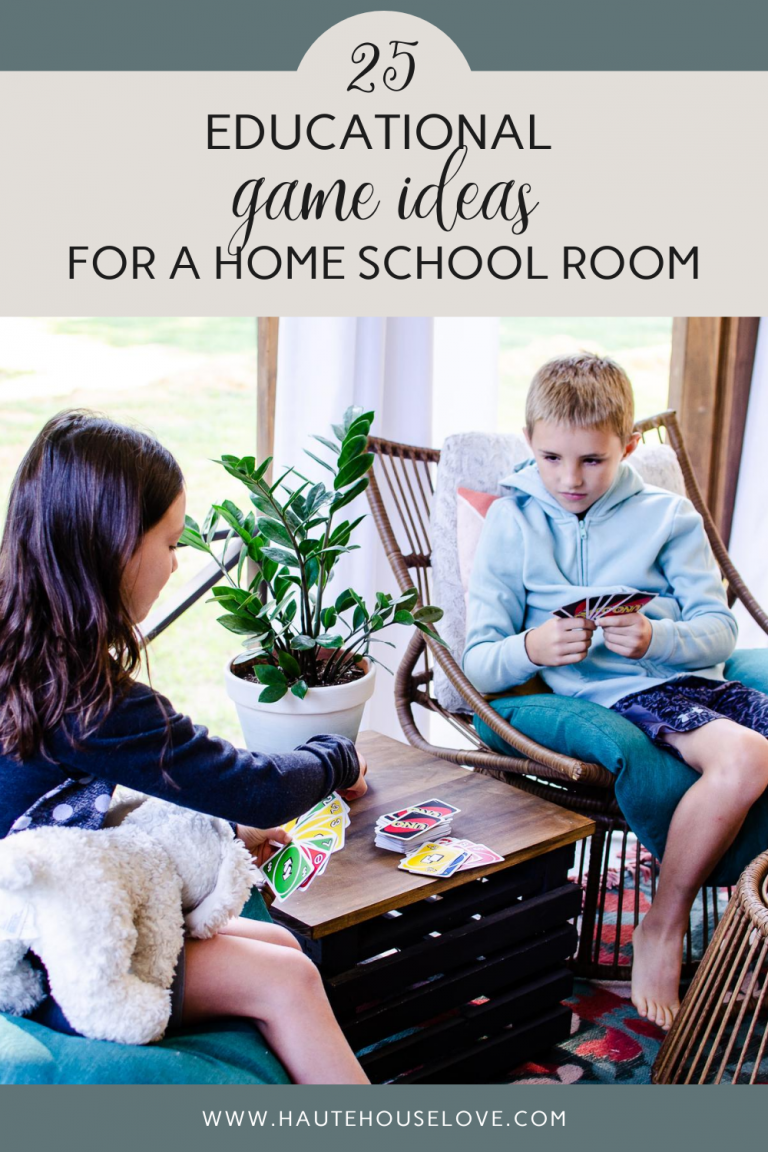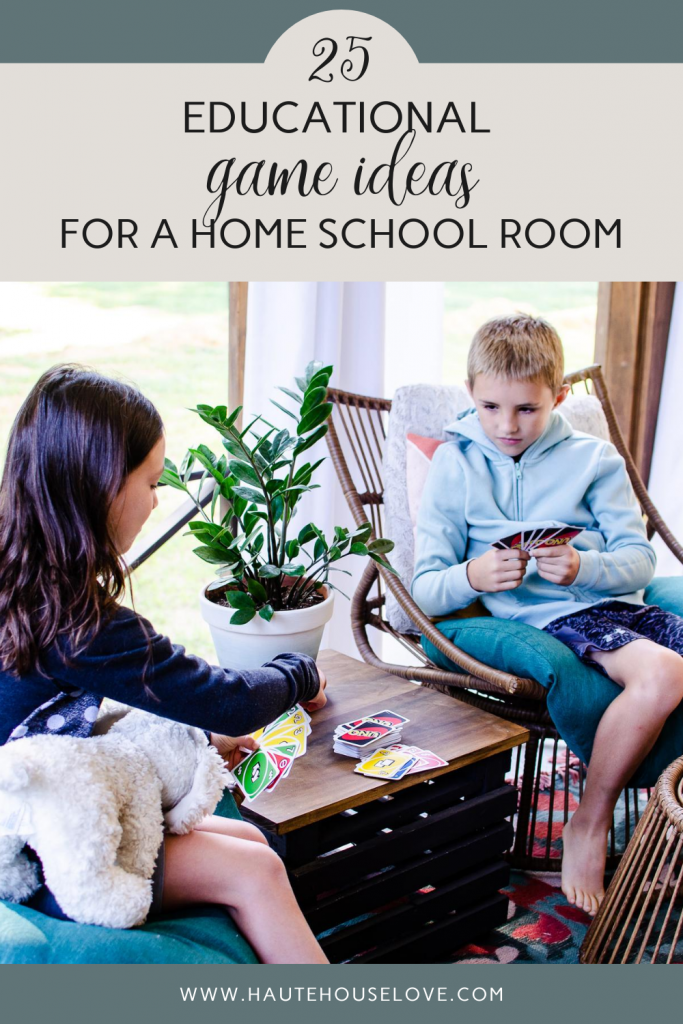 Our district has started the year off 50/50 (for now). The kids are split into A/B groups and attend the school building every other day, then the off days are spent virtual learning from home. I have one kiddo who thrives in the home school environment and one who is on the struggle bus. I'm sure many of you can relate! Because I needed to come up with a reasonable solution. My less thrilled one LOVES family game time so I decided to offer him a kickback for completing his work. Playing the board game of his choice.
The games I am featuring in this post are some of our personal family favorites, therefore, I recommend them wholeheartedly. Because of this, some of the links may be affiliates. When you shop through these links it helps to support all of the work I do at Haute House Love at no extra cost to use. Thank you for using them!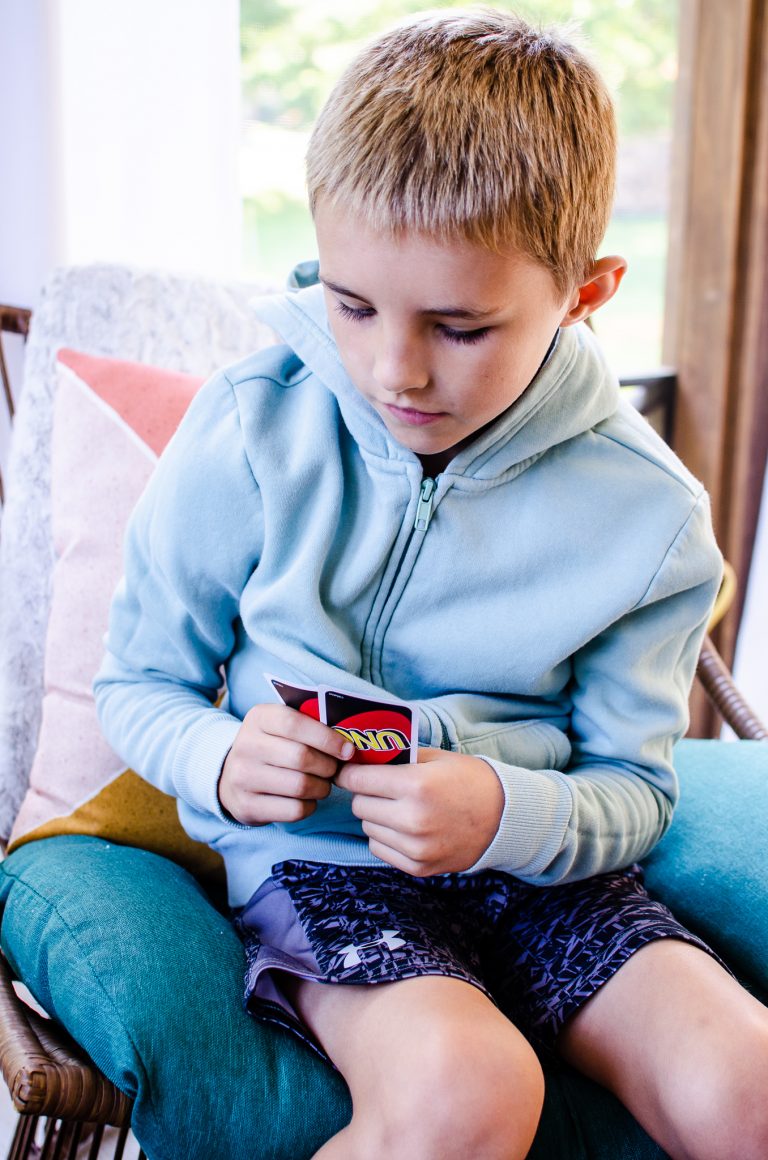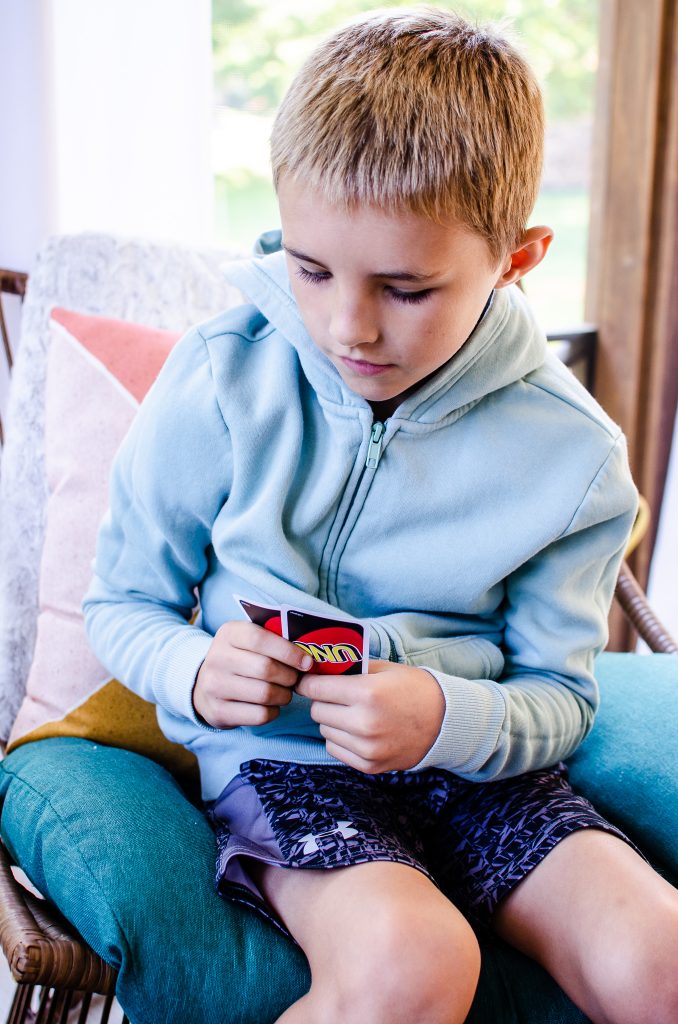 CRITICAL THINKING GAMES
5 Second Rule – A game of quick thinking where a player is given a topic card and must list 3 items within the given topic in 5 seconds or less. If the player is able to complete the challenge they get the card and a new card is drawn for the next player. If the player is not able to complete the challenge the next player gets a turn at the same card but must list different items than the first player. Play continues on a card until someone completes the challenge or until everyone has a turn. There is a timer stick to moderate the seconds. When all rounds are complete the player with the most cards is the winner.
Uno – This may be the basic of all basic games but it deserves primary mention because it was the first card game we taught our kids (besides maybe go-fish). I want to say the kids were around 3-4 years old when we first busted it out and its been a family favorite ever since. If you LOVE Uno as much as we do you should give Uno Attack or Uno Blink a try!
Alias Jr. – To be completely honest I have no idea how to play this game the "right" way. Essentially, it is a description game. There are cards with pictures of basic things on them. Animals and food to name a few. The goal is to use descriptive words to encourage your teammate to guess what is on the card.. If the guesser is still struggling we would then let them act it out. We love our little version and I'm sure the real way to play the game is a blast too.
MORE CRITICAL THINKING GAMES WE ENJOY…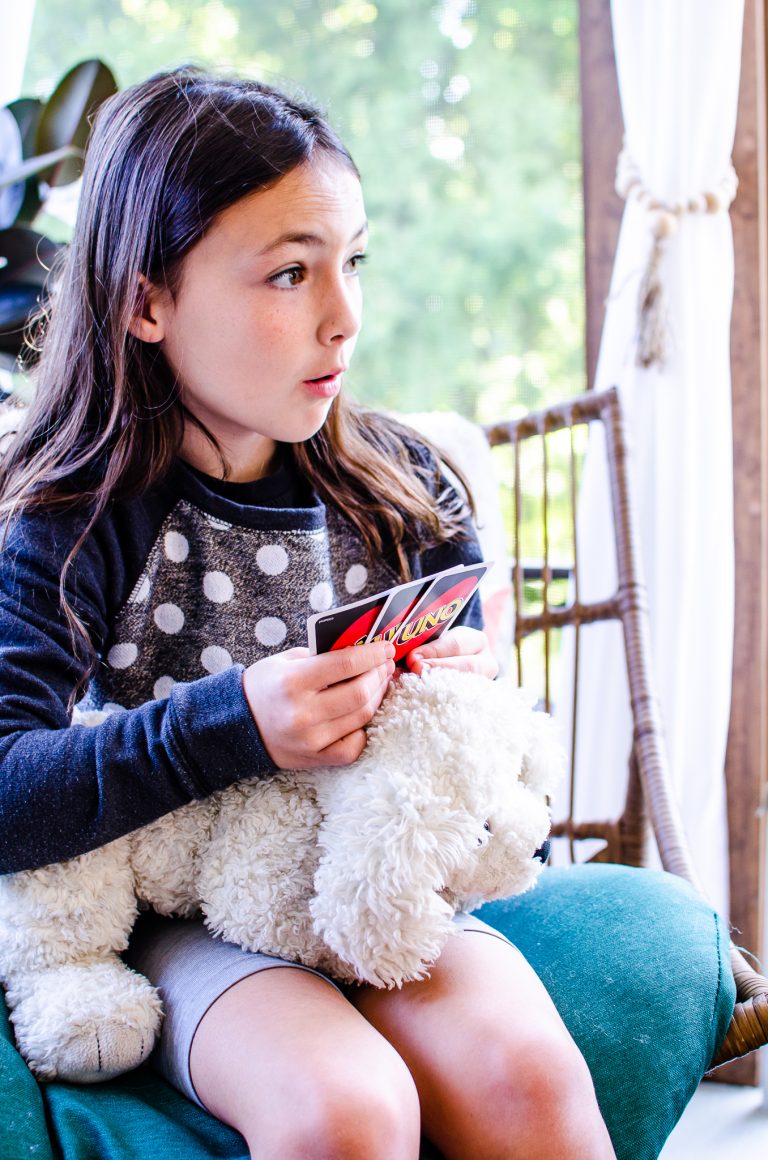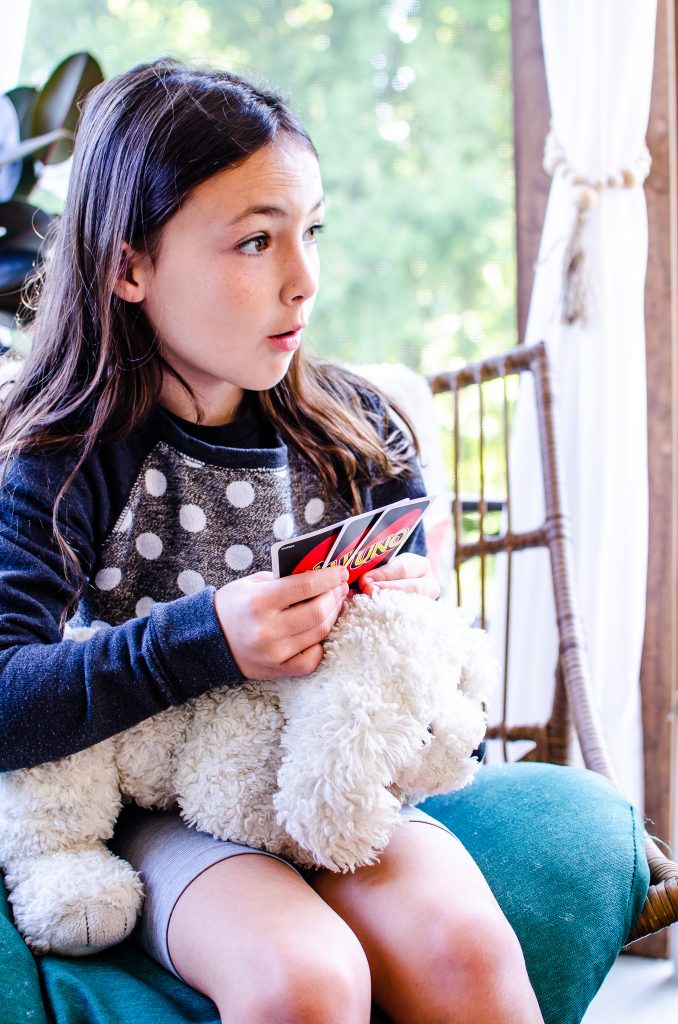 MATH GAMES
Monopoly Deal – If you love monopoly but hate the 2 hour time commitment this is the game for you! This version is a card game, played with a bank and properties but only takes 15-20 minutes per round. We taught our kids when they were around 8 years old and it was a little tricky but they eventually caught on. This game can accompany 2-5 people but is the funnest with 4.
Pass the Pigs – Essentially this is a dice game, except with little plastic pigs. You score (or lose) points based on how the pigs land and calculating the points is great for practicing addition and subtraction. With a little assistance for younger kiddos, this quirky game is an "oink" of fun for all ages.
Super Sorting Pie – This game is tailored to the young learner and was the first intentional math game we ever purchased. The plastic "pie" comes with several silicone fruit pieces in a rainbow of colors. There are 6 different sorting cards that help with color and shape recognition. It also comes with two pair of tweezers as an option for practicing fine motor skills.
MORE EDUCATIONAL MATH GAMES WE ENJOY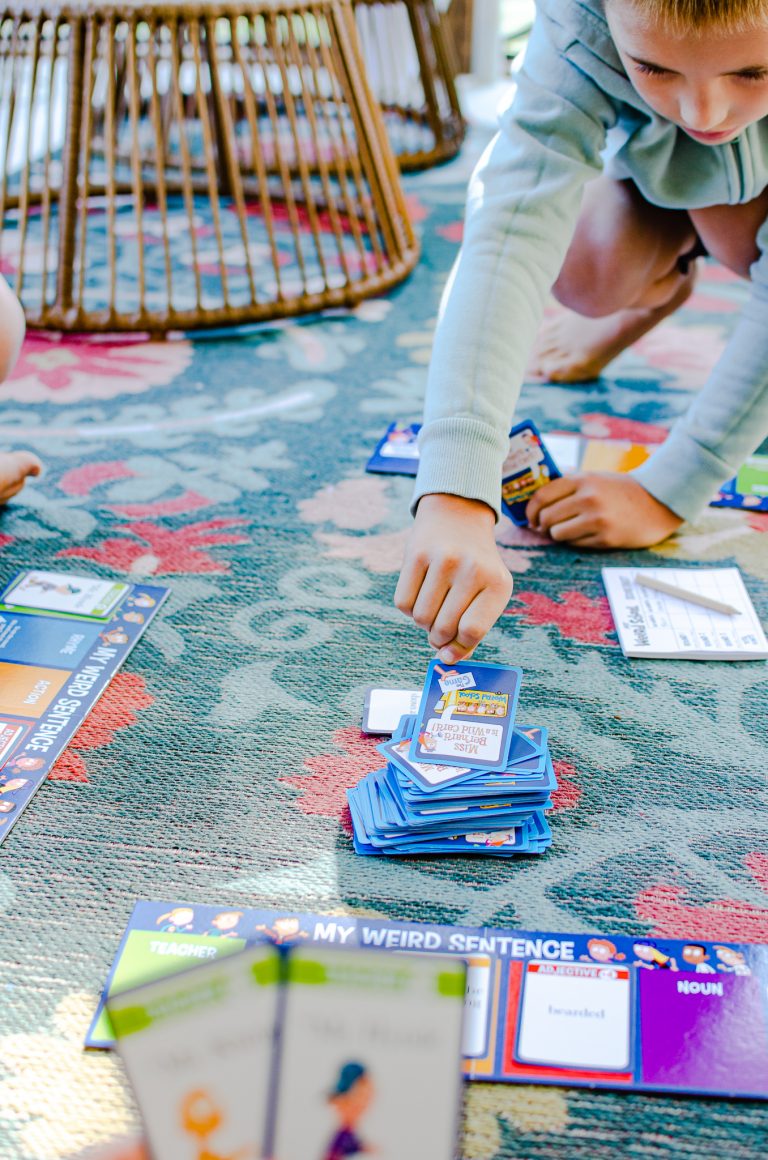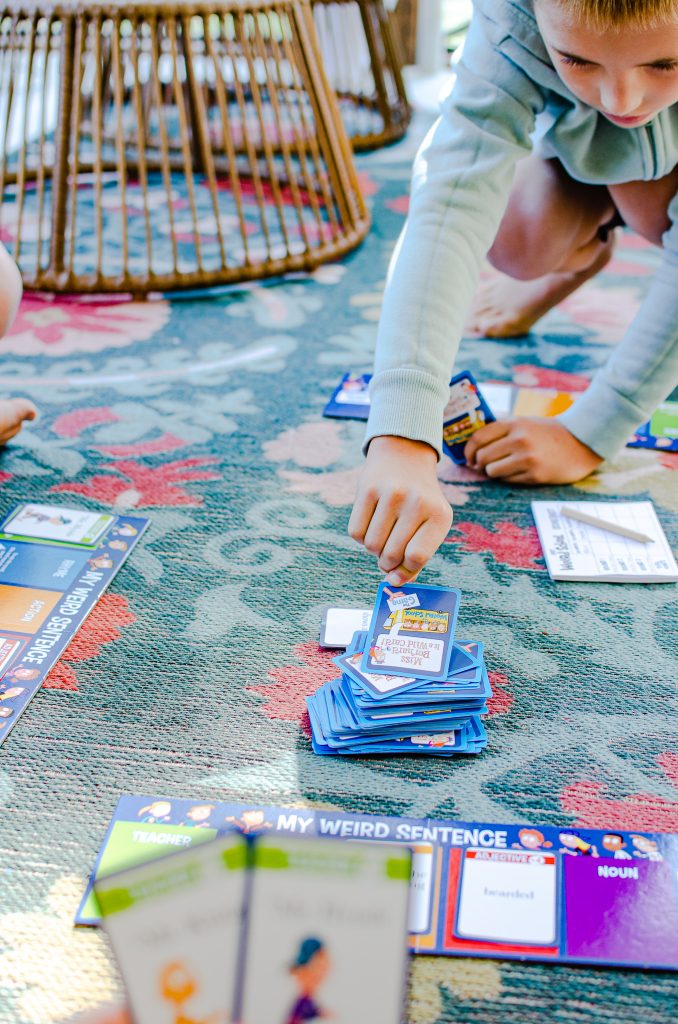 LANGUAGE ARTS GAMES
Mad Libs – Just like the silly sentence worksheets in elementary school this card game is a silly sentence wonder! This game takes a little longer to play, 20-40 minutes in fact, and is geared toward upper elementary aged kids. In order to have success with this game players will need to have a clear understanding of writing terms such as verb, adverb, adjectives, proper noud and the like.
Miss Bernard is a Wild Card – This silly sentence game is based off the "My Weird School" book series and involves rhyming. It is simpler than Mad Libs because of its color coded cards. Therefore it can entertain a younger audience.
Zingo – This quick and speedy picture Bingo style game is great for a variety of ages. Two picture pieces are revealed at one time and the first one to match the picture to their game card is awarded the piece. The first player to have their game board completely filled with markers announces "ZINGO" to win the game.
As a complete side note. When our youngest was 2.5 he struggled to formulate a variety of words. When we started playing Zingo with him he began associating the pictures with the words and within a few weeks he was saying more words than ever! Almost a year later and Zingo is still his favorite game! I wonder why?!?
MORE LANGUAGE ARTS GAMES WE ENJOY

FOR MORE OF MY KID/FAMILY RELATED CONTENT CLICK THE LINKS BELOW!
The Ultimate Command Center Guide
8 Organization Secrets For Easier School Mornings
Simple Birthday Balloon Garland