An april LIFE UPDATE PLUS FAVORITE THINGS
On April 30th we had our first 100 degree day in Phoenix. Which means pool season is officially upon us and the school days are coming dangerously close to hitting single digits.
The boys celebrated with our NEW POOLSIDE BASKETBALL HOOP.
Here is what we were up to in the month of April: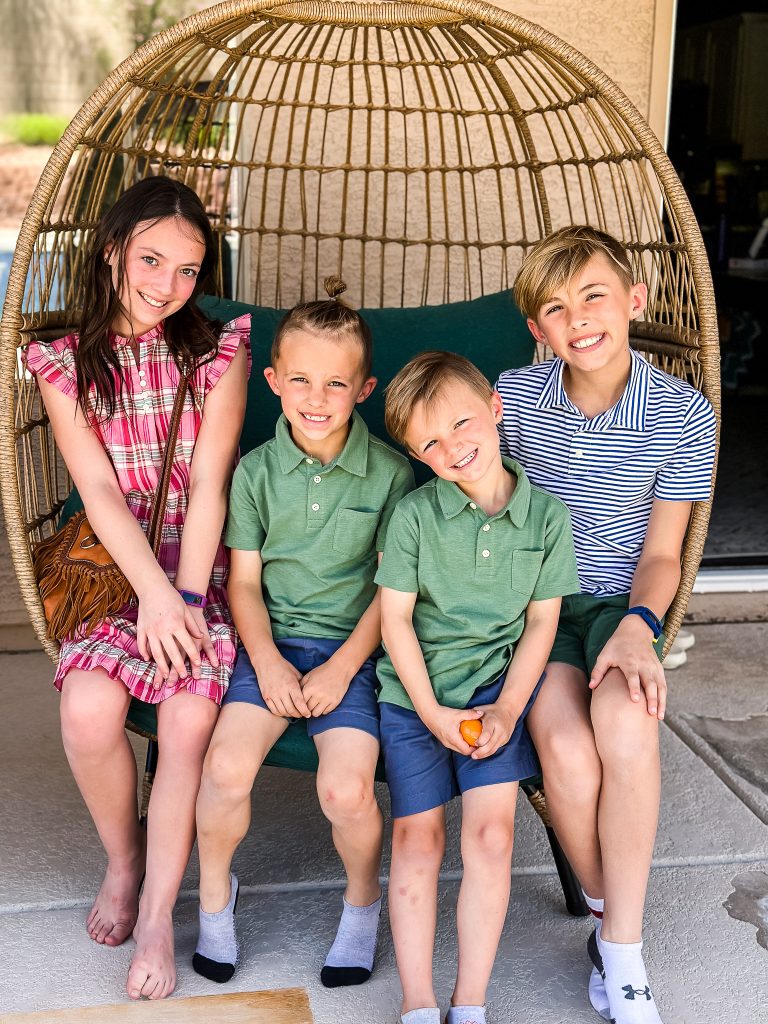 Another Soccer season wrapped for Maks (7) and Sloan(5). They both excelled so much in their first year that they were asked to try out for the Academy Team (which is essentially club soccer for the younger crowd). Tryouts were held the last week of AprIl and they both made it! With 2/4 kids claiming the sport I'm officially snagging the title of "Soccer Mom.' And I'm not mad about it.
Xander (10) is still busy with the current baseball season and has been playing short stop and first base this year. He also started pitching halfway through the season and has really taken to it. He will likely start pitching lessons this summer.
Xan took the first Jeffers kid solo flight this past week. I was a HOT MESS, but Southwest Airlines was amazing and I couldn't be happier with the experience. You can see what he was up to in the video below.
Gymnastics meet season wrapped for Bryn(12) and she's getting the itch for a big change as she officially enters middle school next school year. More on that as we make it official.
She has also had a major pre-teen growth spurt the past few months and is officially the same height as her younger brother. And she's very vocal about it 🙂
All four kids are getting ready to wrap up their first school year in Phoenix and we couldn't be happier with how much they have grown and flourished in a new state and school.
We are so proud of them!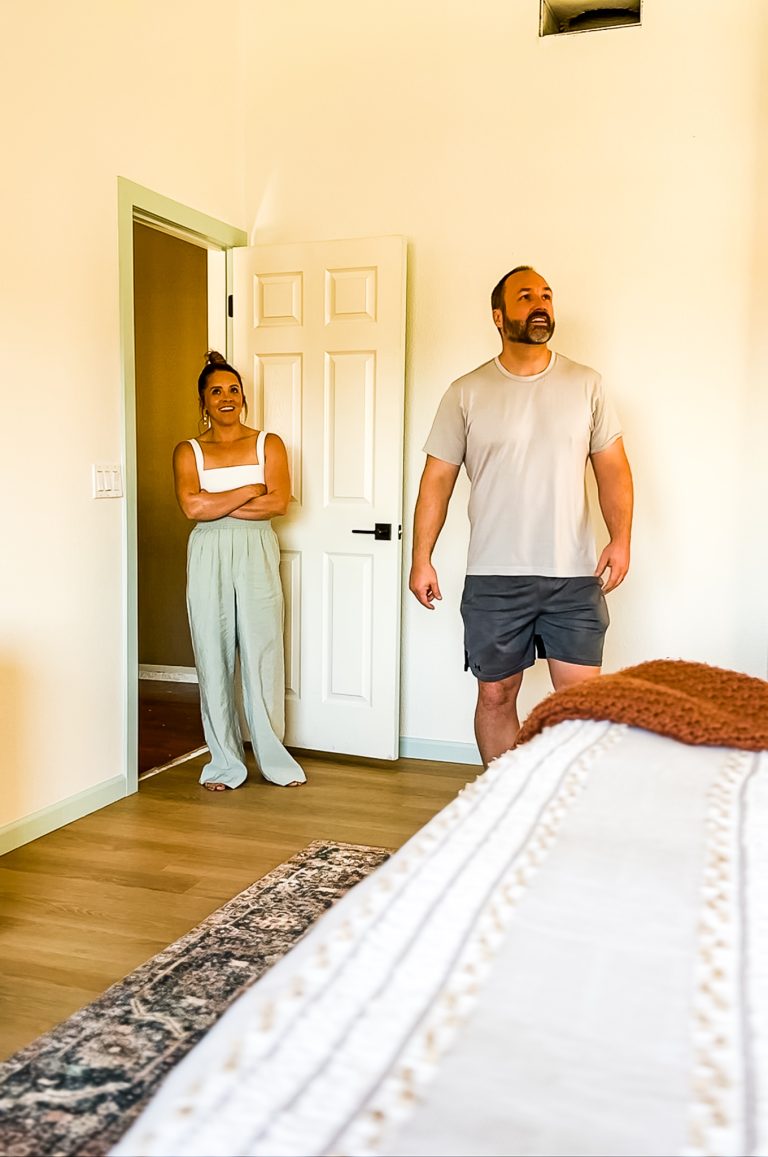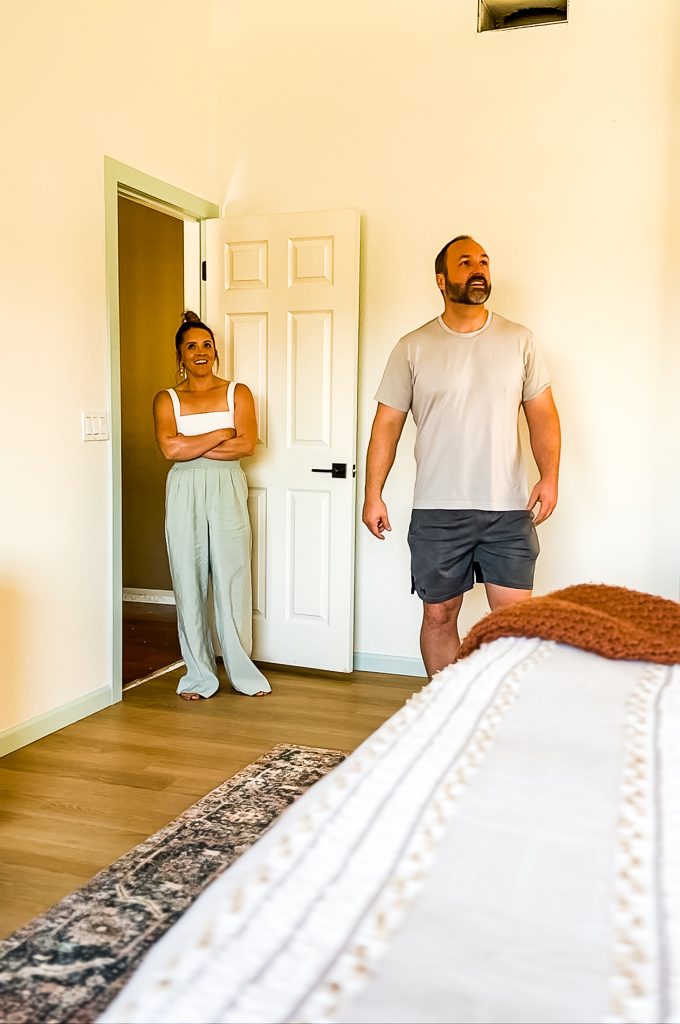 Tommy officially wrapped up Tax season in Indiana and spent a week at home resting and recovering before heading back to Indiana for two more weeks to finish up extensions and loose ends. While he was here we had friends over for a taco night, saw the new Mario movie, hiked a new trail and worked in day dates at two of our favorite local brunch spots!
He will be back home for good in about a week and a half!
I spent April recovering from an ankle injury, completing the phase one primary bedroom makeover, setting up the patio for a summer of cookouts and pool parties, taxing kids everywhere and chaperoning a Kindergarten field trip. I indulged in self care in the form of LOTS of yoga classes and finally deciding to get my colors done so I can know how to be more intentional with my wardrobe..
Im doing a virtual color consult with CREATED COLORFUL and I can't wait to find out my results later this month!
WHAT COLORS DO YOU THINK I LOOK BEST IN?? REPLY TO THIS EMAIL AND LET ME KNOW!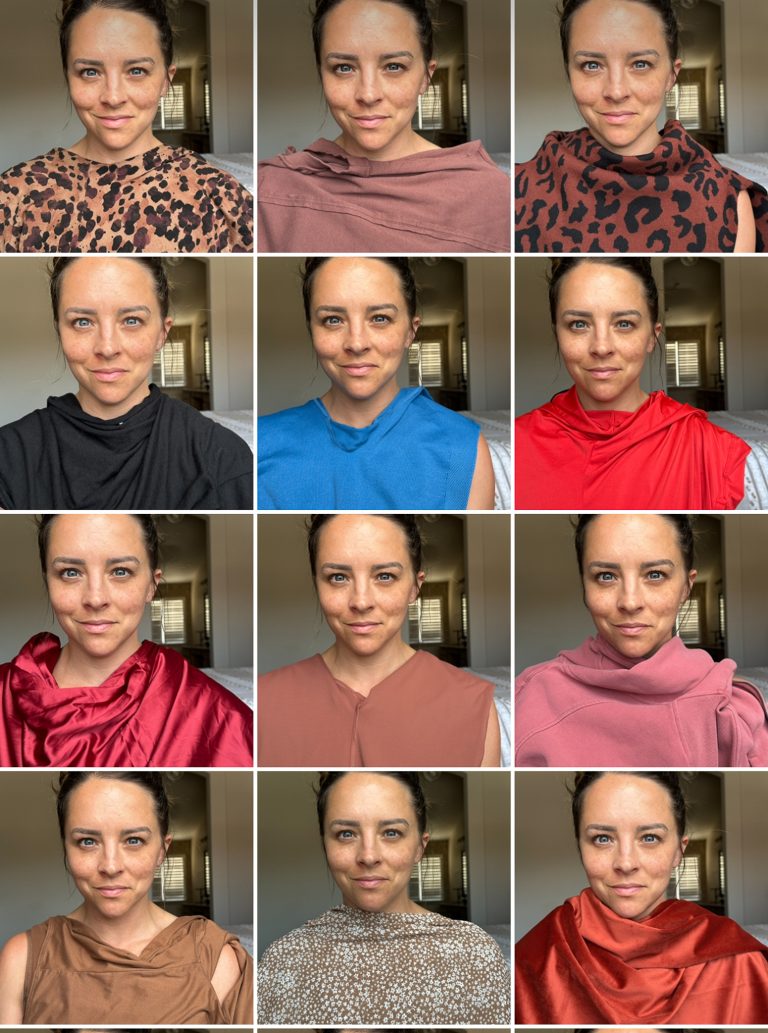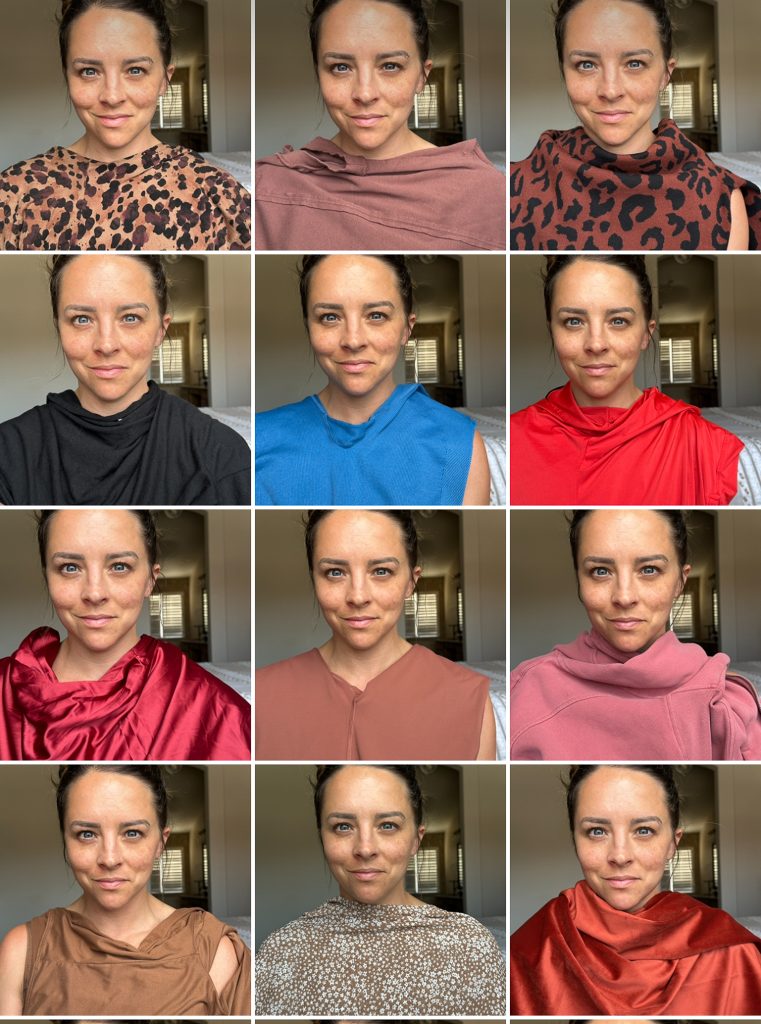 Speaking of consults..
I have a HUGE ANNOUCEMENT related to consults and HAUTE HOUSE LOVE so keep reading to get the full scoop!
---
The HAUTE HACIENDa is almost completely booked for summer!
With the summer months quickly approaching, we only have ONE weekend (4th of July) available at our vacation home until early fall. There are several week days available (M-W or M-Th) if you want to snag a quick getaway for a great price!
If you are thinking about traveling to the Phoenix area this fall or holiday season make sure to book ASAP as the dates are booking fast!.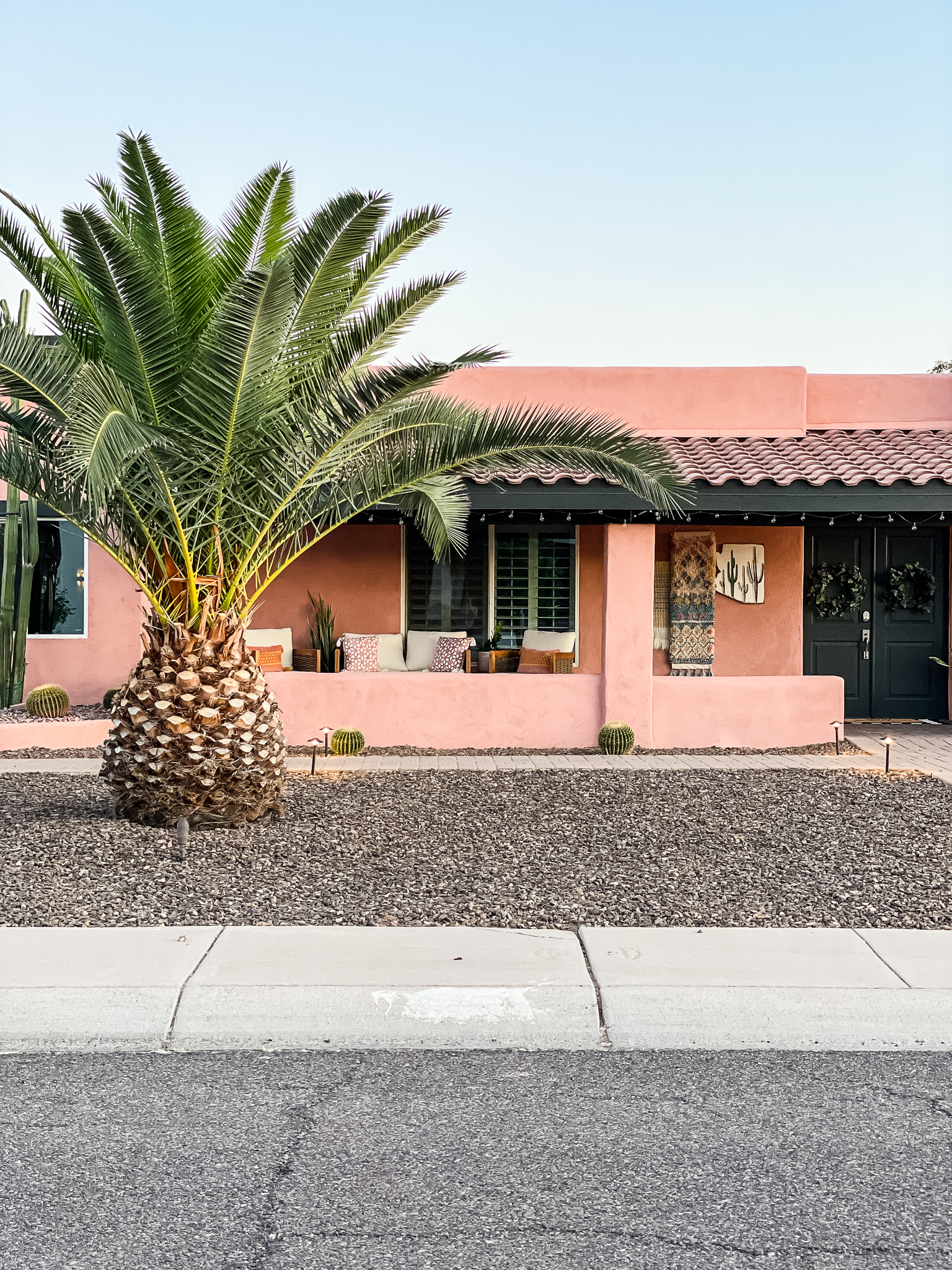 interested in renting our Arizona vacation home?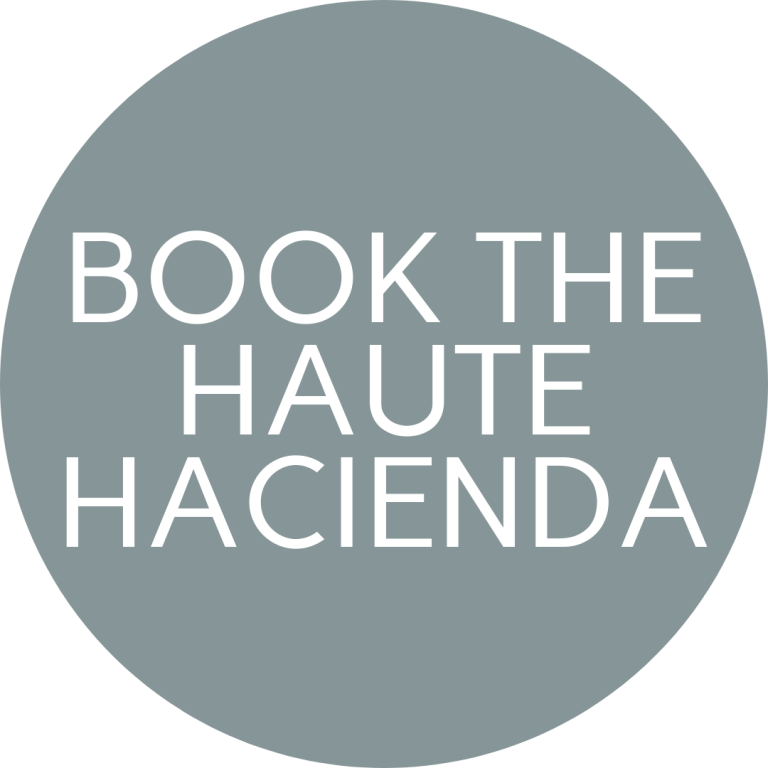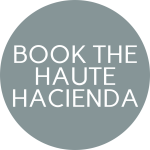 SURPRISE!!
Im NOW OFFERING DESIGN CONSULTATIONS!
After taking nearly a year off from design client work I'm ready to dive back in!
I'm offering a whole new format, with 3 different tiered options, in a 100% virtual format.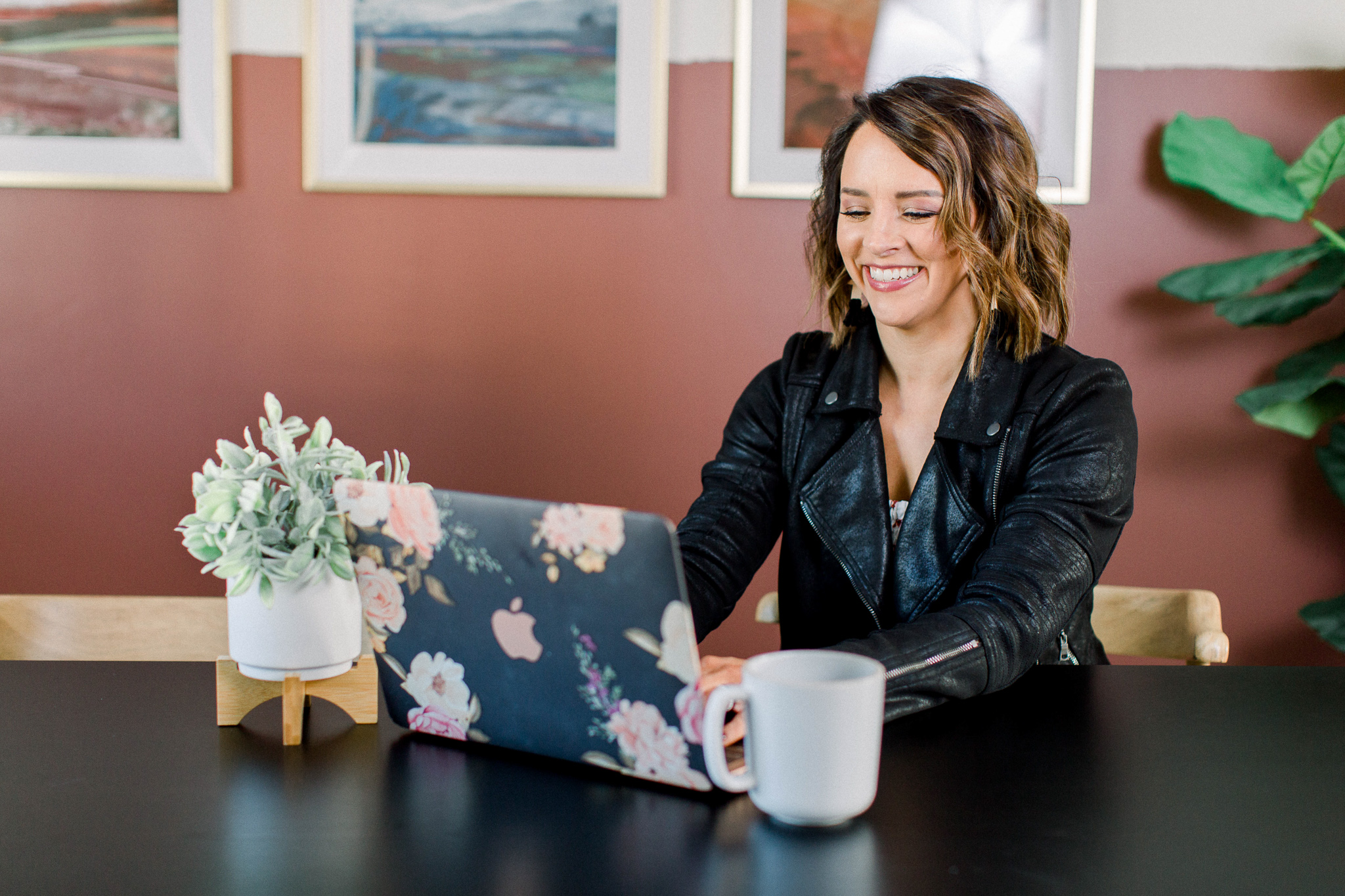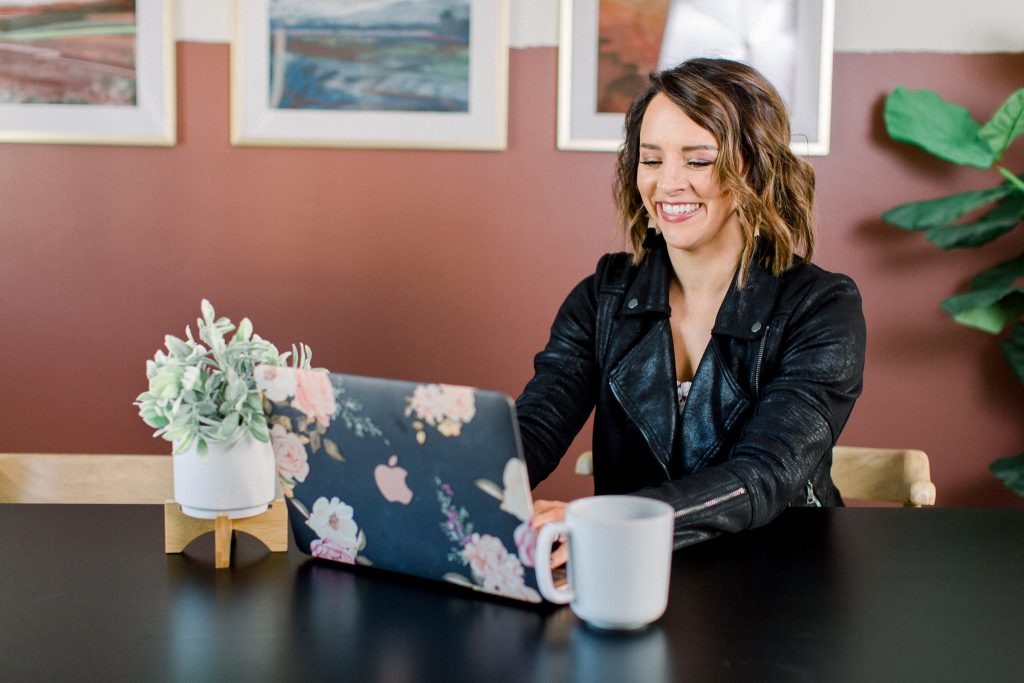 Do you need help solving your most pressing home design dilemmas?
Check out the options below and book your 30 or 60 minute consultation TODAY!!
Learn more about ONE ON ONE consultations by clicking the link below!
Group Consulting is a brand new format where I will guide you through a 2-3 question dilemma in your home.
This session is done in a small group setting of up to 5 people.
Listen to other group member dilemmas and participate in a group Q&A at the end.
Learn more about Group Consultations by clicking the link below!
Have more questions? Reply to this email or stay tuned to social media and the blog over the next few weeks as I share more details!
I hope you are having a great start to your month. Now let's get to the good stuff!


---
APRIL AT HOME –
This past month I completed the phase one primary bedroom makeover and started working on furnishing the back patio for summer pool parties! The last week of the month our landscape crew started demo in the backyard, tearing out old plants and replacing irrigation and rock. We had them fix a drainage issue and lay a paver walkway from the back to the front of our property. I'll share before and after pictures soon!
Next month. We are getting a new roof! I have full trust in the company we are using and can't wait to give you a full review after the work is complete!
This month I shared a genius PAINTING TIP FOR TEXTURED WALLS.
I purchased a new pair of CROSS TRAINERS that are life changing AND CUTE!
Watch MY HUSBANDS REACTION to the primary bedroom makeover.
Then here is the actual PRIMARY BEDROOM REVEAL.
You can follow along with my video content on INSTAGRAM & TIKTOK.
---
let's take a peek aT THIS MONTH'S favorite things!
this post contains affiliate links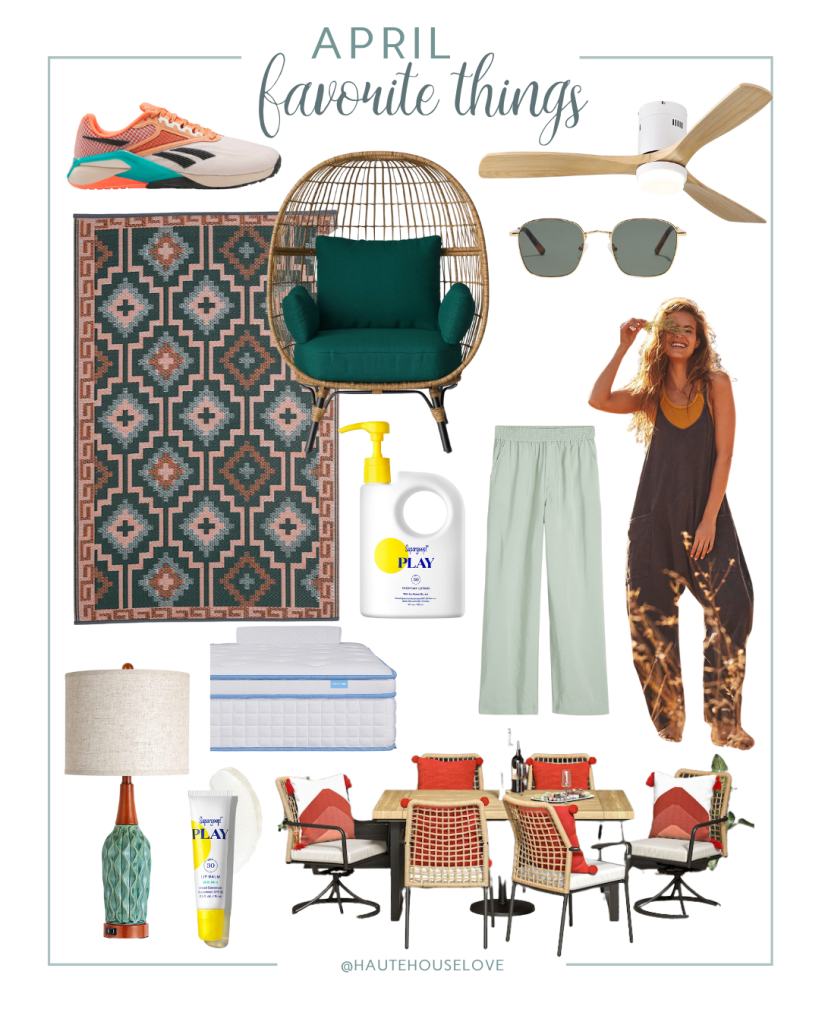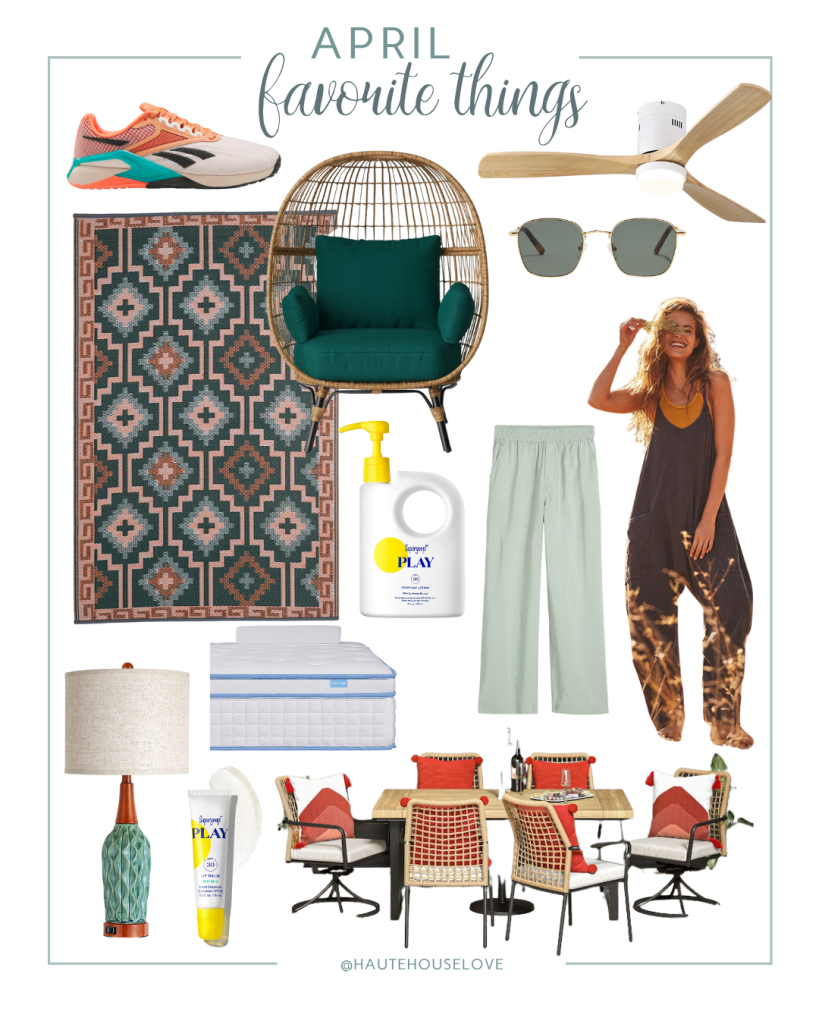 CROSS TRAINERS | EGG CHAIR | CEILING FAN | SUNGLASSES| OUTDOOR RUG | SUNSCREEN | WIDE LEG PANTS | GRAY JUMPSUIT | TABLE LAMP | HYBRID MATTRESS | LIP BALM | PATIO TABLE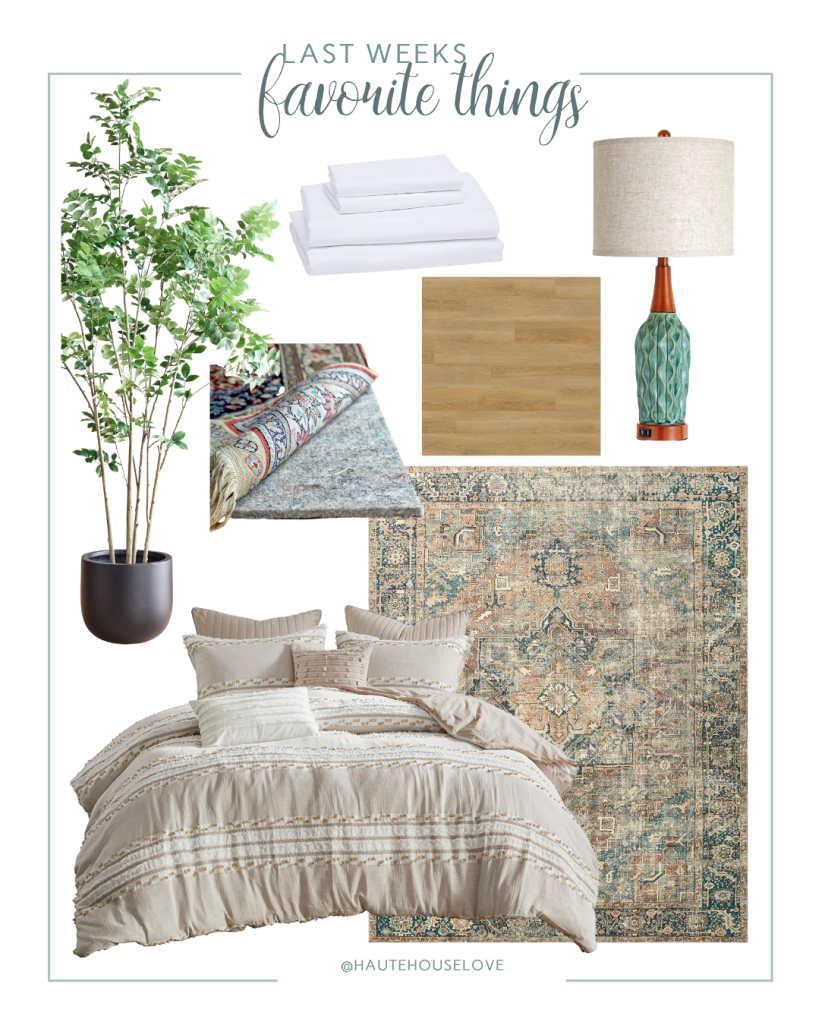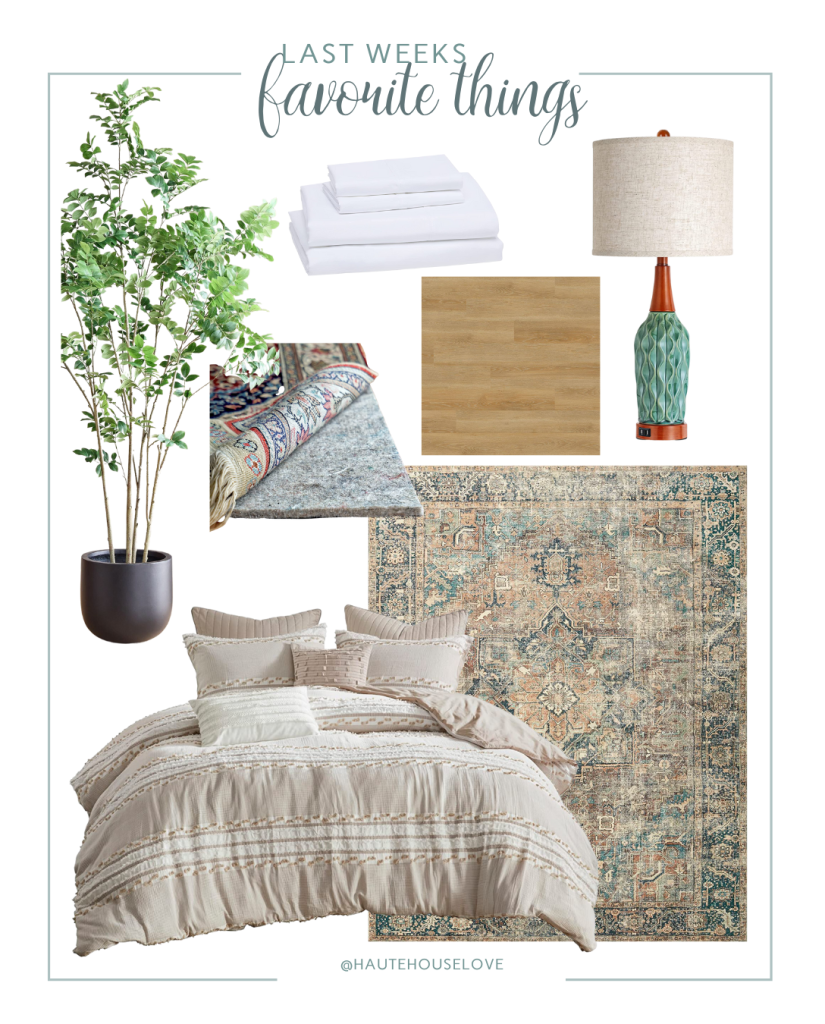 FAUX TREE | SHEET SET | TABLE LAMP | RUG PAD | LVP FLOORING | DUVET COVER | RUG
GRAY JUMPSUIT | COLORFUL EARRINGS | COLOR BLOCK BUTTON UP | CROSS TRAINERS | RIBBED TANK SET | RIBBED WORKOUT SET | SUNGLASSES | GLADIATOR SANDALS | RUST JUMPSUIT | BROWN TANK | SECURITY BACKPACK | WIDE LEG PANTS
favorite things from earlier this month..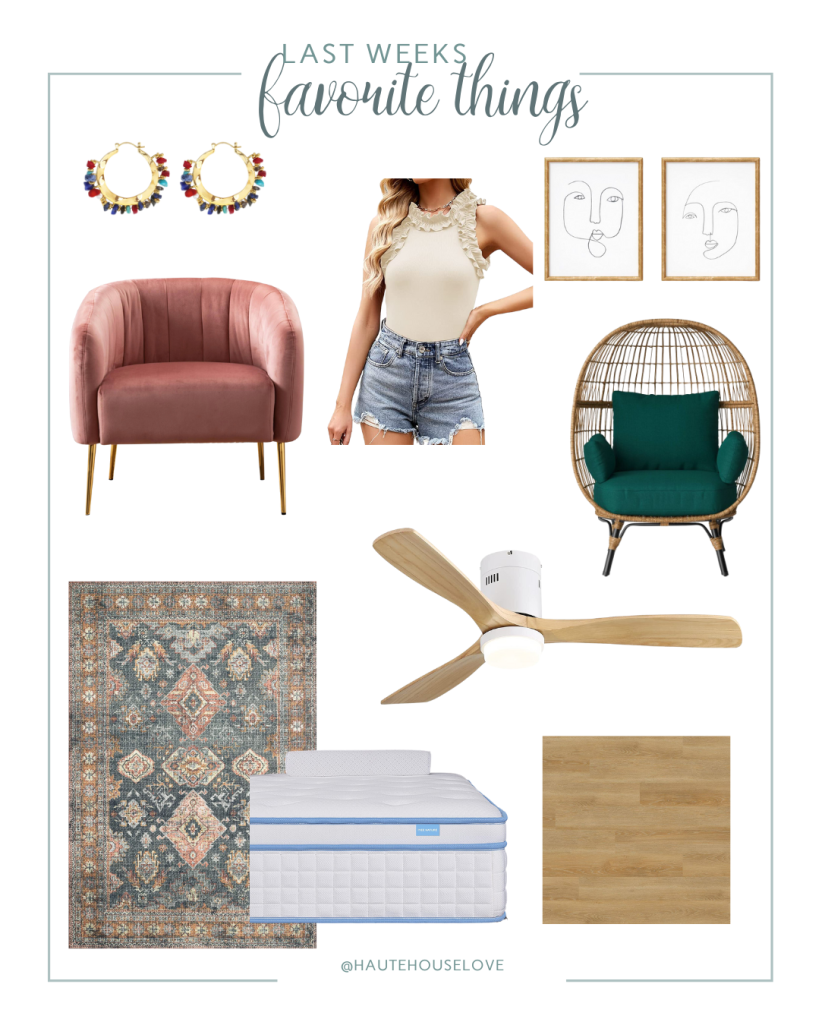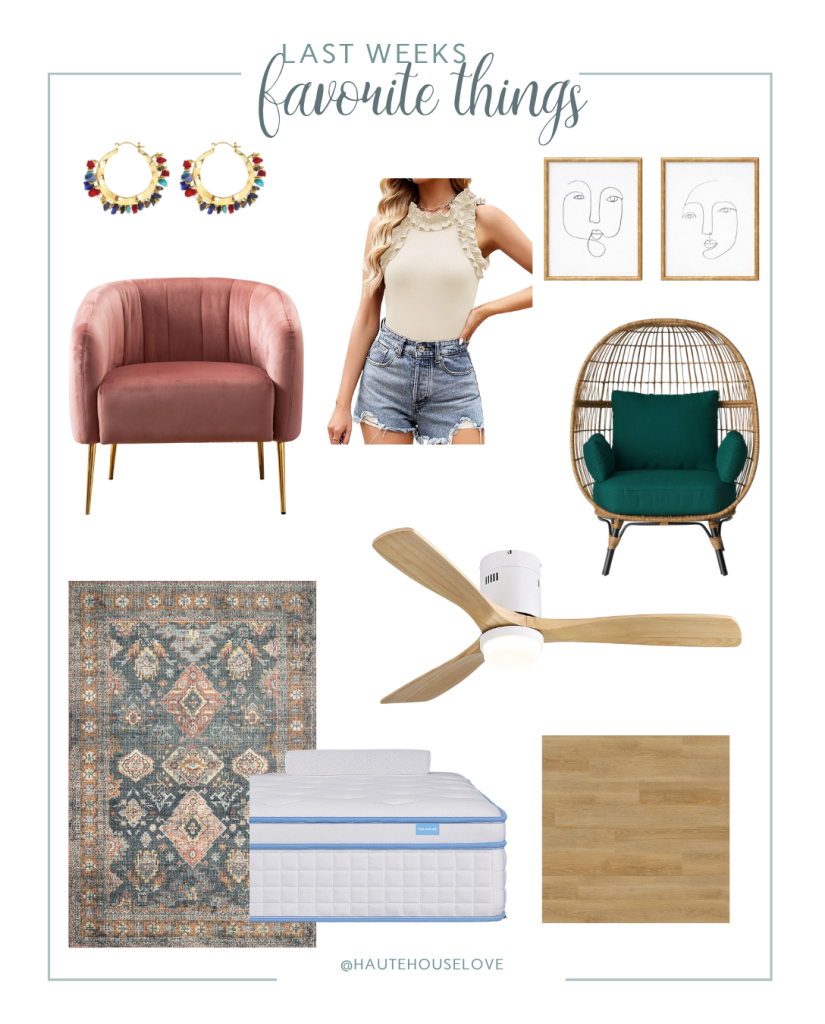 COLORFUL EARRINGS | PINK ACCENT CHAIR | RUFFLE BODYSUIT | FACE ART | EGG CHAIR | MODERN CEILING FAN | HYBRID MATTRESS | GUEST ROOM RUG | LVP FLOORS
PAINT COVERALLS | CROSS TRAINERS | SUNSCREEN | EGG CHAIR | GUEST BEDROOM RUG | BETTER THAN STANLEY CUP | COLOR BLOCK BUTTON UP | HYBRID MATTRESS | LVP FLOORS
BALLOON TEE | OUTDOOR RUG | SUNSCREEN | WIDE LEG PANTS | CROSS TRAINERS | PATIO TABLE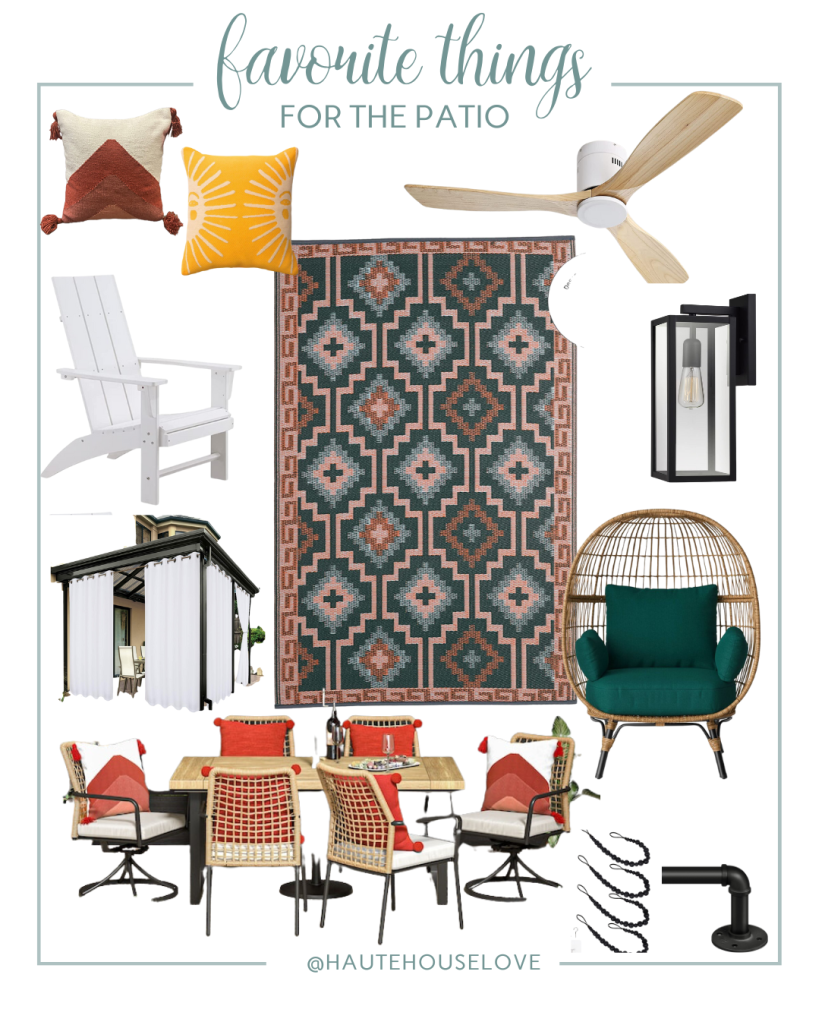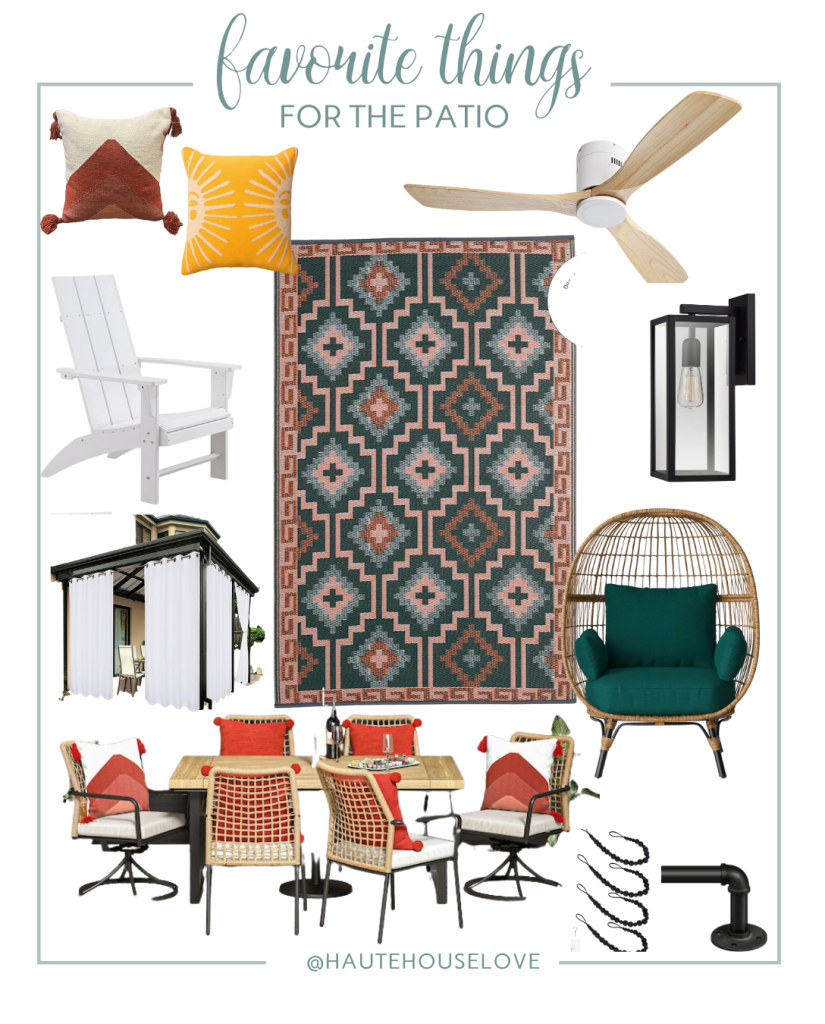 OUTDOOR PILLOW (RUST) | OUTDOOR PILLOW (GOLD) | CEILING FAN | ADIRONDACK CHAIRS | OUTDOOR RUG | OUTDOOR SCONCE | PATIO CURTAINS | EGG CHAIR | PATIO TABLE | CURTAIN TIE BACKS | CURTAIN ROD
FAUX PLANT | ORB CHANDELIER | CURTAIN ROD | RUST CURTAINS | NAVY DRESSER | BEDFRAME | DUVET COVER | NIGHTSTAND | TABLE LAMP | RUG
---
---