How To: Start an E-Design Business
Hi! I'm Kera! I'm an Interior Stylist, E-Designer & DIY Blogger.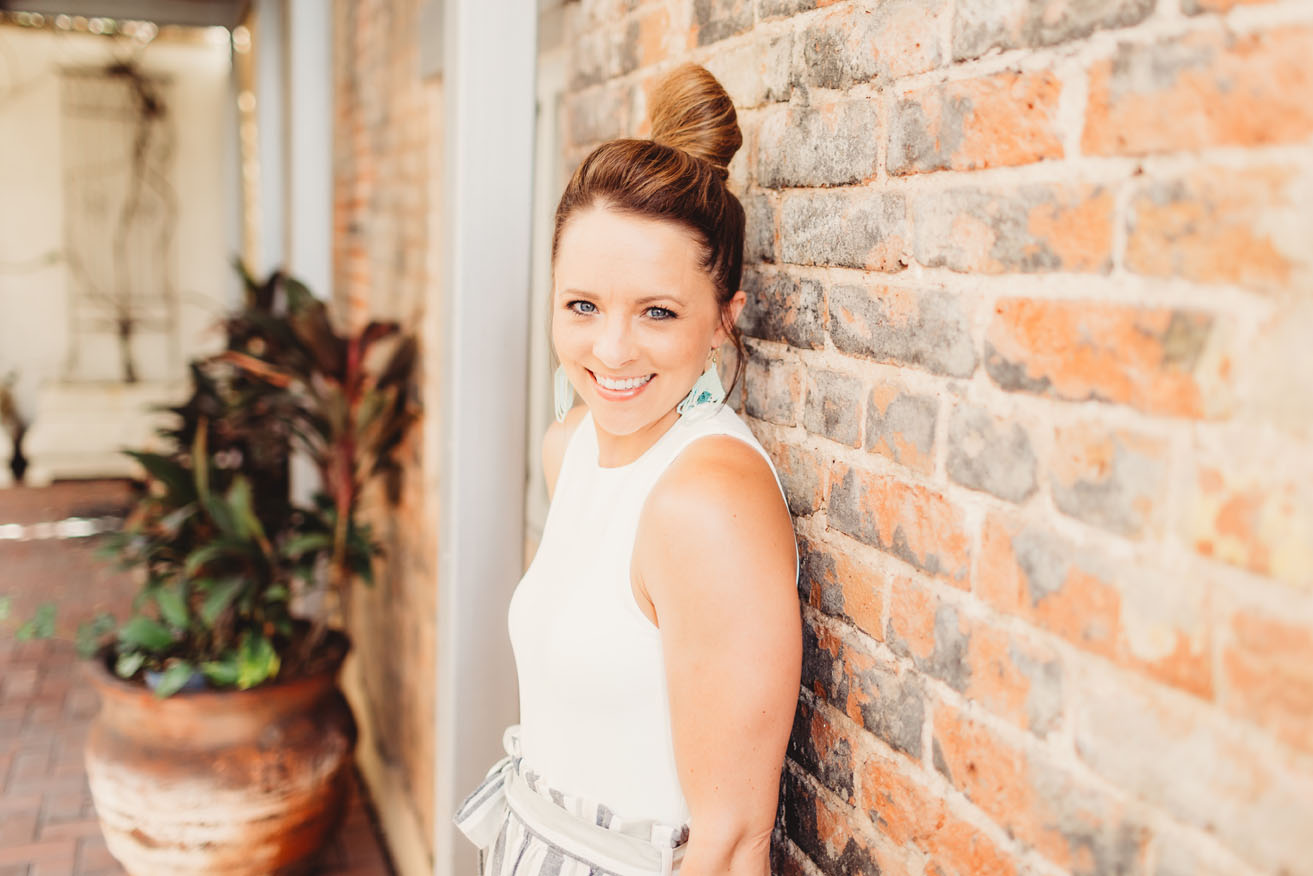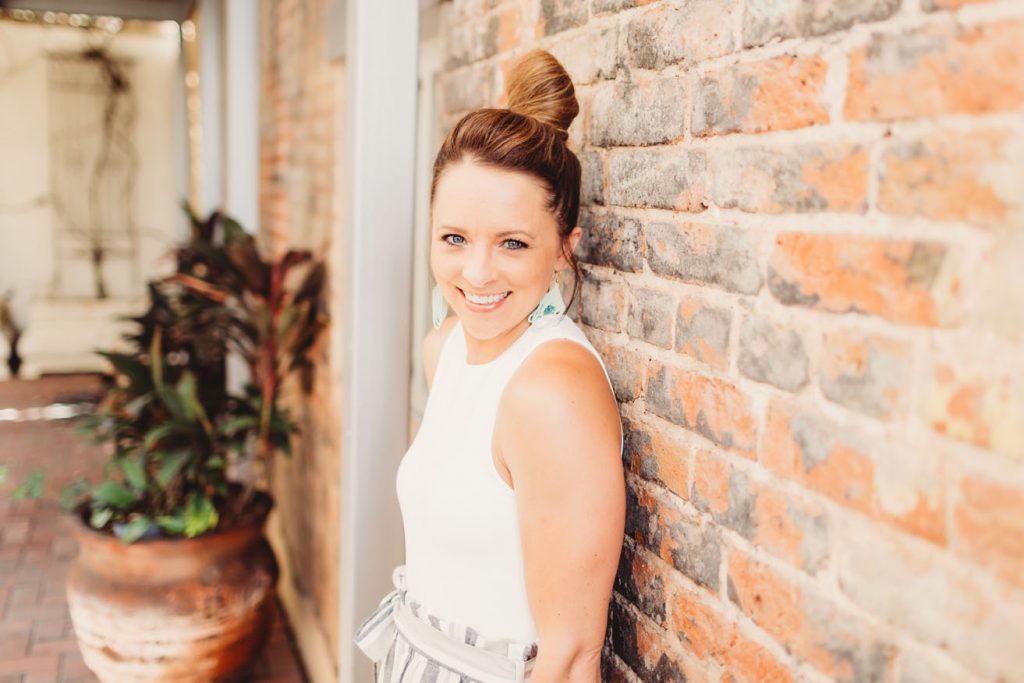 When I started my business almost 2 years ago I had NO idea what I was getting into but I was determined to learn everything I could to be successful. I recently spoke on a panel at the 2020 Heart of Haven Conference with 3 of my blogging buddies talking about how we started side hustles that are a natural extension to our Blogging Platform. I personally shared ALL of my tips and tricks to starting a self taught home design business from the ground up. This blog post will cover ALL of my talking points from the conference and then some! If you have further questions after reading this I would be happy to set up a consultation call to help with next steps. If you are interested please feel free to email me at hautehouselove@yahoo.com.
If you enjoy my content I would love to connect with you over on Instagram where I share easy woodworking projects, home inspiration and real time DIY.
The Blogging Side Hustle Panel at the 2020 Heart of Haven Conference also included: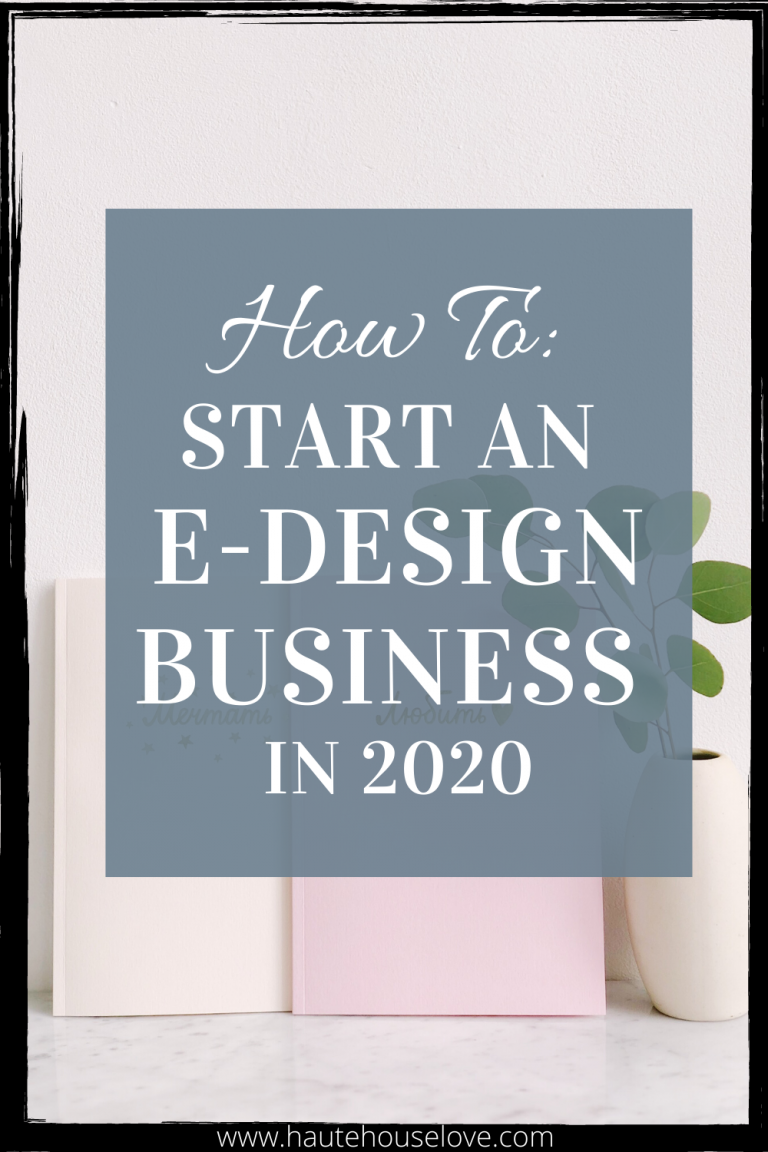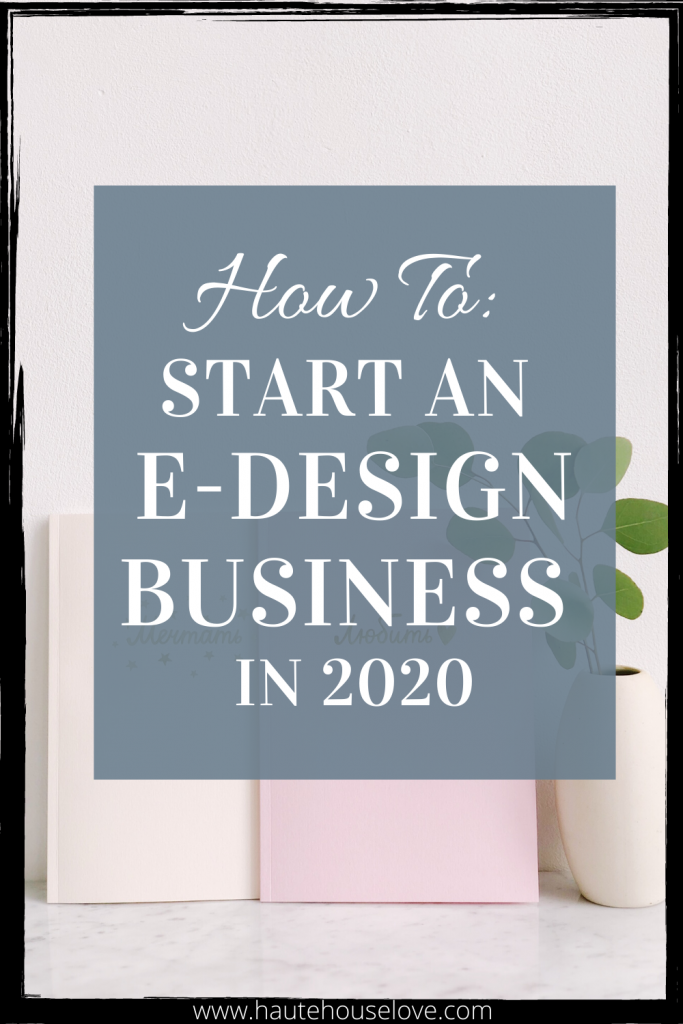 Haute House Love came about in late 2018 after we spent 16+ months building our dream home — a home that I single-handedly designed every square inch of! (My husband helped, of course, but he cared more about what was inside of the walls and let me have free rein of the pretty stuff). When we moved in I started my HHL Instagram page as a way to document our home in order to keep my home décor passion separate from my family life. My husband saw the fire that design lit up in me and encouraged me to take on a few "clients" on a consultation/home styling basis. My business took off in early 2019 and with the help of my growing IG following, I was able to add e-design to the mix as well. 
Before all of this, I had spent the past 7+ years as a stay-at-home mom raising 4 small kids. So for the first time in a LOT of years, I felt like I had something for me again. It reignited my spirit and I'm ever so grateful that I chose to take the leap of faith!
Now that you know a little about me, let's jump into the steps you can take to start your own E-design business.
This post contains affiliate links. Purchasing through these links may give me a small commission at no extra cost to you! Thank you for supporting Haute House Love.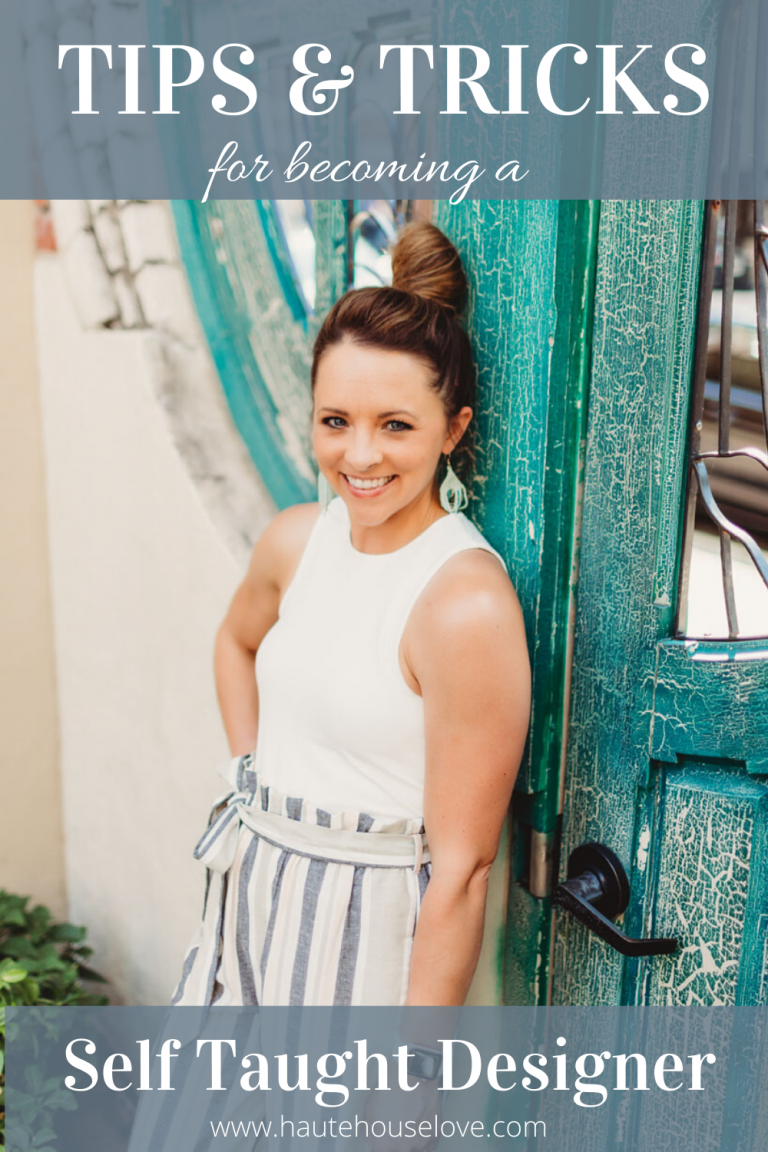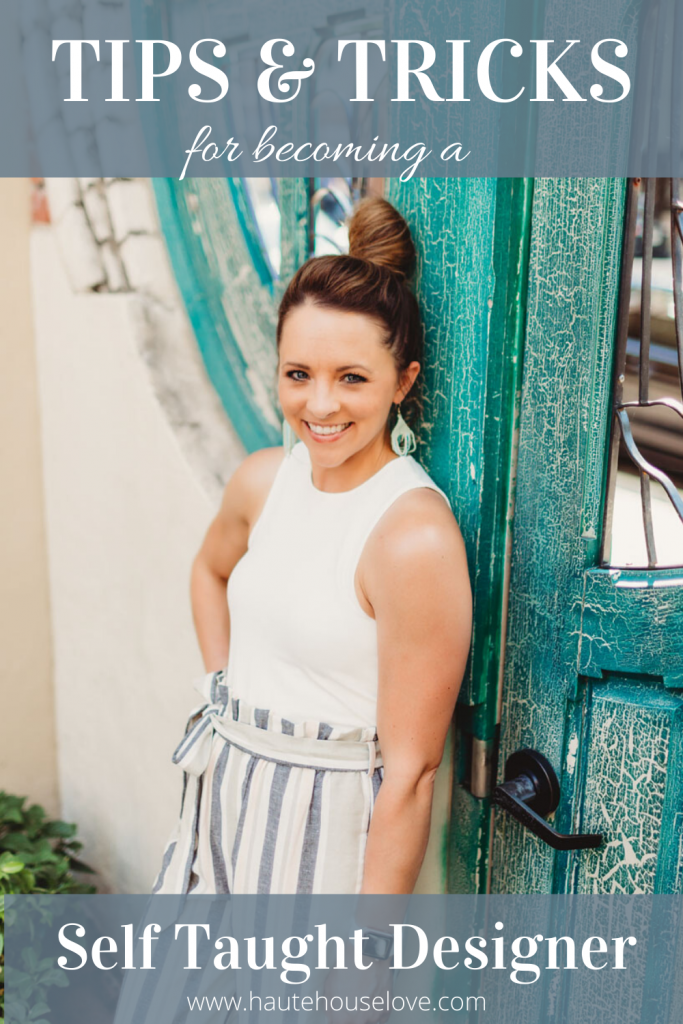 Before we get started I feel that it is incredibly important to state that I did NOT go to school for Interior Design. Therefore I can not officially or ethically call myself an Interior Designer. Luckily, there are a wealth of alternative words and phrases that can be used to describe this profession. If you are in the same boat I would strongly encourage you to choose a title such as Interior Decorator, Interior Stylist or Home Consultant to avoid any conflict or gray area.
Steps to Getting Started:
Services – Before starting to take on clients one of the very first things to be determined is the type of services that you will offer. These can range greatly and may highlight different areas of expertise. Once the services are determined it is important to define each service and list out what each one includes. I started out with three services and later added a fourth. If you need further inspiration you can see my list of services and how I define them HERE.
Pricing – Determining pricing is by far the trickiest part of getting started. Whether you choose to charge an hourly rate or offer packages, there is a fine balance between being competitively priced among peers, not wanting to be too expensive for a newbie, and making sure your rates are worth the time you spend on a project. I spent a lot of time researching pricing in my area followed by asking a specific range of friends for their opinion on my pricing structure. Over time my service pricing has changed based on experience and demand so keep in mind that the prices you start out with are not the prices you need to keep forever. Small business is ever evolving and growing and your pricing structure should reflect that.
Start a Social Media Page – Instagram was the first social media move for my design business. I chose that avenue to showcase my home via photos and my abilities via stories. Instagram has helped me to make a name for myself and to build rapport with potential clients. My home quickly became my online portfolio and encompasses about 90% of the content I choose to share on Instagram. I will occasionally chat about a design project that Im working on but personally prefer to keep the majority of those projects private out of respect for my paying clients.
Free Consultations/Startup Discounts – When I first started out I phoned a few friends and asked them if I could consult with them about an area in their home that they were wanting to redecorate/renovate. I offered this service for free for the first 5 friends who were willing to help me out in exchange for a positive review on my social media channels and any referral they were able to send my way. For the first few months I also offered a % discount for home styling/mood board clients to help build my portfolio.
Open a Separate Bank Account – As a small business owner it is so SO important to keep business expenses separate from personal expenses. I strongly suggest opening a separate bank account, using a separate debit/credit card and creating a new email address for payment options such as Paypal and Venmo. With some tax structures, this separation is mandatory. Use these new accounts for business expenses only. It is ok to transfer money between personal and business accounts in order to pay for expenses out of the business account. This separation will also make organizing and compiling easy come tax time.
Fill out Business Forms – These forms will vary by state, so be sure to research your individual area and state of residence and/or check in with your personal licensed tax preparer for assistance. Some states may require a license for the services that you are providing. I personally have an LLC on file that is treated as an S-Corporation for tax purposes. This structure is the most efficient structure for my personal situation. A good accountant will always pay for themselves many times over, so if you aren't sure what structures are best for you, definitely seek the advice of a licensed professional.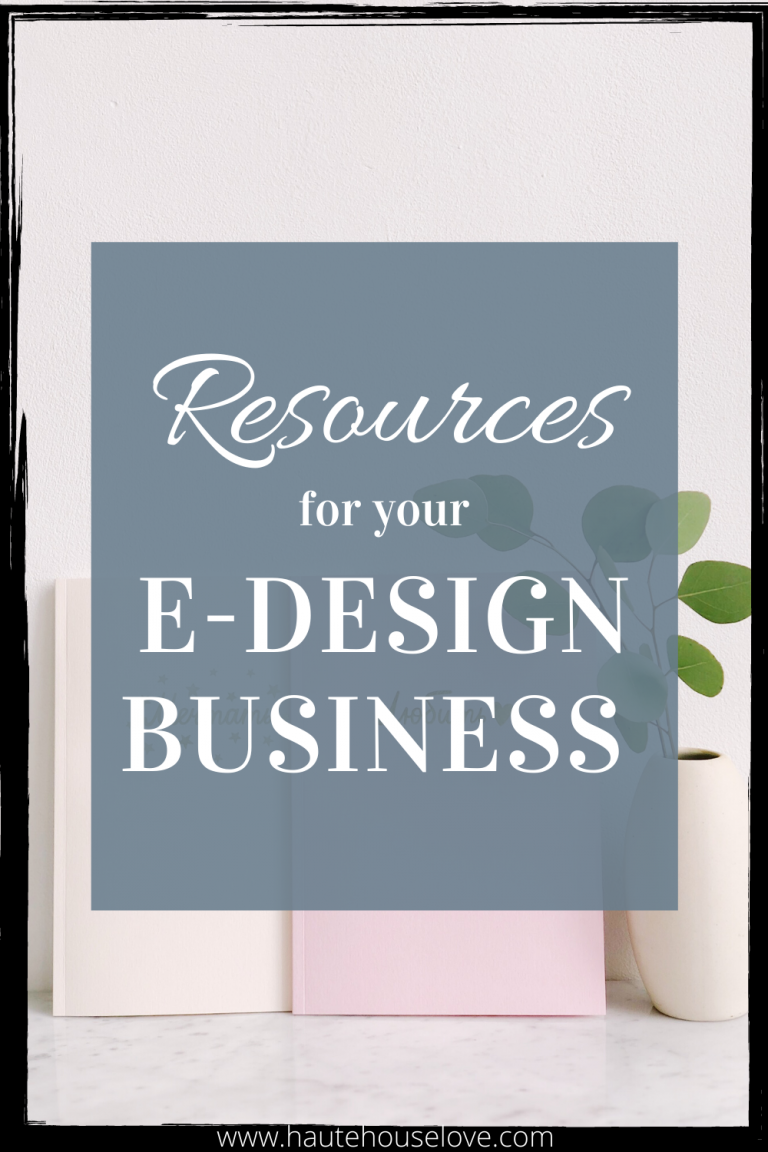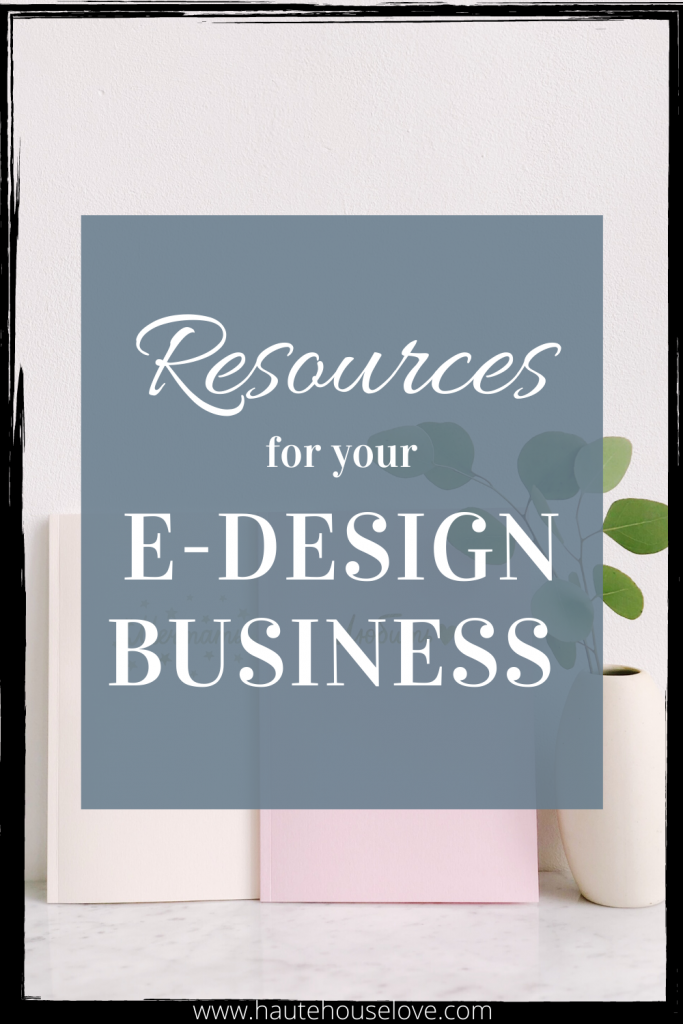 Resources for Getting Started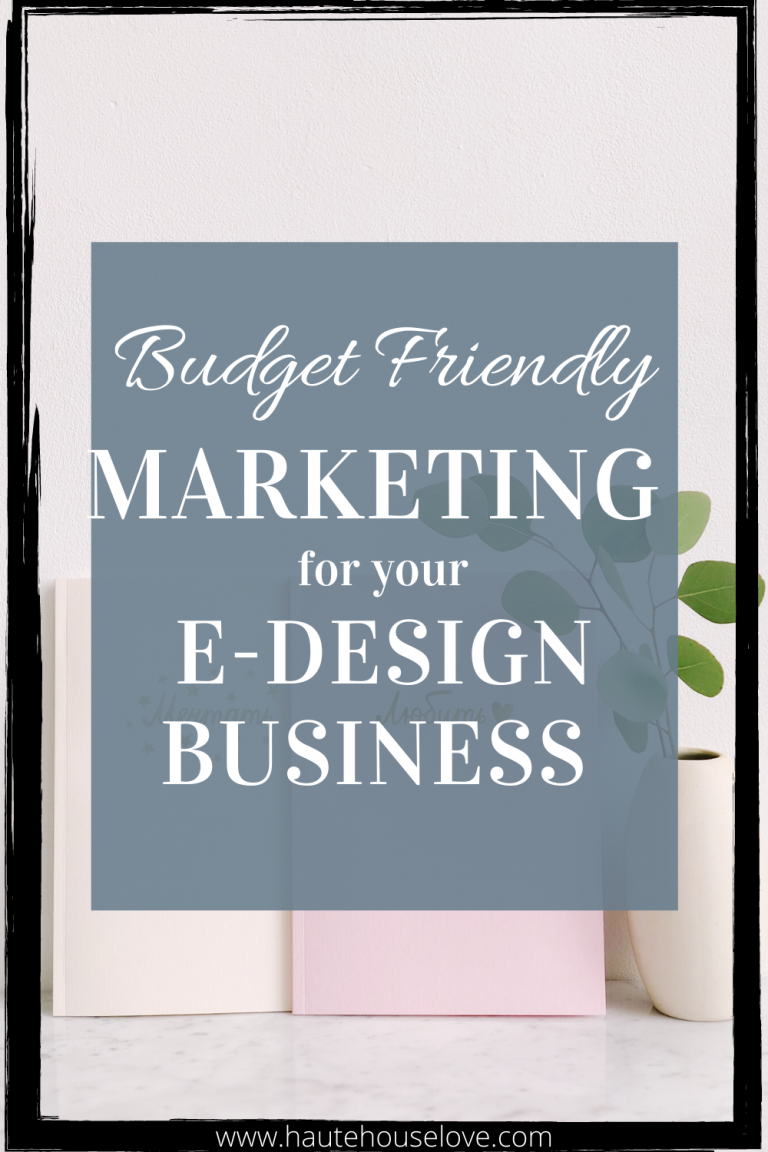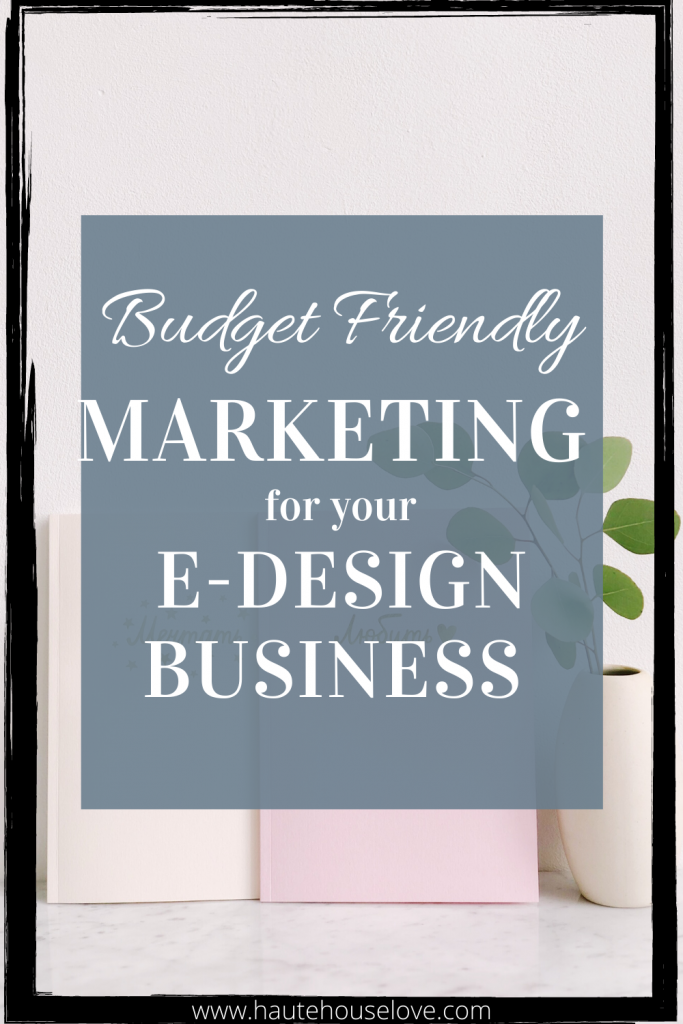 Budget-Friendly Marketing
BE PRESENT on Social Media – As a stay at home mom this was huge for me at the beginning. I was trying to build a business while raising babies so a consistent presence was key for me as I was starting out. If you are looking to build a loyal following or to join one of the affiliate companies that I mentioned above you will want to make consistent/organic growth one of your goals on social media. There are a TON of helpful resources out there (check Pinterest) that teach Instagram best practices.
Start a Website – I honestly did not start this right away because I didn't understand the value at first. When I went to my first Haven Conference (a conference for DIY/home decor influencers and bloggers) last year that I truly learned how important it is to have a home for my brand and a visual space that I OWNED to keep all of my content/client work organized. I have also recently been able to utilize my website as a platform for my blog where I create DIY tutorials and home inspiration content.
Use Your Home as Your Portfolio – When starting from scratch your home may be all you have to showcase your talent. I would highly recommend hiring a professional photographer and allow them to come into your home to photograph it. This will give you plenty of content to showcase on social media or a website. Then as you do new projects around the house you can share those as well.
Ask Friends/Clients for Reviews and Referrals – In small business there is no better advertising than word of mouth. Remember those friends that you did free consulting with at the beginning? Ask them to send you referrals as people comment on their newly designed room that you helped talk them through. Also, when you complete a client project go back to Wufoo and send the client a survey. At the end of the survey ask them for a written review of your work that you could potentially use on your website/social channels.
Participate/Speak at Local Home/Vendor Events – I don't do a ton of these but occasionally a local realtor will reach out asking if I will do a booth at a Home Show type event or speak to there group of realtors on the best paint colors for a home. At one time I was asked to speak to a group of moms about how to keep your house beautiful while also functional and kid friendly. Any opportunity to talk about what you do with a large group of people is huge for a small business.
Donate Services to Fundraising Events/Silent Auctions – about 2-3 times a year ill get asked to donate a service to a silent auction. Donating a package or select number of design hours is a great way to get your name out there!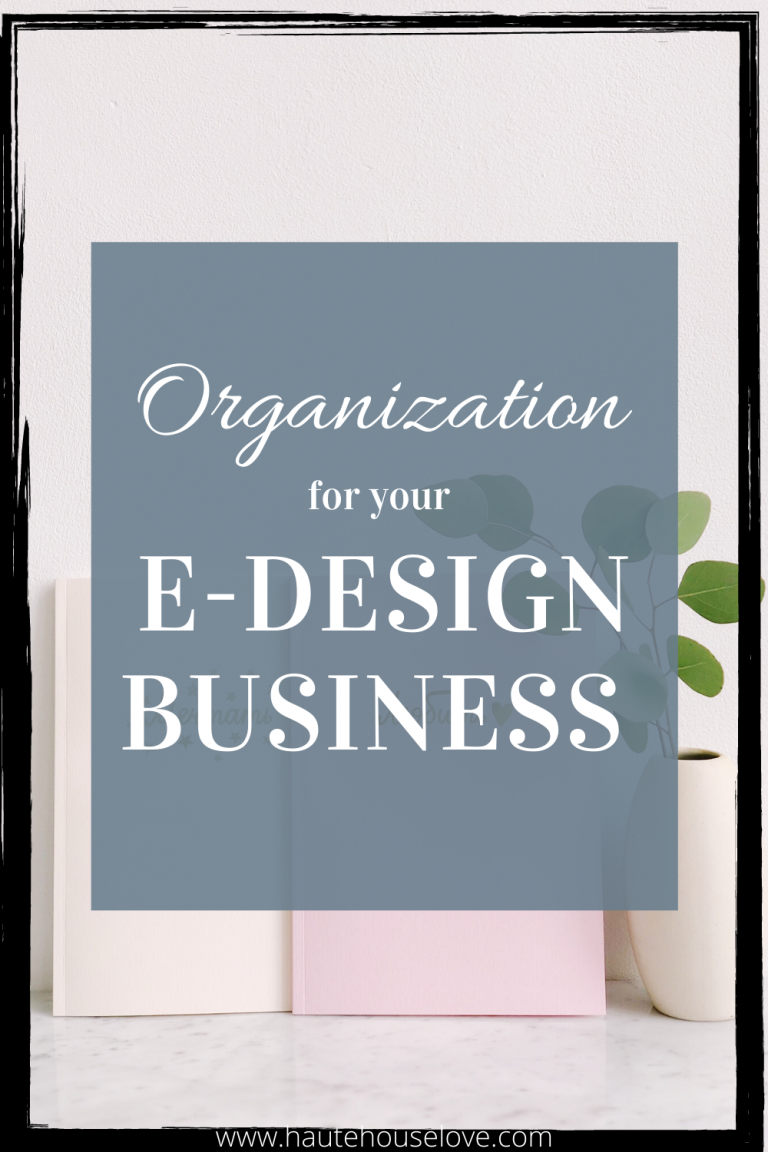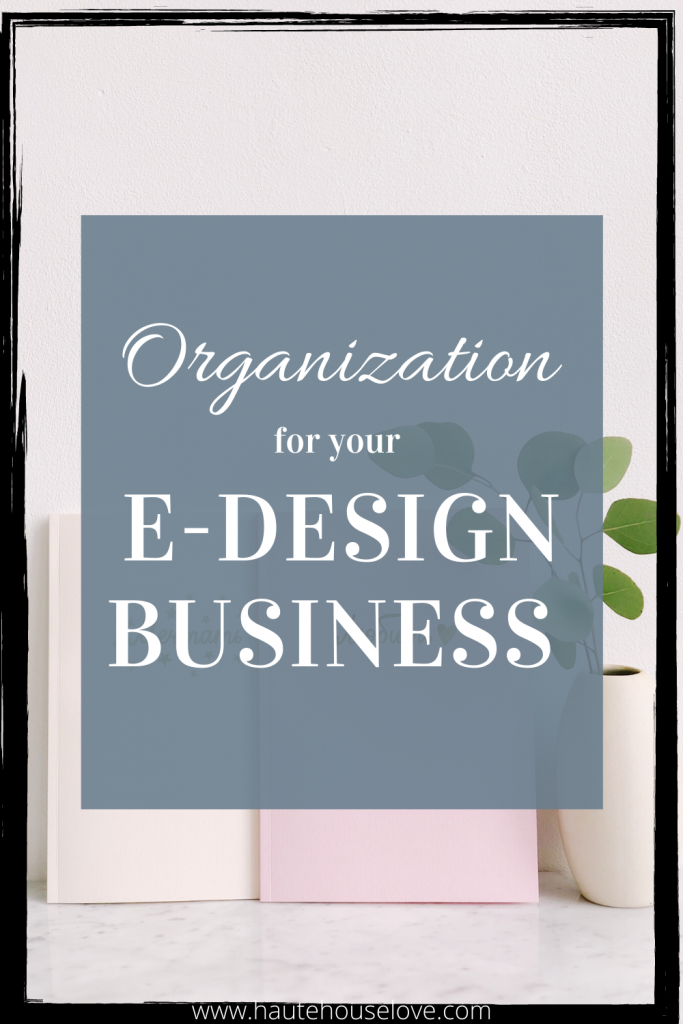 Staying Organized
Utilize a Planner – This may seem obvious but I can't emphasize enough the importance of keeping a detailed calendar. Whether you prefer digital or the old fashion method of pen and paper, keeping appointments and daily details in one place will set you up for success.
Create a Work Schedule – Before I started my own business I was a stay at home mom. This didn't change just because I "went back to work." In order to balance my work/family life it was imperative for me to create set working hours for myself.
Keep Track of Billable Hours – I keep a folder for each client that includes their name, initial design questionnaire and separate sheets for notes and billable hours. If you will be charging hourly for your services I can NOT emphasize enough how important it is to keep a very specific log of client working hours – from the time frame worked to what specifically was worked on during that time. Most of my clients trust me when I simply give them a total number of hours worked, but occasionally I will have someone who wants to see the exact specifics of my work — meaning the hour by hour details. I tend to bill in 15 minute increments and I won't let myself work on a project unless I know I can devote at least an hour of undivided attention. When im at a stopping point with a project I immediately log the hours work. I typically bill my clients at the end of each month or at the completion of a project, whichever comes first.
Maintain Personal/Business Separation – My husband is a licensed tax accountant and this is the number ONE thing he emphasizes when it comes to business spending. From both a tax and legal standpoint, it is important to show complete separation between you and the business in the event of a lawsuit or audit.
Keep Travel Log – When it comes to tax time, having a detailed log of work travel is essential when trying to maximize your deductions on your tax return. One of the biggest deductions that a self-employed person usually has is the mileage deduction. In the event of an audit, the mileage log is always asked for to substantiate your automobile expenses. I take quick travel notes in my planner then use an excel spreadsheet to document client name, to/from address, and round trip miles traveled. I keep this document updated monthly. This may seem cumbersome, but it will be well worth it if an audit ever comes!
Track Business Expenses/Receipts – I prefer to use one debit/credit card for all of my business expenses so I have an online record in one place. I also keep physical receipts organized in monthly folders, because in the event of an audit, an auditor will always ask for physical receipts to substantiate expenses claimed on the tax return. I use Paypal/Venmo to collect payments from clients but I rarely expense things from these accounts just to keep things easier and more streamlined. Instead, I transfer money from these accounts to my business bank account to pay for expenses. My accountant uses Quickbooks to do all of my reconciling on a monthly basis so I always know where my business is sitting at any given time. Whether it's Quickbooks, or simple Excel spreadsheets, it's important to utilize something to track your progress so that you can make efficient managerial decisions based on how the numbers look.
Thank you for stopping by to learn my tips and tricks to becoming a self-taught E-Designer! I hope you have learned some helpful information to kickstart your business! If you have any further questions please feel free to reach out to me by leaving a comment, sending an email, or contacting me on Instagram!