diy guest bedroom Makeover on a budget
plus the BEST HYBRID mattress!
It has officially been 8 months since we uprooted our family and made a cross country move to sunny Arizona.
Wow! I can hardly believe it has already been that long!
We purchased a cosmetic fixer upper in Northwest Phoenix and over the past 8 months I have slowly been giving each space a phase one transformation with NEW FLOORING, paint and basic necessary furnishings.
We sold our previous home in Indiana fully furnished, so starting over from scratch has been quite a whirlwind!
Since we now live in a highly desirable vacation spot, I knew I needed to make a guest bedroom a top priority! We have already had quite the number of out of state visitors!
The guest bedroom before
Here are a few guest bedroom photos from when we purchased our home: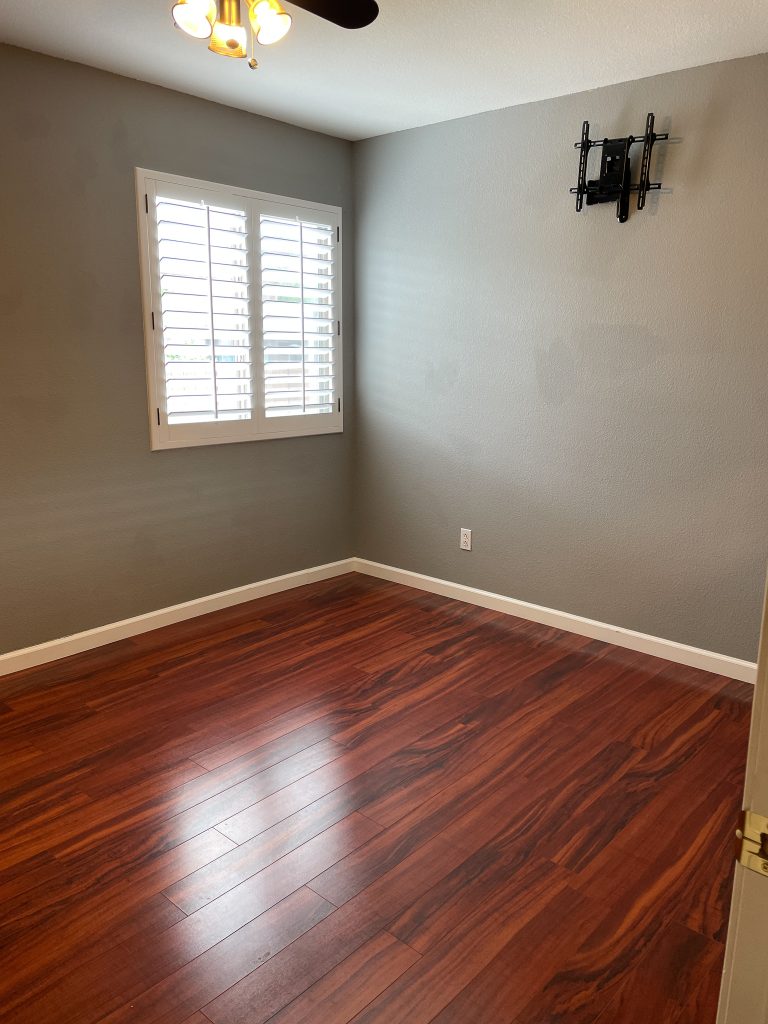 A lot has happened in this space since these photos were taken in August of 2022.
My oldest son first declared it as his bedroom, then we had the GREAT MOLD TRAGEDY in the fall of 2022. Shortly after the holidays I started phase one makeovers in the upstairs bedrooms (literally to just make them functional), followed by oldest son deciding he wanted to move to a bedroom with a bigger closet and less morning sun so he could sleep in more.
So this space defaulted to becoming the guest room!
guest bedroom paint color
I ripped out all of the trim and baseboards before we even moved into the home, knowing that new floors were only a few short months away.
It was easiest to go ahead start with wall paint since the floors were being replaced anyway. I chose the color Light Beige by Dunn Edwards, which is a creamy warm white.
I always get asked ton of painting tips when I paint a room, and here is one I had never been asked before while painting this bedroom!
Want more painting tips: Check out this post!
installing floors in the guest room
Next came the new floors. I have been tearing out the old cheery laminate one room at a time and replacing it with Dura Decor Rigid Core Click and Lock LVP flooring in the color Golden Glow. It is a beautiful, modern LVP flooring that is completely DIY friendly. You can read my full review of the product HERE.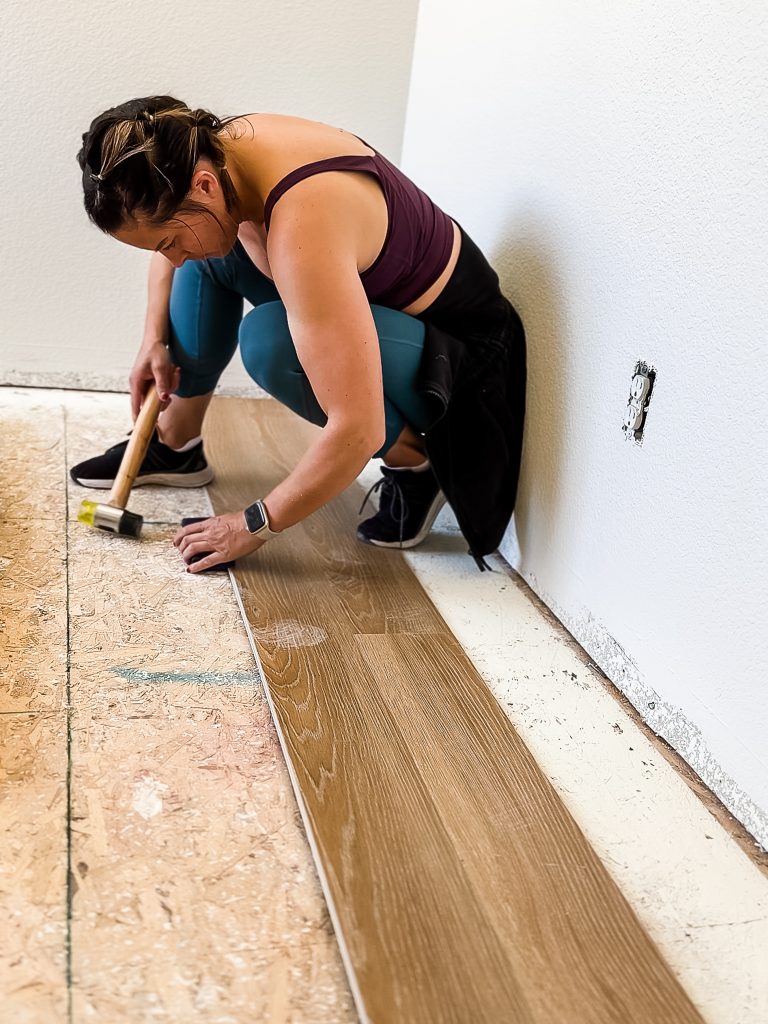 For the phase one portion of this makeover I chose to skip reinstalling baseboards and trim for now and jump right into furnishing the space!
I know this is VERY out of order (trust me, I get this question ALL the time) but my goal for now is to get paint and floors and basic furnishings in each space to make it functional.
Trim work makes a room look finished, but does not contribute to the functionality. Therefore, it will be the first portion of phase 2 of this room.
Budget friendly Guest Bedroom furniture
I wanted this space to be light, airy and minimal, with pops of fun color that my style is known for. I also wanted it to be a super cozy place to sleep.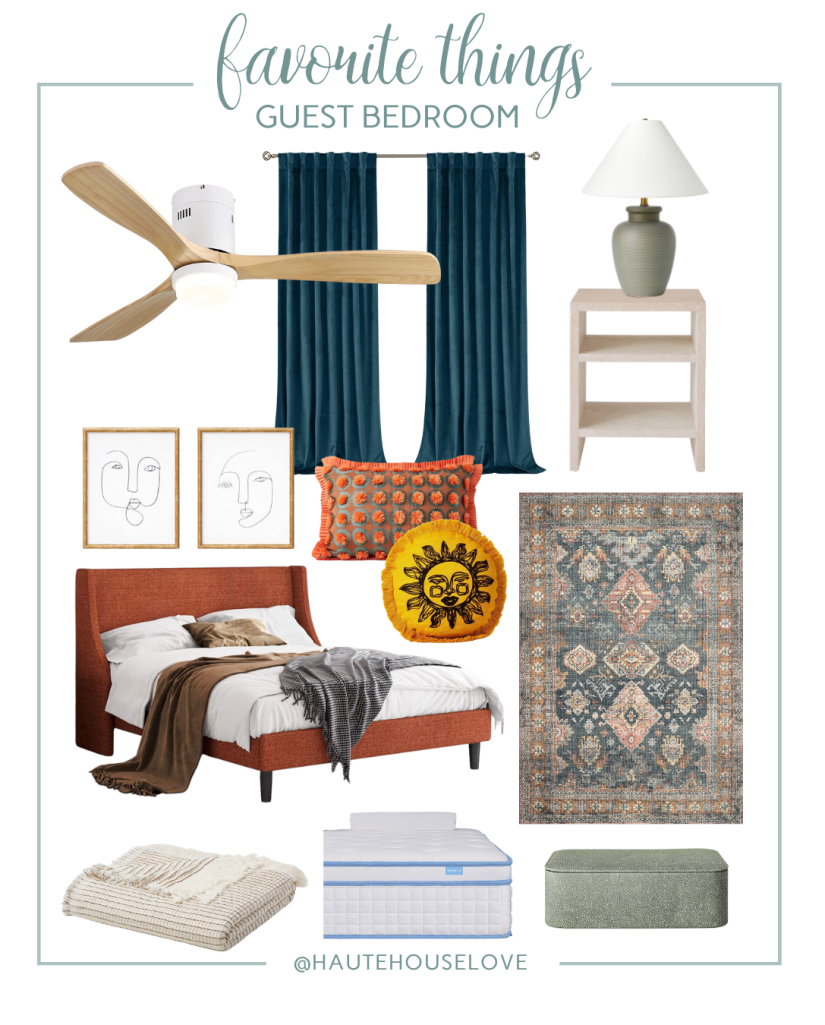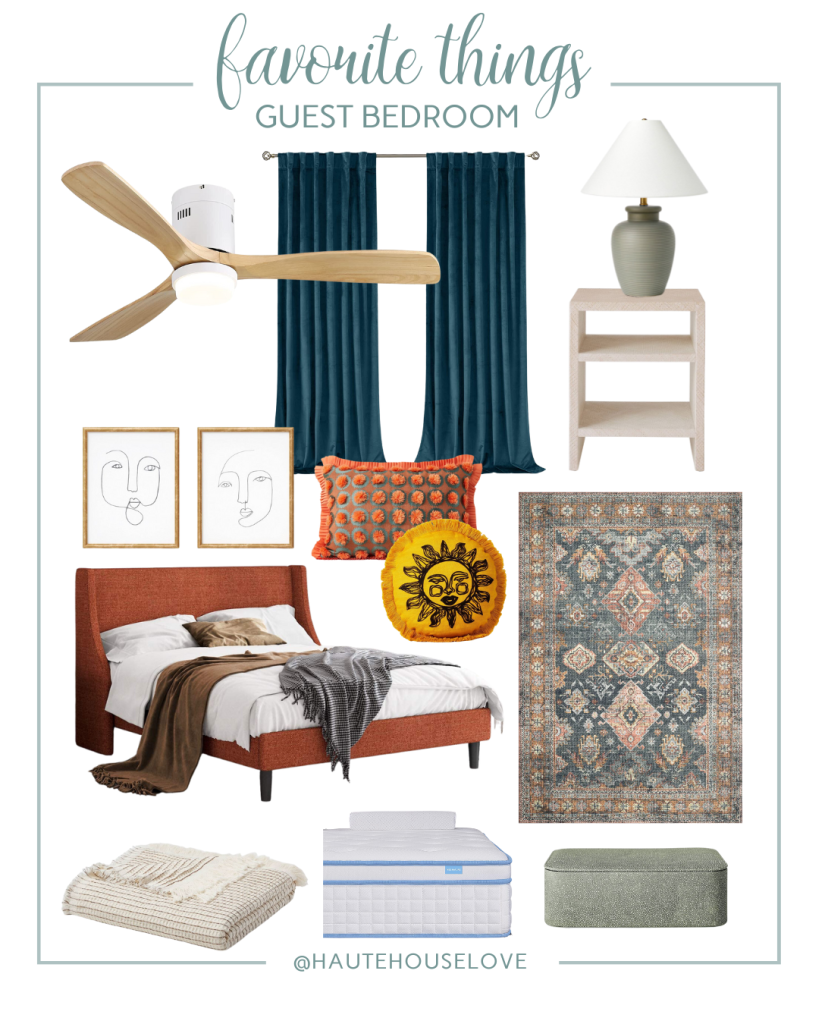 Pulling together the elements of a space come very easily to me. I shopped a ton of budget friendly options from Amazon and Target to make this space come together. Find them by clicking the links below!
Ceiling Fan | Curtains | Lamp | Nightstand | Face Art | Orange Pillow | Sunshine Pillow | Rug | Bed | Throw Blanket | Mattress | Accessory Box | Bedding
DIY Guest Room makeover cost
My budget for the phase one guest room makeover was around $1500 fully furnished.. I always suggest splurging on a few key items (like cozy bedding and a good quality mattress) so a good part of my budget went there.
PAINT – Used leftover paint from another room ($0)
FLOORING – I have had flooring for our whole home since last fall so this wasn't a cost I had to consider for this makeover budget. The flooring that I used in this space runs just $4 per square foot. ($0)
CEILING FAN – I have used this one in all of our bedroom makeovers so far. Its super easy to install. ($189 – currently has a $20 off coupon as well))
CURTAINS & ROD – I have been loving these velvet curtains lately! ($52 for a set of 2 & $30 for the rod)
TABLE LAMP – Grabbed this on a whim because I had guests coming the next day. But after using it for a few weeks I really love the dimming feature! ($80)
NIGHTSTAND – Another last minute purchase but its perfect for a space that you don't want collect clutter. (Currently on sale for $117)
FACE ART – I'm a sucker for face art. Love the modern look of these! ($45 for set of 2)
ORANGE & SUNSHINE THROW PILLOWS – I love throw pillows with personality & that blend with a space without being super matchy matchy ($20 each)
BEDROOM RUG & PAD – This flat weave rug is so soft and the price is amazing!! I used a thick rug pad underneath to give it some extra cushion. (RUG – $133 FOR 7'6″X9'6″. PAD – $70 FOR 8X10)
BED FRAME – This pop of color is so fun and I love the shape of the headboard. Only took about an hour to assemble. ($195)
THROW BLANKET – Another quick last minute grab. This blanket would work in any room in the home! ($39)
MATTRESS – I will always purge for a high quality mattress. This one has the high quality feel without the price! ($265 for a Queen)
ACCESSORY BOX – a cute box to store remotes or any other small items. ($20)
BEDDING – Im slowly adding this ZIPPER BEDDING to every bedroom in our home! Its so cozy and makes bed making a breeze! ($349.95)
TOTAL COST: $1507.95
amazon mattress for guest room
The element I researched the most for this space was the mattress. Im not a huge fan of memory foam and pillow top/hybrid mattresses are typically pretty expensive. I searched high and low on Amazon for the best hybrid mattress with great reviews for under $500. And I found a needle in a haystack!
There was only one issue I had with the mattress once it arrived…
Aren't you glad I'm still here to tell you about this space? Me too!
PS. If you give THIS MATTRESS a whirl, don't be like me and forget that there are springs in this 80lb beast when you open it.
guest room decor
I literally NEVER go to a big box store to buy all of the finishing touches for a space, I like room finishes to speak to me over time. However, I had friends coming to visit literally the next day so off to Target I went to cozy up the room.
A few accessories, throw pillows and art work later and this room was Phase one complete!
guest bedroom design next steps
Right now the guest room is functional, which was my overall goal with this phase of the project.
I have several other spaces I need to get to this point, but I still have BIG future dreams for this guest room.
Ill do trim work and baseboards, obviously, and perhaps a seating or desk/table area that can double as an additional play space for the kids. I'll also be doing some kind of treatment on the bed wall. Possibly a mural or some kind of wallpaper or accent wall.
I also need to organize the closet to make it work better for us.
Here is the full before and after of this room.
Overall I'm so happy with how quickly this room came together and even more thrilled to invite guests into our home.
Who is coming for a visit?!?