Best Organization Secrets For Easy School Mornings
All aboard the organization train!! School is back in session. Can I get a HALLELUJAH?!? Whether you are sending your kids back to traditional school, schooling from home or a mix of both, I have some of the BEST secrets to help make school mornings more manageable and less stressful. The methods I am about to share have become a habitual part of our weekends and have worked for my family for years.
If you are new here, Hi! I'm Kera. I am a Blogger, home stylist and mom of 4. I have a colorful, eclectic style filled with fun and unique twists. If you enjoy my content I would love to connect with you on Instagram where I share my daily projects and home inspiration! Also, so it doesn't go without saying, this post contains affiliate links. When you shop through these links it helps to support all of the work I do at Haute House Love at no extra cost to use. Thank you for your support!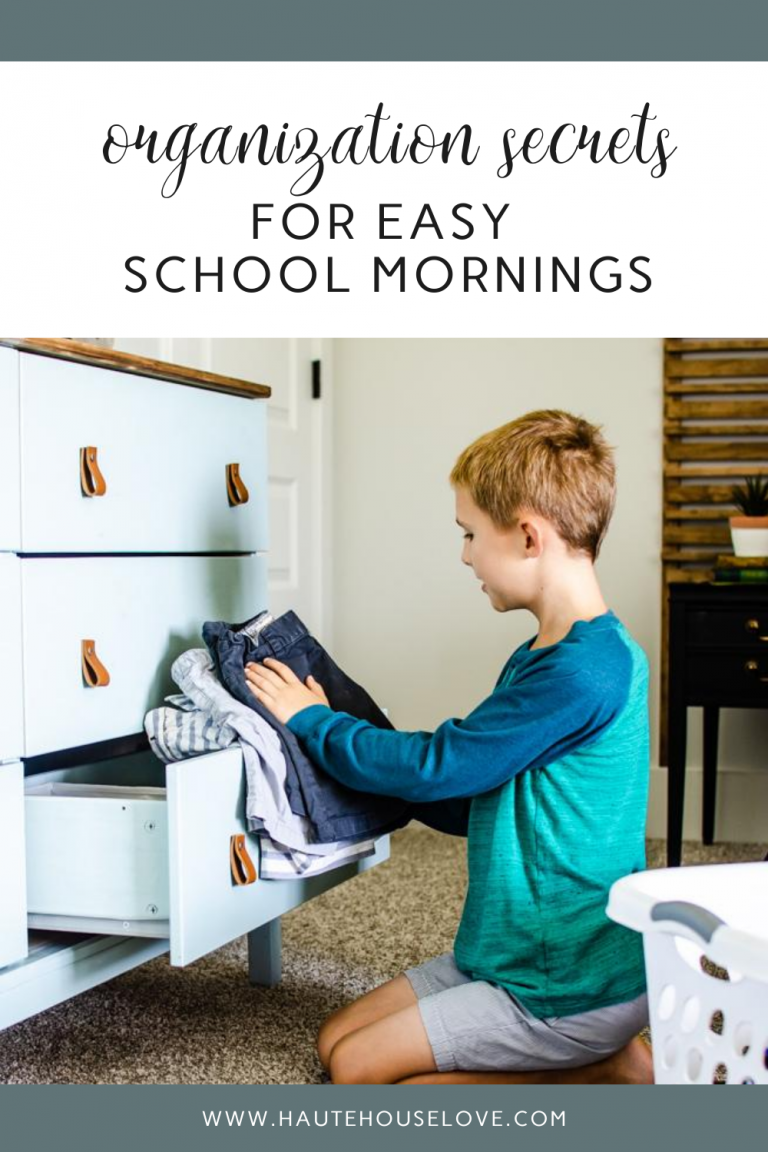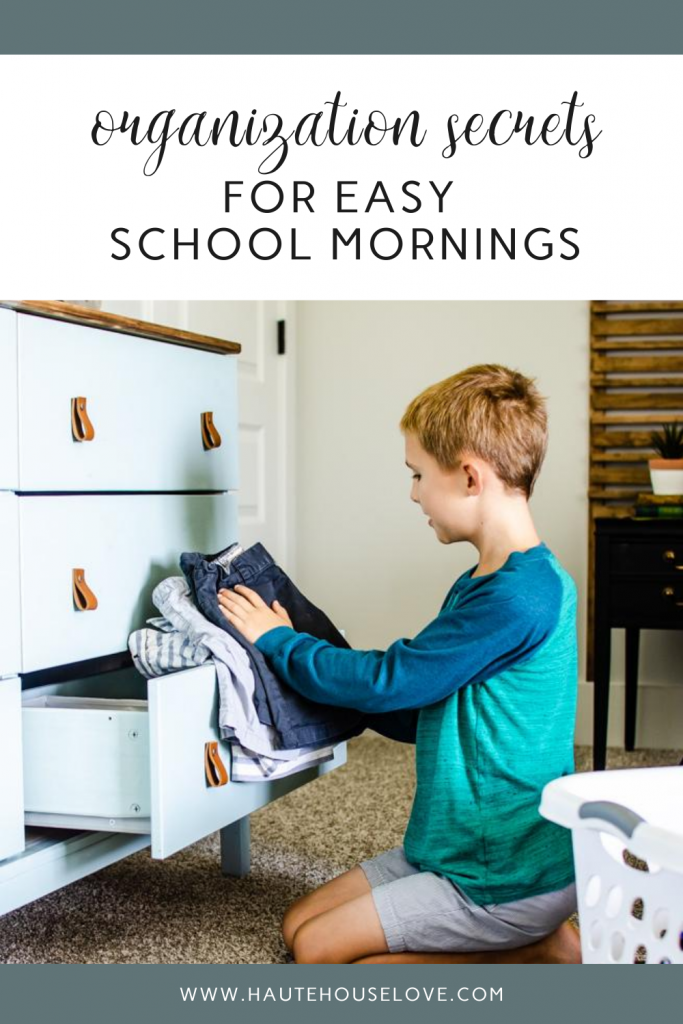 Full Disclosure
Before we get started I think its important to emphasize that our methods did NOT happen all at once. We started with a few small things, turned them into habits then slowly implemented more as we felt necessary. Organization is the most successful when it is put into action a little at a time.
Side Note: Our family has a traditional M-F work/school schedule so organization works best for us on the weekends. I am going to be sharing what we do on each particular day of our weekend but know each family is different. Please do what works best for you!
Secret #1 MEAL PLAN ORGANIZATION
This may not seem like it has a lot to do with a school, however, it is the foundation of one of our major school prep elements. Every Friday is pizza night in our family. Its one of my favorite nights of the week because our activity schedule is low. We play games and enjoy each others company. Since I get a break from the stove on this particular day I trade the prep time for planning time. I'll take note of any meal requests and grocery needs listed in our command center then create dinner plans around our activity schedule. You will see how this organization plays into our school mornings in secret #5 & 6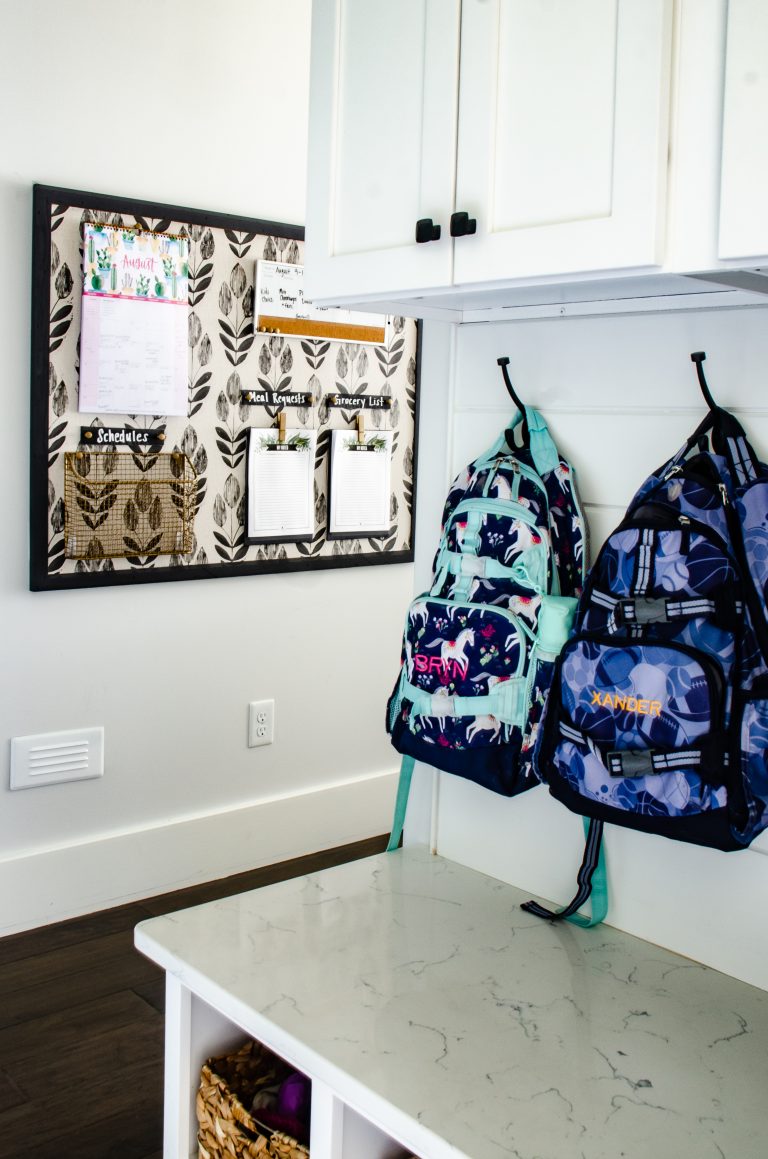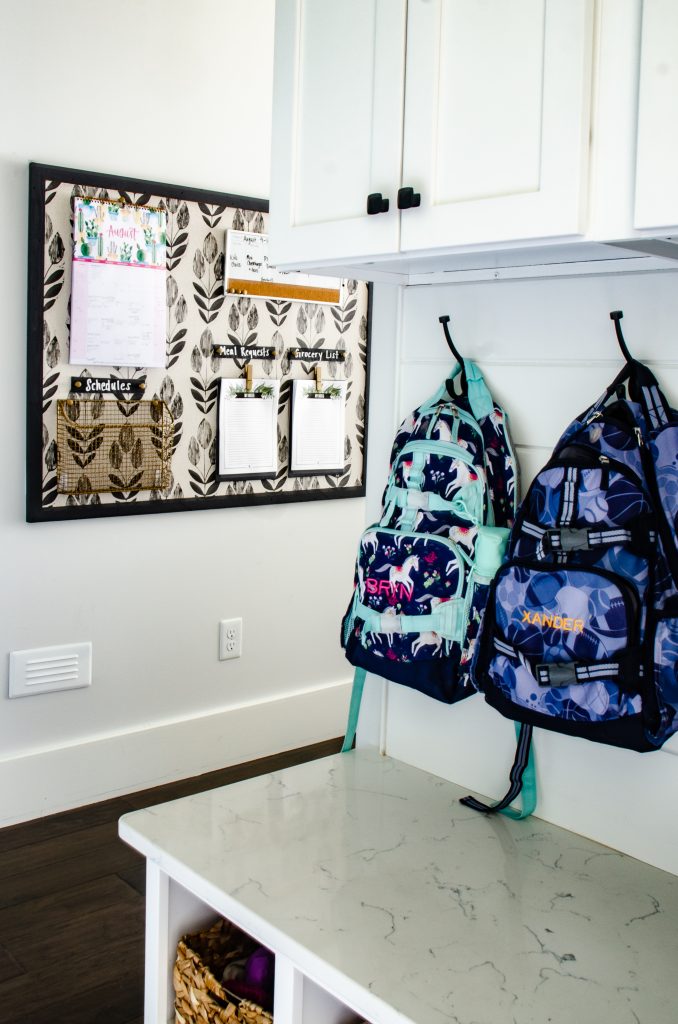 Secret # 2 CLEAN OUT BACKPACKS
When the kids arrive home from school they immediately clean out their backpacks. Monday through Thursday this consists of emptying out their lunchbox and placing it back in the freezer, then getting out their homework. On Friday's they do more of a deep clean removing all papers and trash, replacing teacher newsletters/spelling lists in the command center and placing anything that needs to be signed in to the "Parent Mailbox." This year with new school regulations we will also have a small bucket for dirty face masks and a station to refill their hand sanitizer bottles.
To help the kids remember everything they need to do after school I have an "after school" checklist posted for quick reference on our command center. Want to see what else is in my command center? You can find my Ultimate Command Center Guide HERE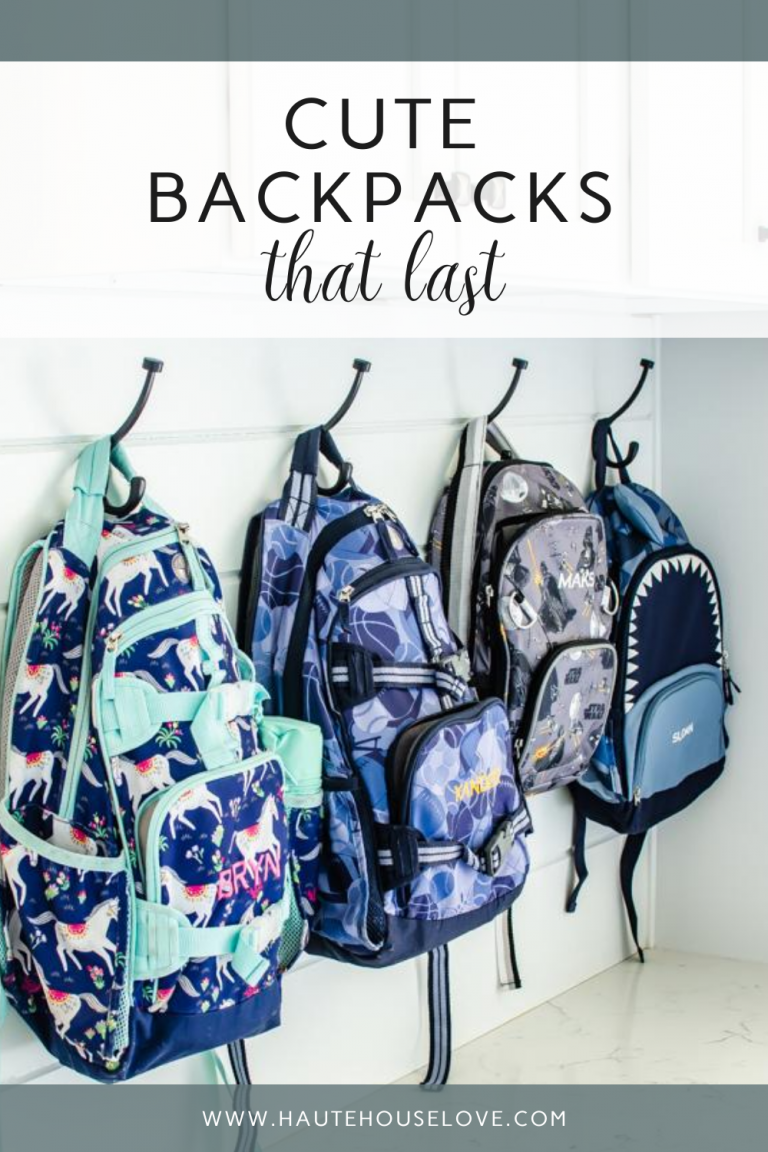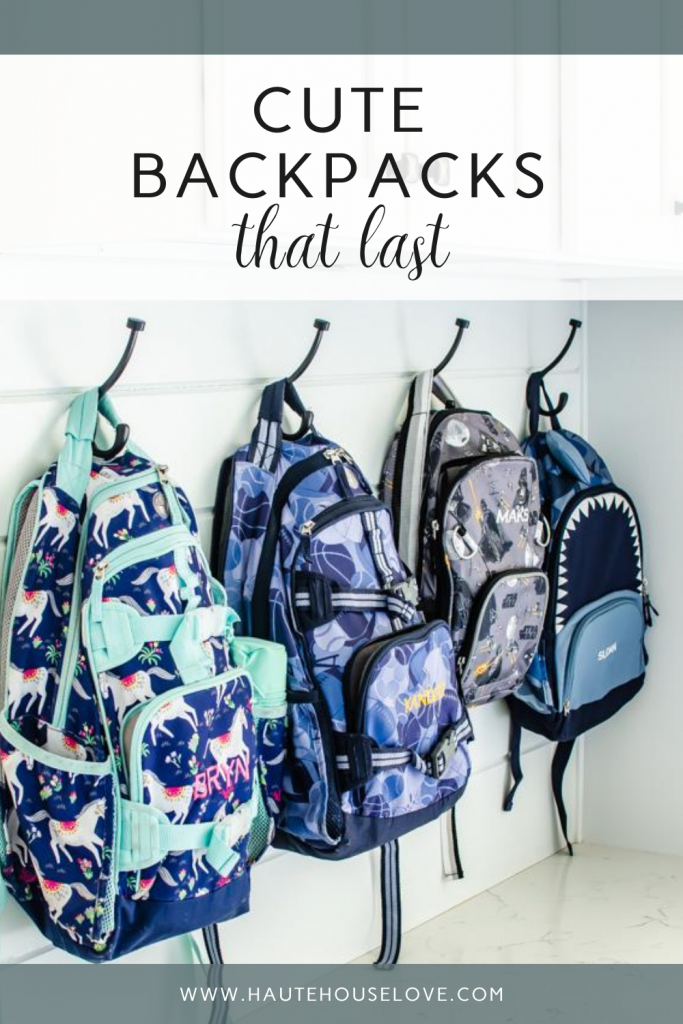 Secret #3 CATCH UP ON LAUNDRY
Saturday is a hard core laundry day in our family. The kids and I do a few loads during the week but Saturday is when the bulk of the magic happens. I will generally do all of the washing and switching and my husband helps sort and fold. When all of the clothes are washed the kids are responsible for putting all of their items away in their rooms. The big kids can earn paid chore money by helping their little brothers put their laundry away. The kids are also in charge of folding and putting away all of the towels. My latest organization goal is to have the laundry room completely cleaned up on Sunday night so I can take Monday off from laundry duty. I'll explain what this whole process has to do with easing school mornings in Secret #7
Secret #4 COMMAND CENTER organization
When it comes to organization, our command center is our family's central hub. On Saturday's I will go through all of the school papers brought home and sign anything that needs to go back. Not only do we organize school items and meal planning here but we also organize chore lists. Every Saturday I will make sure weekly chores were completed and add up and payout any money making chores. Chores clips are then redistributed for the following week.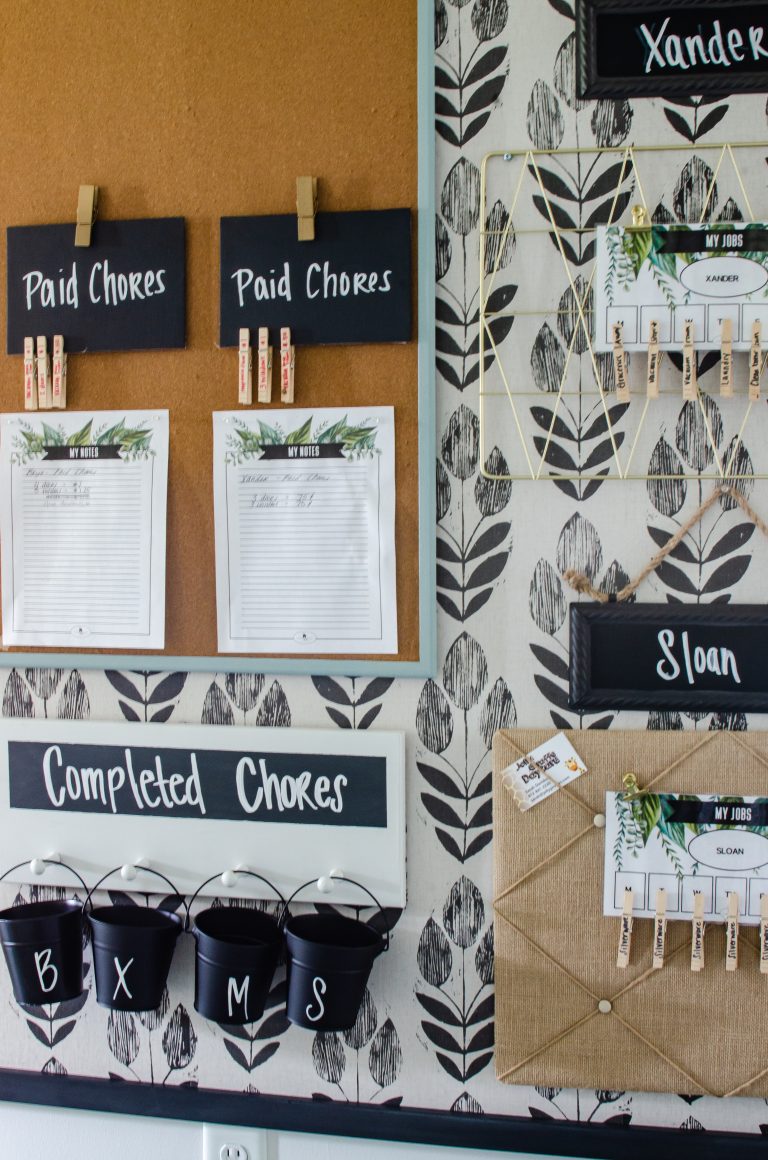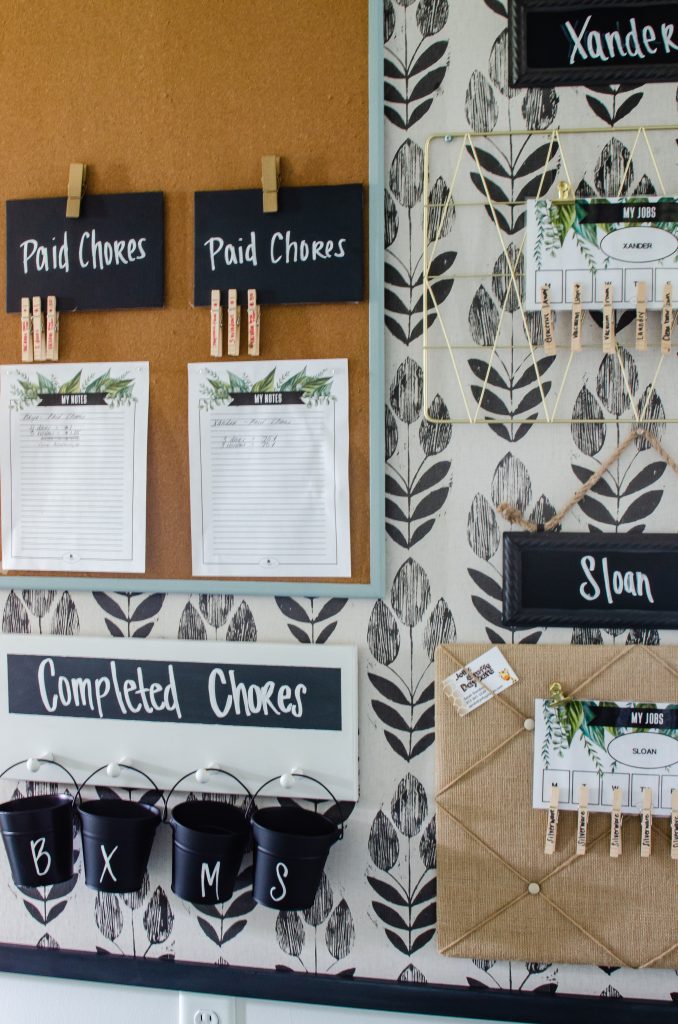 Secret #5 GROCERY SHOP
The weekends are never my ideal time to grocery shop but it is a necessity to make it to secret #6. Over the past few years I have learned that instead of wondering 2-3 different stores it's a better use of time to order and pickup. I will generally order and pickup at the local wholesale store and then run into the regular grocery store for the extras. In the grand scheme its nice that grocery shopping doesn't end up interfering with my work day. I'll also take 1 of the 4 kiddos with me for some Mommy time which I love.
Secret #6 MEAL PREP
When my oldest was in Kindergarten she was very particular from day to day about what went in her school lunches. To eliminate the fight I came up with the idea to allow her to choose her own. We organized the bottom drawer of the fridge into a "lunch/snack" drawer and a self packing tradition began.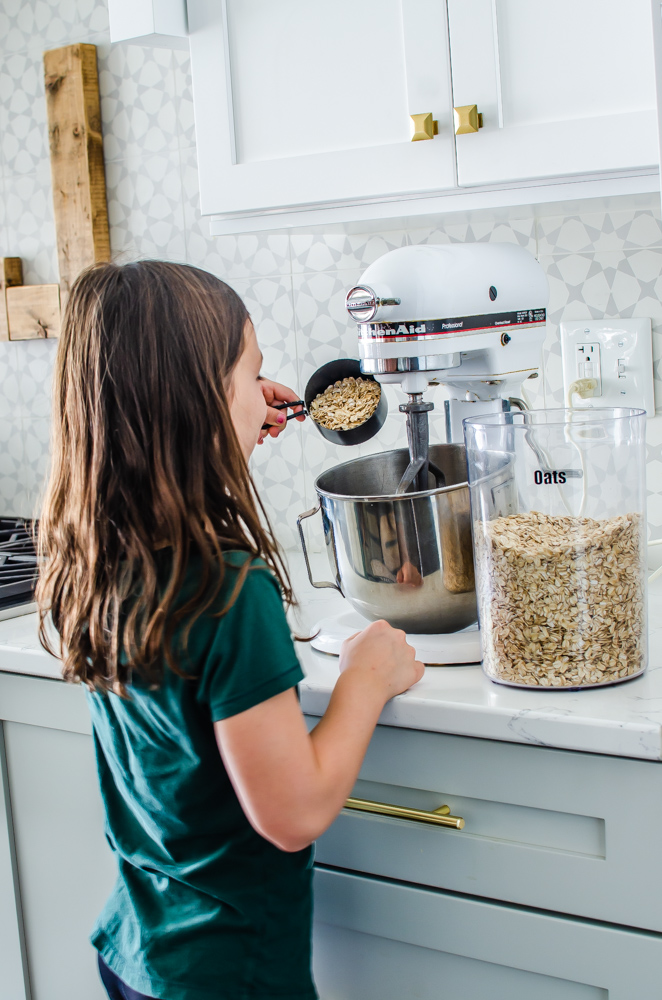 On Sunday afternoons we usually spend time as a family washing and cutting up fresh fruit and veggies and cooking proteins. Now that the school aged kids are a little older, they also have the task of filling the bottom fridge drawer with their food choices for the week. Yogurt, cheeses, fruit and veggies as well as homemade pizza "lunchables" are common favorites. Reusable plastic storage containers are used to store items that are not pre-packaged. For extra hungry kiddos, we keep a full loafs worth of PBJ in the freezer as well as a huge batch of our favorite energy bites.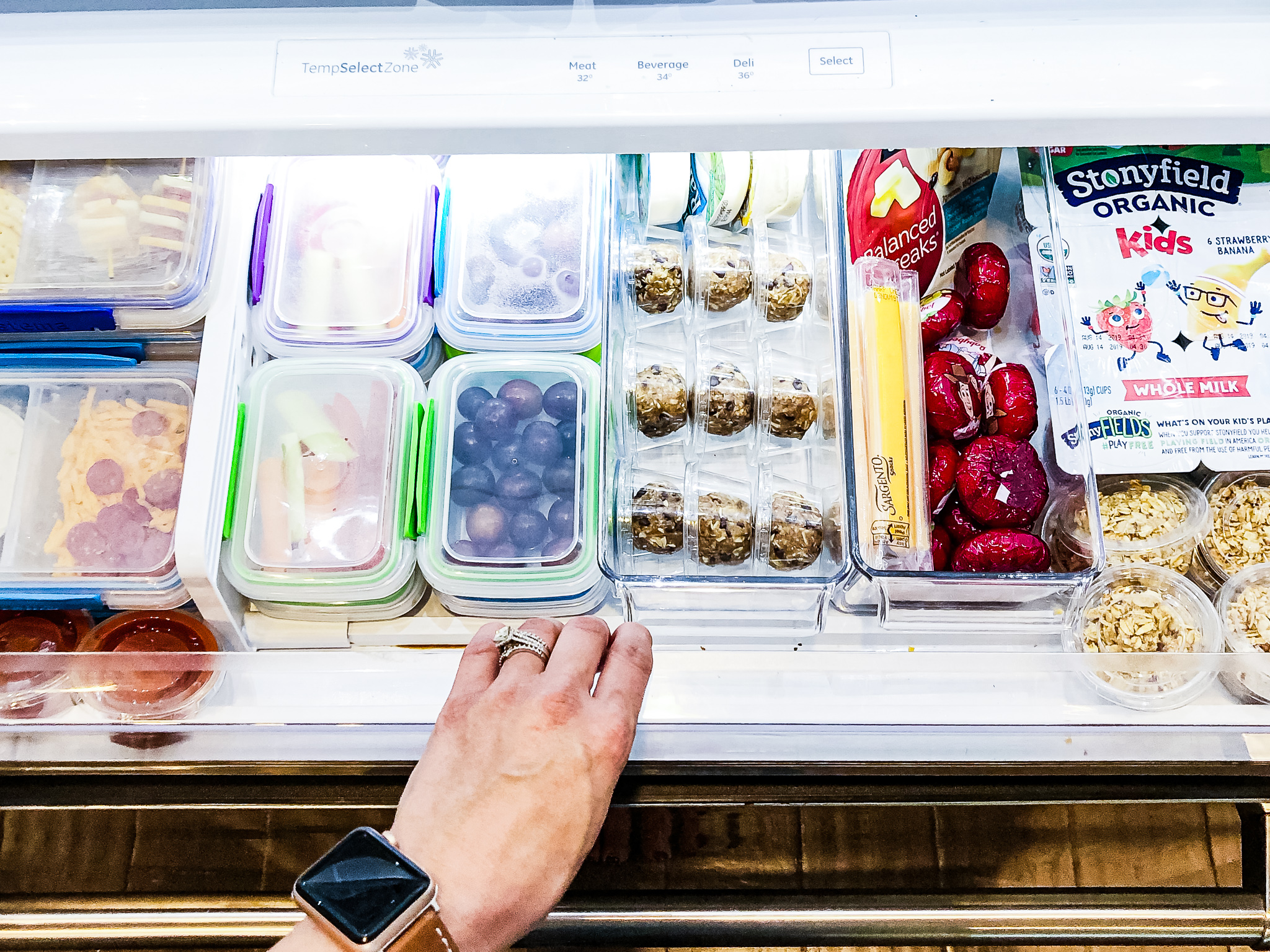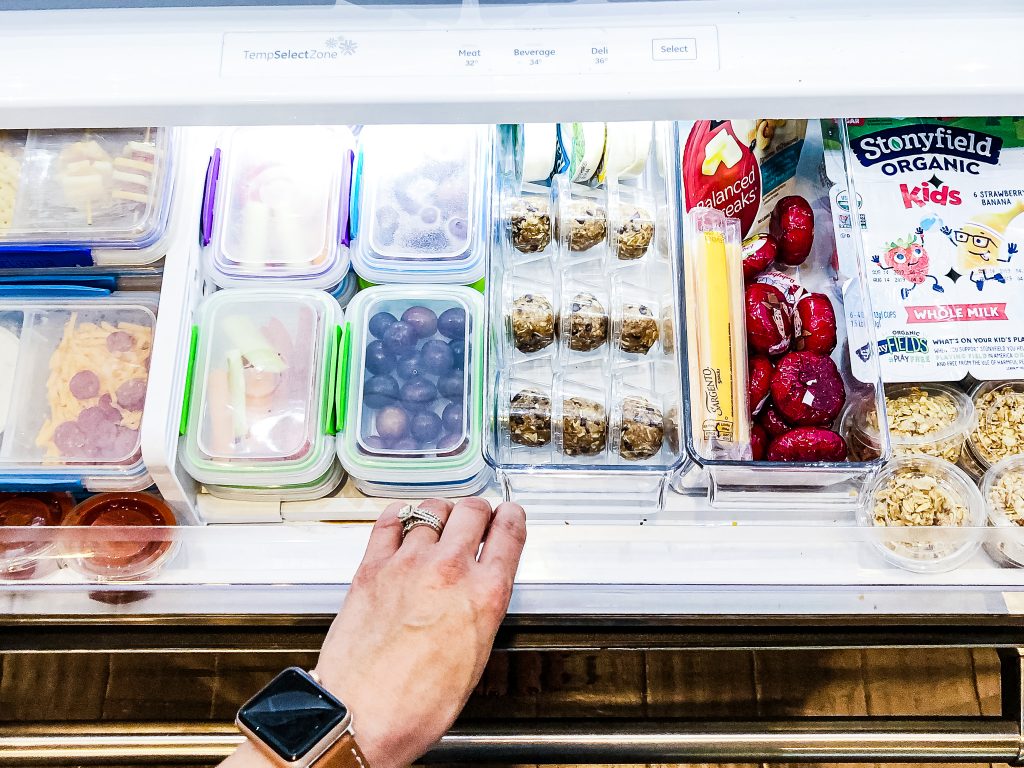 SHOP OUR FAVORITE LUNCH STORAGE CONTAINERS
A few years ago I discovered lunch boxes with built in freezer packs and it has been a game changer No more separate cold packs to mess with! On school mornings the kids grab their lunch boxes out of the freezer and pack away. .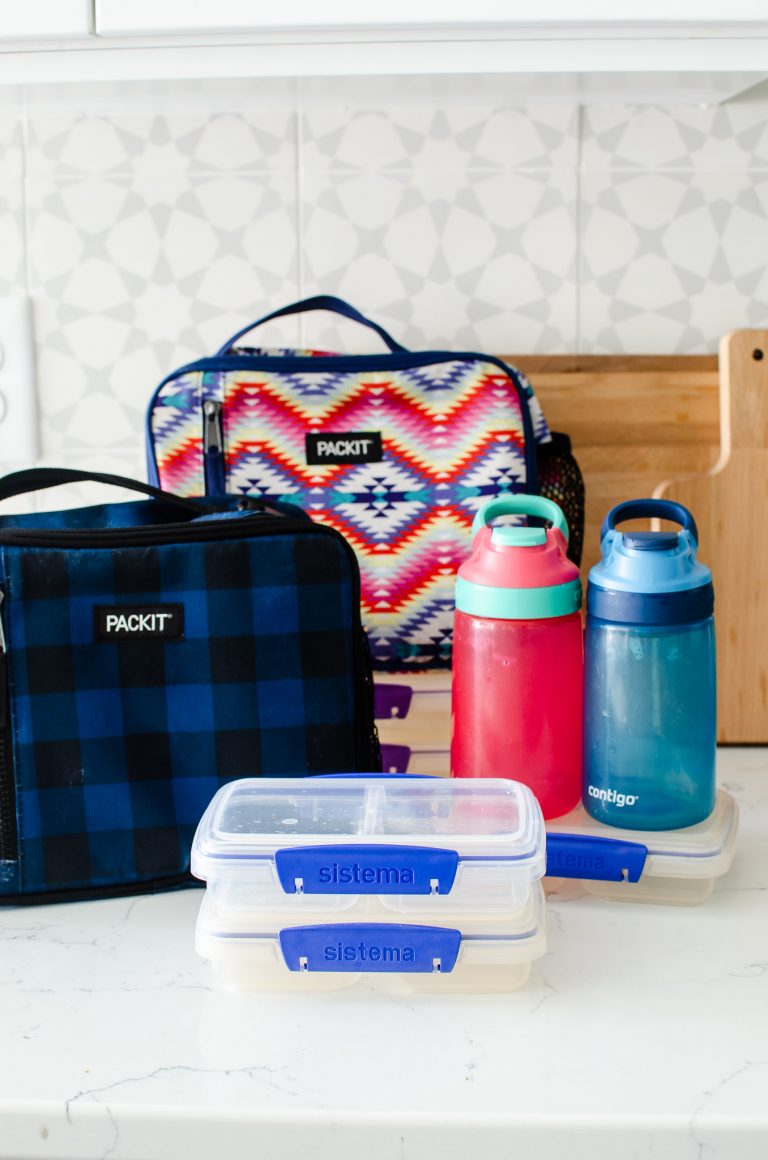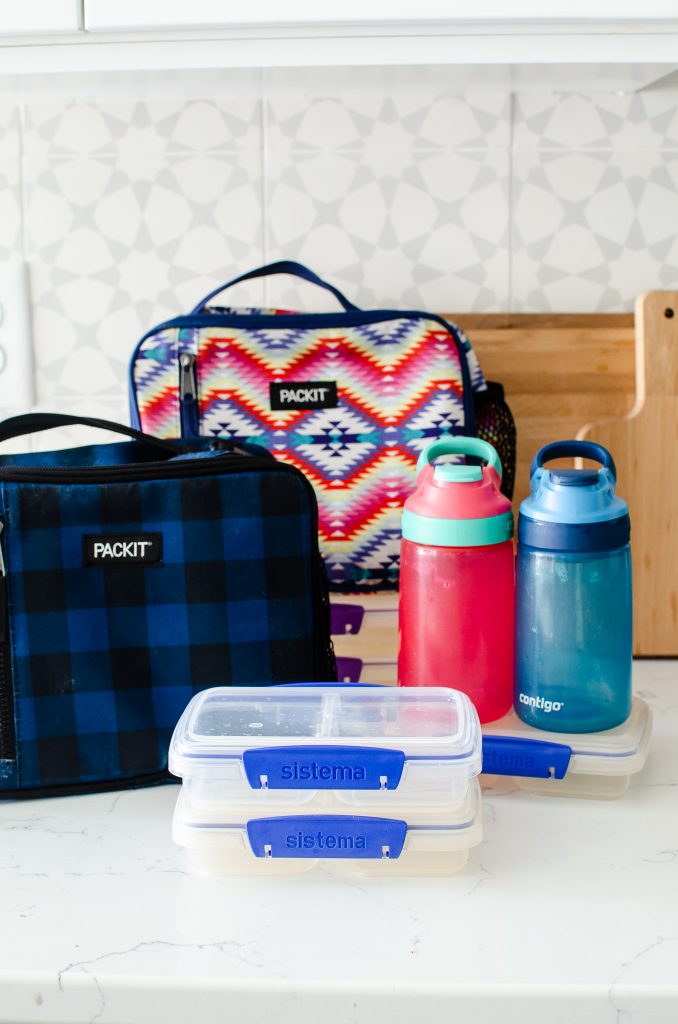 Secret #7 ClotheS organization FOR THE WEEK
If you do NOTHING else from this post please do this. Every Sunday my kids pick out their school clothes. FOR THE ENTIRE WEEK! This decision has solely saved my morning – not enough coffee to deal with arguing – self. I have put little hanging sweater cubbies in each kiddos closet so one outfit can go in each cubby. One for each school day of the week.
I generally let them start off picking on their own then call me up for approval and modification. Doing this has single handedly changed my life. Not Kidding.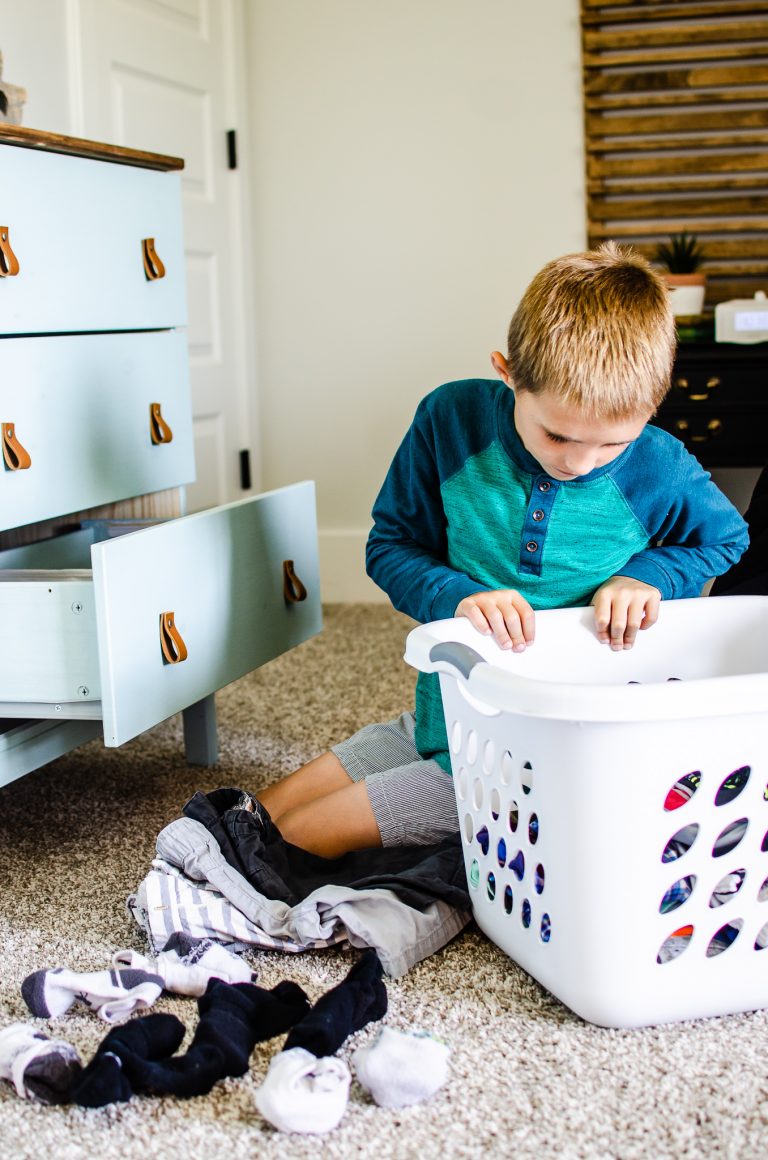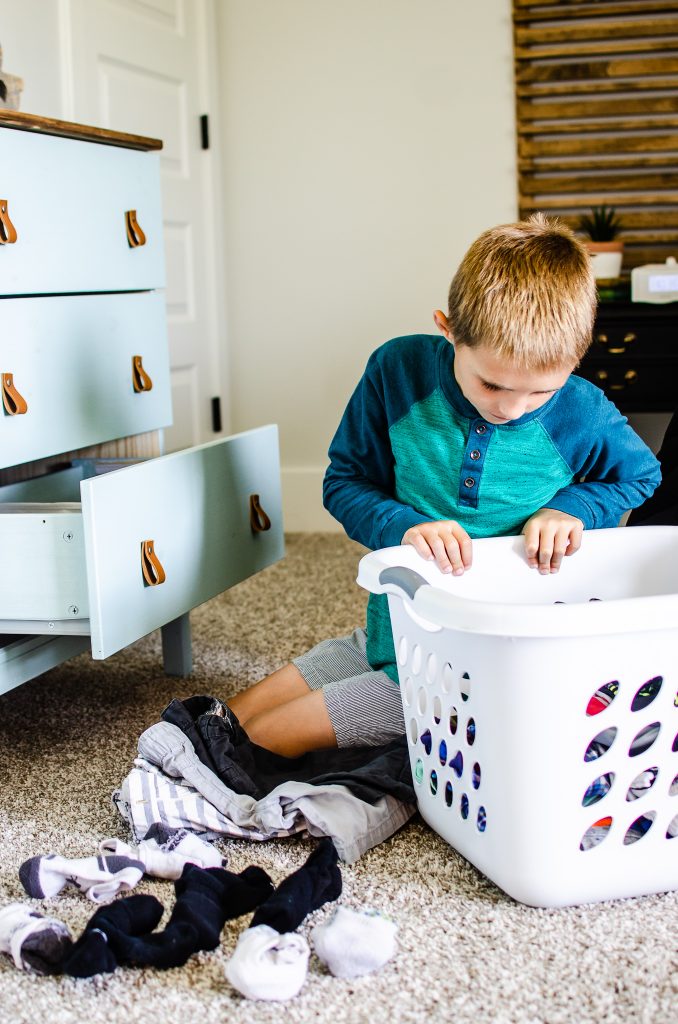 Secret #8 TIDY UP KIDS SPACES
I used to have the kids clean up every space in the house every day. But then I kept popping out kids and it just wasn't reasonable anymore. I picked my battles. The kids now have to clean up their spaces twice a week. Once for cleaning/vacuuming day and once on Sunday to start off the week. It's a good compromise for us all and gets our week started on the right foot. Plus, in this house, all of the kid spaces are upstairs. It helps tremendously that I'm not staring at it all day.
There we are friends! The secrets are out! I hope you have taken away a small tidbit of organization tips to make your school mornings a bit easier. I would love to know if you decided to implement one of our secrets in your home!